Jamaican Family Search Genealogy Research Library
CARIBBEANA, Volume IV
NEMBHARD OF JAMAICA (2)
(Contributed bv Miss Mabel Nembhard before 1909. )
[Continued from Nembhard 1]
Ballard Beckforde Nembhard of the parish of All Saints in the town and co. of Southampton, but late of the island of Jamaica. Will dated 30 Aug. 1819. To my brother-in-law Robert Hibbert of E. Hyde, co. Bedford, Esq., and my friend John Smith, Esq., paymaster R.N., £5000 sterling out of monies in the hands of George Hibbert, William Hibbert, and Sam. Hibbert of London, merchants, upon Trust to pay the interest for 5 years to my eldest son Ballard Jaques Nembhard, then the capital. To my 2d son, Henry Nembhard £ 5500 at the expiration of 5 years with interest in the meantime. To my 3d son William Nembhard £4500 (having already received £1000) 6 months after my decease. To my brother William Ellis Nembhard and my said brother-inlaw Robert Hibbert £6000 upon Trust, to pay the interest to my eldest daughter Letitia, wife of William Raynsford Taylor of Madras, and at her death the capital to her children. £6000 on Trust for my 2d daughter Eliza Nembhard, the interest to be paid her at 21 or day of marriage. £12000 on Trust, 1/2 for my 4th son Edward Nembhard at 25 and 1/2 for my youngest son Thomas Hay Nembhard. My house called New Place in the parish of All Saints to be sold. All residue among all my children, and whereas my eldest son, Ballard Jaques will be entitled on my decease in right of his mother to one third of a plantation now called Hounslow, but formerly Codd Penn, such as the same was holden previous to my purchase of 450 a., and my 2d son Henry will upon the decease of his grandmother Mrs. Deborah Brooks be also entitled to 1/3, and I am entitled to the remaining 1/3 by purchase, I give to my 3d son William my said 1/3. All my stock thereon, my 450 acres, and all residue and sums due to me or as a copartner with Lacklan McBayne and Sam. Murphy in Jamaica to my 3 sons.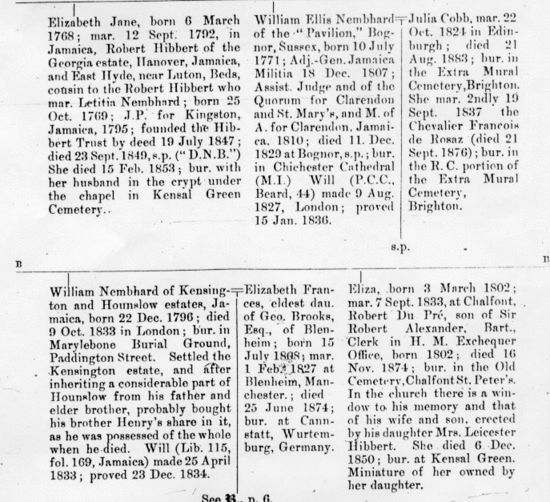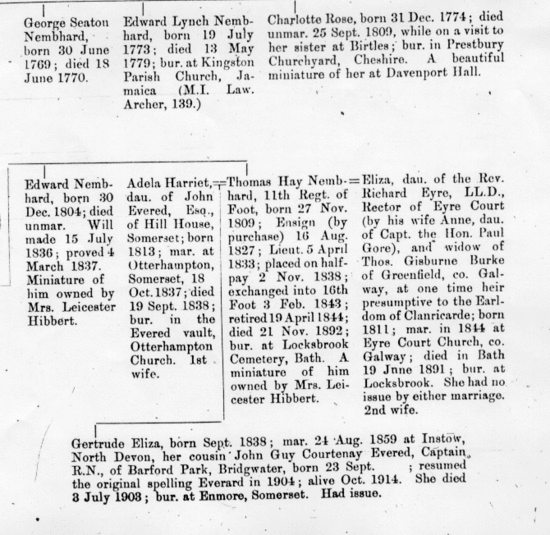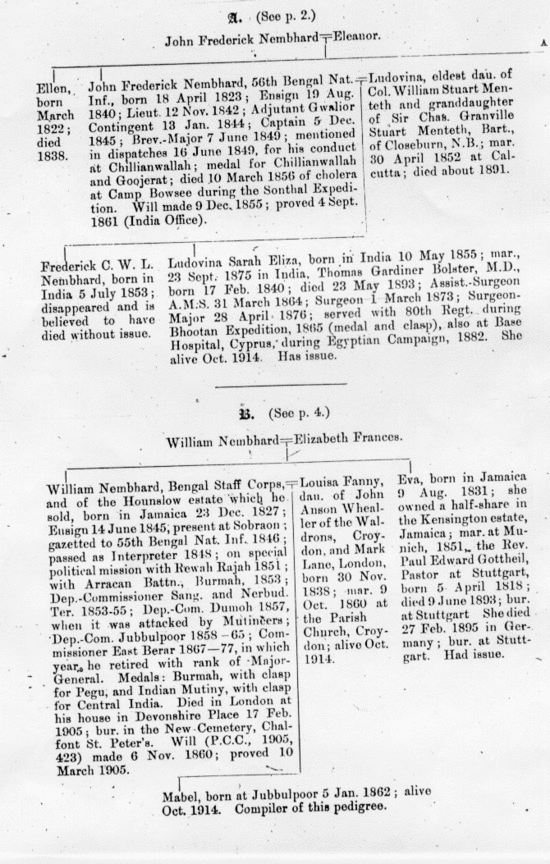 My trustees with Sam. Harrison and Martin Maddison, both of Southampton, bankers, Executors in England, and James and David Simpson of Kingston, Jamaica, merchants and copartners, Executors in Jamaica, and my brother and the said Robert Hibbert G. Certain slaves, the property of my late wife to be manumized.
Codicil. 3, Aug. 1820. Account of stocks about £39,504, house, etc. £5495, total £45000. Sworn by Martin Maddison, the Younger and Alfred Wood, both of Southampton, 16 July 1821. Proved 2 Aug. 1821 (471, Mansfield).
_______________________
There is no will nor administration in Jamaica of John F. Nembhard of 1797. He was with his mother and brothers and sisters a party to the sale in 1790, by a decree of the Court of Chancery, of the plantation Koningsburgh. (G. F. Judah.)
_____________________
Ballard Jacques Nembhard. Will dated "Plas Madoc March 19, 1822." (The day he died. M.N.) Left all his personality then at Plas Madoc unconditionally to his wife Jane, executrix. Probate granted to his wife 19 Sept. 1822. Witnesses: B. E, Downanham (?), Robert Hughes, Owen Evans, Sarah Horam. (486, Herschell.)
_____________________________
John Frederick Nembhard of the parish of St. Ann, co. Middlesex, Jamaica, Esq. Will dated 16 April 1825. Whereas by deed of premarriage settlement dated 20 Jan. 1820 £650 is annually secured to my wife, to make further provision for her I give all my estates to William Parke, John Anderson, and George Gillies of St. Ann's, Esquires, upon Trust for her for life, and at her death for all my children equally. Trustees to be Executors and with my wife, Guardians. Witnessed by John Benn, George Denistow, John Johnston. Sworn by John Benn 22 Jan. 1828. Lib. 108, fo. 109. Entered 15 Feb. 1828.
__________________________
William Nembhard of Kensington in the parish of St. Elizabeth, Jamaica. Will dated 25 April 1833. My wife amply provided for. To my son Willy (under age) I leave Hownslow with the stock and negros, to be under the guidance of his uncle Edward. To my daughter Eva the half of Kensington plantation, her brother sharing with her at her mother's death and paying her £3000 c. My friend Michael Myers sole Executor. Witnessed by Joseph M. Seilman, James Wright, George Creed. Sworn by George Creed 23 Dec. 1834. Entered 7 April 1835 in Lib. 115, fo. 169.
_________________
Edward Nembhard of the parish of St. Elizabeth, co. of Cornwall, Jamaica. Will dated 15 July 1836. To Elizabeth Francis Nembhard, widow of my late brother William Nembhard, all my property, she paying to each of my natural children Henry, John, and William Nembhard £400 and sole Executrix. Witnessed by John Gurley, William K. Hewitt, George Creed. Sworn by George Creed 24 March 1837. Entered 15 June 1837 in Libro 117, fo. 201.
There is a deed dated 19 June 1837 by which Mrs. Elizabeth F. Nembhard assumed the executorship, but disclaimed all beneficial interest. (G. F. Judah.)
__________________
I, John Frederick Nembhard, Major of the 56th regiment N.I., H.E.I.C.S., leave everything to my wife .... Camp near Jongra, Junction of Sidh and Nonhill Nuddee, 9 Dec. 1855. Date of administration 3 Oct. 1861 ; proved on affidavit by Col. George Burney of the 10 Bengal N.I.
________________________
I, Edward Nembhard, Lieut. of the 53rd Regiment N.I., bequeath to my brother Brevet Major John Nembhard of the 56th regiment N.I. all my property and to be sole administrator this 6 Oct. 1851. Witnessed by Fred. Jellicoe, Lieut. 53rd regiment N.I., Delhi, W. H. Greathead, 2d Lieut. Engineers.
_______________________
I, William Nembhard, a Lieut. Col. in H.M. army, declare that in accordance with my desire my mother Mrs. Elizabeth Fra. Nembhard, now deceased, devised by her will all property to my sister Eva Gottheil, wife of the Rev. P. E. G. of Stuttgart, and renounce all claim this 30 July 1874 in the presence of C. Hordern, Magistrate of Oomratee.
______________________
William Nembhard, a Captain in H.M. Bengal army, but at present residing at the Waldrons, Croydon, co. Surrey. Will dated 6 Nov. 1860. All my property to my wife Louisa Fanny Nembhard, she to be sole Executrix. Proved 10 March 1905.
________________________
Dates of Births and Deaths of the children and grandchildren of Ann Peyton Nembhard (nee Hamilton), wife of Dr. John Nembhard, in her handwriting.
Mary Elizabeth born Feb. 8, 1755, died August 1, 1756.
Ann Peyton born April 22, 1756.
John Frederick born August 1, 1758.
Ballard Beckford born August 7, 1761.
Mary Orgill born April 13, 1764, died Sept. 2, 1773.
Letitia Hamilton born Decr. 17, 1765.
Elizabeth Jane born March 6, 1768.
George born June 30, 1769, died June 18, 1770.
William Ellis born July 10, 1771.
Edward Lynch born July 19, 1773, died March 1779.
Charlotte Rose born Decr. 31, 1774.
Docter John Nembhard born July 18, 1711, departed this life, March the 2d, 1777.
Ann Peyton Nembhard* (*"Hamilton" has been written above "Nembhard") born October 21, 1737 was Married Nov. the 3, 1753, to Docr. John Nembhard.
Mrs. Nembhard's first grand Child Anna Hibbert was born Thursday August 31, 1786, at half past 11 o'Clock in the Morning.
Thomas Hibbert was born Tuesday July 29, 1788, at 9 o'Clock in the Morning.
Robert Hibbert was born Sunday Novr. 28, 1790, at half past 6 o'Clock in the Morning.
John Nembhard the Son of B. B. Nembhard was born Sunday Sept. 14, 1788, at 7 o'Clock in the Evening, he died Sunday Decr. 18, 1791.
Ballard Jaques Nembhard was born Friday August 7 at 9 o'Clock in the Morning, 1789.
Letetia Nembhard was born Saturday June 18, 1791, at 12 o'Clock at Noon.
_________________________
WILLIAM ELLIS NEMBHARD.
Copy of Certificate of Marriage.
"This is to Certify that William Nembhard and Julia Cobb were married at Edinburgh this twenty-second of October 1824 before Witnesses by me
(Signed) Henry Grey, Mr.
Witnesses: George Carplin, Janet Nicol
N.B. Mr. Grey and the Witnesses reside at present in Mintoun Street N. 3 & 4 or 5.
Newington, Edinburg. William E. Nembhard."
William Ellis Nembhard died at Bognor 11 Dec. 1829, and there is a tablet to him in Chichester Cathedral. By his Will (P.C.C., Beard, 44) dated 9 Aug. 1827, London, he left his personality (proved under £45,000), unconditionally to his wife Julia, who was made sole executrix.* (* Mrs. W. E. Nembhard, nee Cobb or "Spenser" she is believed to have been illegitimate - was unable to the day of her death in 1883 to read or write. See above.) Probate granted to his Widow,
15 Jan. 1836. Witnesses : William Elliott Oliver, William Elliott Le Blanc, Richard Thompson, New Bridge Street.
John Frederick Nembhard, 56th Bengal Nat. Inf., inherited the "Pavilion," Bognor (200 acres), as heir-at-law and sold it.
Extract from Supplement of Affidavit of Mrs. Rosaz.
"On the support of the present affidavit I declare that I do not know (sic) read or write as I lost my mother very young I would not go to school and this is so-- during my interlife with Mr. Nembhard I could sign the name Nembhard only, but not any other word, and not my Christian names. After my marriage with Mr. Rosaz I learned to sign Rosaz, but it was and it is now yet
impossible for me to write or sign any other word, and not my Christian own name Julia Georgina. Whatsoever deed, act or settlement should be shew (sic) as from my hand bearing more than these names 'J. Rosaz' or, during the period of my marriage with Mr. Nembhard 'J. Nembhard,' positively it should not be my signature, for never in my life I have signed differently, but only J. Nembhard or J. Rosaz.
Signed J. Rosaz.
Signed Rosaz
London 6 Febry. 1855."
(Sent by post to "Edd. Horridge Esq. Solicitor, 30 Burton Crescent, London."
Notes by Major-Gen. W. Nembhard.
"My Aunt was married 19 Sept. 1837 to the Chevalier (Rosaz or De Rosaz - M. N.), previous to this she was 2 years in Paris.
Mr. Bellingham, solicitor, Brighton, was the lawyer she summoned over to Paris to enquire into De Rosaz character before she married him.
Robarts of London was her Banker.
Baxendale, solicitor to Mr. Robarts, drew up her settlements."
_________________________
NOTES TO PEDIGREE.
1. DOCTOR NEMBHARD.
According to family tradition Dr. Nembhard was Dutch and descended from a famous general; some may he was a natural son of Prince Eugene of Savoy, who certainly was at the Hague from Nov. 1710 to Jan. 1711, regulating a question of supplies. There is a great likeness between portraits of the Nembhard family and those of Prince Eugene's ancestors, not so much to those of the Prince himself.
2. NEMBHARD-MILNE MARRIAGE,
Note at the back of a small oil portrait owned by M. N. : "Mrs. John Nembhard wife of John Nembhard of the island of Jamaica Esq..... Subsequently married to . . . ..Milne Esq." (Signed "L. H. Hibbert," daughter of R. Hibbert of Birtles. M. N.)
From Date-book kept by Mrs. Hibbert of Chalfont and Birtles.
"John Frederick Nembhard, Born Aug. 1, 1758, married May 16, 1793, Sophia Anne Edwards, d. in Jamaica Oct. 29, 1797, and had issue," etc.
"Mrs. Milne died at Paris, Sept. 17, 1822, John's mother." ( "Aunt Bobty's" Family Date Book.)
1822, Sep. 17. At Paris, Mrs. Sophia Milne, of Pedro River, Jamaica. ("G.M.," 649.)
Cathedral, Spanish Town. Monument to "Augusta Georgiana Milne, only daughter of the late William Milne Esquire, and Sophia Milne, his wife, of Pedro River, St. Ann's. Born 17th July 1806, died 31st October 1812. (Eulogistic lines.) To her endeared memory this marble was dedicated by her affectionate brother." (Ante, I, 280.)
Parish of St. Ann.
Slaves. Stock,
Milne and Nembhard ......180 138
John F. Nembhard ........ . 58 122
("Jamaica Almanack," 1821)
3. NEMBHARD-ROSE MARRIAGE
I have a certificate of this. (M. N.)
4. Dep. Adj. General for Surrey, Lt Col. Hon. B. B. Nembhard, 24 Dec. 1805. ("The Royal Register and Jamaica Almanack," 1810.)
Return of Proprietors for March, 1820:
St. Elizabeth's.
Slaves. Stock.
Hon. Ballard B. Nembhard, Hounslow..... 85 417
("Jamaica Almanac" for 1821.)
5. ANN, WIFE OF B. B. NEMBHARD.
In a note-book that belonged to her daughter Eliza: "Poor dear Mama died Aug. 2, 1818 aged 50. The 3rd would have been her 51st birthday."
6. ROBERT HIBBERT (17501835).
He bought the estate of Birtles in Cheshire, pulled down a great part of the then existing house, and built the present one. On the death of his brother Thomas in 1819, he inherited the Chalfont property in Bucks. Pains Hill, near Cobham, Surrey, was also his from about 1796 till he sold it again four years later. His town house was in Devonshire Place. He kept a diary in which nearly all the Nembhard family events are recorded.
7. WILLIAM ELLIS NEMBHARD.
A sermon was preached on his death at St. John's Chapel, Bognor, by the Rev. Edward Miller, M.A., which was published with other of Mr. Miller's sermons in 1844.
Jamaica Militia. Adjutant General, Col. William Ellis Nembhard 18 Dec. 1807.
"Jamaica Almanack," 1810.)
William Ellis Nembhard died 11 Dec. 1829; his will was not proved until 15 Jan. 1836.
So much suspicion attached to this will on account of his wife Julia, who was illiterate, being left sole executrix as well as legatee, that for long the Nembhard family thought of disputing it. The Emancipation of the Slaves, however, had brought them such losses that the idea was finally abandoned. Fifty years later Madam de Rosaz, as she had then become, once more a widow, sought out the Nembhard family, who in the interim had had no communication with her, and expressed her wish to make a will restoring to them the money she had inherited from her first husband. This intention was frustrated by a man who, though no connection of hers, took upon himself to advise her in her affairs. A will was made under his direction in which her property was left between himself and her relations (small farmers) in Ireland, with the result that after her death General Nembhard brought an action for "undue influence" against this individual. The preparations for the trial dragged on for some years at enormous expense, and the case having become a triangular one owing to the Irish relations having turned against the other legatee and intervening, it seemed likely that the fortune in question, then, no more than about £30,000, would be dissipated in costs. The case was finally compromised without having come into Court, General Nembhard receiving the lion's share of ten thousand guineas.
8. JOHN FREDERICK NEMBHARD, 56th Bengal Native Infantry,
Letter from Frederick C. W. L. Nembhard, 30 Dec. 1888: "I am the only son of the late Major and Brevet-Colonel Nembhard of the 56th N.I. Regiment, who served under Lord Gough in the battles of Goojerat, Chillianwalla, and the Khyber Pass, and who succeeded Major Bamfield in the command of the 56th Regiment. My father died March 1856 at Camp Bowsie." [Italics mine. M. N.]
9. "HENRY NEMBHARD.
From Queen's College, Fellow-Commoner, Nov. 16, 1818. Tutor, Mr. Brown. No other particulars given." (Admissions, Trinity College, Cambridge, 1851-1900.)
Henry Nembhard became very wild and extravagant at College. He was refused by Miss Rowe on this account, and taking her refusal to heart he disappeared about the time of his father's death, and for some fifteen years none of the family knew what had become of him. In 1838 his sister-in-law Elizabeth Nembhard, nee Brooks, while making a short tour in the north of France, accidentally found him imprisoned for debt in a French town, where she stopped to change horses. She paid his debt, a very small one, brought him to England, and reconciled him to Miss Rowe, who in spite of her refusal had been faithful to him. They were married, and Henry, who by this time had quite sobered down, took Holy Orders. He died greatly respected and beloved.
10. WILLIAM AND EVA NEMBHARD.
Owing to the depreciation of all Jamaican property, it would have been advisable to sell the Hounslow and Kensington estates on the elder William Nembhard's death in 1833, but owing to the tenor of his will this was impossible until 1852, when his daughter Eva came of age. By that time the estates themselves had greatly lost in productiveness, and so far from being a source of income Mrs. Nembhard and her son had to make a yearly allowance for their upkeep, a severe tax, especially on the young officer. When at last it was legally permissible to sell them, one fetched no more than £100, while for the other not even money could be obtained. It was parted with for a hundred head of cattle, which sold again for about £100. Thus ended the connection of the Nembhard family with Jamaica.
11. ARMS.
For coat of arms of Nembhard see Burke's "General Armoury," also bookplate of Mabel Nembhard.
12. THOMAS HAY NEMBHARD EVERED,
Imperial Yeomanry, who died in Rustenberg Hospital, 23 Nov. 1901, of wounds received in the South African War, was a son of Capt. Courtenay Evered, R.N., and Gertrude, nee Nembhard.
CANON EDGAR NEMBHARD THWAITES was a godson of Thomas Hay Nembhard, 11th Foot, and a nephew of the latter's first wife, his mother having been Mary, fourth daughter of John Evered, Esq., of Hill (see Burke's "Landed Gentry," 1900). The Rev. Nembhard Thwaites is his son.
WILLIAM NEMBHARD HIBBERT, Esq., LL.D., is no relation of the Nembhard family.
M. N.
_________________________________
John Guy Courtenay Evered, R.N., of Barford Park, Somerset, second son of R. G. Evered of Hill House, D.L., J.P.; born 23 Sept. 1831, alive Oct. 1914 ; educated at Eton; entered Navy 1846; joined Naval Brigade (Crimea, 1854) to relieve Hewitt in the 21-gun battery, where severely wounded. At the capture of the Taku Forts, China, 1858. Promoted to Commander when serving in "Amphion " 1861. Commanded Whitby Coastguard Station for three years from 8 Sept. 1862. Promoted Captain on returned list 15 Nov. 1876. Medals: Crimean, Turkish, Sardinian. Orders: Legion of Honour, Mejidie.
____________________________
RETURN OF PROPRIETORS FOR THE MARCH QUARTER, 1837.
("Jamaica Almanac," 1838.)
St. Ann's Parish
Number of Apprentices.
John F. Nembhard, Pedro River, 26
St. Elizabeth
Ellza F. Nembhard, Kensington, 62
St. David.
Robert Hibbert, Albion, 365
Hanover Parish.
Robert Hibbert, sen., Great Valley, 351
Robert Hibbert, sen., Coventrv, 80
Robert Hibbert, jun., Georgia 261
Robert Hibbert, jun., Dundee 154
(Continued at Nembhard 3.)
---
© 2013. Jamaican Family Search hereby grants you a limited license to copy and use the materials provided on this site solely for your personal, non-commercial use. No other use of the site or materials is authorized. You agree that any copy of the materials (or any portion of the materials) that you make shall retain all copyright and other proprietary notices contained therein. Posting of materials on other Web Sites is strictly prohibited.
---
SEARCH THIS SITE
---
GO TO:
Help - Frequently Asked Questions
Jamaica Almanacs Slave-owners, Civil & Military officers, Magistrates etc.
Items in the Samples Directory
Items in the Members Directory
Transcriptions from Registers and Wills (Church of England, Dissenters, Civil Registration)
Jamaican Roman Catholic Church Registers - transcriptions
Jamaican Methodist Baptisms - transcriptions
Jewish births marriages deaths - transcriptions