Jamaican Family Search Genealogy Research Library
CARIBBEANA, Volume IV
NEMBHARD OF JAMAICA
(Contributed bv Miss Mabel Nembhard before 1909. )
1745, Aug. 9. Patent of naturalisation granted To John Nembhard of the parish of St. Mary, "an alien born." (Jamaica Deeds, Lib. 24, folio 1.) The following is from a Patent of George II.:-
"In consideration that Dr. John Nembhard hath transported himself with his servants and slaves into our said island" do grant unto him 300 acres in the parish of St. George bounded N. on Mathew Shutler, S. on John Jump (?), Junior, E. on unsurveyed land, W. on John Jump, Junior, at the rent of 12s. 6d. and 1/20 of the yearly profits of all base mines. Entered March 1758. Lib. 28, fo. 81.
It is not known from which other colony the Doctor removed. It may have been the Dutch Island of St. Eustatius. He called his estate Koningsburgh. Search has been made at Koningsberg in East Prussia, but no trace found. Tradition points to a Dutch origin.
______________________
John Nembhard of the parish of St. Mary, co. Middlesex, Jamaica, Esq. Will dated 19 Oct. 1775. My wife Ann £40 for mourning, plate, jewels, furniture, 2 horses, poultry, hogs, and sheep, and certain slaves (named). I recommend her to reside on my plantation called Koningsburgh, and I give her £500 yearly in lieu of dower. To my eldest daughter Ann Payton Edwards, now wife of Edward Edwards, Esq., a mulatto woman, and £1200. To my other 3 daughters Lettice Hamilton, Elizabeth Jane, and Charlotte Rose Nembhard the like sum at marriage or 21 years. All residue to my friends the Hon. John Ellis, George Seaton, and Edward Foord, Esquires, and the Rev. William Williams, upon Trust for my 4 sons, John Frederick, Ballard Beckford, William Edwards (clerical error for Ellis), and Edward Lynch Nembhard, until my youngest son E. L. Nembhard be 21 (all sons under 15). Trustees to be Executors and Guardians. Proved 24 April 1777 at Jamaica.
____________________
Ann Nembhard of Beaumont Street, co. Middlesex, widow. Will dated 15 Feb. 1801. To my granddaughters Anna Hibbert and Letitia Hibbert, children of my daughter Letitia, wife of Robert Hibbert of Pains Hill, co. Surrey, £100 each. To my granddaughter Letitia Nembhard, daughter of my son Ballard Beckford Nembhard of Kingston, Jamaica, £1000. All residue to my daughter Charlotte Nembhard now residing with me, and in default of her issue to my sons B. B. N. and Wm. N. of the parish of St. Mary, Jamaica. I appoint Robert Hibbert and Thomas Hibbert, the Younger, of Upper Wimpole Street, Esq., Executors. Proved 5 Aug. 1806 by Robert Hibbert, Esq.; p. r. to Thomas Hibbert, the Younger, Esq. (P.C.C., 660, Pitt.)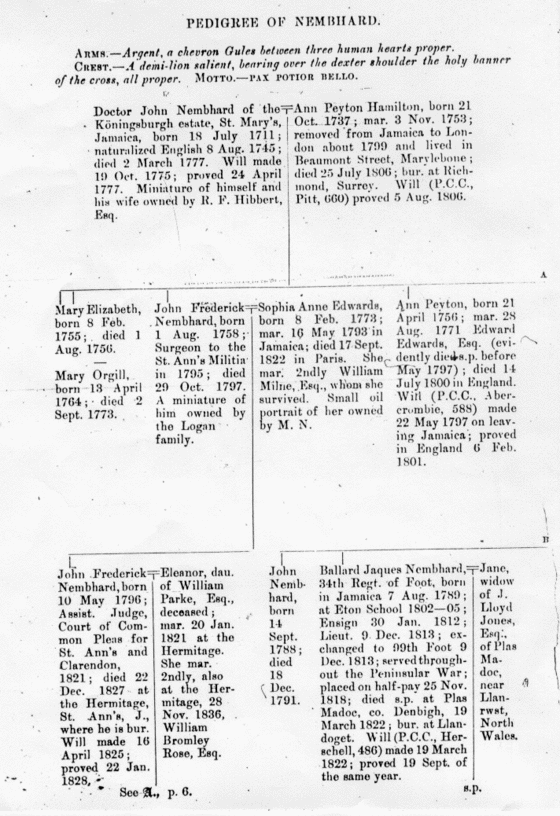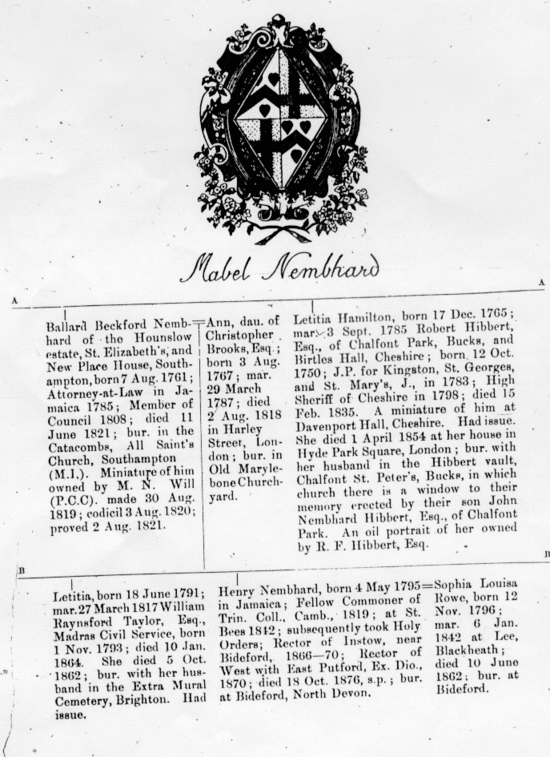 Ann Peyton Edwards of Kingston, co. Surrey, Jamaica, widow, intending shortly to depart for Great Britain. Will dated 22 May 1797. To my mother Ann Nembhard my negros and the interest of all vested monies, and after her decease to my sister Charlotte Rose Nembhard a moiety of all my estate and the other moiety to my 3 nephews John Nembhard, son of my brother John Nembhard, and Ballard Nembhard and Henry Nembhard, sons of my brother Ballard Nembhard. I appoint my mother an Executrix and Robert Hibbert of Kingston, Esq., Executor. Witnessed by J. F. Nembhard, Robert Hibbert, B. B. Nembhard. Proved 8 Sept. 1801 by Ann Nembhard, widow, the mother; p. r. to Robert Hibbert, Esq. Proved 6 Feb. 1807 by the latter (P.C.C., 588, Abercrombie).
(Continued at Nembhard 2.)
---
© 2013. Jamaican Family Search hereby grants you a limited license to copy and use the materials provided on this site solely for your personal, non-commercial use. No other use of the site or materials is authorized. You agree that any copy of the materials (or any portion of the materials) that you make shall retain all copyright and other proprietary notices contained therein. Posting of materials on other Web Sites is strictly prohibited.
---
SEARCH THIS SITE
---
GO TO:
Help - Frequently Asked Questions
Items in the Samples Directory
Items in the Members Directory
Photographs, maps, prints, etc.
Jamaica Almanacs (property owners; civil & military)
Registers (Church of England, Dissenters, Civil Registration); Wills
Jamaican Roman Catholic Church Registers
Immigration Immigrants to Jamaica