Jamaican Family Search Genealogy Research Library
MEDLEY AND WEBB IMAGES AND BIOGRAPHICAL NOTES 3
Children of George Bowley Medley
Date format: Day/month/year
See father, George Bowley Medley, and mother Hester Medley (nee Webb)
_______________________________________
For more on the parents of Hester Webley (nee Webb), see John Racker Webb family
_______________________________________
Medley, George Webb 1826 to 29.11.98
Son of George Bowley Medley 1802-60 and his wife Hester (nee Webb) 1804-49.
Born at 4, Clapton Square, Hackney, Middlesex, 31st July, 1826 and baptised at the Caledonian Church, Sidmouth Street (?), Gray's Inn Lane on 24th October 1827 (1881 census; baptism certificate).
He seems likely to have been in Jamaica with his parents from the age of about 6 to about 16.
(It appears that neither he nor his brother went to Oxford or Cambridge or London universities)
Author, stockbroker, free trader.
Author of The Journals of Mr Sugar Face and Mr Gastric Juice (1851) (unpublished).
Author of An account of a Seven Week's Tour on the Continent-- (1853) (unpublished).
1851 census: At 48, Highbury Park North, with father George B, brother John R and Amelia C. Profession: dealer in railway shares.
Member of The Stock Exchange (His brother, John R. Medley, addressed a letter to him at The Stock Exchange 25.1.56); Chairman of The Assam Railway and Trading Company 'and largely interested in several American railway companies'.
Hon. Secretary of The British Chess Association 1862, 1866, 1868; vice-president in 1872. He was influential in the introduction of timed moves in competition chess.
Married Maria Louise Selous, daughter of Henry Courtney Selous, artist, at St. Mark's, Regents Park, 23.11.71, when his address is given as Oakwood, Chislehurst. The 1871 census has 270 Croydon (?) Road, Chislehurst and, staying with him, are his sister Amelia Costin, his nephew and niece, Edward and Mary Costin, and Olwen Fraser. He is still described as 'Magistrate for Kent' in the 1881 census
After marriage, lived at Winsford Towers, Beaworthy, Devon and 21, Park Street, London.
Active committee member of the Cobden Club and member of the Financial Reform Association.
The authors of 'A History of the Cobden Club', 1939 write that he was '--an indefatigable writer on its behalf' and 'Thanks to the generosity of his widow Medley's valuable economic publications were republished by the Club after his death'.
Author of England under free trade. An address. 1881; The Reciprocity craze. Cobden Club 1881; The House of Commons and its place in the state--. An address to --Devonport & Stonehouse Junior Liberal Assoc. R. S .Smithg & Co., Devonport, 1882; 'The coming democracy' 1883; 'The trade depression' Cobden Club 1885; 'Fair trade unmasked' Cobden Club 1887; 'The fiscal federation of the Empire': G. W. Medley's resolution and speech at the Congress of chambers of commerce of the Empire, Cassell & Co., London,1892; Mr. G. W. Medley on the free trade and protection question in 1894 (and other speeches by Mr I. S. Leadham and others) 1894; The German bogey, a reply to (E. E. Williams') Made in Germany Cobden Club 1896; Pamphlets & addresses Cobden Club, 1899; The chess conference of 1862; British Chess Association. Transactions for the years 1866 and 1867. 1868; Cobden Club: AGM 1888: Address by G. W. Medley on 'The triumph of free trade' - Special Report; Cobden Club AGM 1890, inc. 'The triumph of free trade, etc'., London 1890.
He 'unsuccessfully contested East Surrey in 1880, and Devonport in 1885, in the Liberal cause'. (Western Times 20.1.99, p.8, col.4)
His estate was 'sworn at £260,990 - 8s - 8d, the net personality being £252,038 - 5s - 7d'. (Western Times 20.1.99, p.8, col.4)
_______________________________________
Medley, John Racker 1828 to 17.12.1902.
Son of George Bowley Medley 1802-60 and his wife Hester (nee Webb) 1804-49.
Born at Keynsham, Manchester, Jamaica on 15th December 1828 and baptised at the Look Out, Manchester, Jamaica on 27th January 1830.
CERTIFICATE OF BAPTISM
Took third place in Ries'Divan knockout, 'the first modern chess tourney', in 1849, with his brother G. W. Medley.
1851 census: At 48, Highbury Park North, with father George B., brother George W. and Amelia C. Profession: clerk to his brother, who is a dealer in railway shares.
Cornet and later Lieutenant in the Army in Turkey, while serving with the Land Transport Corps of the Turkish Contingent, 1856.
Sub Inspector of police in New South Wales (Bourke, Mudgee and the Guloong Goldfields), 1862-81.
1901 census: 'living on own means' as a visitor at ('Club Chambers'),12345 Norris Street, St. James's West, Strand, London. He was staying with Louise Eldridge, proprietor of a boarding house; there were 13 other guests plus Mrs Eldridge and her son and daughter.
Died at Grantham; will (22.11.94) leaves £200 to Minnie Rosalie and the rest (£1733) to nephew Edward Boyd Costin, his executor.
_______________________________________
Medley, Amelia Cerf 23.7.1831 to 23.2.1886
Daughter of George Bowley Medley 1802-60 and his wife Hester (nee Webb) 1804-49
Born at Keynsham, Manchester, Jamaica

CERTIFICATE OF BAPTISM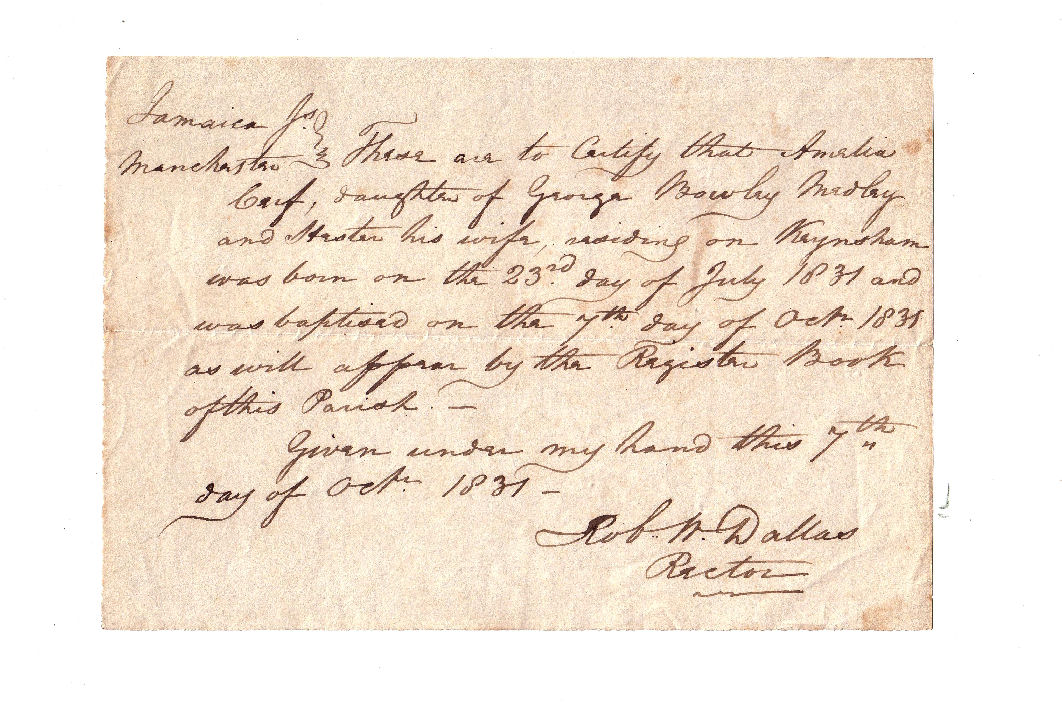 1851 census: At 48, Highbury Park North, with father George B, brothers George W and John R. Zachary Cope in The versatile Victorian, a biography of the eminent surgeon Sir Henry Thompson, describes her as 'a pretty blonde' and says that 'Henry was rather fond of her'. She took piano lessons from Kate Loder whom she introduced to Sir Henry in 1850 and whom he subsequently married.
Known to family as Minnie.
Married Barry Alexander Boyd Costin who left her a widow in 1860 with 4 children when she was 29.
The 1871 census has her staying with her brother George at 270 Croydon (?) Road, Chislehurst and, staying with them, are their nephew and niece, Edward and Mary Costin, and Olwen Fraser. She sought consolation in Christianity.
_______________________________________
Images and biographical notes supplied by Nigel Webb.
---
© 2013. Jamaican Family Search hereby grants you a limited license to copy and use the materials provided on this site solely for your personal, non-commercial use. No other use of the site or materials is authorized. You agree that any copy of the materials (or any portion of the materials) that you make shall retain all copyright and other proprietary notices contained therein. Posting of materials on other Web Sites is strictly prohibited.
---
SEARCH THIS SITE
---
GO TO:
Help - Frequently Asked Questions
Jamaica Almanacs Slave-owners, Civil & Military officers, Magistrates etc.
Items in the Samples Directory
Items in the Members Directory
Transcriptions from Registers and Wills (Church of England, Dissenters, Civil Registration)
Jamaican Roman Catholic Church Registers - transcriptions
Jamaican Methodist Baptisms - transcriptions
Jewish births marriages deaths - transcriptions