Jamaican Family Search Genealogy Research Library
MEDLEY AND WEBB IMAGES AND BIOGRAPHICAL NOTES 1
GEORGE BOWLEY MEDLEY
Date format: Day/month/year
Medley, George Bowley 28.2.1802 (not verified, but born City of London according to 1851 census), died 31.3.60 (Probate Register).
PORTRAIT OF GEORGE BOWLEY MEDLEY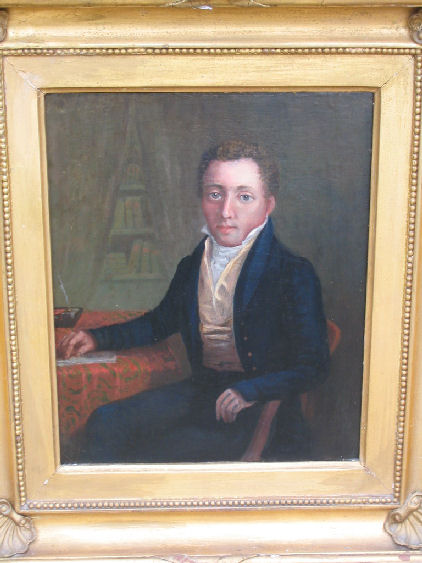 Son of Samuel Medley 1769-1857 & Susannah Bowley.
Married (27.9.1825) Hester Webb (Newspapers), born 24.9.1804 (Baptism certificate), daughter of John Racker Webb and Mary Wint of Jamaica. See Hester Webb
For more on the family of John Racker Webb, see John Racker Webb family
Issue George 31.7.1826 (Baptism certificate); John 15.12.1828; Julia 8.6.1830 (not verified); Amelia 23.7.1831(Baptism certificate); Henry 7.4.1833 (not verified).See Medley children
He describes himself as a stockbroker, of Threadneedle Street, on George Webb Medley's baptism certificate (1826).
Appointed Justice of the Peace and Assistant Judge in the Court of Common Pleas, parish of Manchester, Jamaica, 16.6.1834.
APPOINTMENT AS JUSTICE OF THE PEACE, MANCHESTER, JAMAICA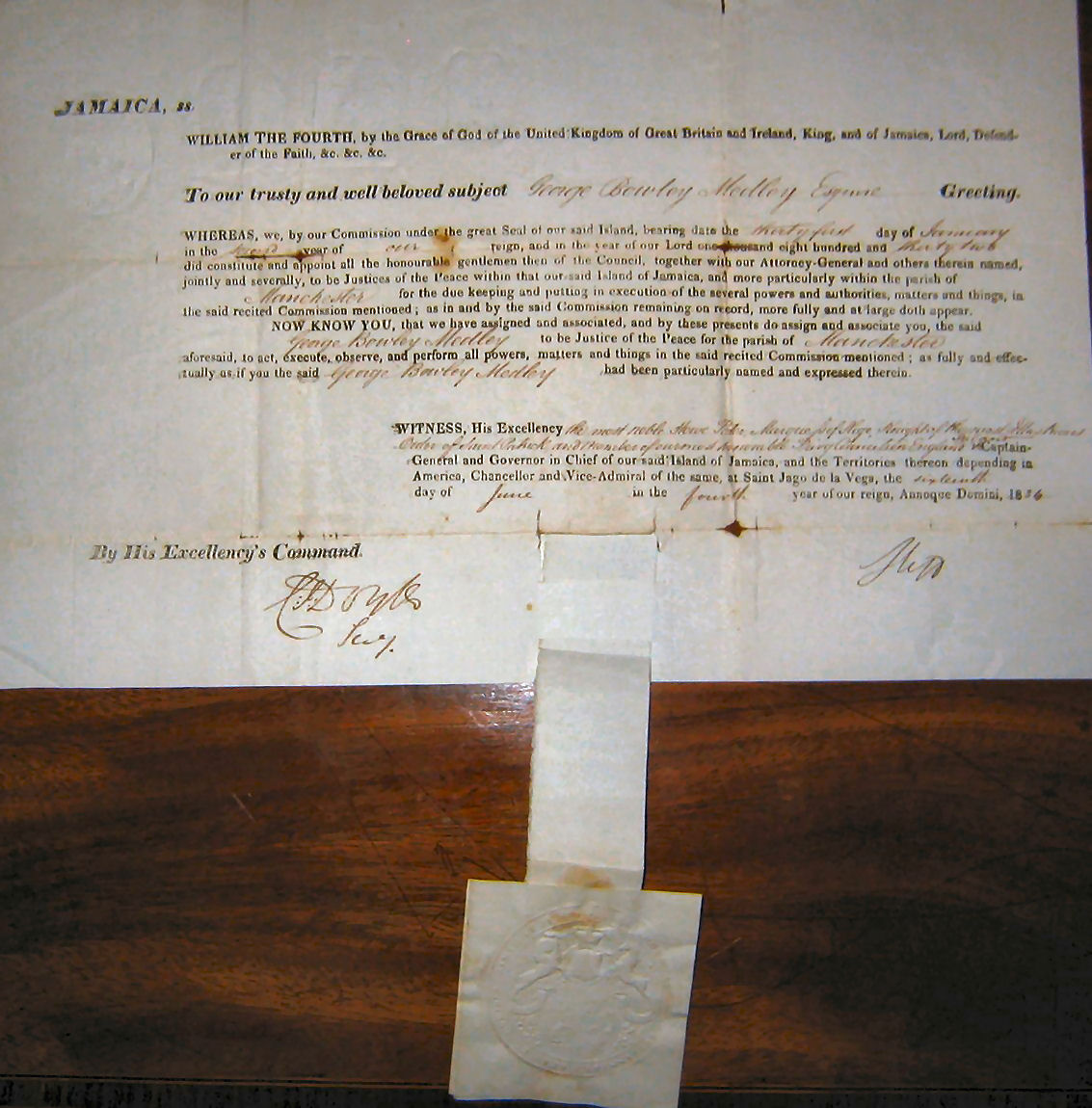 _______________________
APPOINTMENT AS ASSISTANT JUDGE, MANCHESTER, JAMAICA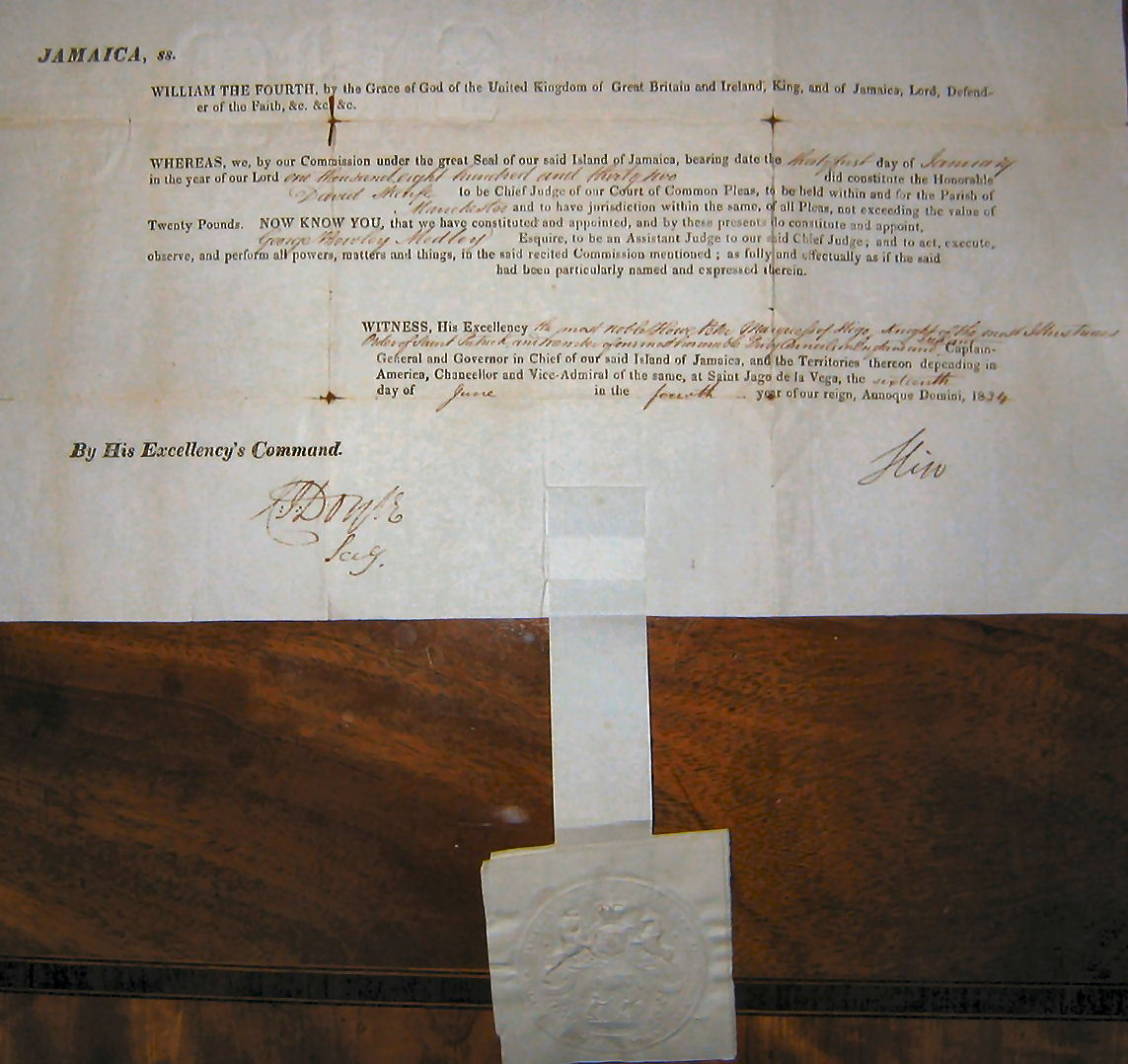 Zachary Cope in The versatile Victorian, a biography of the eminent surgeon Sir Henry Thompson, describes George Bowler Medley as having been 'a planter in the West Indies' and 'after the emancipation of the slaves (he) had returned home and become an underwriter at Lloyd's', making 'his home at Milner Square, Islington'.
There is evidence (the documents and receipts in Archive 6) to suggest he may have come back to England c.1841.
Resident prior to death at Highbury Park and, later, 29, Bloomsbury Square, Middlesex
1841 census: in Lambeth, with wife Hester and children George Webb, John Racker and Amelia.
1851 census: At 48, Highbury Park North, with George W., John R. and Amelia C. Profession: underwriter.
After 1849, when his wife Hester died, (prob. after 1851 since she is not on census), married Anne Philippa or Philippa Anne who was his widow and, by a peculiar will of 1854, sole beneficiary at his death. Estate under £1500
Made bankrupt 2.9.1854 in connection with activities as an underwriter in partnership with William Adam: net debts around £5000. Certificate of discharge (first class) approved 6.11.1854.
_______________________________________
Images and biographical notes supplied by Nigel Webb.
---
© 2013. Jamaican Family Search hereby grants you a limited license to copy and use the materials provided on this site solely for your personal, non-commercial use. No other use of the site or materials is authorized. You agree that any copy of the materials (or any portion of the materials) that you make shall retain all copyright and other proprietary notices contained therein. Posting of materials on other Web Sites is strictly prohibited.
---
SEARCH THIS SITE
---
GO TO:
Help - Frequently Asked Questions
Jamaica Almanacs Slave-owners, Civil & Military officers, Magistrates etc.
Items in the Samples Directory
Items in the Members Directory
Transcriptions from Registers and Wills (Church of England, Dissenters, Civil Registration)
Jamaican Roman Catholic Church Registers - transcriptions
Jamaican Methodist Baptisms - transcriptions
Jewish births marriages deaths - transcriptions