Jamaican Family Search Genealogy Research Library
NICHOLAS STAMBURY TARR
and his wife RUHAMAH (WILMOT) SANFTLEBEN
With comments by David Ferguson
I (David Ferguson) am preparing a short biography on my great-grandfather, Nicholas Stambury TARR (1848 - 1920). Born in England, Nicholas moved to Canada in 1871 to make his livelihood in the book selling business. His Jamaican connection is two-fold. First, in the autumn of 1913, some years after the death of his first wife, he married Ruhamah "Amy" (Wilmot) Sanftleben the former wife of John William Sanftleben of Jamaica. Family tradition has it that Nicholas and Amy were friends while still living in London, and according to the 1871 English Census, they did live within a short distance of each other. When Nicholas left for Canada that spring, he was 22 and she 15.
Photograph of Nicholas and Ruhamah "Amy" Tarr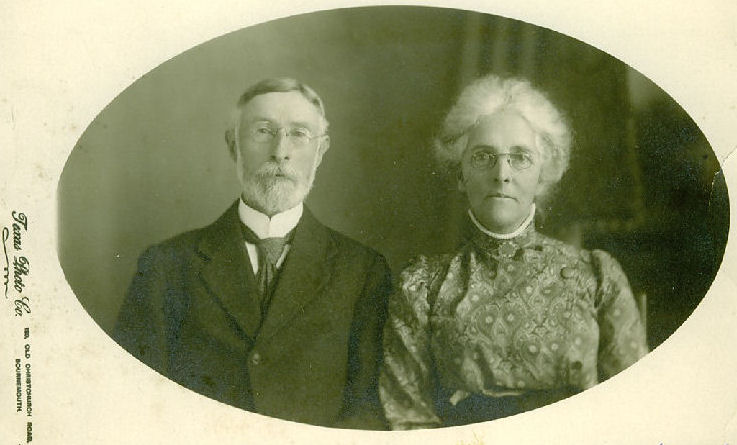 After marrying Amy, Nicholas continued with his final Canadian occupation as manager of a tourist resort in central Ontario during the summer months, and took winters in southern England and Jamaica. I have located their names in an April 1914 passenger list, returning from Jamaica to their home in Orillia, Ontario, via the United States.
Another Photograph of Nicholas and Ruhamah "Amy" Tarr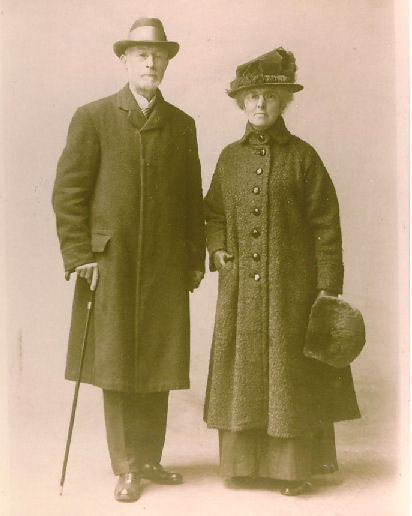 Nicholas Tarr's second connection with Jamaica was that he died and was buried somewhere on the island.
Tombstone of Nicholas Tarr, in Jamaica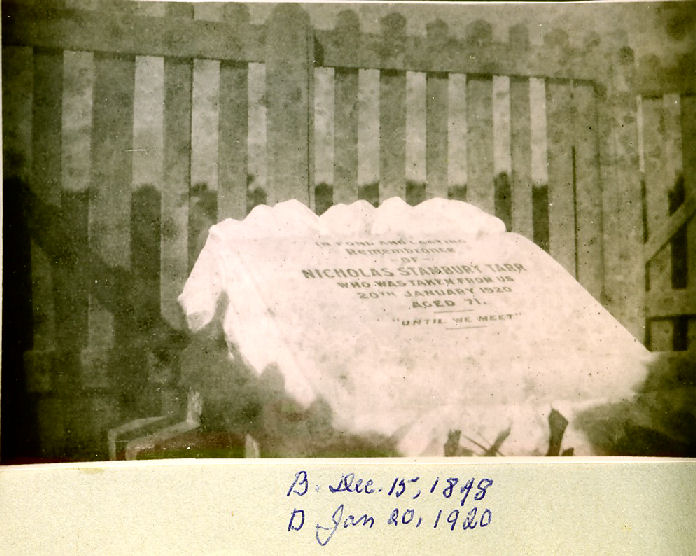 ---
LETTER FROM NICHOLAS STAMBURY TARR
Letter of condolence from Nicholas Stambury Tarr to his daughter-in-law, Alice Tarr, upon learning of the death of his son (and her husband) Stambury Ryrie Tarr on Nov. 15, 1918. Transcribed by David G. Ferguson on Jan 2, 2008.
Western View, Dec 22
Hurstpierpoint
Sussex, England
My Dear Alice,
I am so glad you are going to remain at the College1 for the winter. I should have felt badly to think of you and Eleanor alone at 57 Scotia St2. and am also very glad you will manage to let Dorothy finish at Moulton3. I am sure under present circumstances your father and mother will be glad to have you with them rather than at so great a distance as Winnipeg.
I received the terrible news4 on the morning of my 70th birthday5, the C.F.6 of Nov 20 came that morning while I was sitting at the fire thinking of old times recalled by my birthday. When I took up the C.F. and read as far as the middle Editorial page I received a terrible shock and hardly know what I said for awhile and Aunt Amy7 had a rather anxious time with me for a few days. The morning after my birthday Edgar's8 letter written on the train arrived giving all particulars from the time he was called to Woodstock. I had taken it for granted that Influenza and Pnuemonia had been the trouble, so that the horrible truth revealed by the operation was an added shock and I think I can quite realize what it must have meant to Stambury and you.9 Poor Stambury, I feel so sorry for him, and yet thankful that the awful suffering usually experienced with cancer was not for him to bear. It seems remarkable that he should have got back to Woodstock and then Ottawa, I am so pleased that you took him to Beechwood.10
I should so like to know something about your trip from Winnipeg to the East if you feel you can write to me about it sometime, had you or he ever had any suspicion of the cause of his poor health.
The editorial and other appreciations of Stambury's work and influence for good in Winnipeg are very comforting and not mere words.
We have all with good reason been proud of Stambury and I shall miss his letters & C.F. work very much. How much one would like to see beyond the veil.
I feel deeply for you and did not need Edgar's assurance that both you and Stambury had been "brave". I am so thankful that Edgar was with you both through those terrible days. Aunt Amy wishes me to send her love and sympathy, she is sorry the war prevented her from becoming more acquainted with you both and the children. Please remember me most kindly to your father and mother. Lots of love to yourself and Eleanor, I shall write to Dorothy.
Affectionately
Grandfather
1Woodstock College for Young Men, Woodstock, Ontario
2The Winnipeg home of Alice and Stambury Tarr
3Moulton College for Young Ladies, Toronto
4Of the death of his son Stambury
5December 15
6Canadian Finance, a nationally respected business newspaper owned and edited by Stambury Tarr
7Nicholas Tarr's second wife, Ruhamah "Amy" (Wilmot) (1st marriage Sanftleben) Tarr
8Edgar Jordan Tarr, Stambury's brother
9Stambury, his mother, and her mother as well, all died of similar bowel cancers, all at or before the age of 50 years
10A family burial plot at Beechwood Cemetery, Ottawa

11Final footnote: In an era of "modern" telegraphic communications provided by trans-Atlantic cables, it is difficult to understand why the Tarr family in Canada could not have gotten the news to Nicholas in England much sooner after Stambury's death. John Avery, an English historian of the cable service has suggested that in the days immediately following WWI, the major effort required to demobilize the large Canadian and American armies in Europe may have caused private message transmissions to be temporarily suspended. Admittedly, this is only conjecture.
~~~~~~~~~~~~~~~~~~~~~~~~~
I would appreciate learning information anyone might have on the Jamaican aspects of the lives of Nicholas and Amy, including their places of death and burial.

David Ferguson
dpfergus@vianet.on.ca
2008
---
© 2013. Jamaican Family Search hereby grants you a limited license to copy and use the materials provided on this site solely for your personal, non-commercial use. No other use of the site or materials is authorized. You agree that any copy of the materials (or any portion of the materials) that you make shall retain all copyright and other proprietary notices contained therein. Posting of materials on other Web Sites is strictly prohibited.
---
SEARCH THIS SITE
---
GO TO:
Help - Frequently Asked Questions
Jamaica Almanacs Slave-owners, Civil & Military officers, Magistrates etc.
Items in the Samples Directory
Items in the Members Directory
Transcriptions from Registers and Wills (Church of England, Dissenters, Civil Registration)
Jamaican Roman Catholic Church Registers - transcriptions
Jamaican Methodist Baptisms - transcriptions
Jewish births marriages deaths - transcriptions