Jamaican Family Search Genealogy Research Library
DISCOVERY BAY, ST. ANN
COLUMBUS PARK
Open Air Museum
Discovery Bay, St. Ann, monument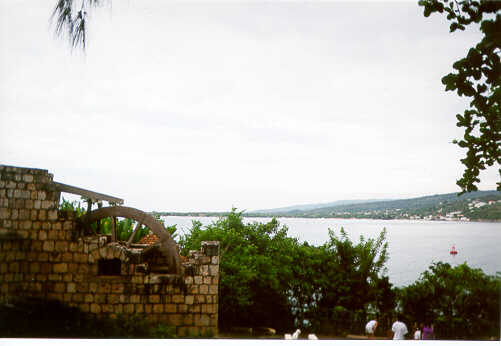 The town of Discovery Bay was originally named Dry Harbour. The name was changed for "tourist appeal" as it is reputed by some to be the area at which Christopher Columbus first landed in Jamaica.
The open air museum displays items used by earlier occupants of the island.
LOGWOOD SCALE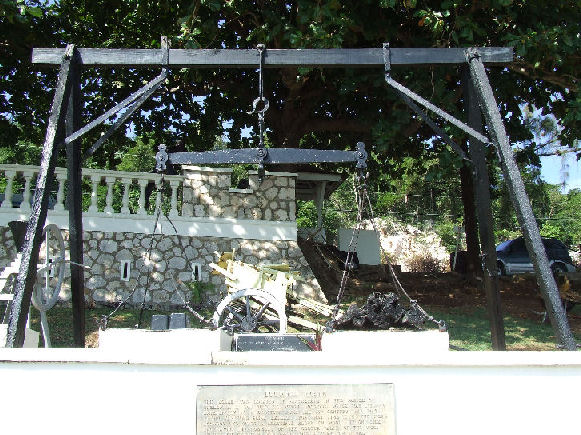 The legend under the scale reads in part: "This scale was located at Pantrepant in the Parish of Trelawny. It was used to weigh logwood, which was utilized extensively as a dyestuff from the 16th century and was among Jamaica's prime exports from that time until the 1920s..."
---
PIMENTO FANNER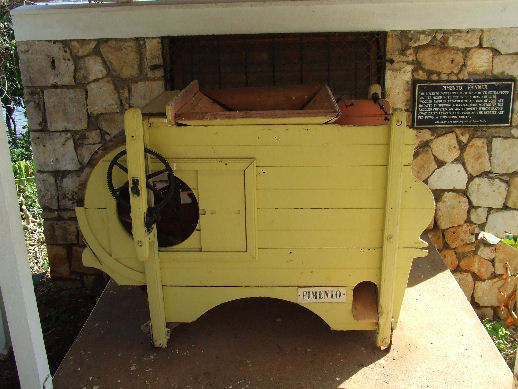 The legend next to the fanner explains: "The pimento fanner was used to remove extraneous matter mixed with the dried pimento berries. Wooden paddles attached to a series of cogs are rotated by turning a handle. The motion of the paddles creates an air current which blows away dried leaves and trash as the berries are fed down a threshing chute."
---
STRONG BOX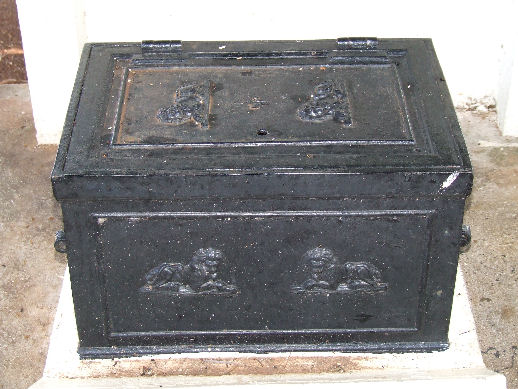 A typical iron strong box, with lead at the bottom.
---
SUGAR CAULDRON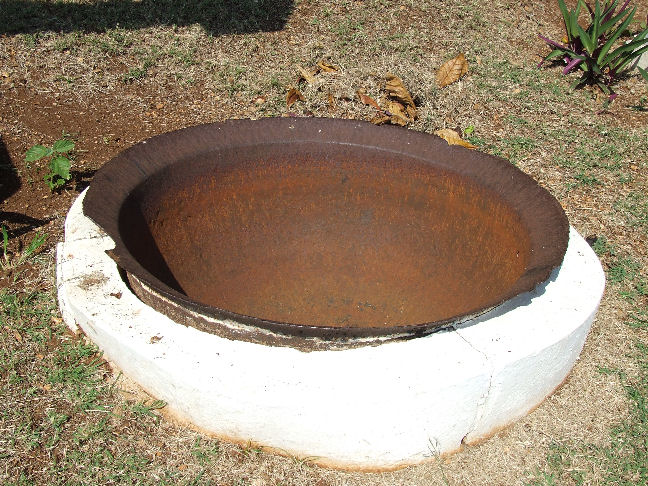 Sugar cauldron for slow boiling of cane juice to produce sugar crystals and molasses residue.
---
TERRA-COTTA WATER JAR
---
© 2013. Jamaican Family Search hereby grants you a limited license to copy and use the materials provided on this site solely for your personal, non-commercial use. No other use of the site or materials is authorized. You agree that any copy of the materials (or any portion of the materials) that you make shall retain all copyright and other proprietary notices contained therein. Posting of materials on other Web Sites is strictly prohibited.
---
SEARCH THIS SITE
---
GO TO:
Help - Frequently Asked Questions
Jamaica Almanacs Slave-owners, Civil & Military officers, Magistrates etc.
Items in the Samples Directory
Items in the Members Directory
Transcriptions from Registers and Wills (Church of England, Dissenters, Civil Registration)
Jamaican Roman Catholic Church Registers - transcriptions
Jamaican Methodist Baptisms - transcriptions
Jewish births marriages deaths - transcriptions