Jamaican Family Search Genealogy Research Library
PORTRAITS OF JOHN CLARKE and DANIEL BERNARD
---
JOHN CLARKE
This miniature of John Clarke is actually dated 1784. We know that he owned over 300 acres of land in Hanover and was initially married to Petronella Virgo the daughter of William and Mary Virgo of Water Valley in Trelawny. After she died he married Elizabeth Gallimore of St. James on 1st April 1769. He had a son, William Virgo Clarke born 23rd Jan 1767 who married Ann Parr Bernard, the daughter of 'Gen Bernard', in the other miniature. William Virgo Clarke is also mentioned in the Almanacs and he had a son, born 1801, also William Virgo Clarke.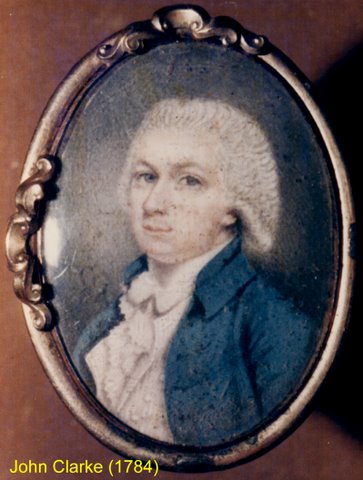 ---
DANIEL BERNARD
This man owned Roehampton and other St. James Estates. He was mentioned in the Jamaica Almanacs several times both in the Militia and as a magistrate.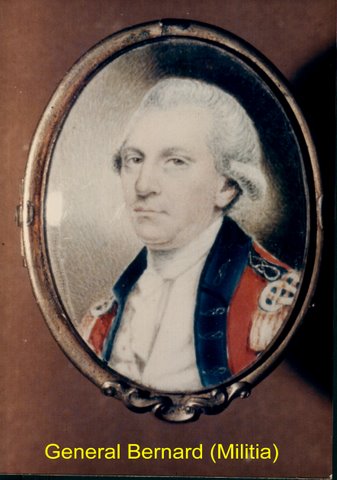 ---
© 2013. Jamaican Family Search hereby grants you a limited license to copy and use the materials provided on this site solely for your personal, non-commercial use. No other use of the site or materials is authorized. You agree that any copy of the materials (or any portion of the materials) that you make shall retain all copyright and other proprietary notices contained therein. Posting of materials on other Web Sites is strictly prohibited.
---
SEARCH THIS SITE
---
GO TO:
Help - Frequently Asked Questions
Jamaica Almanacs Slave-owners, Civil & Military officers, Magistrates etc.
Items in the Samples Directory
Items in the Members Directory
Transcriptions from Registers and Wills (Church of England, Dissenters, Civil Registration)
Jamaican Roman Catholic Church Registers - transcriptions
Jamaican Methodist Baptisms - transcriptions
Jewish births marriages deaths - transcriptions