Jamaican Family Search Genealogy Research Library
Arthur Dickson, 1913-2011
The youngest of eight children, Arthur Dickson, 'Maas Babe', was born in Lucea in 1913. After Rusea's School and Cornwall College he went on to study Law in England and was called to the Bar, at Lincoln's Inn, in 1938. Coming home, he practised as a barrister in St. James and Trelawny for a number of years before accepting a post to revise the Ordinances of the Turks and Caicos Islands. Appointments in Europe, Barbados and Guyana followed until, like many Jamaicans before and since, he moved further a field, in 1952. Having married a Dutch girl in Barbados, he worked in Nigeria where he became a High Court judge until 1962. A colleague on the bench was another Jamaican, William Duffus, who became a firm friend. A return to Jamaica saw him appointed to the Supreme Court until he chose, in 1964, to move to Africa once more. As a High Court judge in Uganda he renewed his acquaintance with William Duffus who was then sitting on the East African Court of Appeal. He remained there until 1971 when he made England his home.
However, his travels continued for he flew out to hear cases in the Leeward Islands until he accepted the post of Chief Justice of Belize where he then stayed on as Commissioner for Law Revision. For his services abroad he was invested as a CBE at Buckingham Palace in 1974 and then chaired tribunals in England until retirement at the age of 73.
Wherever he went Arthur Dickson made new friends with ease but he never forgot the island of his birth for which he retained a deep and lasting fondness. His personal memory of people and places and his knowledge of Jamaican history and traditions were remarkable in their detail. A small but treasured collection of books, pamphlets and papers on Jamaican history accompanied him on all his travels. Between the ages of 92 and 95 he returned to Jamaica three times and joyfully rediscovered the haunts of his childhood and youth, always greeting people with a warm smile and engaging in friendly and informative conversation. Whoever he spoke to in Jamaica, he unfailingly found a shared interest or a mutual acquaintance from the past to talk about. He passed away peacefully, in England, in May 2011.
~~~~~~~~~~~~~~~~~~~
This obituary of Arthur Richard Franklin Dickson was written by his son Peter Dickson, who has contributed many pages to this website. He states "All that I have contributed to jamaicanfamilysearch.com has been inspired by him - his love of Jamaica growing up as a boy and his abiding interest in its history and its people."
Portrait of ARTHUR DICKSON in his Jamaican Supreme Court regalia [1963]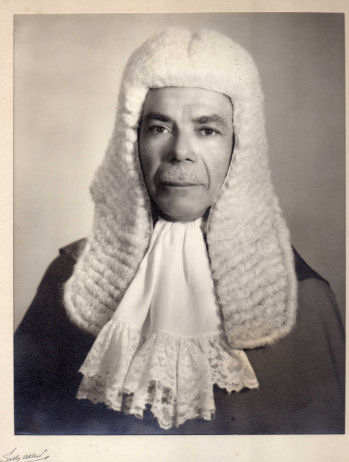 ---
© 2013. Jamaican Family Search hereby grants you a limited license to copy and use the materials provided on this site solely for your personal, non-commercial use. No other use of the site or materials is authorized. You agree that any copy of the materials (or any portion of the materials) that you make shall retain all copyright and other proprietary notices contained therein. Posting of materials on other Web Sites is strictly prohibited.
---
SEARCH THIS SITE
---
GO TO:
Help - Frequently Asked Questions
Jamaica Almanacs Slave-owners, Civil & Military officers, Magistrates etc.
Items in the Samples Directory
Items in the Members Directory
Transcriptions from Registers and Wills (Church of England, Dissenters, Civil Registration)
Jamaican Roman Catholic Church Registers - transcriptions
Jamaican Methodist Baptisms - transcriptions
Jewish births marriages deaths - transcriptions