Jamaican Family Search Genealogy Research Library
JAMAICAN PHOTO ALBUM
PHILLIPS' SOAP FACTORY WORKERS
THIS PICTURE WAS TAKEN BY ABNER PHILLIPS (RAGLANS' YOUNGER BROTHER) BETWEEN 1896-1904, ABNER OWNED A SOAP "WORKS" AS THEY REFERRED TO IT, AT OR NEAR BOG WALK, JAMAICA, ON A PROPERTY CALLED "WAKEFIELD". THE PROPERTY HAD AN OLD SUGAR MILL ON IT. THE MILL WAS CONVERTED TO MAKE SOAP ( BY ABNER).
THE MAN IN THE CENTER OF THE PICTURE CAME FROM SCOTLAND. HE WAS NOT THE MANAGER, BUT RATHER A SINGER, WHO WOULD TEACH THE WORKERS SCOTTISH SONGS. (THAT WAS HIS SOLE JOB)
THE WORKERS WOULD SING AFRICAN SONGS WHICH HAD A SLOWER BEAT TO THEM. THE SCOTTISH SONGS WERE HAPPIER & QUICKER AND EVIDENTLY THIS IMPROVED PRODUCTION.
I WAS NEVER GIVEN THE MAN'S NAME BUT I WAS TOLD THE STORY BY MY COUSIN LENA PHILLIPS WHO WAS ABNERS DAUGHTER, AND LIVED THERE AS A YOUNG GIRL (4 - 8 YEARS OLD AT THE TIME).
THE STORY I WAS TOLD WAS THAT ABNER WAS ONE OF THE FIRST TO MAKE SOAP IN THE ISLANDS, THIS REDUCED THE NEED OF SOAP FROM ENGLAND, BUT THE ENGLISH SOAP MAKERS WERE NOT HAPPY WITH THE INROADS INTO THEIR MARKET IN THE WEST INDIES. ABNER WAS SUCCESSFUL FOR A TIME, HOWEVER EITHER SOME PRESSURE FROM THE ENGLISH, OR THE ENVY OF LOCAL GOVERNMENT OFFICIALS ENDED HIS SUCCESS WITH SOME SORT OF SPECIAL TAXATION WHICH PUT HIM OUT OF BUSINESS. HE LEFT WITH HIS FAMILY ALMOST BROKE.
RAGLAN PHILLIPS GIVES AN ACCOUNT OF THIS IN AN ARTICLE IN THE JAMAICA TIMES ( ABOUT 1920-26 ) TITLED " A MAN OF MANY PARTS," IN WHICH HE OUTLINES THE PLIGHT OF HIS BROTHER.
THE BOG WALK RIVER HAS A PHILLIPS LAND MARK IN IT--A BRAND NEW SOAP BOILER THAT WAS SHIPPED FROM ENGLAND, SLID OFF THE BACK OF A MULE CART AND INTO THE RIVER. THE SILT FROM THE RIVER FILLED THE INSIDE MAKING IT IMPOSSIBLE TO PULL IT OUT OF THE RIVER. THE BOILER WAS STILL THERE WHEN I VISITED A FEW YEARS AGO, BUT DEPENDING ON THE LEVEL OF THE RIVER, SOMETIMES IT IS LESS VISIBLE FROM THE ROAD. THE LOSS OF THE BOILER ALSO CONTRIBUTED TO THE DESIRE TO LEAVE, I WAS TOLD. FROM NOW ON I KNOW YOU WILL NOT BE ABLE TO TRAVEL THAT ROAD WITHOUT LOOKING FOR THE BOILER IN THE RIVER. THE BOILER THAT MADE IT OVER THE SEAS ONLY SINK INTO A JAMAICAN RIVER.
---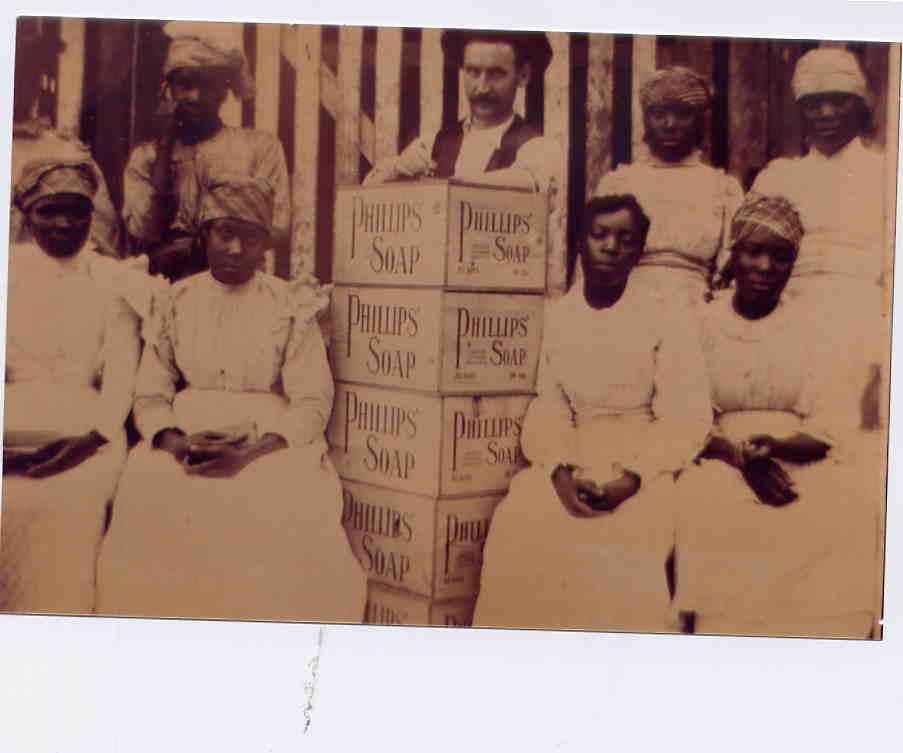 ---
© 2013. Jamaican Family Search hereby grants you a limited license to copy and use the materials provided on this site solely for your personal, non-commercial use. No other use of the site or materials is authorized. You agree that any copy of the materials (or any portion of the materials) that you make shall retain all copyright and other proprietary notices contained therein. Posting of materials on other Web Sites is strictly prohibited.
---
SEARCH THIS SITE
---
GO TO:
Help - Frequently Asked Questions
Jamaica Almanacs Slave-owners, Civil & Military officers, Magistrates etc.
Items in the Samples Directory
Items in the Members Directory
Transcriptions from Registers and Wills (Church of England, Dissenters, Civil Registration)
Jamaican Roman Catholic Church Registers - transcriptions
Jamaican Methodist Baptisms - transcriptions
Jewish births marriages deaths - transcriptions