Jamaican Family Search Genealogy Research Library
JAMAICAN PHOTO ALBUM
ROCKFORT, near Kingston, Jamaica
The following text and photograph were received from Richard Phillips.
THE LOCATION OF THE PICTURE ATTACHED IS PROBABLY FAMILIAR TO MOST JAMAICANS. IN FACT AS YOU LAND IN KINGSTON, OR COME BY SEA, YOU CAN'T HELP BUT ADMIRE THE SPRAWLING CITY NESTLED AT THE FOOT OF THE BEAUTIFUL BLUE MOUNTAINS, AS YOU TAKE IN THIS BREATHTAKING
PANORAMA, YOU FEEL A SENSE OF PATRIOTIC PRIDE, TO THINK SUCH BEAUTY IS A PART OF OUR HERITAGE.
HOWEVER, MOST CAN'T HELP NOTICING ONE LARGE BLEMISH ON THIS NEARLY PERFECT PICTURE. ETCHED INTO THE SIDE OF THE MOUNTAIN NEAR ROCK FORT IS A STRIP MINE. RAY CHEN NEVER SEEMS TO BE ABLE TO QUITE GET THE RIGHT ANGLE TO FIT IT INTO ANY OF HIS PHOTOS FOR HIS PICTORIAL BOOKS OF JAMAICA. NO ONE COULD BLAME HIM FOR THIS OVERSIGHT, HOWEVER
WHILE MOST JAMAICAN'S WOULD SEE THIS AS A SCAR, I HAVE BEEN BROUGHT UP TO REMEMBER IT DIFFERENTLY.
THIS PICTURE WAS TAKEN BY ABNER PHILLIPS (BETWEEN 1896 & 1904), WHILE, WITH HIS BROTHER, A LAND SURVEYOR RAGLAN PHILLIPS. THE ORAL TRADITION I HAVE BEEN TAUGHT FROM MY CHILDHOOD WAS THAT MY GREAT GRANDFATHER RAGLAN, WAS THE ONE WHO SURVEYED THAT EXTREMELY RUGGED AND DIFFICULT PIECE OF TERRAIN. RAGLAN DID THIS WORK FOR THE GOVERNMENT, AND THE PRISON SYSTEM. INMATES SERVING TIME FOR VARIOUS OFFENCES WERE SENT OUT THERE TO BREAK ROCKS. ( I REMEMBER SEEING PRISONERS IN THEIR BLACK AND WHITE STRIPED UNIFORMS BREAKING ROCKS IN THE SWELTERING HEAT, IN THE EARLY 1960'S.)
RAGLAN PROBABLY TOOK HIS YOUNGER BROTHER OUT TO THE SITE, AND ABNER TRYING TO CAPTURE THIS ACCOMPLISHMENT OF RAGLANS', TOOK THIS PICTURE.
SO WHILE MOST JAMAICANS SEE IT AS A AN EYE SORE, (AND I COULDN'T AGREE WITH THEM MORE), FOR ME IT IS A SPECIAL REMINDER OF A MAN WHO HAD A PASSION FOR THE PEOPLE OF JAMAICA, FOR HE WAS NOT JUST A SURVEYOR BUT ...ALSO THE MAN THAT BROUGHT THE SALVATION ARMY TO JAMAICA, STARTED THE CITY MISSION CHURCHES, PREACHED ALL OVER THE COUNTRY, AND AT THE TIME OF HIS DEATH IN 1930, THE NEWS PAPER SAID THAT HE HAD ONE OF THE LARGEST FUNERALS
IN KINGSTON'S HISTORY. RAGLAN BROUGHT THE ORGANIZATION THAT CARES FOR ORPHANS,THE ELDERLY, THE BLIND, AND THE MARGINALIZED IN JAMAICA.
RAGLAN, WAS GIVEN A VISION BY HIS GOD TO MAKE THE LIFE OF OTHERS BETTER. THERE IS NO MONUMENT TO HIM IN JAMAICA, AND THAT'S OK WITH ME, FOR EVERY TIME I SEE THAT SCARRED PIECE OF MOUNTAINSIDE I AM REMINDED OF HIS DEDICATION TO HIS GOD AND HIS LOVE FOR THE PEOPLE OF OUR COUNTRY AND THE MONUMENT HE CARVED OUT HIMSELF.
NEEDLESS TO SAY WHENEVER I LAND OR LEAVE THE INTERNATIONAL AIRPORT AT PALISADOES, I CAN'T HELP LOOKING FOR THE SCAR ON THE SIDE OF THE MOUNTAIN. REFLECTING FOR A MOMENT, I CAN'T HELP BUT BE INSPIRED, AND WIPING A FEW TEARS FROM MY EYES I AM MOVED
TO THINK WHAT A BEAUTIFUL MARK TO LEAVE BEHIND.
....AND NOW YOU MAY NEVER SEE THAT LAND MARK THE SAME WAY AGAIN EITHER; REMEMBERING THE MAN WHO MADE HIS MARK NOT ONLY ON A LANDSCAPE, BUT MORE IMPORTANTLY ON HUMANITY.
...AND NOW YOU KNOW THE REST OF THE STORY.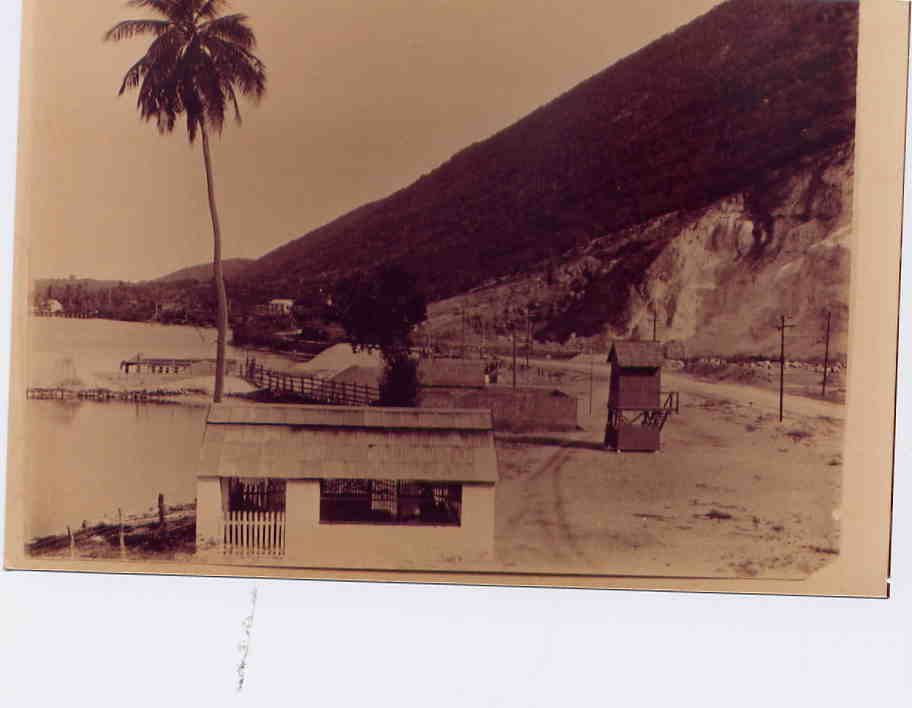 ---
© 2013. Jamaican Family Search hereby grants you a limited license to copy and use the materials provided on this site solely for your personal, non-commercial use. No other use of the site or materials is authorized. You agree that any copy of the materials (or any portion of the materials) that you make shall retain all copyright and other proprietary notices contained therein. Posting of materials on other Web Sites is strictly prohibited.
---
SEARCH THIS SITE
---
GO TO:
Help - Frequently Asked Questions
Jamaica Almanacs Slave-owners, Civil & Military officers, Magistrates etc.
Items in the Samples Directory
Items in the Members Directory
Transcriptions from Registers and Wills (Church of England, Dissenters, Civil Registration)
Jamaican Roman Catholic Church Registers - transcriptions
Jamaican Methodist Baptisms - transcriptions
Jewish births marriages deaths - transcriptions