Jamaican Family Search Genealogy Research Library
TOMBSTONE
FALMOUTH, TRELAWNY, JAMAICA
ALLAN DOUGLAS
This tombstone is in the churchyard of St. Peter's Anglican Church in Falmouth, on the north side near the main entrance.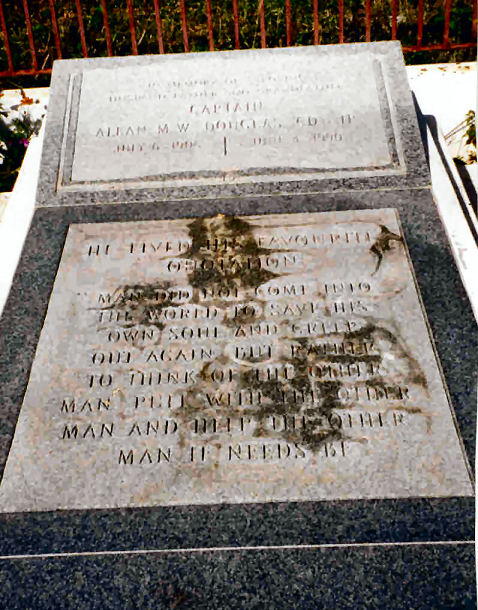 The following is the taken text of a news item that appeared in the "Daily Gleaner" on June 5, 1990, concerning his death
ALLAN DOUGLAS DIES
Mr. Allan Douglas, who had the distinction of being Jamaica's first Minister of Trade and Industry (1953-55), died yesterday morning at his home in Falmouth, Trelawny, after an illness which caused his retirement from public life six years ago.
Mr. Douglas, an attorney-at-law, won the seat for Trelawny Northern In the House of Representatives in 1949 as a member of the Jamaica Labour Party (JLP), and rose to ministerial rank immediately, holding office until 1959. After an absence of eight years, he returned to active politics in 1967, again winning the seat for Trelawny northern under the JLP banner and going on to serve as Minister of State in the Ministry of Home Affairs and, later, as Minister of Youth and Community Development.
A man of strong views, Mr. Douglas created local political history when he resigned from the Jamaica Labour Party in May 1951, in protest against the decision taken by the then Government not to build a new hospital in Falmouth, although there had been an understanding that the new medical facility would have been provided for Trelawny. His protest proved successful, for in September of that same year the new 150-bed hospital at Falmouth was built.
After serving in Parliament until 1972, he retired from active politics and resumed his law practice in Falmouth. He suffered a stroke in 1984 and spent his remaining years in ill health.
A man of many interests and activities, Mr. Douglas, who was born in Falmouth in 1908, became a solicitor in 1949. He was a partner in the law firm McFarlane and Douglas, and became a Notary Public in 1965.
Active in civic life, he gave service to the Boy Scout movement, serving first as cub master for the Falmouth Pack during 1931-38, and later as District Scout Commissioner for Trelawny from 1939 to 1949.
Mr. Douglas also did service as an army officer, doing duty with the Jamaica Battalion during 1944-47, holding the rank of Captain.
---
© 2013. Jamaican Family Search hereby grants you a limited license to copy and use the materials provided on this site solely for your personal, non-commercial use. No other use of the site or materials is authorized. You agree that any copy of the materials (or any portion of the materials) that you make shall retain all copyright and other proprietary notices contained therein. Posting of materials on other Web Sites is strictly prohibited.
---
SEARCH THIS SITE
---
GO TO:
Help - Frequently Asked Questions
Jamaica Almanacs Slave-owners, Civil & Military officers, Magistrates etc.
Items in the Samples Directory
Items in the Members Directory
Transcriptions from Registers and Wills (Church of England, Dissenters, Civil Registration)
Jamaican Roman Catholic Church Registers - transcriptions
Jamaican Methodist Baptisms - transcriptions
Jewish births marriages deaths - transcriptions