Jamaican Family Search Genealogy Research Library
JAMAICAN PHOTOGRAPHS
JAMAICAN SCOUTS IN HUNGARY, 1933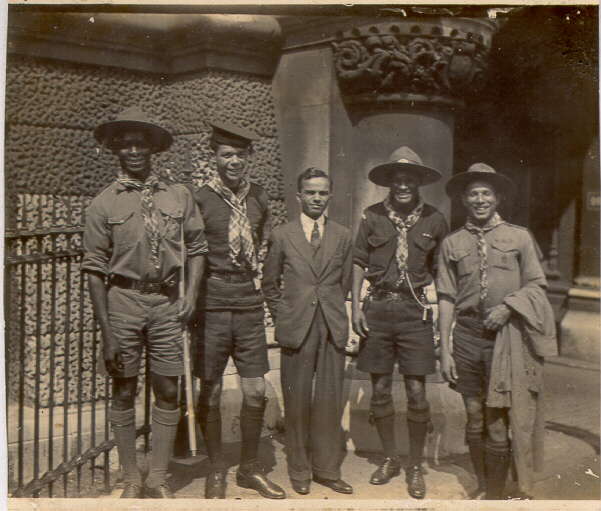 Scouts from Jamaica were attending the 1933 World Jamboree of Scouts. Pictured here are, left to right:
(1) Ben Campbell (from Lucea. Later became a Customs Officer. His father was the Inspector of Police in Lucea).
(2) Arthur Dickson (in Sea Scout uniform; retired from overseas service in Belize in early 1980s as Chief Justice and Law Revision Commissioner.)
(3) An English speaking Hungarian teacher, who acted as guide and translator for the Scouts when sightseeing about the city.
(4) Hopeton Roy Powell (1912-1987. Born in Porus, Manchester, third child of George Theodore and Alice Jane Powell (nee Parnell).)
(5) Allan Douglas (1908-1990. District Scout Commissioner for Trelawny 1939-1949; Captain in the Jamaica Battalion 1944-1947; Solicitor; Government Minister and Member of Parliament in Jamaica.)
---
© 2013. Jamaican Family Search hereby grants you a limited license to copy and use the materials provided on this site solely for your personal, non-commercial use. No other use of the site or materials is authorized. You agree that any copy of the materials (or any portion of the materials) that you make shall retain all copyright and other proprietary notices contained therein. Posting of materials on other Web Sites is strictly prohibited.
---
SEARCH THIS SITE
---
GO TO:
Help - Frequently Asked Questions
Jamaica Almanacs Slave-owners, Civil & Military officers, Magistrates etc.
Items in the Samples Directory
Items in the Members Directory
Transcriptions from Registers and Wills (Church of England, Dissenters, Civil Registration)
Jamaican Roman Catholic Church Registers - transcriptions
Jamaican Methodist Baptisms - transcriptions
Jewish births marriages deaths - transcriptions