Jamaican Family Search Genealogy Research Library
PHOTOGRAPHS OF JAMAICA
LUCEA, HANOVER, JAMAICA, 1937
Bob Stone Corner
The town of Lucea in Hanover was decorated for the Coronation of King George VI in May 1937, as were other towns in Jamaica. The third in this series of photographs was taken at Bob Stone Corner. A Jamaican policeman walks in the center foreground. Girls in their school uniforms, and women in white, walk behind him. Banners wave across the street.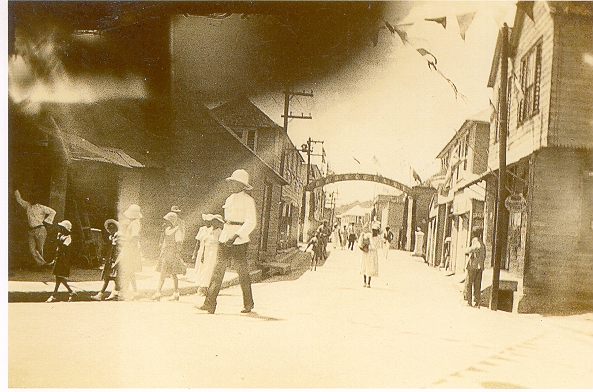 ~~~~~~~~~~~~~~~~~~~~~~~~~~~~~
Main Street, Lucea
The fourth photograph was taken on Main Street, Lucea, which was also decorated, with bunting and flags. (The Union Jack was the flag of Jamaica at that time). Women in white at the end of the street were probably part of the parade.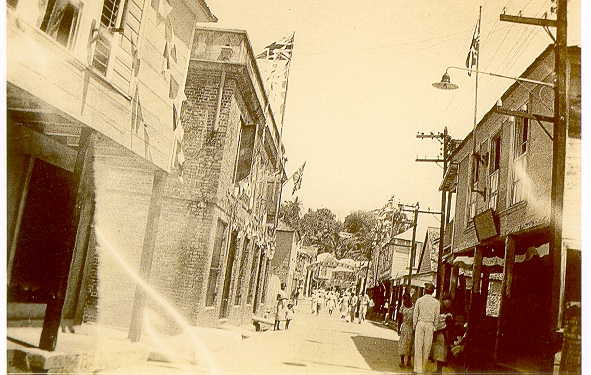 ---
---
© 2013. Jamaican Family Search hereby grants you a limited license to copy and use the materials provided on this site solely for your personal, non-commercial use. No other use of the site or materials is authorized. You agree that any copy of the materials (or any portion of the materials) that you make shall retain all copyright and other proprietary notices contained therein. Posting of materials on other Web Sites is strictly prohibited.
---
SEARCH THIS SITE
---
GO TO:
Help - Frequently Asked Questions
Jamaica Almanacs Slave-owners, Civil & Military officers, Magistrates etc.
Items in the Samples Directory
Items in the Members Directory
Transcriptions from Registers and Wills (Church of England, Dissenters, Civil Registration)
Jamaican Roman Catholic Church Registers - transcriptions
Jamaican Methodist Baptisms - transcriptions
Jewish births marriages deaths - transcriptions