Jamaican Family Search Genealogy Research Library
JAMAICA PHOTO ALBUM
---
Ruins at Rose Hall, St. James, Jamaica, c. 1930-1940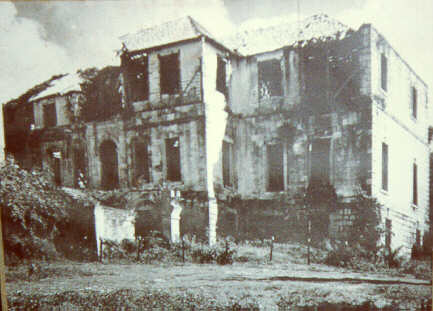 One of the Palmer wives, Mrs. Rosa Palmer, known as "the good Mrs. Palmer" was buried in the Parish Church in Montego Bay [See Parish Church]. Another Mrs. Palmer has become known as "The White Witch of Rose Hall." When I was a child, the Rose Hall great house, home of the Palmers and the alleged "White Witch of Rose Hall", was in ruins, as depicted in this photograph. According to local superstition, the White Witch still haunted the house, and would seize any intruders. Furthermore, according to the whispered stories, she could still be seen at night riding on Rose Hall and Ironshore estates, wearing a green velvet dress, seated on a large black horse, and flaying with her whip anyone who got in her way.
_____________________________
Rose Hall great house restored c1980
This house at Rose Hall, Jamaica, has since been restored and is open to the public for tours.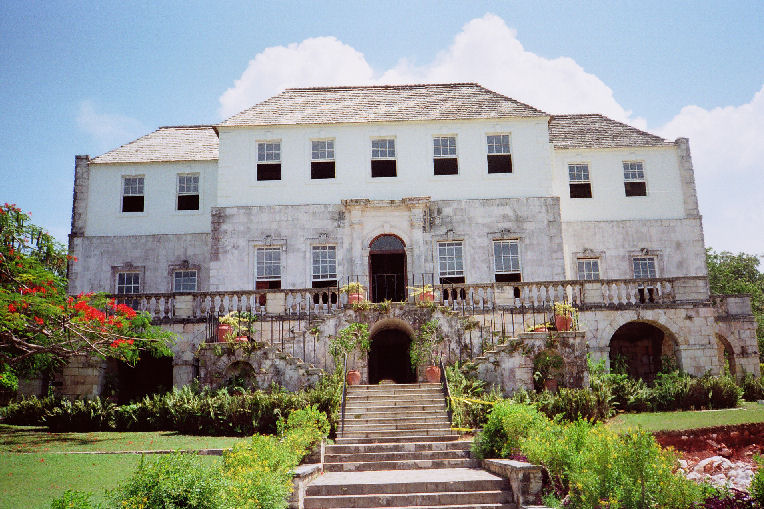 _____________________________
On an isolated slight promontory overlooking the sea at Rose Hall stood three very tall palm trees. They stood out and could easily be seen from the main road. According to the workers, Annie Palmer had buried her three husbands there, and she had planted a palm tree over each one of their graves. My father had always told me that they were century palms, and they only bloomed once every 100 years. Well, lo and behold, the palm trees bloomed sometime in the 1940s. Since they had never been seen to bloom in anyone's lifetime, it caused great fear in the estate workers. None of them would pass near by the trees. Having heard no explanation for the sudden appearance of the large bunches of white flowers crowning the palms, they assumed some supernatural reason for them.
On its western side, Rose Hall adjoined Ironshore Estate, where my father was the overseer when I was a little girl. Many stories were told to me by the workers on the estate. There were always stories of "duppies," which is the Jamaican term for ghosts. Some of their customs are also influenced by their belief in the power of those duppies. One Jamaican proverb is "Duppy know who him frighten." In other words, people who are not afraid of duppies are not bothered or frightened by them. The proverb is applied to relationships between people.
In the 'country parts' people would not walk past a cemetery at night. Maybe it was different in Kingston. I remember a woman who lived about a mile from my house telling me that she had to walk a long way and that was why she arrived at my house very late. When I pointed out that it was only a mile, she replied that she had to "walk round." Then I realized that a direct route would have taken her past a large cemetery. She had walked about six miles extra to avoid it.
In the country there were some nights on which you could get no sleep because drums were pounding loudly all night. That was because it was "Ninth Night." On the ninth night after a person dies, he or she reputedly returns home to take vengeance on anyone who had done them some harm or wrong while they were alive. In order to protect themselves, the acquaintances of the deceased band together at the home, and beat drums loudly to keep the spirit away. Apparently consumption of a lot of white rum is also an added form of protection.
The estate workers also believed that the spirits of those who had done evil while alive were bound with chains. They would walk around at night dragging their chains, and you could hear noise of the chains. Such a spirit was called a "Rolling Calf." I remember some nights on which my parents would be rather annoyed because a cow or calf that had been chained up got loose, and was outside dragging the chain while eating the flowers in our garden. None of the workers, or the true owner, would get up to go and chase the animal away, being convinced that it was really an evil spirit, and that they would be putting themselves in danger.
Need I go on? When placed next to the "Rolling Calf" the story of the "White Witch of Rose Hall" has about as much validity.
For more on the story of Rose Hall, please go to:
Rose Hall, Death of a Legend
Rose Hall Great House.
---
---
© 2013. Jamaican Family Search hereby grants you a limited license to copy and use the materials provided on this site solely for your personal, non-commercial use. No other use of the site or materials is authorized. You agree that any copy of the materials (or any portion of the materials) that you make shall retain all copyright and other proprietary notices contained therein. Posting of materials on other Web Sites is strictly prohibited.
---
SEARCH THIS SITE
---
GO TO:
Help - Frequently Asked Questions
Jamaica Almanacs Slave-owners, Civil & Military officers, Magistrates etc.
Items in the Samples Directory
Items in the Members Directory
Transcriptions from Registers and Wills (Church of England, Dissenters, Civil Registration)
Jamaican Roman Catholic Church Registers - transcriptions
Jamaican Methodist Baptisms - transcriptions
Jewish births marriages deaths - transcriptions