Jamaican Family Search Genealogy Research Library
DRAWINGS FROM ALMANACS
STORES IN KINGSTON, 1847
SCOTT'S CLOTHING WAREHOUSE
Harbour Street, Kingston, Jamaica. Nearly opposite the Post Office, Planter's Bank, and Commercial Hotel
Hats & shoes, Woollen & Linen Drapery, and Hosiery. Clothing.
Andrew Scott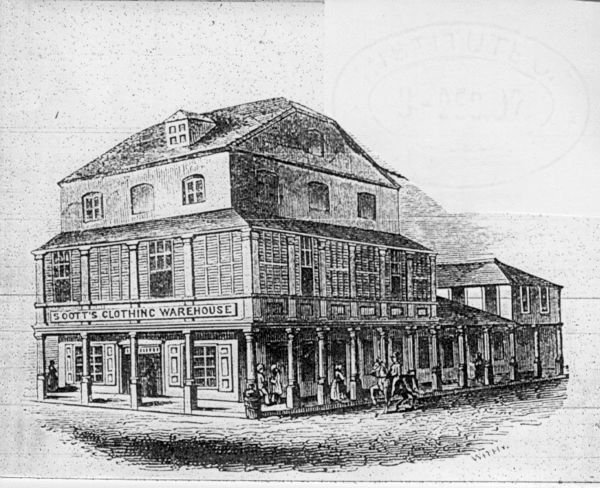 ---

CATHCART'S
PRINTING ESTABLISHMENT
94 Orange Street, Kingston, Jamaica

---

NETHERSOLE & SON
6 & 8 Port Royal Street, Kingston, Jamaica
importers of Irish Linens, Lawns, Sheetings, Drills, Hollands, Damasks, Diapers, Woollen cloths, Flannels, Prints, Muslins, Calicoes, French silks, Shawls, Scarfs, Fancy dresses & Mourning of all description, Bonnets, Hats, Boots and Shoes, Hosiery, Haberdashery & Lace, Ready made clothing, and every article of wearing apparel adapted for the West Indies climate
Ladies & Gentlemen's Saddles, Carriage and Gig harnesses, Mule collars, Whips, Heads & Reins,
Also Manufacturers of Saddlery in all its branches.
Tanners and Leather cutters
NB. Hunts Celebrated Port Wine always on hand

---
---
© 2013. Jamaican Family Search hereby grants you a limited license to copy and use the materials provided on this site solely for your personal, non-commercial use. No other use of the site or materials is authorized. You agree that any copy of the materials (or any portion of the materials) that you make shall retain all copyright and other proprietary notices contained therein. Posting of materials on other Web Sites is strictly prohibited.
---
SEARCH THIS SITE
---
GO TO:
Help - Frequently Asked Questions
Jamaica Almanacs Slave-owners, Civil & Military officers, Magistrates etc.
Items in the Samples Directory
Items in the Members Directory
Transcriptions from Registers and Wills (Church of England, Dissenters, Civil Registration)
Jamaican Roman Catholic Church Registers - transcriptions
Jamaican Methodist Baptisms - transcriptions
Jewish births marriages deaths - transcriptions