Jamaican Family Search Genealogy Research Library
JAMAICAN PHOTOGRAPH ALBUM
JEWISH CEMETERY, FALMOUTH
The Falmouth Jewish Cemetery is located on Duke Street. It is surrounded by a stone wall.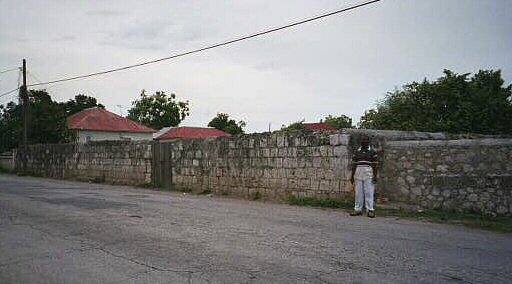 I was happy that I had someone to help me clear vines and bushes from around some of the tombstones so that I could read them. Seen on the left "Sacred to the Memory of David De Casseres. This tomb is erected by his only son". On the right "To the dear memory of Hannah de Casseres... as a last tribute of loving affection by her only surviving sister...".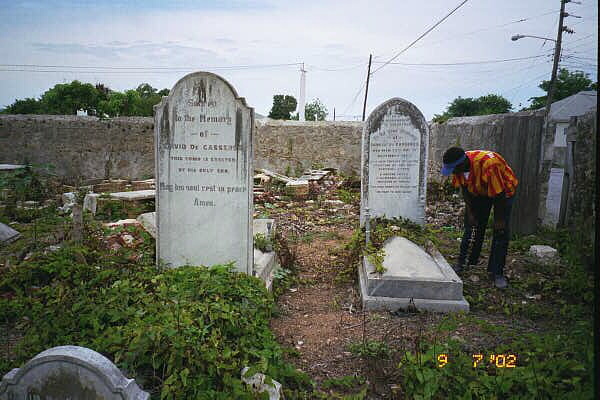 With his help I was able to put some broken pieces together so that other tombstones could be read (September 2002).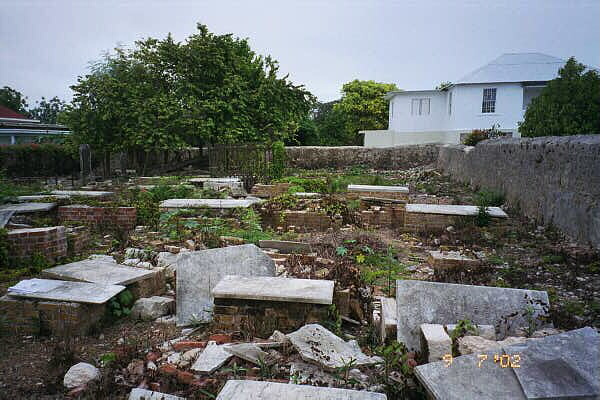 The Georgian Society is now proceeding with the restoration of the cemetery, and as of April 2004 26 graves had been restored.
---
© 2013. Jamaican Family Search hereby grants you a limited license to copy and use the materials provided on this site solely for your personal, non-commercial use. No other use of the site or materials is authorized. You agree that any copy of the materials (or any portion of the materials) that you make shall retain all copyright and other proprietary notices contained therein. Posting of materials on other Web Sites is strictly prohibited.
---
SEARCH THIS SITE
---
GO TO:
Help - Frequently Asked Questions
Jamaica Almanacs Slave-owners, Civil & Military officers, Magistrates etc.
Items in the Samples Directory
Items in the Members Directory
Transcriptions from Registers and Wills (Church of England, Dissenters, Civil Registration)
Jamaican Roman Catholic Church Registers - transcriptions
Jamaican Methodist Baptisms - transcriptions
Jewish births marriages deaths - transcriptions