Jamaican Family Search Genealogy Research Library
LETTER TO LEWIS Q. BOWERBANK, 1876
The following is the text of a letter written to the Hon. Lewis Bowerbank in March, 1876, by a group of distinguished citizens of the Kingston area. An image of their signatures is included below the letter.
_______________________________
To the Hon. Lewis Q. Bowerbank, MD FRCP
Dear Sir
A number of your friends whose names accompany this address, are desirous of taking advantage of your contemplated though temporary absence, to express on the eve of your departure, the respect in which you are universally regarded in your private, professional and public character. While, however, in common with all the inhabitants of this island, we appreciate the Excellency of that character in these different departments, we refer at present chiefly to the latter one. Throughout Jamaica and more especially in Kingston the vigour of your administration, when Custos is a tradition and model. The present efficiency of the Public Hospital is the result of your searching investigations and revelations of abuses. Your efforts which were mainly instrumental in the establishment of the Lunatic Asylum, together with your zeal in all matters of a sanitary nature are very gratefully remembered and are, and still will be, conspicuous evidence that on the exertions, there was on your part, a rare combination and exhibition of courage, skill and humanity. Living men will not forget these acts of yours and the memory of these acts we wish to perpetuate with this objective view, we have resolved, after frequent and careful deliberation, to erect in this City a statue to your memory as the most effective, because the most permanent means of sharing to your each coming generation the estimation in which you were holding your own.
Wishing Mrs Bowerbank and yourself a pleasant voyage and speedy restoration to health.
We remain on behalf of the subscribers
Your sincere friends
J Radcliffe - Chairman
Rev. C. Melville
Oscar Marescaux
August__ ___land?
George Solomon
H. F. Colthirst
Louis Verley
Arnold L. Malabre
C. A. Robinson
Jasper Cargill M.D.
David J. Alberga
George Henderson
Kingston, Jamaica March 1876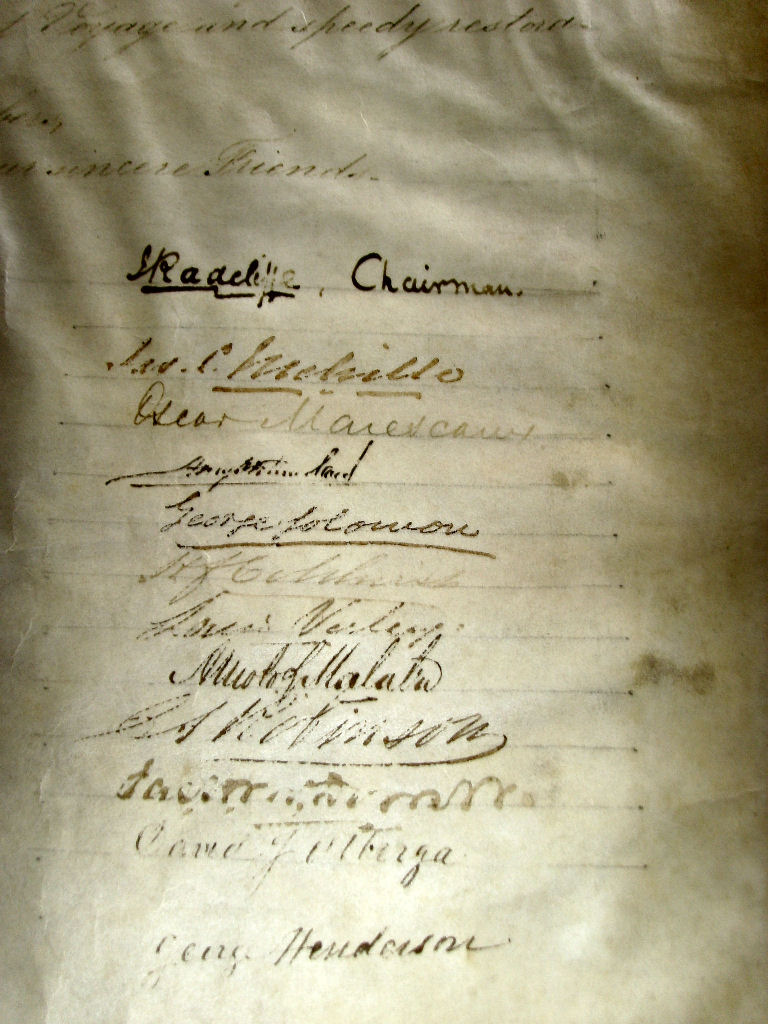 Lewis Bowerbank - President of Royal College of Physicians.
John Radcliffe was a Scots Presbyterian Minister in Jamaica 1853-1885
George Henderson - British Army Officer - Captain with 44th Regiment His Majesty's 5th West India Regiment
---
© 2013. Jamaican Family Search hereby grants you a limited license to copy and use the materials provided on this site solely for your personal, non-commercial use. No other use of the site or materials is authorized. You agree that any copy of the materials (or any portion of the materials) that you make shall retain all copyright and other proprietary notices contained therein. Posting of materials on other Web Sites is strictly prohibited.
---
SEARCH THIS SITE
---
GO TO:
Help - Frequently Asked Questions
Jamaica Almanacs Slave-owners, Civil & Military officers, Magistrates etc.
Items in the Samples Directory
Items in the Members Directory
Transcriptions from Registers and Wills (Church of England, Dissenters, Civil Registration)
Jamaican Roman Catholic Church Registers - transcriptions
Jamaican Methodist Baptisms - transcriptions
Jewish births marriages deaths - transcriptions