Jamaican Family Search Genealogy Research Library
HEAVITREE, WEAR AND TOPSHAM
(To read the first two sets of articles on this topic, please go to Samples/heavitre.htm)
Visit to Heavitree, Jamaica
I was fortunate to have a holiday in Jamaica this summer and I decided to try to locate the Heavitree I had heard about through Martin Weiler. I used to live in Jamaica, not very far from Heavitree, but I had never heard of it, nor of its sister estates, Wear Pen and Topsham. These are all situated in the northern part of the parish of Manchester, in the centre of the island, over 2000 feet above sea level.
Heavitree, Jamaica, was established by the Davy family, who had lived in Heavitree, Devon. James Davy, the original settler in Jamaica, was a son of another James Davy, a farmer of Mare Farm, Heavitree, and later of Wear Barton, Glasshouse Lane, (Countess) Wear. In the 1790s, James had set up a cattle ranch in Jamaica and named it Wear Pen, clearly after his home village in Devon. The Jamaica Almanacs, available on the Jamaican Family Search website, tell us that, at the time of his death in 1825, James Davy owned 96 slaves and 359 cattle. His younger son, John, inherited Wear Pen and continued to run it as a cattle ranch through the period 1834 to 1838 when the slaves were emancipated in stages, through Apprenticeship to 'Full Free'.
John Davy then acquired a new estate, about three miles north of Wear Pen, which he named Heavitree. It first appears in the Almanacs in 1840, where it is listed along with Wear Pen, between them occupying 1724 acres. It seems, then, that Heavitree was established just after the days of slavery. Or had it been there for some time and only just declared to the authorities? It seems a very strange time to be going in for agricultural expansion just as the planters' source of free labour, their slave force, was about to be lost to them.
Heavitree was most likely a coffee plantation. This again was strange, given that at this time coffee plantations were being abandoned in droves, and by 1845 it was in receivership. It survived in some form, however, as it is listed in the 1910 Almanac as being a coffee estate owned by a Mrs French.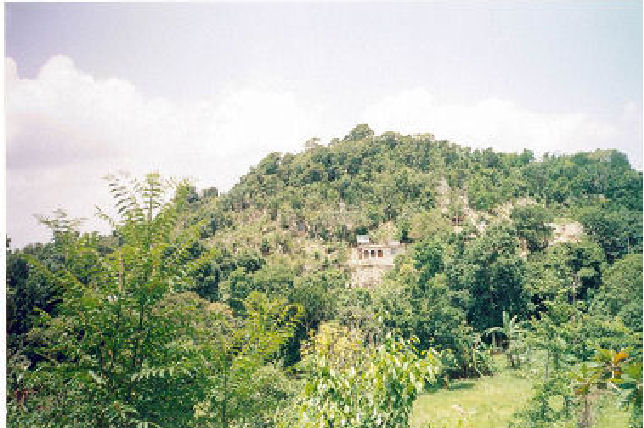 View of Heavy Tree district, Jamaica
I drove with James Glanville, a descendant of another Devon family, from Wear Pen, in what is now the Mile Gully district, northwards into the hills. The landscape became steeper and more wooded than the lush green fields at Wear Pen. A hand painted sign on a store front church alerted us to the fact that we had reached 'Heavytree'. We enquired of a local man who explained that the village is called 'Heavy Tree' because of the large cotton tree at its centre! There was, indeed, a most impressive cotton tree with a tall, bulbous trunk a bit further down the road! We certainly gave him something to think about when we told him that the true origin of the name was in Heavitree, Exeter, England!
Turning up a steep side road, past the bar (which had no cold drinks!), we were shown the first sign of the house: its coffee barbeques. These cemented areas were used for spreading out the coffee berries to dry in the sun. They were built with a slight slope leading down to a tank, so they could double as water catchments, a necessary feature in this limestone region where rain water soaks into the ground and does not collect in ponds or streams. The barbeques had been fenced off to ensure a supply of clean water.
Just to the side of the catchment, at the top of the slight hill, we at last found what had been searching for, the remains of Heavitree property house. A length of stone wall, a couple of meters high, is all that is left. A young man had his donkey tied here and was just loading it up with produce when we arrived.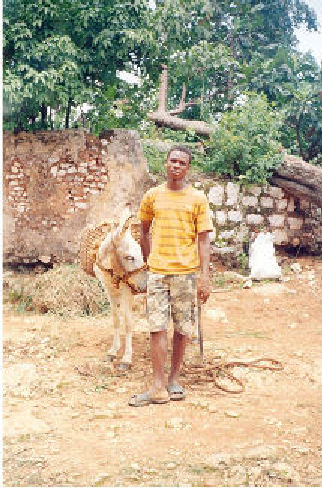 The area is now sparsely populated and the inhabitants are poor. There are houses dotted about with small cultivations around them, growing some coffee still but mainly foodstuffs such as yams and bananas. Most of the younger generation have left, for 'greener pastures' in Kingston or North America, though it is difficult to imagine a 'greener' spot than this one!
Our ancestors brought the present Heavitree residents' ancestors from Africa as slaves. As we have seen, it is no mere co-incidence that the two places share the same name! Perhaps we could do something to acknowledge our shared history, by a twinning arrangement, or some sort of partnership scheme to help local projects?
In these days of the mobile phone and the internet, it cannot be too difficult to establish links across the Atlantic - after all, the Davy family managed it in the days when the journey took six weeks by sea!
If anyone is interested in contacting the Jamaican Heavitree, I will do my best to help you get in touch.
Gillian Allen
g.m.allen@ex.ac.uk
21/10/2007
---
Other October 2007 updates received from Martin Weiler:
Wear Pen House - a worrying development. The roof of the house had been removed and there is a fear that it is being dismantled..
Topsham - only foundations and drying areas remaining at the old Topsham House.
One other building in the area with Davy connections is still standing and in use. The local courthouse is still there - this is where the Davys were magistrates etc.
_______________________
The will of Edward Davy was found in the Island Records Office:
We had always assumed that it was James Davy (1765-1825) who had been the key link with Wear. It may still be that he was the initiator but Gillian found a will of an Edward Davy younger brother of James. Edward was born in Topsham in 1776 but his Jamaican Will (3 Oct 1804 after his death) has him living at Wear Pen. This is the earliest record we have of a Davy at the property.
Edward's 'partner' was an Elizabeth Morgan, 'a free mulatto woman whom I know'. Mulatto is mixed race, half black, half white. He left Elizabeth 'three negro women, cash and £50 and 25 acres of wood'.
Edward and Elizabeth had a daughter, Jane, and he leaves her £1000 so that she can be sent to school in England at the age of 8 'to have a decent education'.
He also leaves the 'remainder of his property' to his brother Thomas and sister Rebecca, both residing in the UK. They, we know, owned Topsham at one stage.
---
November 2010 report
The Slavery Abolition Act of 1833 included the right of compensation for slave owners losing their 'property'. The government set aside £20 million (the equivalent of 40% of its total annual expenditure) for these payments.

In all 40,000 separate awards were made. University College London research has shown that one of these for £2156 11s 1d went to John and James Lewis Davy for the 106 slaves freed from their estates at Wear and Heavitree. John and James Lewis were sons of James Davy who left Devon for Jamaica at the turn of the nineteenth century. Their grandfather, also James, lived and married in Heavitree before moving to Wear, Topsham. The Davys named their plantations in Jamaica after their Devon homes.

Martin Weiler
---
© 2013. Jamaican Family Search hereby grants you a limited license to copy and use the materials provided on this site solely for your personal, non-commercial use. No other use of the site or materials is authorized. You agree that any copy of the materials (or any portion of the materials) that you make shall retain all copyright and other proprietary notices contained therein. Posting of materials on other Web Sites is strictly prohibited.
---
SEARCH THIS SITE
---
GO TO:
Help - Frequently Asked Questions
Jamaica Almanacs Slave-owners, Civil & Military officers, Magistrates etc.
Items in the Samples Directory
Items in the Members Directory
Transcriptions from Registers and Wills (Church of England, Dissenters, Civil Registration)
Jamaican Roman Catholic Church Registers - transcriptions
Jamaican Methodist Baptisms - transcriptions
Jewish births marriages deaths - transcriptions