Jamaican Family Search Genealogy Research Library
TWO LETTERS FROM HANOVER TO SCOTLAND
FIRST LETTER
---

(Duplicate)


Hanover Jamaica 24h Decr 1820




Archd Crawfuird Esqre




Sir
We have received no letter from you by the November packet. The weather we are sorry to say still continuing excessively dry. We commenced the Sugar Crop at Three Mile River on the 11th instant but as things have been going on slowly. There is yet only made 15 Hhds [Hogsheads] of Sugar it is however of a tolerable good quality, but we cannot yet judge of the yielding of the Canes. The Negroes are healthy and the stock in tolerable condition. We are sorry to learn the accident which has happened to the Isabella Simpson. We hope the voyage will not be long delayed by it.

Messrs. Wedderburn & Co's Ship with the London Stores for Three Mile River has arrived and is now landing them and we have just heard of the arrival of the Jamaica from Glasgow with the Stores from that Port with the exception of half the herrings which Messrs. Stirling Gordon & Co. write us will be sent by a future opportunity which is a very proper mode of sending them out. We remain very respectfully
Sir
Your most obedient servants
---
---
SECOND LETTER
[Original]
---
To Archibald Crawfuird, Esq.,
24 Forth Street
Edinburgh
20th February 1821
Sir
Owing to the packet having an unseen[?] more[?] long passage I did not receive your returned letter of the 1st December until the 12th January. We were disappointed in your not considering the Island expenses of Three Mile River be moderate last year, we are fearful it will not be possible to keep them back more so with any degree of justice to the property, our endeavour however shall not be wanting and we are very sensible that in the present distressed times Miss Graham must have derived very little if any advantage from her succession. I now beg leave to mention my arrangements for shipping the crop viz. on the Hanover Capt. Adamsen for London 20 hogsheads sugar and 20 puncheons rum . On the Jamaica Capt. Alexander for Glasgow 30 hogsheads sugar and on the Isabella Simpson[?] for Hull 50 hogsheads sugar and one puncheon of rum. The consignees of the produce for London and Glasgow will consult you respecting Insurance, but that to Leith will be consigned to yourself so that you will have that department to attend to. The remainder of the crop both sugar and rum will be sent to London by your desire, but I am very apprehensive that it will not extend to 150 hogsheads of sugar for shipment, there was a considerable quantity of rain fall last month which was against the manufacturing sugar, but otherwise favourable for the property. The annexed yielding list will show you that there is made 86 hogsheads of sugar and rum and materials for 42 puncheons which is a good proportion of that article. The writer of this has been confined for some days by a severe cold which is likely to ward off a fit of gout for which he will be very thankful. He mentions this by an apology for any lack of information which you may expect. We remain very respectfully
Sir
Your faithful and obliged serv___ [covered by seal]
James Colqn. Grant
and John Grant self
[This is followed by a table listing each cane piece, number of acres, roods and perches of which it was comprised, number of gallons, hogsheads and puncheons, the quality of canes produced, and "Gallons Rum Cane Liquor sent to Still House." This list was continued from the bottom of the second page of the letter, to the back of the letter. See image below.]
____________________
[Notes from Jamaican Family Search:
In 1822 the Almanac listed Three Mile River as a property in Westmoreland, and the proprietor (in 1821) was "heirs of John Graham." The 1824 Almanac listed the proprietor (in 1823) as Margaret Graham. She would appear to be the "Miss Graham" whose "succession" was mentioned in the letter. Three Mile River is a property just north of the Great Morass, about five miles north-northwest of Savanna-la-Mar as the crow flies (possibly twice that distance by road).]
[To make the letters more understandable, some punctuation has been provided by JFS, and some abbreviations have been expanded]
_____________________
This is the image of the back of the above letter dated February 1821, showing:
(1) Top horizontal: The completion of the table which was started on page two of the letter.
(2) Center vertical: The price paid for carriage of the letter, 1/3 (one shilling and 3 pence).
(3) Center vertical: The address to Archd. Crawfuird Esq., 24 Forth Street, Edinburgh.
(4) Center vertical: ppacket (by packet). The "packet" was the ship that carried the mail and passengers between Great Britain and Jamaica.
(5) Left vertical: The receiver wrote on the outside of the letter:
"J. C. Grant
Yielding of canes
Reply 17 April 1821"
This would be a note to himself for his correspondence file.
(6) Right vertical: Calculations of the yield per acre, probably done by the receiver.
(7) Right and left vertical: The seal of the letter
(8) Envelopes were not used for sending letters. The letter was folded so that the back of the letter could be used for writing the address. The upper and lower horizontals were folded first. Then the left vertical was folded in, and the right vertical was folded over it. The address was written on the center vertical. A wax seal was placed on the right vertical, fastening it to the left vertical. The receiver would have to pry the seal open, as the tears on this letter indicate.
(9) There is a watermark on the paper, "Fellows 1817", but it is not visible on the photocopy.
BACK OF LETTER, WITH ADDRESS OF RECEIVER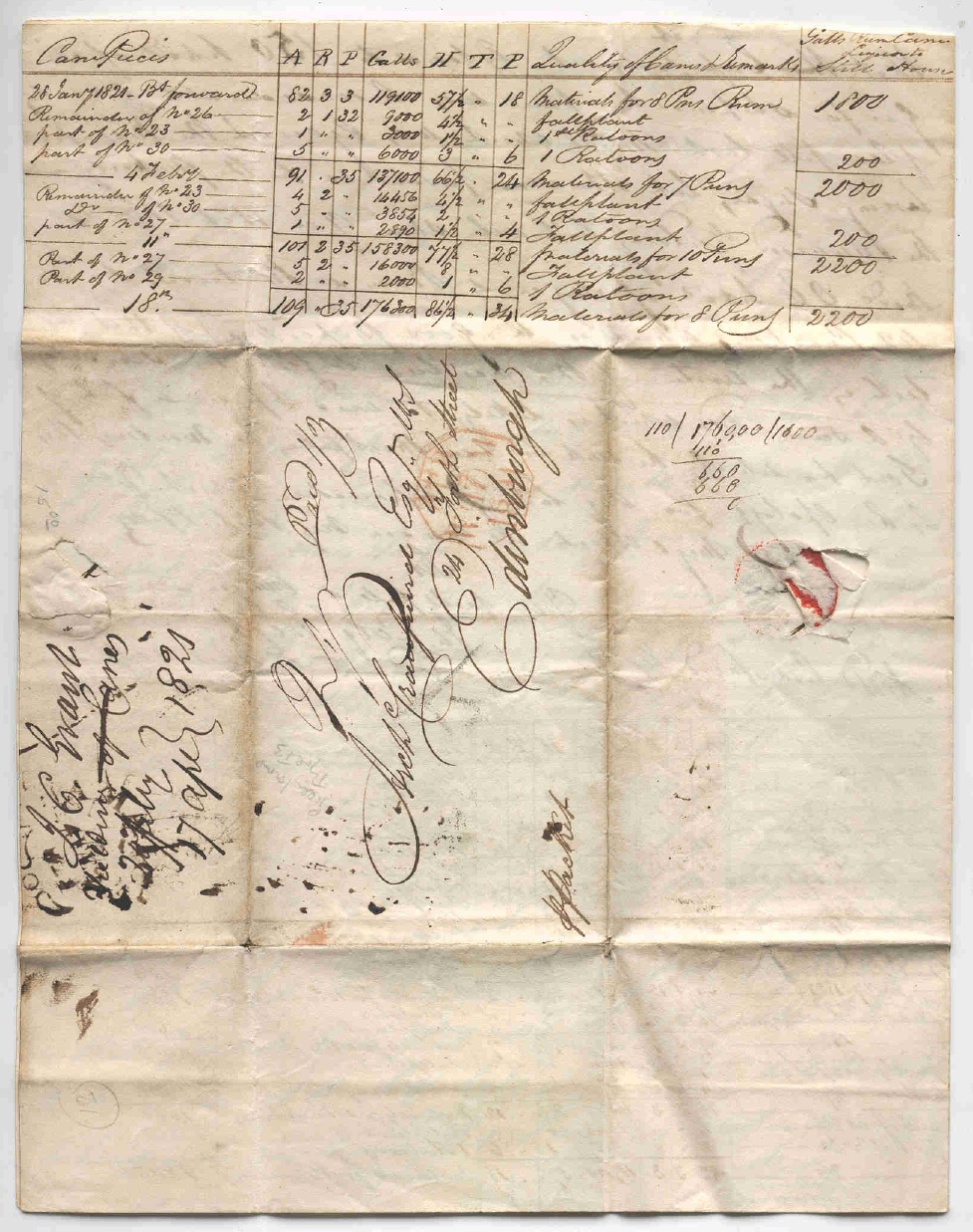 ---
© 2013. Jamaican Family Search hereby grants you a limited license to copy and use the materials provided on this site solely for your personal, non-commercial use. No other use of the site or materials is authorized. You agree that any copy of the materials (or any portion of the materials) that you make shall retain all copyright and other proprietary notices contained therein. Posting of materials on other Web Sites is strictly prohibited.
---
SEARCH THIS SITE
---
GO TO:
Help - Frequently Asked Questions
Jamaica Almanacs Slave-owners, Civil & Military officers, Magistrates etc.
Items in the Samples Directory
Items in the Members Directory
Transcriptions from Registers and Wills (Church of England, Dissenters, Civil Registration)
Jamaican Roman Catholic Church Registers - transcriptions
Jamaican Methodist Baptisms - transcriptions
Jewish births marriages deaths - transcriptions