Jamaican Family Search Genealogy Research Library
WILLS OF JAMES C. GRANT AND PATRICK GRAY
Will of James Colquohoun Grant1 1822
NA, PROB 11/1662]
Jamaica SS
[Abstract ]
Of the parish of Hanover...
I bequeath unto my housekeeper Mrs. Ann Wilson a free woman of colour now residing with me the sum of £150 Sterling to be paid yearly during her natural life...
Likewise the sum of £100 Sterling to be paid immediately after my decease...my liquors provisions of every description...horses, mules, carriages...for the use of her children reputed by me...
Unto each of my reputed five sons by the said Ann Wilson named John Grant, Lachlan Grant, Alexander Grant, David Grant and James Jackson Grant the sum of £1,500 Sterling at the age of 21, the annual interest in the mean time applied to their maintenance and education...as they arrive at a proper they may be put to some decent and creditable profession from which they may be entitled to draw a subsistence...
To each of my reputed two daughters by Ann Wilson named Mary Grant and Elizabeth Grant the sum of £750 Sterling at the age of 18 years or day of marriage with the consent of two of their guardians...
These bequests to my children and the principal sum from which the annuity to Ann Wilson is to arise to be placed on the safest British security but on no account in Jamaica...
To my son John Grant my gold watch chain and seals...to my executors all the household furniture, plate, china, linen [etc] also my house and freehold in the village of New Keith in the county of Banff in trust to permit Ann Wilson to possess and enjoy the same...immediately after her decease then in trust to my daughters Ann and Elizabeth...
To my nephew James Grant2 of the parish of Westmoreland, Jamaica my horse named Will and my gold snuff box...
All the residue and remainder of whatever property to be divided betwixt my sons and daughters, four sixth parts amongst the sons and two sixth parts between the daughters...
I appoint my esteemed friends James Jackson McLachlan, now or lately residing in Edinburgh, Dr David Mason of the parish of Westmoreland and my nephew James Grant executors of my will and guardians of my children...also Miss Elizabeth Jall*u now or lately residing at Garbraid near Glasgow a guardian of my daughters...
Signed, 30th May 1822
Witnesses, William Brebner;3 John Grant; D. Grant; Archibald Alexander, master of the ship 'Jamaica'; Thomas Andrew mate of the ship 'Jamaica'
[Grant records writes that he is preparing to embark for Greenock aboard the Jamaica, Captain Alexander, but seems to be doubtful about seeing Scotland again, presumably ill. It would appear that he died on the voyage or soon after arrival, as the following suggests]
Greenock 29th August 1822
Will presented by William Currie, writer in Greenock, to be recorded in the Register of Probative Writs for Renfrewshire
London 15th October 1822
Proved by the oaths of James Jackson McLachlan and David Mason
[Footnote records: "extracted from the Registry of the Prerogative Court of York"]
~~~~~~~~~~~~~~~~
1 J C Grant had been in the parish for at least 20 years. The Jamaica Almanac 1802 lists him as a magistrate. It is not known if any of his children returned to Jamaica
2 James Grant at Linton & Morgan's Bridge
3 Dr. William Brebner, also originally from Bohram in Banff; house at Green Island next to the Parsonage. Died at Pedro, nr. Lucea, 3 October 1842 [Aberdeen Journal]
---
Will of Patrick Gray1 1807
[NA, PROB 11/1459]
Jamaica SS
[Abstract ]
Of the parish of Hanover...
Bequeath unto Ann and Mary the daughters of my brother John Gray farmer in Glamis the sum of £200 Sterling each at the age of 21 years...
Unto all and every the daughters of John Reid in the Bridgend of Perth by my sister Janet Reid £250 at the age of 21 years...
Unto all and every the daughters of Alexander Low of the parish of Longforgan £250 at the age of 21 years...
Unto my sister Isobel Low an annuity of £25 Sterling...out of all my estates real or personal except my house and premises at Montego Bay...
Unto Mrs Mary Bucknor Clark, late Mary Bucknor Mowatt, daughter of the late William Chaplin Mowatt and Elizabeth his wife and now the wife of William Clark of London master and commander of the ship 'Mary & Susannah' the sum of £1,000 Sterling to be paid as soon as possible after my decease...
Unto Sarah Clark the daughter of William and Mary Bucknor Clark the sum of £50 Sterling in cash every year till she attain the age of 21...towards maintenance and education...as soon as she arrive at the age of 21 years I bequeath unto her £250...
I direct my executors to pay for the maintenance and education of Patrick Draper an infant now at Port Glasgow out of the rents and profits of my estates until the age of 21 years...
Unto my wife Sarah Gray my dwelling house and premises in Montego Bay during her lifetime...then to Mary Bucknor Clark for ever
Unto Helen Tomlinson daughter of Robert Tomlinson an annuity of £30 Sterling during her natural life...
Unto my nephews James Gray, son of John Gray of Glamis, and William Low, son of Alexander Low of Longforgan an annuity of £100 for their support until they shall come into possession of the residue and remainder of my estate as hereinafter mentioned...
Unto my executors 10 Guineas each...
The remainder of my estate I give to my wife Sarah Gray and to my friends John Cunningham2 of the parish of St. James, Patrick Maxwell and John Maxwell of the parish of Hanover practitioners in physic and surgery, James Guthrie of St. James, gentleman, Thomas Hunter of Glencarse in the county of Perth...upon trust [for] Sarah Gray...after her decease to my nephews James Gray and William Low...share and share alike...as tenants in common...
I direct that James Guthrie do the account of my estate...and allow £100 current money of Jamaica yearly for his trouble
Signed 25th June 1805
Witnesses, Henry Plummer, Robert Watt, Thomas Watt
Edinburgh, 4th October 1805
Codicil...I give unto the daughters of my late sister Janet Reid equally among them an annuity of £30 Sterling...to cease when their legacy [£250] becomes payable...
In place of the annuity of £25 to Isobel Low an annuity of £30...after her decease the same to be paid equally among her daughters...the foresaid annuities to be paid to Thomas Hunter of Glencarse and Alexander Hunter of Kirkton...
I revoke the legacy of £1,000 to Mary Bucknor Clark and bequeath [it] to Thomas Hunter and Alexander Hunter in trust for the liferent use of Mary Bucknor Clark...after her decease the capital to her children share and share alike
Glendoick, 15th March 1806
Codicil...manumission to a man slave named James Sinclair immediately after the death of Mrs. Gray...the expense to be allowed out of my funds...and to allow him to remain on Friendship estate3 and an annuity of £10 current money of Jamaica during his life...
To a free woman Peggy formerly nurse to Mrs Gray a like annuity of £10 during her life...and possession of the house in which she presently resides...
I prohibit my executors and residuary legatees from ever granting a power of attorney to James Gray my brother for the management of my estates in Jamaica
Perth, 15th August 1806
Will confirmed
London, 4th April 1807
Administration granted to Sarah Gray, Thomas and Alexander Hunter
~~~~~~~~~~~~~~~~~~~~
1 1774, Recorded as an overseer living in St James. In 1793 he was appointed a Vestryman in Hanover [Royal Gazette of Jamaica, 1 March 1793]. His estate in Hanover was Friendship
2 [Jamaica Almanac 1811] John Cunningham recorded as the owner of Bellfield estate in St. James. He was also a director of the 'Close Harbour Company' in Montego Bay
3[Jamaica Almanacs 1811-1840] Sarah Gray recorded as the owner of Friendship. William Mowatt Bucknor owned Friendship Grove.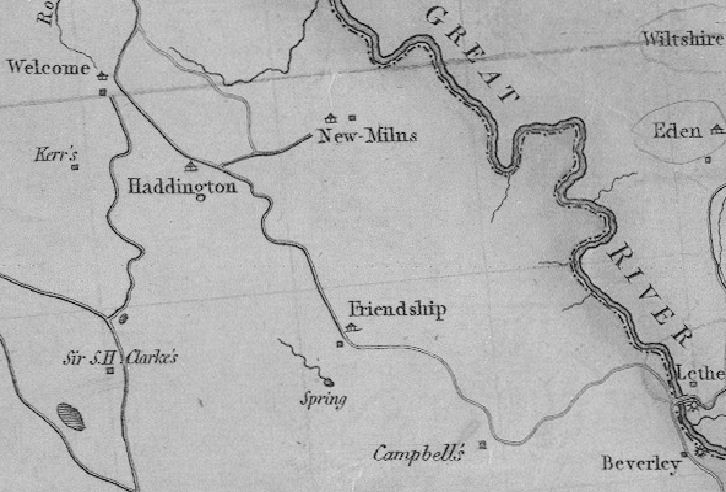 ---
© 2013. Jamaican Family Search hereby grants you a limited license to copy and use the materials provided on this site solely for your personal, non-commercial use. No other use of the site or materials is authorized. You agree that any copy of the materials (or any portion of the materials) that you make shall retain all copyright and other proprietary notices contained therein. Posting of materials on other Web Sites is strictly prohibited.
---
SEARCH THIS SITE
---
GO TO:
Help - Frequently Asked Questions
Jamaica Almanacs Slave-owners, Civil & Military officers, Magistrates etc.
Items in the Samples Directory
Items in the Members Directory
Transcriptions from Registers and Wills (Church of England, Dissenters, Civil Registration)
Jamaican Roman Catholic Church Registers - transcriptions
Jamaican Methodist Baptisms - transcriptions
Jewish births marriages deaths - transcriptions