Jamaican Family Search Genealogy Research Library
WILLS OF TOMLIN AND RIDDALL CAMPBELL
Will of Tomlin Campbell 1806
[NA, PROB 11/1452]
[Son of John Campbell of New Hope]
I Tomlin1 Campbell Lieutenant of the 92nd Regiment of Foot2 and son of John Campbell of the Island of Jamaica...being entitled by the will of my late uncle Anthony Morris Storer3 to a bond of the value of £2,000 Sterling and upwards with a large arrear of interest thereon amounting at this time to near £5,000 executed by my father John Campbell4 and my uncle James Campbell5 to the late Thomas Storer6 I bequeath it in the following manner
To my brothers Archibald Campbell and James Campbell...the sum of £1,000 each with interest thereon at the age of 21
To my sister Anna Maria Campbell...the like sum under the same restrictions
As I have entertained the greatest friendship and respect for Capt. George Young of the Marines and son of the late William Young of Kensington I beg he will accept as a memorial of that friendship the sum of £500...one year after my decease
In case the legacies become void by their not being enjoyed by the persons to whom they are bequeathed...I bequeath them to my eldest brother John Campbell
To my much esteemed friend Miss Maria Yate daughter of the late Thomas Yate of the Borough £500 as a small return for the attention I have received from her and to her brother William Yate £100 which I beg he will accept as the last gift of an old friend...
To Mary Sherlock daughter of Mrs. Sarah Sherlock I bequeath the sum of £200...at the age of 18 the interest in the mean time to be paid to her mother for her use...
I beg my father will as soon as he can pay to my cousin Peter Campbell the £100 I am indebted to him and likewise any other small debts...
All my cloaths books etc I have directed to be sent to England except my Cantoons7 which I told Colonel Erskine to be given to be given to my friend Capt. McDowell
To my servant Peter Ferguson I have ordered £5 be given for the zeal with which he has served me...
Executors, brother John Campbell and Capt. George Young of the Marines
Signed, Tomlin Campbell, 2nd June 1800, aboard the 'Diadem', ship of war8
3rd June 1800
As I am indebted to the Paymaster near £200 Sterling I have ordered all my cloaths books etc. be sold to the payment...
4th October 1800 (upon HMS 'Stately' at sea)9
Having given the Paymaster of the 92nd Regiment a draft for what was due him I have begged Lt. Colonel Erskine to send every article belonging to me to my father except my Cantoons...
The legacy left Miss. Yate I do declare null and void
In case the draft to the Paymaster should not be paid I beg my father will see about it and pay it to the agent
1st March 1801
Having heard that George Young late Capt. Of Marines has departed this life the sum I left him...will belong to my eldest brother John Graham Campbell to whom I likewise bequeath the £500 revoked 4th October from Miss. Yate
Paymaster Campbell of the 92nd I have begged will see...articles named to him to be sold and the account be sent to my father together with his account between us...
I appoint my father and John Graham Campbell executors...whatever property may be left after paying all my debts I bequeath to my sister Anna Maria Campbell
All my cloaths and writing desk that may return to England I give to my brother John G. Campbell
London, 4th August 1806
Sarah White10 of Roehampton in Surrey, spinster and Peter Campbell the younger of Sydney Farm, Southampton appeared to confirm the handwriting and the will of "Tomlin Campbell late Lieutenant of H.M, 92nd Regiment of Foot at Egypt deceased"11
London, 29th December, 1808
Administration granted to John Graham Campbell the surviving executor12
~~~~~~~~~~~~~~~~~~~~~~
1 Tomlin was the family name of his grandmother, Mary, the wife of Colin Campbell of New Hope, Westmoreland, a brother of Peter Campbell I of Fish River, Hanover
2 A recent regiment (1794) the Gordon Highlanders
3 The brother of his mother Helen Storer
4 John Campbell of New Hope
5 James Campbell, his father's younger brother
6 His maternal grandfather, of Belle Isle and Frome, Westmoreland but latterly of Golden Square, London
7 Cotton trousers?
8 HMS Diadem, a 64 gun ship converted to a troop carrier. Having seen action in Holland in 1799, the regiment was en route to the island of Menorca in the Mediterranean (See image below).
9 HMS Stately, a 64 gun ship converted to a troop carrier. The regiment was part of an army transported to Alexandria in Egypt to attack a French army now isolated there after the destruction of its Mediterranean fleet by Nelson at Aboukir Bay
10 Unidentified
11 Tomlin Campbell was wounded in Egypt on 13th March 1801, and died of his wounds
12 John Campbell of New Hope had died in London in 1801
HMS Diadem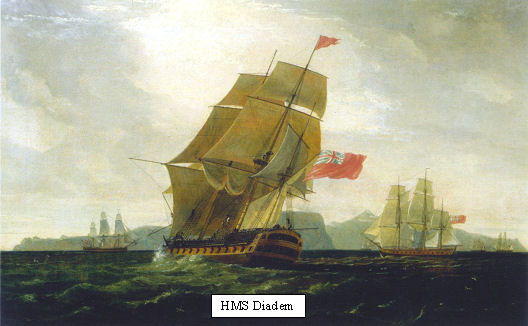 ---
Will of Riddall Campbell1 1808
[NA, PROB 11/1485]
[Son of the late Archibald Campbell of Minard in St. Ann's parish, Jamaica]
Jamaica SS
I Henry Riddall Campbell Lieutenant in His Majesty's first Battalion of the 60th Regiment of Foot2 ...bequeath unto my wife Elizabeth Anna Campbell3 in case I should die without issue two thirds of my estate whatsoever...and the remaining third to my niece Charlotte Campbell the daughter of my late brother Robert Campbell4 but in case of my wife bearing issue for me then I bequeath the whole of my estate to such issue and their heirs...
I nominate my uncle5 John Campbell of Orange Bay [Jamaica] and the Honourable James Stewart executors of this my last will...
Signed, Henry Riddall Campbell 20th October, 18066
Witnesses, Henry Davis, Tomas Kerr Vernon Walter Crowe Burnett
London, 4th September, 1808
Proved by James Stewart [the father-in-law]to whom administration was granted
~~~~~~~~~~~~~~~~~~~~~
1 The marginal title reads, Henry Reddall otherwise Riddall Campbell
2 Royal American Regiment, formed in New York, 1757, during the Seven Years War; one of the first rifle regiments in the British army
3 Daughter of James Stewart of Stewart Castle, Trelawny, Custos of the parish
4 Robert Campbell, also a soldier, Captain in the 36th Regiment, wounded at Serangipatam, India, in 1792, died 1804. Brother Henry Campbell, 11th Regiment, died in the same year on service in the West Indies (St. Vincent)
5 John Campbell's wife, Grace, was a sister of Archibald Campbell of Minard who died in Jamaica, 1798
6 He had just married Elizabeth Stewart. He died on 26th March, 1807 at Fort Dundas, Rio Bueno, commanding a detachment of his regiment. His wife was expecting a child at the time.
According to John Campbell of Orange Bay, the cause of Riddall's death was a fever but he also had"too great an attachment to brandy, which had ruined his stomach to that degree as to render it incapable of retaining medicine or even nourishment." ['Letters by the packet', page 108, Argyll & Bute Library, 2004]
Map showing Fort Dundas, Rio Bueno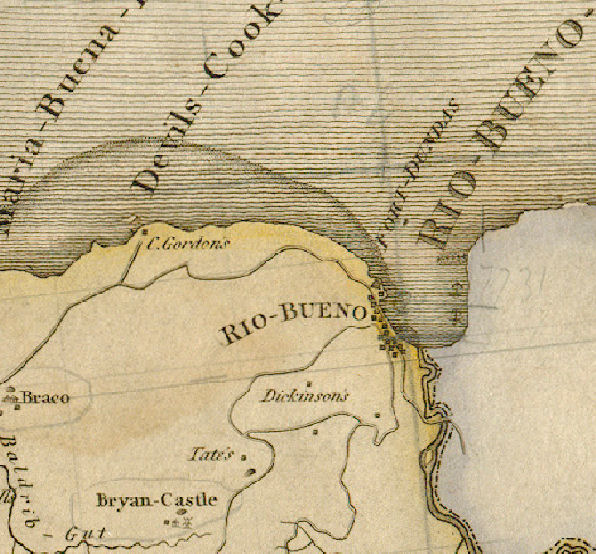 ---
© 2013. Jamaican Family Search hereby grants you a limited license to copy and use the materials provided on this site solely for your personal, non-commercial use. No other use of the site or materials is authorized. You agree that any copy of the materials (or any portion of the materials) that you make shall retain all copyright and other proprietary notices contained therein. Posting of materials on other Web Sites is strictly prohibited.
---
SEARCH THIS SITE
---
GO TO:
Help - Frequently Asked Questions
Jamaica Almanacs Slave-owners, Civil & Military officers, Magistrates etc.
Items in the Samples Directory
Items in the Members Directory
Transcriptions from Registers and Wills (Church of England, Dissenters, Civil Registration)
Jamaican Roman Catholic Church Registers - transcriptions
Jamaican Methodist Baptisms - transcriptions
Jewish births marriages deaths - transcriptions