Jamaican Family Search Genealogy Research Library
INDENTURED SERVANTS
Many of the immigrants who went to Jamaica signed Indenture Agreements, and became Indentured Servants. Under the terms of these Agreements, the "Master" would provide the "Servant" with his passage to Jamaica, clothes, food and drink, washing, lodging, and a small annual salary, and the "Servant" would agree to serve in Jamaica for a certain number of years.
The document below is an example of such an Agreement to Serve. A transcription is followed by the image of the document itself.
INDENTURE AGREEMENT
PATRICK BURKE 1739
London, the 30th Day of June
One Thousand, Seven Hundred and 1739
Be it remember'd that Patrick Burke of Dublin in the Kingdom of Ireland Bookkeeper his Father and Mother being dead, did by Indenture bearing like Date herewith, agree to serve Joseph Whilton of London Chapman, or his assigns four years in Jamaica In the Employment of a Bookkeeper at 30 li [i.e. £30] per annum Current Money of Jamaica and did declare himself to be then of the Age of Eighteen Years, a single Person, no Apprentice, nor Covenant or Contracted Servant to any other Person or Persons. And the said Master did thereby Covenant at his own Cost, to send his said Servant to the said Plantation; and at the like Costs to find him all necessary [crossed out - Clothes] Meat, Drink, Washing, and Lodging as other Servants in such Cases are usually provided for, and allowed, excepted provided he understands the business of a Bookkeeper.
Patrick Burke
Allow'd the 28th of July 1739
before me
Micajah Perry, Mayor
[then Lord Mayor of London]
IMAGE OF DOCUMENT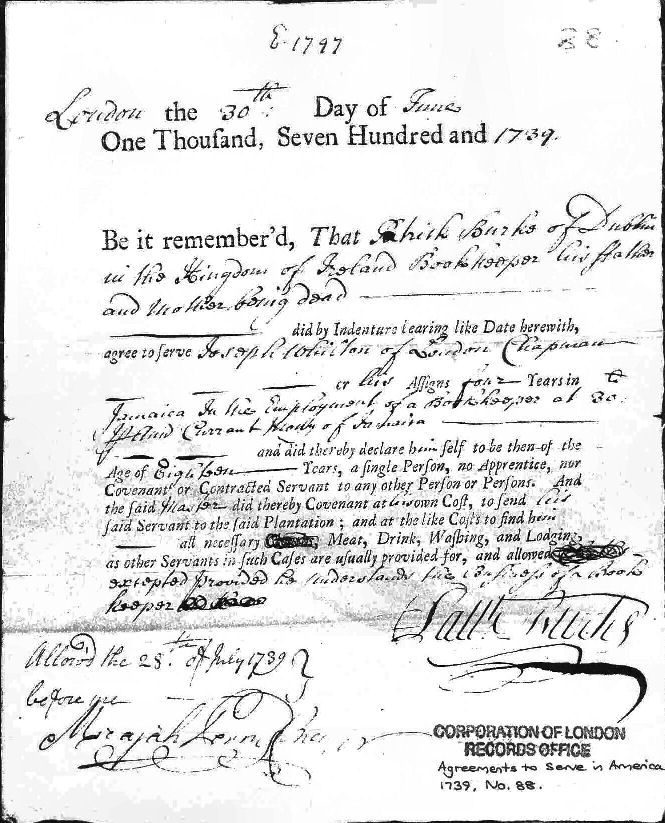 ---
© 2013. Jamaican Family Search hereby grants you a limited license to copy and use the materials provided on this site solely for your personal, non-commercial use. No other use of the site or materials is authorized. You agree that any copy of the materials (or any portion of the materials) that you make shall retain all copyright and other proprietary notices contained therein. Posting of materials on other Web Sites is strictly prohibited.
---
SEARCH THIS SITE
---
GO TO:
Help - Frequently Asked Questions
Jamaica Almanacs Slave-owners, Civil & Military officers, Magistrates etc.
Items in the Samples Directory
Items in the Members Directory
Transcriptions from Registers and Wills (Church of England, Dissenters, Civil Registration)
Jamaican Roman Catholic Church Registers - transcriptions
Jamaican Methodist Baptisms - transcriptions
Jewish births marriages deaths - transcriptions