Jamaican Family Search Genealogy Research Library
CONVEYANCES
R. E. EVANS to EDWARD EVANS
CONVEYANCE
Entered in Records Office 20 January 1821
L.O.S. Deeds 696/148
Jamaica Ss.
This indenture made the 22nd day of May in the 58th year of the reign of sovereign Lord George III by the grace of God of the United Kingdom of Great Britain and Ireland King and of Jamaica Lord Defender of the Faith and so forth and in the year of our Lord 1818 Between Rhodes Edward Evans of the parish of Westmoreland in the County of Cornwall in the said Island Esquire of the one part and Edward Evans of the parish of St. James in the county and island aforesaid Mason of the other part Witnesseth that for and in consideration of the sum of 90 pounds current money of Jamaica to him the said Rhodes Edward Evans in hand well and truly paid at or immediately before the ensealing and delivery of these presents by the said Edward Evans the receipt whereby the said Rhodes Edward Evans doth hereby acknowledge and thereof and therefrom and of and from every part and parcel thereof does release exonerate and discharge the said Edward Evans his heirs executors and administrators each and every of them forever by these presents he the said Rhodes Edward Evans hath granted bargained sold released conveyed and confirmed until the said Edward Evans his heirs and assigns all that piece or parcel of land situate lying and being in the parish of St. James aforesaid containing by estimation three acres be the same more or less formerly part of Red Hill Settlement butting and bounding north easterly on the heirs of Mr. Strachan south on the heirs of John Anderson east on David Butchart and west on David Cooper as per plat or diagram thereof hereunto annexed as particularly described with all houses outhouses and edifices erections and buildings thereon erected and built standing and being or to be erected and built and all ways paths passages watercourses woods underwood timber commons and common of pasture rights easements profits privileges commodities advantages emoluments hereditaments and appurtenances whatsoever to the said piece or parcel and premises belonging. . . [repetition]. . . and rents issues profits and produce thereof and all the estate right interest use trust possession property benefit and inheritance claim and demand whatsoever both at law and in equity of him the said Rhodes Edward Evans . . . [repetition]. . . to have and to hold the said piece or parcel of land . . . unto the said Edward Evans his heirs and assigns to the only proper use and behoof of the said Edward Evans his heirs and assigns forever and to and for no other use end intent or purpose whatsoever and the said Rhodes Edward Evans doth hereby for himself his heirs executors and administrators covenant promise and agree to and with the said Edward Evans his heirs and assigns in manner as following that is to say that he the said Rhodes Edward Evans hath in himself good rightful power and lawful and absolute authority to grant and convey the said piece or parcel of land and appurtenances unto and to the use of the said Edward Evans free from all encumbrances or charges. . . [legal repetition] etc. etc. . . .
In witness whereof the said Rhodes Edward Evans hath hereunto set his hand and affixed his seal the day and year before written
Rhodes E. Evans
Sealed and delivered in the presence of George Crichton
Received the day and year within written of and from the within named Edward Evans the sum of 90 pounds current money of Jamaica being the consideration money within mentioned
Rhodes E. Evans
Witness George Crichton
Be it remembered that on the 22nd day of May 1818 personally appeared before me George Crichton the subscribing witness to the within indentured instrument in writing who being duly sworn made oath that he was present at the execution thereof and did see the within named Rhodes Edward Evans sign seal and as and for his proper act and deed deliver the same for the purposes therein contained
Robert Watt
(no diagram annexed to original)
---
McCallum Alexr. & ux
to Richard Dickson
Conveyance of Land
entered 10 January 1812
[Island Records Office, Deeds BA12 1807]
This indenture made between Alexander McCallum1 of the parish of Hanover Esquire and Margaret his wife of the one part and Richard Dickson2 of the parish of Hanover Esquire of the other part.
Whereas by certain Writs of Extent issued for and returnable February Grand Court 1811 on certain Judgements entitled "Dickson & at[attorney] vs Crooks John"3 "Campbell & at vs Same" and "Lyon4 & at vs Same" the said Alexander McCallum as the assignee of the judgement in the first mentioned writ became seized, together with George Kirlew5 of the parish of Westmoreland Esquire as the assignee in the last mentioned writ, and Neil Campbell,6 Dugald Malcolm Ruthven,7 and Robert Lindsay8 the plaintiffs in the second mentioned writ, of the land and premises hereinafter mentioned and described, nevertheless subject to the Dower or thirds of Sarah Brown9 widow, proportionally to the amount of their respective demands by the Writs of Extent in the office of the Clerk of the Supreme Court.
And whereas by a certain Indenture bearing date 8 December 1811 George Kirlew for the consideration therein mentioned granted and conveyed unto Alexander McCallum [his] share and proportion of the said land and premises,
And whereas Richard Dickson hath agreed with Alexander McCallum and Margaret his wife for the absolute purchase of [their] share and the share of George Kirlew of the land and premises hereinafter mentioned,
This Indenture Witnesseth that in consideration of the sum of £5,755.10s.6½ d. current money of this Island paid by Richard Dickson, Alexander McCallum and Margaret his wife hath granted, bargained, sold, aliened, released, enfeoffed and conveyed unto Richard Dickson all that Plantation or Sugar Work in the parish of Hanover known by the name of Cousins10 or Crooks Cove, containing 800 acres more or less, and bounding North on the sea shore, North easterly on Launce's11 River, Southerly on Blenheim Estate and Haughton Tower Estate, and Westerly on Samuells' Cove12 Estate, and all houses, outhouses and Buildings, hereditaments and appurtenances whatsoever subject to the Dower or thirds of Sarah Brown widow.
Sealed and Delivered in the presence of John Lee13
~~~~~~~~~~~~~~~~
1. Alexander McCallum, a distant cousin to Neil, Donald & George Malcolm
2. Richard Dickson, son of John Dickson [d.1782] & Ann Crooks [d.1769] daughter of James Crooks senior [buried at Crooks Cove, 1740] Richard Dickson had been a merchant at Davis Cove since 1781
3. John Crooks, owner of Crooks Cove, was first cousin to Richard Dickson
4. Possibly Jacob Lyon, Lucea merchant
5. George Kirlew of Westmoreland was originally from York, England
6. 1815 Almanac lists a Neil Campbell at Knapdale, family connections otherwise untraced to date
7. Dugald Malcolm Ruthven was the younger brother of Robert Ruthven, so also a nephew of Dugald Malcolm Pell River, [d. 1785]. He married the daughter of James Virgo in 1796. Dugald Malcolm made provision in his will should Robert produce a son.
8. Robert Lindsay was a witness to the will of George Malcolm Argyle who was brother-in-law to John Crooks
9. Sarah Brown, Richard Dickson's aunt, married [1776] Dr. Thomas Brown of Montego Bay after the death [1774] of her first husband, James Crooks junior of Crooks Cove, brother of Ann Dickson. Her daughter Nancy died in London [1780] daughter Sarah returned to Jamaica and married [1784] George Malcolm Argyle. John Dickson had been attorney for the estate [1774 -1781] while the Crooks children, his nephews, were minors.
10. 1811 Almanac lists John Chambers at Cousins Cove. John Crooks may have leased the estate to Chambers.
11. Launce's River, this spelling also appears in Cornwall Chronicle notices and other documents. A James Launce [d.1775] had a daughter Ann who married Joshua Newell, owner of Hopewell plantation, Green Island
12. In 1812, Richard Dickson also acquired Samuells' Cove from the executors of William Edward Samuells. Crooks Cove & Samuells Cove, now one estate, were thereafter called Cousins Cove. In 1825, Neil McCallum, Alexander McCallum's brother acquired the estate from William Augustus Dickson, Richard's cousin, who inherited in 1821
13. John Lee of Messrs. Grant & Lee (and Alexander McCallum) attorneys and agents for Richard Dickson & Dickson & Co. at Lucea.
[Alexander Campbell, magistrate, also made a deposition to say that having examined Margaret McCallum he was satisfied that she had entered into the agreement of her own free will]
---
An advertisement in the "Cornwall Chronicle" in September 1781, for goods for sale by Richard Dickson.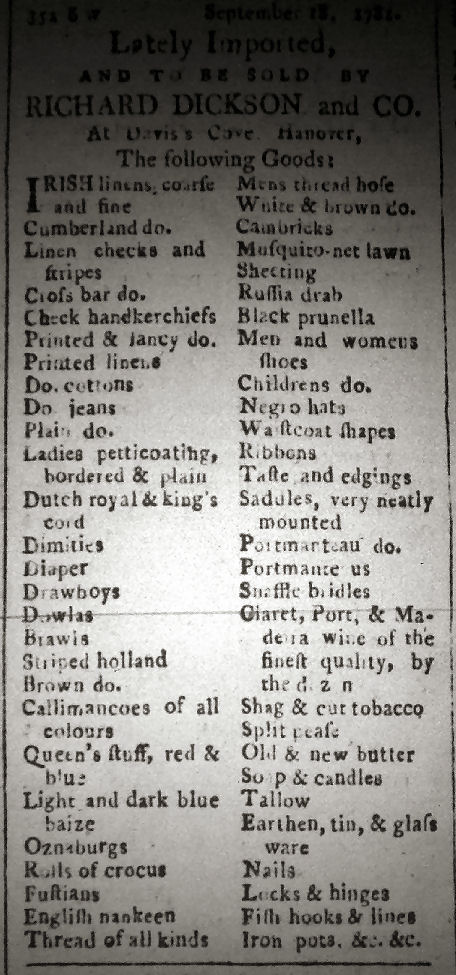 ---
© 2013. Jamaican Family Search hereby grants you a limited license to copy and use the materials provided on this site solely for your personal, non-commercial use. No other use of the site or materials is authorized. You agree that any copy of the materials (or any portion of the materials) that you make shall retain all copyright and other proprietary notices contained therein. Posting of materials on other Web Sites is strictly prohibited.
---
SEARCH THIS SITE
---
GO TO:
Help - Frequently Asked Questions
Jamaica Almanacs Slave-owners, Civil & Military officers, Magistrates etc.
Items in the Samples Directory
Items in the Members Directory
Transcriptions from Registers and Wills (Church of England, Dissenters, Civil Registration)
Jamaican Roman Catholic Church Registers - transcriptions
Jamaican Methodist Baptisms - transcriptions
Jewish births marriages deaths - transcriptions