Jamaican Family Search Genealogy Research Library
FLINT RIVER, Land Surveys 1676-1728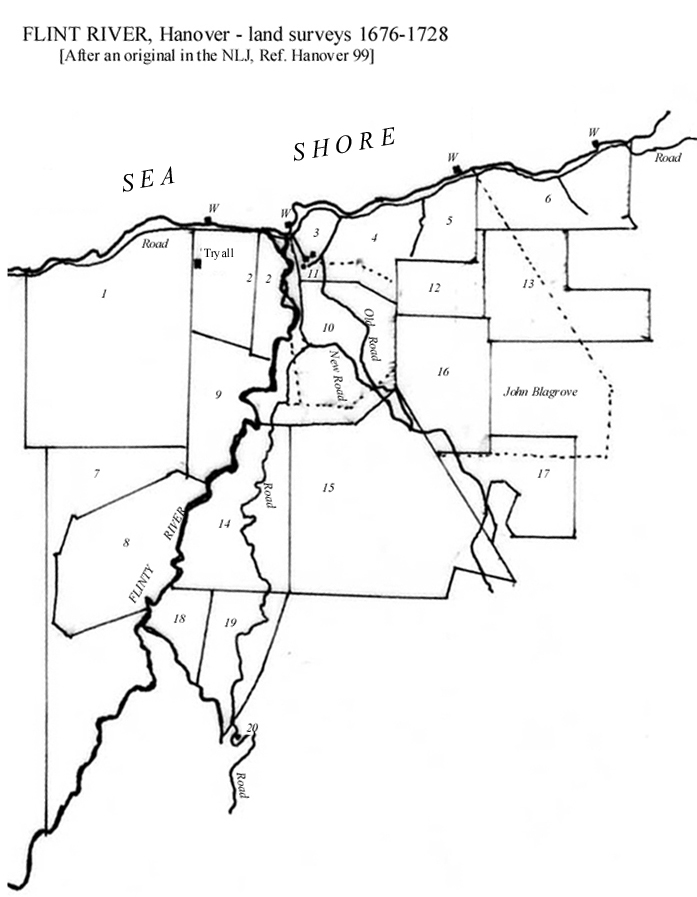 Key to map
W Wharf
1 John Southern, 600 acres, surveyed July 1675 [patented 1676]
2 Henry Fairchild, 200 acres, surveyed 25 June 1676
3 Samuel Jenkes, 56 acres, surveyed 18 July 1687
4 Land of Flint River Estate
5 Derman Regan, 100 acres, surveyed 15 September 1708
6 Robert Clarke, 200 acres, surveyed 20 September 1708
7 John Lewis, 300 acres, surveyed 18 June 1721
8 William Banwell, 300 acres, 16 December 1720
9 John Lewis & Francis Aeres, 300 acres, surveyed 1720
10 Peter Clarke, 351 acres, surveyed 2 July 1676
11 Flint River works - See Ruined works at Flint River [2007]
12 John Grizzell, 100 acres, surveyed 30 May 1728
13 Edward Knowles, 300 acres, surveyed 5 September 1728
14 John Lewis, 307 acres, surveyed 25 January 1720
15 Henry Long, 780 acres, surveyed 22 July 1681
16 William Johnston, 300 acres, surveyed 28 July 1728
17 Thomas Johnston, 300 acres, surveyed 21 June 1728
18 John Clarke, 100 acres, surveyed…December 1720
19 Robert Clarke, 100 acres, surveyed…December 1720
20 Morris's
Note:
John Blagrove: it is possible that he once owned the land within the dotted lines which was then re-surveyed and divided into smaller parcels for sale.
Compare Flint River Map c 1800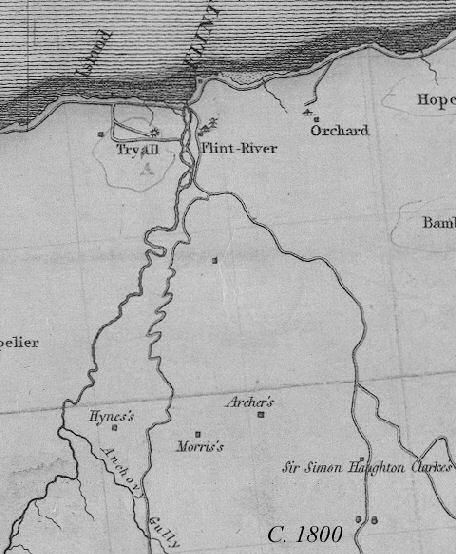 ---
© 2013. Jamaican Family Search hereby grants you a limited license to copy and use the materials provided on this site solely for your personal, non-commercial use. No other use of the site or materials is authorized. You agree that any copy of the materials (or any portion of the materials) that you make shall retain all copyright and other proprietary notices contained therein. Posting of materials on other Web Sites is strictly prohibited.
---
SEARCH THIS SITE
---
GO TO:
Help - Frequently Asked Questions
Jamaica Almanacs Slave-owners, Civil & Military officers, Magistrates etc.
Items in the Samples Directory
Items in the Members Directory
Transcriptions from Registers and Wills (Church of England, Dissenters, Civil Registration)
Jamaican Roman Catholic Church Registers - transcriptions
Jamaican Methodist Baptisms - transcriptions
Jewish births marriages deaths - transcriptions