Jamaican Family Search Genealogy Research Library
FFRENCH CONNECTIONS
Peter Ffrench Descendants
1-Peter Ffrench (about 1710-19 March 1755)
+Catherine Noke (about 1714-)
. . 2-Catherine Ffrench (21 October 1734-26 October 1794)
. . 2-Bethiah Ffrench (5 February 1736-9 August 1778)
. . 2-Anthony John Ffrench (18 March 1738-18 March 1740)
. . 2-Elizabeth Sarah Ffrench (3 October 1740-)
. . 2-George I Ffrench (2 June 1742-13 February 1795)
. . +Jane Charlotte Beckford (1759-23 October 1825)
. . . . 3-George II Ffrench (9 June 1777-)
. . . . 3-Edward I Ffrench (7 October 1782-7 September 1835)
. . . . 3-Robert I Ffrench (1785-11 October 1835)
. . . . +Letitia Dunn Lindo (about 1795-)
. . . . . . 4-Arthur I Ffrench (23 June 1813-)
. . . . . . 4-Robert II Ffrench (2 June 1817-)
. . . . . . 4-George III Ffrench (30 December 1819-11 February 1897)
. . . . . . +Eliza Shirley Minot (22 February 1827-11 March 1898)
. . . . . . . . 5-Robert Burke Ffrench (31 October 1849-4 May 1850)
. . . . . . . . 5-Arthur George Ffrench (1851-8 August 1905)
. . . . . . . . +Frances " Fanny" Ann Glave (20 June 1845-August 1938)
. . . . . . . . . . 6-Kathleen Glave Ffrench (10 March 1875-1922)
. . . . . . . . . . +Wilfred Charles Jacobs (-)
. . . . . . . . . . . . 7-Shirley Jacobs (-)
. . . . . . . . . . 6-Frances(Fan)Eliza "The Duchess" Ffrench (22 March 1878-about 1940)
. . . . . . . . . . +David Charles Thomas (1880-)
. . . . . . . . . . . . 7-Thelma Thomas (24 May 1908-)
. . . . . . . . . . . . +Unknown Galant (-)
. . . . . . . . . . . . 7-Kathleen Thomas (18 September 1909-)
. . . . . . . . . . . . 7-David Thomas (21 December 1905-)
. . . . . . . . . . 6-St George Moore Ffrench (9 December 1879-11 December 1922)
. . . . . . . . . . 6-Arthur Headley Peter Ffrench (30 November 1881-February 1968)
. . . . . . . . . . +Irene Getfield (-about 1917)
. . . . . . . . . . . . 7-Myrtle Mae Ffrench (27 September 1917-4 April 1994)
. . . . . . . . . . . . +Charles Adolphus Jones (14 August 1907-20 January 2000)
. . . . . . . . . . +Amy Adina Thomas (1902-December 1994)
. . . . . . . . . . . . 7-Gladys Clementina Ffrench (18 October 1918-20 July 2005)
. . . . . . . . . . . . +Hepburn Ashman (-2 November 1968)
. . . . . . . . . . 6-Stephen Shirley Ffrench (3 September 1884-16 March 1896)
. . . . . . . . +Jane Victoria Smith (23 October 1840-12 May 1927)
. . . . . . . . . . 6-Ernest George Ffrench (15 November 1876-25 July 1937)
. . . . . . . . . . +Adele Miriam Carvalho (21 December 1876-1958)
. . . . . . . . . . . . 7-Violet Anne Victoria Ffrench (15 June 1916-31 July 2003)
. . . . . . . . . . . . +George F Davis (21 December 1917-20 August 1998)
. . . . . . . . . . . . 7-Geoffrey Ernest Ffrench (25 November 1917-25 January 1980)
. . . . . . . . . . . . +Marjory Grace Godfrey (11 November 1918-August 2007)
. . . . . . . . . . 6-Stephen Shirley Ffrench (3 September 1884-16 March 1896)
. . . . . . . . 5-Anna Maria Ffrench (about 1853-10 January 1881)
. . . . . . . . 5-EdwardIII Shafto Burke Ffrench (1855-after 1923)
. . . . . . . . +Gertude Emily Feurtado (-)
. . . . . . . . 5-Letitia Emily Ffrench (1856-10 November 1869)
. . . . . . . . 5-Hedley John Cecil Ffrench (1858-31 March 1864)
. . . . . . . . 5-Alfred Ernest Ffrench (23 February 1861-24 April 1926)
. . . . . . . . +Isadora Maud Burke Moodie (5 August 1864-about 1953)
. . . . . . . . . . 6-Frank Moore "Frankie" Ffrench (16 July 1892-)
. . . . . . . . . . +Unknown wife Ffrench (-)
. . . . . . . . . . 6-Helen(Nellie) Ffrench (about 1885-8 May 1944)
. . . . . . . . . . +John Fowles (-)
. . . . . . . . . . 6-GeorgeIV A Ffrench (27 December 1886-5 February 1957)
. . . . . . . . . . 6-Shafto Moodie Ffrench (23 January 1889-27 August 1979)
. . . . . . . . . . +Gwendolyn K Roberts (1902-23 October 1940)
. . . . . . . . . . +Hyacinth Annis Peart (29 July 1910-January 1980-March 1980)
. . . . . . . . . . 6-Ernest Minott Ffrench (17 August 1890-before 1926)
. . . . . . . . . . 6-Enid Claire Ffrench (March 1896-)
. . . . . . . . . . +Leopold Scott (-)
. . . . . . . . . . 6-Leslie St Clair Ffrench (3 May 1900-3 April 1987)
. . . . . . . . . . +Mary Bernice Prendergast (21 December 1893-31 March 1984)
. . . . . . . . . . . . 7-Derek St Clair "Commander" Ffrench (31 March 1922-23 December 2007)
. . . . . . . . . . . . +Phyllis Cecile Reid (3 August 1925-20 November 2006)
. . . . . . . . . . 6-Shirley Lorraine Ffrench (8 January 1902-18 July 1969)
. . . . . . . . . . +Enid Susan Hind (1904-1988)
. . . . . . . . . . 6-Corinne Elise Ffrench (9 May 1905-15 June 1993)
. . . . . . 4-EdwardII Ffrench (6 February 1822-10 March 1880)
. . . . . . +Sarah Harrison Buchan (1833-before 1880)
. . . . . . 4-Maria Moore Ffrench (8 December 1826-14 December 1918)
. . . . . . +John Moore (about 1820-before 1918)
. . . . . . . . 5-Ella Louise Moore (about 1848-1 October 1938)
. . . . . . . . 5-Thomasina Ffrench Moore (about 1850-)
. . . . . . 4-Alexander Dunn Ffrench (9 December 1828-)
. . . . 3-Ann Eliza Ffrench (1787-13 October 1835)
. . +Elizabeth Ann Jackson (about 1765-about 1825)
. . . . 3-John Ffrench (1789-6 January 1790)
. . . . 3-Henry Ffrench (21 October 1793-18 January 1800)
~~~~~~~~~~~~~~~~~~~~~
Descendants of Henry Smith
1-Henry1 Smith (15 June 1748-1817)
+Martha Steele (about 1760-7 January 1801)
. . 2-Henry2 Jeremiah 11th Dragoons Smith (28 November 1783-15 February 1857)
. . +Margaret Osbourne (about 1782-about 1805)
. . . . 3-Henry3 Jeremiah Smith (October 1803-13 March 1877)
. . . . +Sarah Maria Harrison (about 1810-abt 1833?)
. . . . . . 4-Henry4 Jeremiah Smith (14 September 1829-)
. . . . . . +Elizabeth "of Old Court" Edward (-)
. . . . . . . . 5-Henry5 Smith (1860-1920)
. . . . . . . . 5-Emily Kate Smith (-)
. . . . . . . . 5-Lilla Smith (-)
. . . . . . . . 5-Gertrude Smith (-)
. . . . +Honble Henrietta Priscilla Carleton (about 1816-20 October 1892)
. . . . . . 4-Carleton Smith (about 1836-1910)
. . . . . . 4-George Smith (about 1838-)
. . . . . . 4-Dudley Smith (about 1840-)
. . . . . . 4-Georgina Smith (about 1842-)
. . . . 3-Francis Edward Smith (1805-)
. . +Elizabeth Radcliffe (1790-5 March 1872)
. . . . 3-Catherine Matilda Smith (about 1810-)
. . . . +Robert Col Sir Wallace (-)
. . . . 3-Elizabeth Smith (about 1811-)
. . . . +Hugh Lyons Montgomery (-)
. . . . 3-Stephen Henry Smith (1813-1890)
. . . . +Georgina Barbra Pelly (1836-April 1874)
. . . . . . 4-Blanche Louisa Smith (-)
. . . . . . 4-Constance Margaret Smith (25 December 1862-11 August 1894)
. . . . 3-St George William Smith (1813-about 1892)
. . . . 3-Michael Edward Smith (10 November 1814-19 May 1903)
. . . . +Jane Grace Smith Syme (1829-17 March 1913)
. . . . +Eliza Louisa Grant (about 1815-21 July 1905)
. . . . . . 4-Jane Victoria Smith (23 October 1840-12 May 1927)
. . . . . . +Arthur George Ffrench (1851-8 August 1905)
. . . . . . . . 5-Ernest George Ffrench (15 November 1876-25 July 1937)
. . . . . . . . +Adele Miriam Carvalho (21 December 1876-1958)
. . . . . . . . . . 6-Violet Anne Victoria Ffrench (15 June 1916-31 July 2003)
. . . . . . . . . . +George F Davis (21 December 1917-20 August 1998)
. . . . . . . . . . 6-Geoffrey Ernest Ffrench (25 November 1917-25 January 1980)
. . . . . . . . . . +Marjory Grace Godfrey (11 November 1918-August 2007)
. . . . 3-William Thomas Smith (15 January 1816-15 March 1884)
. . . . +Kate Auber (-)
. . . . . . 4-Ernest St George Smith (-)
. . . . . . +Kathleen Emily Avenal Philpotts (-)
. . . . . . . . 5-Rosemary Smith (1903-)
. . . . . . . . +Richard Mainwaring (-)
. . . . . . . . 5-Denise Smith (1910-7 April 2008)
. . . . . . . . +Frank Norman Jeffers (-)
. . . . 3-Richard Edward Jeremiah Smith (about 1819-March 1877)
. . . . +Adela Archer (about 1840-)
. . . . . . 4-Emily Gertrude Cox Smith (23 May 1865-)
. . . . . . +Rev Edwin Henry Cock (-)
. . . . 3-Kynaston Walter Smith (about 1827-1857)
. . . . 3-Matilda Cox Smith (1828-)
. . . . 3-Emily Smith (about 1829-)
. . . . 3-Mary Henrietta Smith (1830-1876)
. . . . +Ralph4 Smyth (about 1817-)
. . . . 3-Frederick Augustus Smith (18 November 1826-27 July 1887)
. . 2-St George "of Greenhills" Smith (7 March 1785-)
. . +Mary Hannah Smyth (about 1785-16 June 1844)
. . . . 3-Henry St George Smith (2 January 1813-16 December 1899)
. . . . +Sidney Catherine Salisbury (-13 March 1902)
. . . . . . 4-St George Alexander Smith (26 January 1841-27 October 1916)
. . . . . . +Luielia Stella Marguerite McIlwraith (-)
. . . . . . . . 5-Henry St George Smith (31 August 1898-25 December 1975)
. . . . . . . . +Anna McTaggart (February 1897-February 1983)

~~~~~~~~~~~~~~~~~~~~~

3/9 George I French Clerk of the Assembly died 13 Feb 1795 St Catherine

His Will leaves everything to his "dear wife Elizabeth Ann" and his "minor son Henry" (aged 2)-- older son John having already died.
1795 Will of George I Ffrench
Jamaica Ss. In the name of God Amen I George French of the Parish of Saint Catherine in the County of Middlesex and Island of Jamaica Esquire do make publish this to be my last will and testament in manner and form following that is to say I will and desire that my just debts and funeral expenses be paid off and satisfied as soon as conveniently maybe by my Executrix and Executors herein after named and as to such estate and Effects that I may die possessed of I give devise and bequeath unto my dear wife Elizabeth Ann French and my beloved son Henry French all such my Estate real personal or mixt of what nature or kind soever or where so ever the same may be at the time of my decease to be equally divided between my wife and son share and share alike to hold as tenants in common and not as joint tenants but in case of the death of either my said wife or my said son before he attains the age of twenty one years then the part and share either of them so dying to go to the survivor her or his heirs and assigns forever and I do hereby nominate constitute and appoint my said wife Elizabeth Ann French and Francis Rigby Brodbelt Esquire and Alexander Aikman of the parish of Kingston Esquire Executrix and Executors of this my last will and testament and Guardian of my said son Henry French until he attain the age of twenty one years, and I do revoke and make void all former and other wills by me at anytime heretofore made and declare this only to be my last will and testament In witness whereof I the said George French have to this my last will and testament set my hand and seal this thirty first day of January in the year of our lord one thousand seven hundred and ninety five. Signed sealed published and declared by the testator George French Geo ffrench [SEAL] as and for his last will and testament in the presence of us who at his request and in his presence and in each others presence have subscribed our names as witnesses to the same
R R Parker Thos' Talbot Stevens Wood
~~~~~~~~~~~~~~~~~~~~~~
3/10 Henry French child died 18 Jan 1800
St Catherine's Aged 7
~~~~~~~~~~~~~~~~~~~~~~
Will of Elizabeth Ann Ffrench dated 10 Aug 1825
10/- Jamaica Ss -- George the fourth by the Grace of God of the United Kingdom of Great Britain and Ireland King and of Jamaica Lord, Defender of the Faith & so on To our trusty and well-beloved John Biggar and James Forsyth Esquires
Know ye that we have constituted authorised and appointed and by these presents do constitute authorise and appoint ye or either of ye to administer an oath unto George Barnett of the City and Parish of Kingston Gentlemen or any other that are witnesses and can make oath of the signing sealing publishing and declaring of the last will and testament of Elizabeth Ann Ffrench late of the parish of Kingston widow deceased and hereof you or either of you are to make a due return under your or either of your hands and seals unto our Captain General and Governor in Chief of the said Island or to the Governor and Commander in chief of the same for the time with this power annexed
Witness His Grace William Duke of Manchester Captain General and Governor in Chief of our said Island at St Jago de la Vega [SpanishTown] the 26th day of August Anno q Domini 1825 and in the sixth year of our reign [sgnd] Manchester Passed Secretary's office W. Bullock Secretary
Jamaica Ss. The execution of the within Dedimus Potestatem appears by the Will and probate thereof hereunto annexed. Given under my hand this 23rd day of September 1825 [(sgnd] I Forsyth Ffrench Elizabeth A
Entr'd 5th Oct 1825
Jamaica Ss -- In the name of God Amen I Elizabeth Ann Ffrench of the City and Parish of Kingston in the County of Surry and Island aforesaid Widow being of sound and disposing mind memory and understanding do make publish and declare my last Will and Testament in manner and form following. That is to say Imprimis I will and direct that all my just debts and funeral and testamentary expences be fully paid and satisfied as soon as conveniently can be after my decease And for such purpose I do hereby direct and authorise and empower my Executrix and Executor hereinafter named to enter upon and take possession of my coffee plantation or settlement called The Cottage situate in the Parish of St Andrew in the County of Surry and Island aforesaid and to contract for and actually sell and dispose of the said plantation or settlement as soon as possible after my decease and to grant and execute to the Purchaser thereof good and sufficient title thereto and if need be to allow unto the purchaser thereof a reasonable time for the payment or part payment thereof and I do hereby declare that the receipt of my Executrix and Executor hereinafter named shall be a good and sufficient discharge to the purchaser or purchasers thereof for any monies therein expressed and that such purchaser or purchasers shall not be answerable or accountable for the non-application or misapplication of such purchase money.
And it is my will and desire that my debts and funeral and testamentary expenses be paid and discharged out of the proceeds of such Sale in preference to my personal estate.
I hereby manumise enfranchise and forever set free of and from all servitude slavery and bondage my Negro Woman Slaves named Elizabeth Dowling and Jane Waters to hold such Manumission Enfranchisement and Freedom unto the said Elizabeth Dowling and Jane Waters and their future issue offspring and increase forever.
I give devise and bequeath unto Samuel Bruce Smith my mulatto man slave named George Simpson to hold to his heirs and assigns forever but it is my will and desire and I do hereby direct that in case the said Mulatto slave named George Simpson shall at any time hereafter during the minority of the said Samuel Bruce Smith be able to purchase his freedom either by himself or with the assistance of his friends that such freedom be granted to him upon a reasonable sum being paid to the said Samuel Bruce Smith and I do hereby authorise my Executrix and Executor to execute and deliver all necessary deeds and instruments whatsoever for such purpose but in the event of the said Samuel Bruce Smith departing this life before he shall attain his age of 21 years or before the said Mulatto boy George Simpson shall have purchased his freedom as aforesaid I then give devise and bequeath the said slave unto Rachel Smith of the said city and parish of Kingston Widow the mother of the said Samuel Bruce Smith to hold to her and his heirs and assigns forever but subject to the like condition and power to the said slave to purchase his freedom from the said Rachel Smith [signed] E A Ffrench
Whereas I am entitled under the will of my late uncle John Jackson [her maiden name] to a legacy of £2000 now I give and bequeath £200 thereof unto Mrs Elizabeth Dallas the widow of the late Stuart George Dallas Esq. I give and bequeath one hundred pounds thereof to Samuel Jackson Dallas Esq. I give and bequeath £200 thereof to the Rev Robert William Dallas the present Rector of Manchester but it is (my) express will and intention that the said last three mentioned legacies shall be only paid and payable out of the said legacy of £2000(if ever the same should be paid) & not out of any other part of my real or personal estate I give and bequeath all my wearing apparel unto the said Rachel Smith.
All the rest residue and remainder of my estate real personal and mixt I give devise and bequeath the same and every part thereof unto Elizabeth Martha Smith, Jane Smith, James William Smith, Frances Smith and Samuel Bruce Smith, daughter and sons of the said Rachel Smith or such of them as shall be living at the time of my decease to be divided among them share and share alike to hold to them and to the Survivors or Survivor of them and to the heirs executors administrators and assigns of such survivor forever.
And lastly I do hereby nominate constitute and appoint the said Rachel Smith and her son James William Smith Executrix and Executor of this my said will hereby revoking all former and other wills by me at anytime heretofore made and declaring this only to be and contain my last Will and Testament.
In witness hereof I have to the first sheet of this my Will set and subscribed my hand and to the second and last sheet thereof set and subscribed my hand and affixed my seal this tenth day of August 1825 [signed] E A Ffrench

~~~~~~~~~~~~~~~~~~~~~~

An E A Ffrench dies Kingston 15 Aug 1825

~~~~~~~~~~~~~~~~~~~~~~
Portrait of George Ffrench III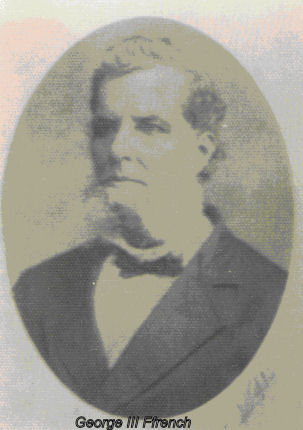 ~~~~~~~~~~~~~~~~~~~~~~
Portrait of his wife Elize Minot Ffrench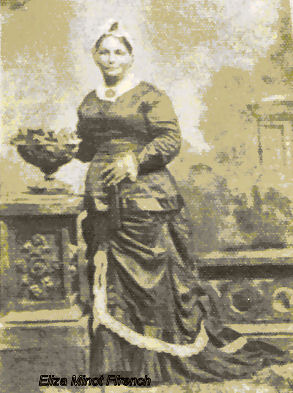 ~~~~~~~~~~~~~~~~~~~~~~
Colonial Standard & Jamaica Despatch "Audi Alteram Partem" Tuesday, January 7 1868
Wreck of the Schooner Fanny of Port Antonio
Mr Geo. Ffrench [ie George III married to Eliza Minot Shirley] of Port Antonio arrived in Kingston on Friday last [3 Jan 1868] with his two sons [probably Edward Shafto Burke age 13 & Alfred Ernest age 7 ?-Arthur George was 17 & probably already working] and the Captain and crew of the Schr. Fanny which vessel was wrecked off Cuba on the 21st ultimo [ie 21 December].
The Fanny left Inagua [in the Bahamas] bound for this port on the 19th December last with a cargo of salt on board. On the 20th off Cape Mayae, [Guantanamo?] she encountered a severe gale. It had been blowing very fresh from the morning, but about midday the wind increased in fury, and rose to a perfect storm. The little vessel notwithstanding heavy seas which struck her, and the damage constantly occurring to her rigging, braved it out until the following day at noon, when a sea swept off her round house and the water poured in from the breech into the hold. From that moment it became apparent that she would sink, as the pumps proved inadequate to the removal of the large quantities of water constantly getting in, and she was otherwise much disabled.
It was determined to take to the boats as the only chance for life left. A long boat belonging to the ship, stood lashed in the usual place on deck, and had fortunately up to that time received no very serious damage. Into this the apparently doomed equipage took refuge, after some ineffectual attempts to launch the gig, which proved abortive on account of the heavy sea. Hatchet in hand, the men stood near the fastenings of the long boat waiting their opportunity. It came at last. A mountain of water was observed rushing towards the ship, the ropes were cut in time, and the next moment the boat with seventeen souls on board was swept off into the open sea, fortunately clear of the masts and rigging of the ship, which leaned over with the blow of the tremendous wave and fell on her beam ends. In another moment, the alternate striking and receding action of the waves had caused the ship to right, but she was full of water, and before the boat had gone many yards, she sank right down and disappeared.
The unfortunate people in the boat saw her go down with a heavy heart; for it was evident that the frail embarkation on which they stood could never by human effort, and without the special interposition of Divine Providence, bear them in safety to the nearest land, which was at that time estimated to be at least 60 or 70 miles distant. A large Barque, apparently laden with coal, and an American Brigantine, had been observed making for some port on the Southside of Cuba, when the storm first broke upon the Fanny. Eager eyes scanned the horizon to discover their whereabouts, if possible, but in vain. The agitation of the sea, and the tossing up and down of the boat, prevented anything being seen beyond the distance of a few feet, and there was no hope left except the mere chance that the wind which blew towards Cuba would drive the boat to some part of the coast.
In the anxiety of their escape, the only care of the boat's company had been to secure a few oars, and the hatchets with which they cut away their fastenings. Not another thing had been taken from the ship. The wretched people stood in the clothes which they wore at the time, drenched to the skin. Their last regular meal had been taken on the Friday morning before the storm broke out, and cooking had become afterwards impossible. Indeed the thought of nothing but the necessity of providing for their escape from the perils which they saw imminent, had entered the mind of the crew or the passengers.
They had not a drop of water, or a morsel of food with them, and the cravings of hunger, and the still more terrible pangs of thirst, came to increase their sufferings. All the remainder of Friday, the whole night of Saturday [Dec 21st], they were tossed about at the mercy of the waves, expecting every moment to be their last, and unable to make any effort for existence beyond endeavouring by constant bailing, to relieve the boat from the large quantities of water she took in at every side.
On Sunday morning [Dec 22nd] a little before daylight, it became evident from the abatement in the fury of the sea, that the boat was nearing land; the oars were put out, and every effort made to keep her steady until daylight should enable the crew to make out their position. At dawn, the shore was described a few miles distant. The exhausted men put out their remaining strength to get to it, but neared only a high coast composed of barren rocks, with no vestige of water anywhere. Again they turned the boat's head seaward, and determined to row along the coast until they should meet with water or some habitation. Between ten and eleven o'clock, they made out the mouth of a river into which they at once put, and they soon gained the shore in safety. All at once offered up thanks to the Almighty, who had guided them away from death.
The company partook with caution, of the refreshments afforded by the sparkling stream into which they had got, and then consulted as to their future course. Two men were seen coming down, but these seemed frightened by the extraordinary appearance of a whole boat's company at such a place, and quickly made off, upon hearing the call made to them. In about an hour's time a large party arrived, where the boat lay, armed with pistols, swords and other weapons, evidently labouring under the impression that a band of marauders had come to commit some depredations among them.
Mr Ffrench thereupon advanced alone towards them, shewing that he had no arms or weapons about him, and making signs of distress. No sooner was the real state of things known, than the good Spaniards putting away their arms, and with tears of sympathy in their eyes vied with each other in their friendly and charitable manifestations towards the boat's party. The River turned out to be the "Oho" and one of the gentlemen who had come down to the boat, proved to be the proprietor of a tobacco plantation of the same name, situated a few miles up the bank. The distressed people were at once taken to the plantation and their wants and comforts provided for with the liberality and delicacy so characteristic of the charity of the Spanish. The party remained at the plantation that night, and can never forget the solicitious care they experienced from the proprietor and those around him. In the morning the nearest Magistrate, who had been sent for about twenty miles off the night before, arrived at "Oho".
This gentleman Senor -----, took charge of the party, and with the utmost liberality provided the whole of them with horses to proceed to Baracoa on the northside, [Guantanamo] the chief city of the district, where there was a British Vice Consul. The next morning, Tuesday [Dec 24th] the whole party, accompanied by the Senor ---- left the hospitable mansion at "Oho" and preceded by guides, turned towards Baracoa. At night they slept at another plantation on the way belonging to their former host, and where by his orders the same care and attention as they had already received
~~~~~~~~~~~~~~~~~~~~~~
George Ffrench III Obituary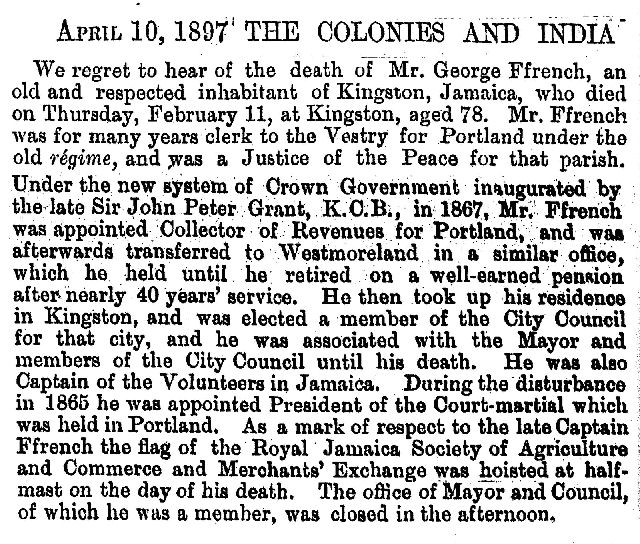 ~~~~~~~~~~~~~~~~~~~~~~
Portrait of Alfred Ernest Ffrench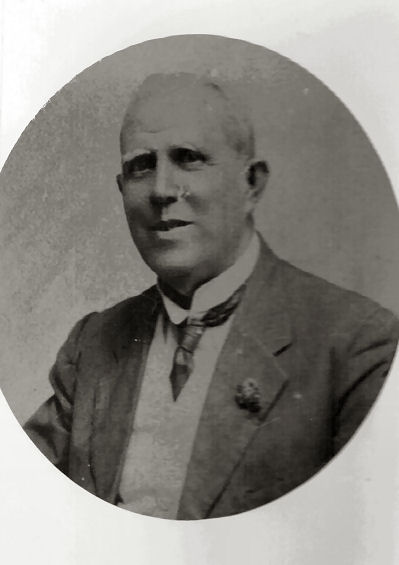 ~~~~~~~~~~~~~~~~~~~~~~
Portrait of his wife Isadora Moodie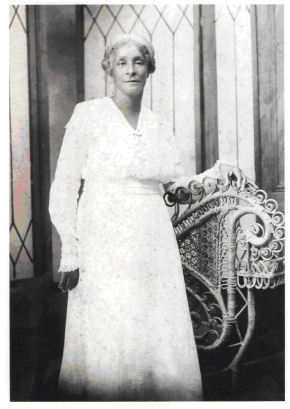 ~~~~~~~~~~~~~~~~~~~~~~
FOR MORE OF THE FFRENCH CONNECTIONS, INCLUDING TREES, PHOTOGRAPHS, AND TIMELINES, PLEASE GO TO:
---
Information and photographs contributed by Keith and Nancy Atkinson who may be reached at kandn.atkinson@tiscali.co.uk
---
© 2013. Jamaican Family Search hereby grants you a limited license to copy and use the materials provided on this site solely for your personal, non-commercial use. No other use of the site or materials is authorized. You agree that any copy of the materials (or any portion of the materials) that you make shall retain all copyright and other proprietary notices contained therein. Posting of materials on other Web Sites is strictly prohibited.
---
SEARCH THIS SITE
---
GO TO:
Help - Frequently Asked Questions
Jamaica Almanacs Slave-owners, Civil & Military officers, Magistrates etc.
Items in the Samples Directory
Items in the Members Directory
Transcriptions from Registers and Wills (Church of England, Dissenters, Civil Registration)
Jamaican Roman Catholic Church Registers - transcriptions
Jamaican Methodist Baptisms - transcriptions
Jewish births marriages deaths - transcriptions