Jamaican Family Search Genealogy Research Library
COATS OF ARMS
OF FAMILIES MARRIED INTO BY
LEMERCIER DUQUESNAY FAMILY MEMBERS
These are Coats of Arms that were included in the Malabre manuscript, but had not been verified by the author, Louis Malabre. They were subsequently sent to the British Museum by Frederick J. duQuesnay to be verified. All those on this chart were verified by Miss Margret Franklin who did research at the Museum. This chart was hand-painted by Greta Gadpaille (nee Davidson) in the 1960s.
The Coats of Arms, from left to right, top to bottom, are:
PILLON
LE MAISTRE
LE CORNU
DE LONGUEVAL
DE MALHORTIE
LE PERE
ALLORGE
DE RODES
BONFILS (Anjou)
DU BOURG
DU VERGIER DE ROCHE-JAQUELIN
ANGO
BOUGUETOT
LE FEBVRE
ONFFROY DE VERES
REYNIER DE LA HAYE-VAUVERT
D'ESPAGNET
HEURTANT
HANUS DE JUMECOURT
DU DORE
BIGOT
DE GRISOLLES
In the center is LE MERCIER DU QUESNAY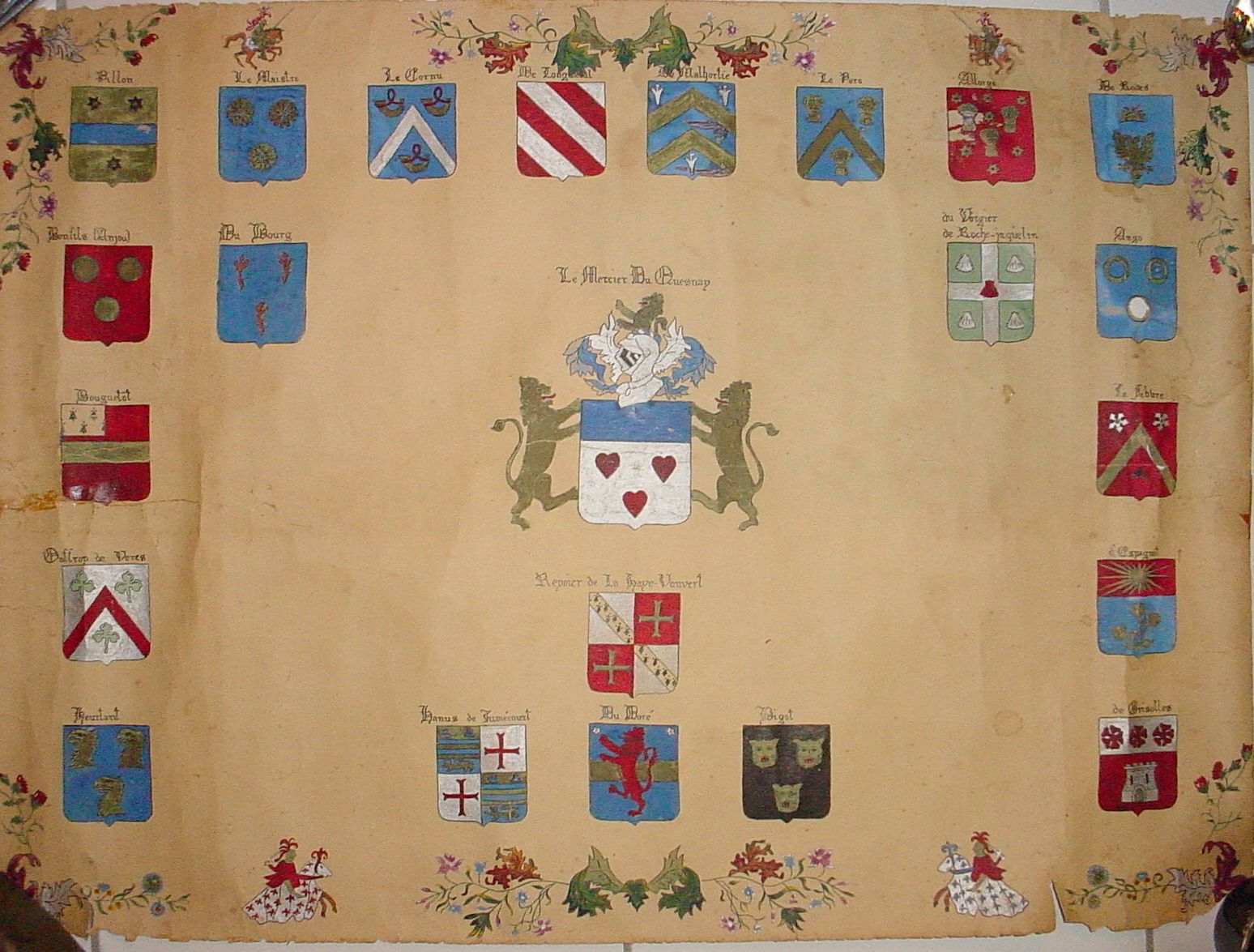 ---
© 2013. Jamaican Family Search hereby grants you a limited license to copy and use the materials provided on this site solely for your personal, non-commercial use. No other use of the site or materials is authorized. You agree that any copy of the materials (or any portion of the materials) that you make shall retain all copyright and other proprietary notices contained therein. Posting of materials on other Web Sites is strictly prohibited.
---
SEARCH THIS SITE
---
GO TO:
Help - Frequently Asked Questions
Jamaica Almanacs Slave-owners, Civil & Military officers, Magistrates etc.
Items in the Samples Directory
Items in the Members Directory
Transcriptions from Registers and Wills (Church of England, Dissenters, Civil Registration)
Jamaican Roman Catholic Church Registers - transcriptions
Jamaican Methodist Baptisms - transcriptions
Jewish births marriages deaths - transcriptions