Jamaican Family Search Genealogy Research Library
CARIBBEANA VOLUME VI
Jamaican Excerpts
BOWLES OF JAMAICA
A list and valuation of the slaves, cattle, buildings, etc., upon the Wakefield plantation taken 22 Jan. 1787. There are now 115 negroes valued at £6,625, 83 cattle £1,178, 12 mules £60 and buildings £1,500. Total £9,363. In 1766 there were Old plants 80 acres, first ratoons 80 acres, young plants 75 acres. A long letter follows signed by George Cuthbert and James Campbell, who are the appraisers appointed by Ralph Fisher, esq., one of the administrators of the estate of Charles Bowles, deceased, and Ralph Fisher and James Robertson, esq., are two of the attornies of Oldfield Bowles of G.B., esq., son and heir of the said Charles Bowles, recites bond of £14,000 from Sir Alex. Grant and William Harvie deceased to Charles Bowles for performance of a lease of Wakefield plantation in the parishes of St. Thomas in the Vale and St. John from C. B. to W. Harvie dated 21 Jan. 1766. Present value £9,363 c., original value in 1766 £14,079 c., the deficiency being £4,716, and for deficiency of canes £687 is due. Total £5,403. (Brit. Museum Add. MS. 19,049, fo. 9.)
____________________
1681, May 18. Charles Bowles of St. James, Clerkenwell, Middlesex, esqr, Bachelor, abt 30, and Mrs Martha Fuller, of Clewer, co. Berks, Spinster, abt 20, with consent of her mother her father being dead, at St. James aforesaid. (Mar. allege fac. off. A. of C.)
Ann Modyford of Jamaica and New Windsor in her will p. 1750 names her nephew Charles Bowles, esq.
1767, Oct. Lady of Charles Bowles, Esq., of North-Aston, Oxfords hire. (G.M., 524.)
1780, Aug. 4. At Bath, Charles Bowles, esq., of North-Aston in Oxfordsh., one of the verderers of Windsor Forest, a prothonotary of the county palatine of Lancaster. (G.M., 394.)
____________________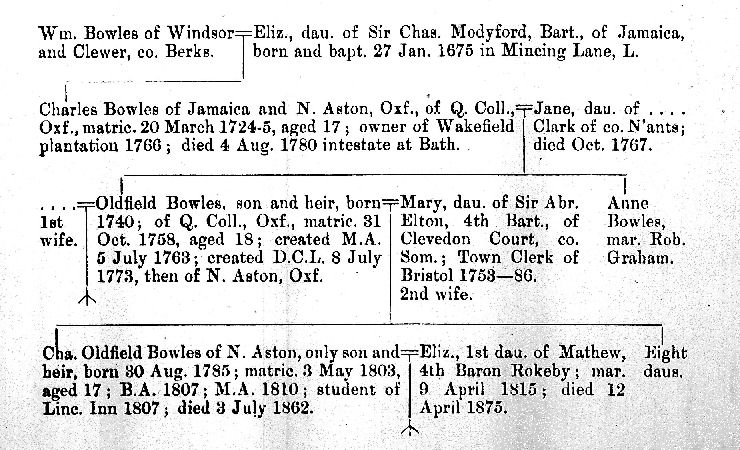 ---
WEST INDIAN BOOKPLATES
807, No. 640. "JANE ROBERTS." Chip. arm.
ARMS in a lozenge.-Quarterly: 1, Gules, three chevronels Arg.; 2, Sable, a chevron between three spear heads Argent ; 3, Azure, a chevron between three crescents Arg.; 4, Arg. a cross between four fleurs-de-lis Sable [FENTON].
(F. C.) The last coat is on a stone in St. Paul's Cabbesterre, St. Kitts, to Mary wife of Thomas Fenton, died 173. .
____________________
808, No. 580. "ANTHONY MUSGRAVE, M.D." (in Gothic lettering). Arm. Arms, Crest and Motto. Younger brother of Richard; M.D. Edinburgh, licenced to practise in 1814, died 24 Feb. 1852 aged 58, M.I. in St. John's Cathedral with above arms, etc. In the public library at St. John's Town are several old medical books with the above bookplate pasted therein, a specimen of which has been forwarded by Mr. R. K. Dyett. This plate has 1815 in the water-mark.
____________________
809. "JULINES HERING." Festoon arm. (F. C.)
ARMS.-Gules, on a bend Arg. a cinquefoil of the first between two lions passant guardant (untinctured). CREST.-A dexter arm in armour embowed couped, in the hand ppr. a dagger. MOTTOES.-Above: ARMA TUENTUR PACEM. Below on a scroll: FORTITUDINE . NON . VI . In the memorial of 1791 the ancient coat was Vert. (Ante, II., 12, and III., 143.)
____________________
810, No. 71. "JAMES LAROCHE, JUNIOR, ESQUIRE. No -." Chip. arm. (F. C.) ARMS.-Quarterly: 1 and 4, A raven; 2 and 3, On a mount, an eagle looking at the sun in his glory, in the canton [LAROCHE]. On an inescutcheon: A chevron between three cronels of spears [YEAMANS]. CREST: A raven. MOTTO : OTIUM IN NEGOTIO.
The shield rests on a large stone quay (evidently Bristol harbour) on the front of which is an anchor, with men loading cases into a boat. To the right is an armed West Indiaman, and to the left a lighter with a crane and another vessel. The plate has the appearance of a trial or working proof. It has not Milton's signature, neither tinctures nor shading. The date must be 1764-1770.
Mr. Bethune Baker has the completed plate, signed "Milton F " down the rudder of the West Indiaman, with the owners initials "J. L." on the stern of the small boat, and with all the proper heraldic tinctures on the shield.
____________________
811, No. 618. "J. H. HARDTMAN BERKELEY." Arm. by Culleton in 1882. Arms, Crests and Mottoes as in his brother's plate.
812, No. 691. "J. P." (John Parson) with festoons below. CREST.-A leopard's head surmounted by an eagle's leg erased. (F. C.)
____________________
813, No. 328. (Concanen) Anonymous. Wreath and ribbon arm. ARMS.- A falcon stands on the top of the tree, and the third cross crosslet is omitted. CREST. MOTTO.-NEMO FIDELIOR. (F. C.)
____________________
814, "JOHN MARSH." Spade arm.
ARMS.-Quarterly, Gules and Argent, in the chief dexter quarter, a horse's head couped of the second, impaling Gules a chevron between three crescents Arg. [MARTIN]. CREST.-Out of a mural crown a horse's head ducally gorged. MOTTO.--SI BENE STATUAS NIL METUAS. (F. C.)
Paul Daxon Horsford, Chief Justice of Antigua, married before 1798 Mary dau. of John Marsh, and her arms as above are impaled on her husband's monuments in St. John's Cathedral. The identity is of course uncertain.
---
APPEALS TO THE PRIVY COUNCIL
Add MSS. 36,216-36,220, British Museum, contain printed statements of cases on appeal from the plantations to H.M. in Council. The cases were first heard before the Committee of the Privy Council, and many of them include voluminous legal notes written by Yorke the Attorney General. (See Guide to MS. materials for the history of the U.S.A. by Andrews and Davenport, p. 164.)
JAMAICA.
Jamaica. Andrew Arcedeckne, esq., Appellant. Thomas Hall, esq., Respondent.
Appellant's Case.
6 June 1749. William Hall, late of Jamaica, being largely indebted to the App., gave his bond to pay £7,607 c., and soon after died possessed of a great estate, which descended to the Resp. his son and heir. App. filed his declaration in Nov, 1752. Plea of Defendant that he had no lands in fee simple except the moiety of 1,600 acres of woodland valued at £1,150 gross, and of the yearly value of £65 c., and. except 914 acres valued at £l,750 of the yearly value of £150 c. Said William Hall became bound in £24,449 to various creditors. May 1753, App. accuses Resp. of fraud, states there were 6 parcels amounting to 1770 acres, a moiety of 4 parcels in the parish of St James containing 1550 acres, the moiety of 208 slaves, 2 other parcels in St James of 183 and 117 acres also heir of 249 slaves. 30 Nov. 1753 Judgment for Def. Writ of error sued out by App. 28 Dec. 1753. 12 Oct. 1754, judgment reversed by Court of Appeal in Jamaica, but App. desired a general judgment and appealed to H. M. in C. To be heard 9 Feb. 1758. In writing : " Judgment affirmed."
Respondent's Case.
William Hall, esq., died intestate, and being much indebted the Resp. left his father's personal estate to his creditors, and Edward Manning, esq., as principal Creditor obtained administration. William Halls bond of 26 March 1730 for £2,600 c. to Edward Kelsall, and 11 other like judgments amounting to £24,000, were recovered Feb. 1733. (Add. MS. 36,217, fo. 185.)
____________________
Jamaica. John Spooner, esq., Appellant. John Cossley, John Cossly Hall and
Judith Burrows, Respondents.
Appellant's Case.
In 1742 the Resp. Cossley applied to Zachariah Bourryau (the App. son-in- law) to borrow £4,000 or £5,000 by way of mortgage of his estates. App. agreed to purchase the moiety for £4,300 or £1,000 by way of fine for the lease of the other for 7 years at £400 per annum rent, and by Indentures of Lease and Rel. of 29 and 30 July 1744 Cossley and Judith B., his mother, in consideration of £5,300 granted to the App. one moiety of Eolus's Valley containing 2,370 acres and a moiety of 173 negroes, and she released her dower and demised the other moiety for 7 years at £400 rent. The App. discovered the estates were subject to 2 mortgages, one of June 1723 by said Cossley's father, whereby he conveyed est. to Peter Roe and Joseph Hiscox against a bond to Aaron Lamego for £1,950, the other dated 25 July 1741 reciting that Hiscox had paid L., and Cossley owed Joseph H. son and heir and Ex'or of said J. H. £2,596, and in consideration of £300 grants est.. to J. H. for £2,896. App. refused to proceed, but Cossley agreed he should retain £3,800 to discharge incumbrances. App. paid Hiscox £1,000 in part, and lent Cossley £943 more. 20 and 21 March 1745 Cossley & B., in consideration of said £943 granted to Bourryau the demised moiety on mortgages. 9 and 10 July 1746 Hiscox in consideration of said £1,000 and £3,186 paid by App. released the est. to Bourryau as trustee.
Cossley then borrowed £400 by Rd. Oliver, esq., and he and his mother executed a mortgage of the demised moiety to him 20 Jan. 1746, and on 25 March 1748, C. borrowed £276 of O. and O., in collusion with C., threatened to proceed and ship some of the negroes, whereupon App. paid said O. £676. Sarah C., sister of John Cossley, set up demand for £1,500 c. under her father's will. App. exhib. his Bill 2 July 1748 in the Court of Chancery in England. Sarah C., on 9 Jan. 1749, attained her age and claimed £1,500 c. and £251 c. arrears, and by Ind. of 6 March 1749 for £240 paid by Rd. O., assigned leg. to him as security. 9 June 1750 App. in consideration of £367 paid to O. and £908 to S. C. they confirmed to App., and it was charged to the demised moiety. 30 July 1752 there was due to App. £2,950. C. went in Dec. 1750 from England to Jamaica and seized the plantation and sugars. 10 and 11 May 1752 C. and his mother for £10,000 c. pretended to be paid by John Cossley Hall sold one moiety of est. 20 July 1753 App. filed his Bill in Jamaica. 1755 Defendants deny fraud. 22 Nov. 1755 App. prayed for possession of est. but motion refused. Appeal to H. M. in C. To be heard 6 March 1758. Written : "Order made to give possession to Mr Spooner."
Respondent's Case.
1743. The Resp. John C. was in England. His est. in the parish of St David. App. had practised many years as a lawyer. Sarah C.'s father's and grandfather's wills. (Add. MS. 36,217, fo. 206.)
____________________
Hannah Blake, widow, Defendant below and Appellant.
Alex. Paterson, Plaintiff below and Respondent.
The Appellant's Case.
App. married Benjamin Blake,* Esq., the Younger, of Jamaica, and after became by the decease of her brother entitled to the fee simple of a plantation called Deans Valley. In 1745 her husband and self employed the Resp. as overseer until the death of B. B. 16 Nov. 1753. The est. profits decreased to nothing and she discharged him 9 Feb. 1754. He then claimed great sums and brought an action Aug. 1754, which in Feb. 1755 she won. 8 July 1755 he filed his Bill and claimed £739. She complained of his bad management, the last crop he put in made 28 hhds. whereas the crop of 1756 has already made 120 hhds. 31 March 1758 it was decreed that the Master should take account. App. made appeal to H.M. in Council 4 Jan. 1759. To be heard 8 March 1759. Written : "Decree reversed."
The Respondent's Case.
Resp. was overseer from 1745-1753 and greatly improved the estate. (Add. MS. 36,218, fo. 11.)
~~~~~~~~~~~~~~~~
* See Livingston's Sketch Pedigrees, p. 18, for a suit of 1776, and Add. MS. 23,608, fo. 19
---
© 2013. Jamaican Family Search hereby grants you a limited license to copy and use the materials provided on this site solely for your personal, non-commercial use. No other use of the site or materials is authorized. You agree that any copy of the materials (or any portion of the materials) that you make shall retain all copyright and other proprietary notices contained therein. Posting of materials on other Web Sites is strictly prohibited.
---
SEARCH THIS SITE
---
GO TO:
Help - Frequently Asked Questions
Jamaica Almanacs Slave-owners, Civil & Military officers, Magistrates etc.
Items in the Samples Directory
Items in the Members Directory
Transcriptions from Registers and Wills (Church of England, Dissenters, Civil Registration)
Jamaican Roman Catholic Church Registers - transcriptions
Jamaican Methodist Baptisms - transcriptions
Jewish births marriages deaths - transcriptions