Jamaican Family Search Genealogy Research Library
CARIBBEANA VOLUME V Extracts
HALS OF JAMAICA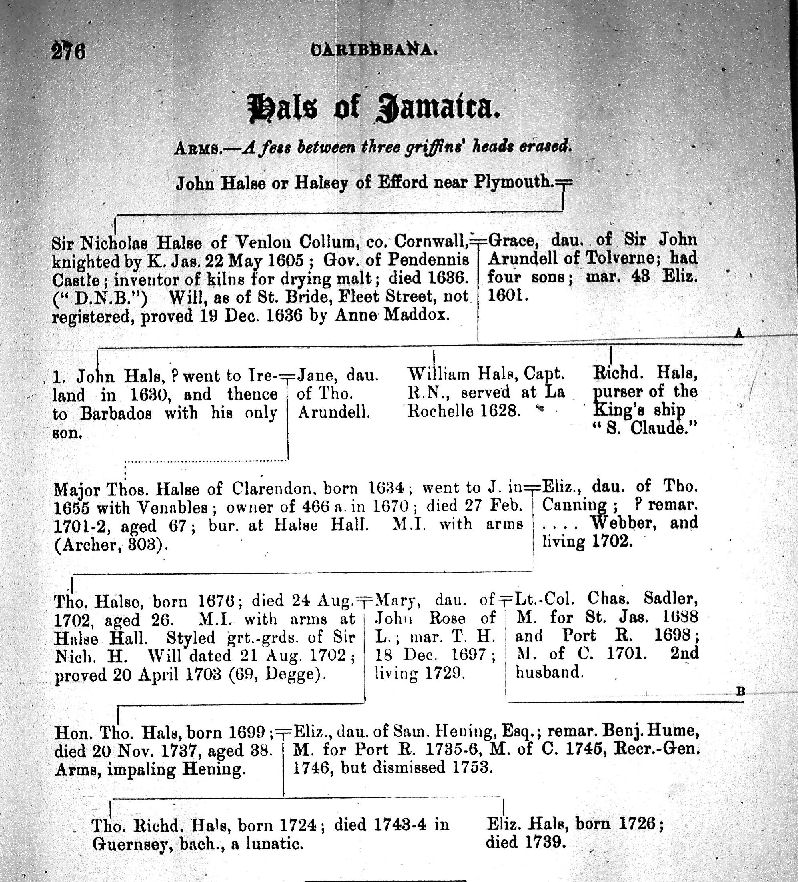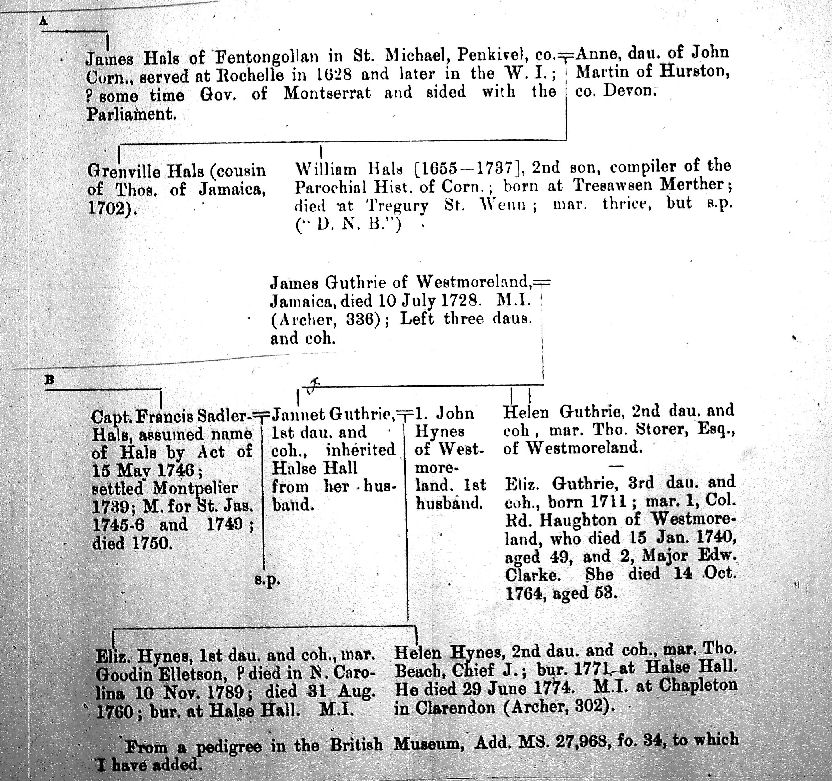 Thomas Hals, Esq., of the parish of Clarendon, Island of Jamaica. Will dated 21 Aug. 1702. To my wife Mary all my household goods, plate, jewels, coaches and 8 horses, and £400 sterling 12 months after my decease. My aunt Grace Moseley £20 st. yearly. My mother Eliz. Webber £20. Captain John Rose and his wife £20 each, George Osborne £20. Eliz. Hemmings £20. John Carver £20. Phlemon Dun £10. Rich. Thomas £10. All residue to my son Thos. Hals, the care and education of whom I leave to my wife. .If he die without issue then to my cousin Greenvill Hale the s. of James H. of Merthar, co. Corn., paying yearly £100 st. to Thomas Rose, s. of Capt. John Rose of L., Mt. My wife Mary, Emanuel Morton, Esq., John Peeke, Esq., Dr Daniel Webber and Joshua Smith, Executors and £20 each. Witnessed, by Nath. Hale, Tho. Morrison, John Burrell, Rich. Osbourne. Proved 20 April 1703 by Joshua Smith, power reserved to the others. On 22 Dec. 1729 comn. to Tho. .Hals, Esq., the son and residuary legatee, Joshua Smith being dead, as also E. Morton, J. Peeke and D. Webber and Mary Sadler alias Hals the widow, the surviving Ex'trix renouncing. (69, Degge.)
_____________________
1700. Gov. Sir William Beeston writes of the following who has been recommended for the Council:-
"Major Halse not long since kept a tavern: his wife now keeps a retail shop: he is old, lives 30 miles from town & is of very indifferent parts." (Colon. Cal., p. 51.)
There is a view of Halse Hall in Clarendon in Cundall's Historic Jamaica, p. 396.
---
WILL OF RALPH PARKINSON, ESQ., OF JAMAICA
Ralph Parkinson of the parish of St. James in the County of Cornwall and Island of Jamaica. Will dated l2 June 1805. If I die in this parish I desire to be buried in the churchyard near to my nephew and nieces, and that an elegant tomb* of marble be sent for and put over my grave with my age and place of nativity. I. was born at Pickton in the North Riding of Yorkshire on the 14 Aug. 1762, and came to this Island on the 12 April 1778. Not one of the name of Scarlett to be asked to my funeral, and if I should die in the parish of Westmoreland I desire to be buried at White Hall* my Pen, near to my brother Robert, and that my tomb be placed there with an iron railing. To my four quadroon children which I have had by a mulatto woman, Betty Grant, that I purchased from Tryall Estate in Hanover and set free --the names are Richard, Jane, John and Robert Parkinson- £2000 sterling each. They are to be educated in England and never return to Jamaica. My negroes Rose, Lilly and Minerva and wench Sally to serve them, and upon the said children going off the island I give these negroes to Betty Grant, together with Moggy and her two daus. Nancy and Mary, and Nancy and her children may be sold to Mr. William Tonkin for £100 each. I give her also £50 a year, and at her death the negroes to my goddau. Ann Watson, to whom I also give my beaufet with all my china therein, to be handed to her father and mother, and if she die to her sister Ruth. To Betty Grant also my liquors and the furniture of my bedchamber. To Mrs. Eliz. Cunningham++ my sett of mahogany tables containing eleven leaves, and at her death to her dau. Ann. To Mr. Wm. Tonkin my bookcase, and all the rest of my furniture to my nephew Matthew Parkinson, and my watch, gold buttons and rings to my son Richard. To my brother Leonard Parkinson a house and land in the New Town called Folly, purchased of John Perry, Esq. To my nephews, sons of my brother Leonard, viz , Leonard and Richard P., 20 guineas each for a ring, also the like to my niece Mary P. The large fortune my brother possesses. To my eldest sister Mrs. Johannah Bennett £50 a year, and at her death one half the principal to her dau. Mrs. Johannah Games, and the other half to the dau. of the said Johannah Games - the name is Jamina Wilkins by her former husband. To my sister Jane Games £50 sterling a year, and at her death the principal to her children and grandchildren. To my brother John P. 200 guineas, if he die to his son Chr. P. To my nephew Isaac Games £300 st. in England. To my niece Johannah Games the wife of Isaac Games £50 st., as she comes in with her dau. for half of what I leave to her mother. To my niece Lucretia Games £100 st. in England.
~~~~~~~~~~~~~
* There is no M.I. in Archer.
++Wife of the Hon. John Cunningham; she died 1806. (Archer, 319.)
~~~~~~~~~~
To my niece Johannah Dinsdale £100 st. in. England. To my niece Jane Games £300 st. at 21. To my nephew Chr. P. £300 st. To my nephew Mathew P. £500 st. All residue to my brother Chr. Parkinson's children equally, and if he does not come to this island to be remitted to him in America. To each of my Executors 20 guineas for a ring. I appoint as Trustees and Executors my brother Chr. P., my nephew Mathew P. and my friends George Watson, William Appleton and Henry Parry, Esquires, with power to sell all my estate. Witnessed by William Plummer, William Allen, William Tonkin.
Codicil. 23 May 1806. I give to my nephew Ralph Parkinson Games son of Isaac G. of London £2000 st. at 21. My Ex'ors to purchase for Betty Grant for £700 c. a house in the town of Montego Bay. To my friend Mr. John Pender of the parish of St; James 20 guineas for a ring. In case Mr. Wm. Tonkin my clerk shall settle my books and accounts I bequeath him £200 c. Witnessed by James Irving, William Boyd, William Allen.
Endorsed "The Will of Ralph Parkinson, Esq." Mr. Cardale, Bedford Row. And in pencil, "Mr Games, No. 5 Pear Tree Row, Lamberth, M." [?Marsh]. [Abstracted from an old copy in the Editor's possession.]
Testator's brother Leonard P., formerly of the parish of St. James in Jamaica, purchased the estate of Kinnersley Castle in Herefordshire, where he died 11 July 1817, and a pedigree of his descendants appeared in Burke's "L.G." In a deed relating to Belvidere Estate in Hanover it is recited that Leonard Parkinson, Esq., as surviving partner of George Goodin Barrett, Esq., (who died 8 Oct. 1795), recovered judgment against Thomas Reid, Esq., for £28,000 and £31,657 and costs, on payment of which sums he signed a release.
---
© 2013. Jamaican Family Search hereby grants you a limited license to copy and use the materials provided on this site solely for your personal, non-commercial use. No other use of the site or materials is authorized. You agree that any copy of the materials (or any portion of the materials) that you make shall retain all copyright and other proprietary notices contained therein. Posting of materials on other Web Sites is strictly prohibited.
---
SEARCH THIS SITE
---
GO TO:
Help - Frequently Asked Questions
Jamaica Almanacs Slave-owners, Civil & Military officers, Magistrates etc.
Items in the Samples Directory
Items in the Members Directory
Transcriptions from Registers and Wills (Church of England, Dissenters, Civil Registration)
Jamaican Roman Catholic Church Registers - transcriptions
Jamaican Methodist Baptisms - transcriptions
Jewish births marriages deaths - transcriptions