Jamaican Family Search Genealogy Research Library
CARIBBEANA VOLUME V Extracts
WELCH OF JAMAICA
Richard Welch of Upper Wimpole str., Esq. Will dated 23 March 1780-1. All my estate to Philip Dehany of this Kingdom, James Pinnock of Jamaica, John Allen of Berners str., Rob. Cooper Lee of Bedford sq; and John Grant of Jamaica, Esqrs., to pay my wife Lucretia Mary £500 sterling yearly and £3,000 currency out of the bonds granted me by Richard Brissett, Esq., for the purchase of Georgia est. and the remainder of the bonds to my children equally Richard my eldest son included. My trustees out of the annual produce of my Hyde est. and all other my est. in Jamaica to maintain them and they to have the use of my leasehold house I now live in. To each of my four daus. Mary Eliz. Lucretia Favel Jane and Georgia* £2,500 st. at age or marriage. All residue to my son Richard. To a reputed son in Jamaica named John Welch £100 c. My trustees and my wife Executors and G.
~~~~~~~~~~~~
* Owing to the wording and absence of punctuation it is difficult to sort the names.
~~~~~~~~~~~~
Proved 20 Oct. 1782 by J. A., R. C. L., Esqres, and L. M. W. the relict. Power reserved to P.D., J. P. and J. G. Proved 29 Nov.1782 by P. D., Esq. (525, Gostling.)
_________
Richard Welch of Marylebone, Esq. Will dated 2 Oct. 1806. My wife Alice Anne and children all my personal estate in J. Philip Dehany of Hayes Pl., Kent, Esq., etc., all real est, on trust for my lst son Arthur, 2d son Robert Gregory W., daus. Mary Eliz. W., Geraldine W. and Anne Louisa W. Estate of Hyde in St. Thomas in the Vale. Proved 2 May 1809. (417, Loveday.)

1816, Oct. 24. At Sir George Thomas's baronet, East Cowes. Miss Welsh, sister of Lady Thomas. ("G.M.," 470.)
Jamaica, St. Thomas in the Vale, 1823 :-
Richard Welch, Hill Side 142 slaves 38 stock.
Richard Welch, Hyde 150 slaves 141 stock
1844, Jan. 17. At Bath, aged 68, Vice-Admiral Sir Robert Lewis Fitzgerald, K.C.H. Served at Jamaica .... m. in Aug. 1800, Jane, a dau. of Richard Welch, esq. former Chief Justice of the island of Jamaica & sister to the lady of Sir George Thomas, Bart. &c. ("G.M.," 319.)
1847, Oct. 10. At Exmouth, at an advanced age, Alice Anne, relict of Richard Welsh of Hyde Jamaica esq. & dau. of the Rev. Nath. Preston of Swainstone, co. Meath. (ibid., 554.)
1854, Jan. 12. At Cheltenham, aged 78, John Gregory Welch, esq. 1ate of Arle House, a magistrate of the co. of Glouc. (Ibid., 331.)
_______________
Mary Dehany of Devonshire Str., widow 23 Oct. 1802. Whereas I have paid my son George 1/4 of the proceeds of sale of the moiety of Swansea pl. in Jamaica, the other 3/4 to be paid to those entitled to the same. To my grandchildren Mary Reynolds, Eliz. Lucretia Thomas, Jane Fitzgerald and Georgina Welch 50 guineas each. To my great-grand-dau. Mary Eliz. Welch 20 guineas. To my grand-daus. Mary Scott, Eliz. Favell Pinnock and Lucretia Pinnock 50 gns. each. To my great-grand-dau. Mary Pinnock Scott 20 gns. My grandsons John Lee Allen and James Allen 50 gns. ea. My son George 100 gns. and to my grandchn. William Knight Dehany, Eliz. Whitehorne D. and Mary Favell D. 50 gns. ea. Of residue 1/2 to my dau. Luca. Mary Welch and sole Ex'trix, and 1/2 to my dau. Eliz. Pinnock.
Codicil. The ¾ of proceeds of sale of Swansea pl. I have laid out in the purchase of £8,500 4 per cent. ann. for my 3 other chn. in names of myself and of George Scott and Lestock Wilson. 17 March 1808.
2nd Codicil. 22 Jan. 1811. Linen to my dau. L. M. Welch, dau.-in-law Sarah D., grandson William Kt. D., great-grandson John James Scott, great-grand-dau. Mary Pinnock Scott, great-grandson Matthew Robert Scott.
3rd Codicil. 17 Feb. 1811. My dau. Luc. M. W. is indebted to me in £500 and £200.
4th Codicil. 15 Sept. 1811. Great-grand-dau. Sophia Thomas, dau.-in-l. Sarah D.
5th Codicil. Dau. Eliz. Pinnock to be also Ex'trix. Grand-dau. Luc. P. 5 July 1812.
Proved 20 Aug. 1813 by Eliz. P., the dau. and surv. Ex'trix. Testatrix 1ate of Cumberland Str. (411, Heathfield.)
See pedigree Ante, III., 290, to which this is an addition.
---
HALSTED OF JAMAICA
Mathias Halsted of London, merchant. Will dated 3 Aug. 1677, 29 Ch. II. "Bound out to the parts beyond the seas." All residue to Frances my wife, and make my brothers Abra. H. of Woodham Feryes, co. Essex, gent., and Charles H. of London, grocer, Ex'ors. Proved 8 July 1679 by Charles H; power reserved to Abr. H. Proved 4 March 1679 by Abr. H. (85, King.)
__________________
The following wills are on record in Jamaica:-
Lawrence Halstead, 1691-4, Lawr. H., Jr., 1694-7, Eliz. H., 1788, and Eliz. H., 1746.
__________________
Matthew Halsted of Jamaica, now of the Inner Temple, Esq. Will dated 8 Sept. 12 Geo. 1725. To my sister-in-law Barbara Ermin Halsted of Chelsea, widow of my late brother Gerrard H., £200 a year. My plantations called Mowdenhall, Ducks, and lands in. the mountains called Murmuring Brook and Pimento Grove, Savanna lands to my nephew Gerrard Halsted, son of my late brother Gerrard H., remainder to my cousin Lawrance H. of Jamaica, Esq. All residue to my said nephew at 21. The Hon. Thomas Bernard of Jamaica, Esq. Executor for that Island, and Mr Sam. Bernard of London, merchant, Ex'or for G. B., and £200 each and to be T. and G. Sealed (early armorial seal).
ARMS.-Gules, an eagle displayed, a chief checky ....
CREST.-Out of a coronet a demi-eagle Ermine displayed.
[This will, the original one, is on five folio sheets of paper in the Editor's possession.]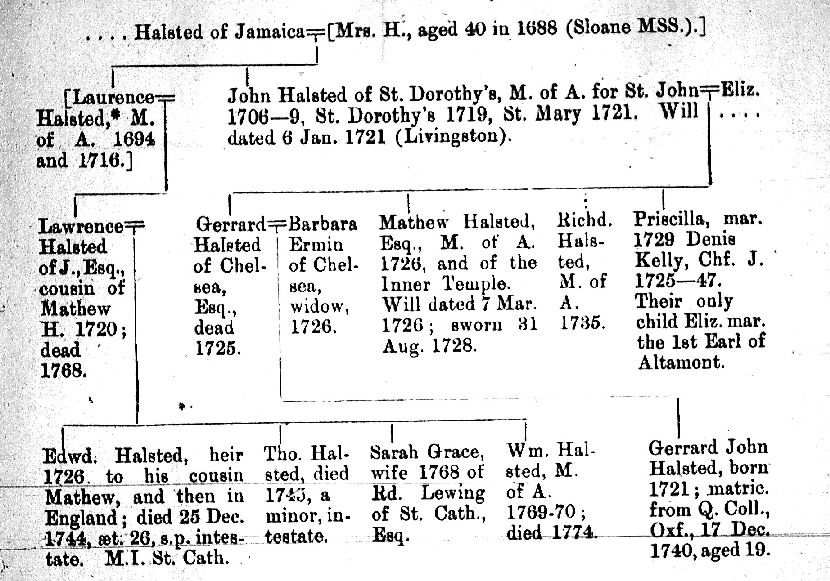 Matthew Halsted of Jamaica, gent. Will dated 7 March 13 Geo. 1726. My lands may be sold. To my nephew Gerrard H., son of my late brother Gerrard H., £3000 c. at 21, and in default to my three cousins Eliz. H., Mary Emily H. and Maximelia Emily H. My Pen in the parish of St Dorothy called the Savana Pen and my land on the Black River to Favel Peeke, Esq , of Jamaica, now in England. My Mowden Hall plantation in the parish of St John, and Ducks plantation and lands known as Murmuring Brook and all other lands in St Johns, lands called Pimento Grove in St Dorothy and all residue to my cousin Lawrence Halsted's eldest son now in England and his heirs, in default to m y nephew Gerrard H. Thomas Bernard and William Nedham, Esquires, to be Ex'ors for Jamaica, Mr Sam. Bernard of Loudon, merchant, Ex'or for G. B. and £50 apiece. Sworn 31 Aug. 1728. Signed by the Secretary Joseph Maxwell and Governor Robert Hunter. [From an ancient certified copy.] Endorsed: "Stephen Richard Redwood, Esqr, in Spanish Town."
__________________
Thomas Fuller of St Dorothy, Jamaica Esq. Will dated 19 Aug, 1768. Names Richard Lewing of St Catherine, Esq., and his wife Sarah Grace, one of the daus. of Laurence Halsted, Esq., deceased. (88, Bogg.)
1661-2, Jan. 28. William Halsted of St Bride's, London, grocer, Bachelor, about 28, and Eliz. Bickerton of St Andrews, Holborn, Spinster, about 26; consent of father- Bickerton, of Beeby, co. Leic., Gent.; at the Temple Ch., London (Lic. Vic. Gen. of Archbishop of Canterbury)
1609, July 14. Lawrence Halsted of the Middle Temple, Gent., Bachelor, 26, & Alice Barcroft, Spinster, 21, dau. of John B. of St Martin in the Field, Esq., who consents, at St Dunstan in the East, St James, Garlick Hithe, or St Bot., Bishopsgate, London, or Wickham, co. Glouc. (Fac. Off. of Archbishop of C.)
1670, April 1. Richard Halsted of St Andrew's, Holborn, Gent., Bach., about 24, & Rebecca Gregory of Cornhill near the Old Exchange, London, Spinster, about 20; her father's consent; at St Dunstan's in the East. (Lic. Vic. Gen. of Archb. of C.)
1667, 9 of 10th month. Barbadoes. Church-dues demanded by Laurence Halstead. (Besse's Quakers, ii., 283.)
1674, June 10. Patent to Anthony Westgarth for 300 a. in the parish of St Thomas bounded E. on Henery Halsteed. (On one skin, p. the Editor.)
1688. Mrs. Halstead of Jamaica, then aged about 40. (Sir Hans Sloane's Voyage I., cxxiii.)
1678. Edward H., Mt. V. Price. (Ante, III., 272.)
__________________
ST. CATHERINE'S CATHEDRAL, JAMAICA.
M.I. to Edward Halstead, Esqr, Lieut, of ye Troop, son of Lawrence, died 25th Dec. 1744, aged 26. (Archer, 50; Roby, 18.)
__________________
Laurence Halsted, lord of the manor of Sunning, co. Berks, Esq., 2nd son of John H. of Rowley, co. Lanc., a merchant of London, entered his pedigree in the Visitation of London 1634, when he had the following sons living: (1) Laurence, aged 12, (2) Abraham, (3) John, (4) Oliver, (5) James, (6) Mathias, and (7) William. An exemplification of arms and grant of crest made to him in 1628 is given in the Visitation of Berks (Harl. Soc. Pub., ii., 136). It is probably from one of the above sons that the Halsteds of Jamaica derive their descent.
1652, May. James Halsted. On the 5th administration to Laurence H., the brother to J. H., in foreign parts, bach., deceased, fo. 82.
Laurence Halsted. Dep. to Dr. Brady. Keeper of Records, Tower of London, had a grant of arms in 1688. (Grantees of Arms, p. 111, Harl. Soc. Pub.)
Sir Humfrey Forster, Baronet, d. 1663, had a dau. Sophia, late wife to Laurence Halsted of . . . ., by whom she had three daus., Sophia, Anne and Mary. (Visit. of Berks 1664-6, p. 36.)
Chas. H. son of Laurence of London, arm. of Bras. Coll., Oxf., matric. 23 March 1690-1, aged 16; d. 1732; his father keeper of the records in the Tower.
Matthias H., gt., of Bras. Coll., Oxf., matric. 27 July 1652, student of the Inner Temple 1664.
Gerard John H. son of Gerard of Chelsea, arm. of Queen's College, matric. 17 Dec. 1740, aged 19. (Foster.)
1656. Laurence Halsted of Burnely, Lancashire, son of John H., yeoman, bred at Burneley (Mr. Aspden) for 10 years; adm. pensioner, tutor and surety Mr Fogg, 8 Nov., aet. past 18. (St. John's Coll. Cambridge, p. 130.)
Adm. Sir Lawrence William Halsted, G.C.B., C. in C. on the Jamaica station 1824-7, was son of Capt. W. A. Halsted, R.N., died 1778, and was born 2 April 1764. Died 22 April 1841. (O'Byrne's Naval Biog. Dict.)
---
© 2013. Jamaican Family Search hereby grants you a limited license to copy and use the materials provided on this site solely for your personal, non-commercial use. No other use of the site or materials is authorized. You agree that any copy of the materials (or any portion of the materials) that you make shall retain all copyright and other proprietary notices contained therein. Posting of materials on other Web Sites is strictly prohibited.
---
SEARCH THIS SITE
---
GO TO:
Help - Frequently Asked Questions
Jamaica Almanacs Slave-owners, Civil & Military officers, Magistrates etc.
Items in the Samples Directory
Items in the Members Directory
Transcriptions from Registers and Wills (Church of England, Dissenters, Civil Registration)
Jamaican Roman Catholic Church Registers - transcriptions
Jamaican Methodist Baptisms - transcriptions
Jewish births marriages deaths - transcriptions