Jamaican Family Search Genealogy Research Library
CARIBBEANA VOLUME V Extracts
LAWES OF JAMAICA
Sir Nicholas Lawes. Will dated 1 Aug. 1730. Late of Isleworth, now of Jamaica. Born in 165* of honest and loyal parents, who suffered for their loyalty to the Royal Family in the late Grand Rebellion. Confirm indenture of 1 Oct. 1720 between myself and James Lawes, Esq., my eldest son and heir, made on his marriage with Eliz. Gibbons, spinster, only dau. and heiress of William G., late of Vere, deceased. My plantation called Snow Hill in St Andrews and Penn, Mount James plantation, a moiety of Swallowfield and Penn, and a moiety of Temple Hall and tract on New River to my said son. The other moieties and 50 acres Savannah in Liguanea and 2 lots in Orange Street, Kingston, to my son Temple Lawes, and to both my sons equally my moiety of Townwell Plantation, formerly purchased from the heirs of Daniel Clicho (?). £50 per annum in the South Sea annuities to my dau. Judith Maria Lawes, and the said stock to be made up to £2000 according to the settlement I made with her mother before marriage. My granddau. Eliz. Hammerton £20 per annum. My sister-in-law Lady Ann Cheshire** and Sir John Cheshire £50. My dau.-in-law Grace Beeston, widow, £40 per annum. My cousin Mary Jennings £20 per annum. My kinsman Henry Archbould, Esq., £25, (Add. MS. 27,968, fos. 6 and 179.)
~~~~~~~~~~~~~~~~~~~~
* Blot here. .
** A short pedigree is given of Sir Thomas Lawley, father of Eliz. Cotton and of Lady Ann Cheshire.
~~~~~~~~~~~~~~~~~~~~
James Lawes in his will says:-My cousin Sir Thomas Littleton of Hagley, co. Worc., Baronet. Kinswoman Mrs Christian Pitt, eldest dau. of the said Sir Thomas Littleton, Bart., and wife of Thomas Pitt, Esq., of Swallowfieid, co. Berks. Richard Littleton, 3d son of Sir Tho. L., residuary devisee. Legacy to niece Susannah Bernard, sister of Wm. Henry B. Mrs. Susannah Dickens £100 c. Lucretia wife of Dr Mathew Gregory £50. Mary dau. of the said Mathew and Lucretia Gregory. (Ibid., fo. 6.)
______________________
(Add. MS. 27,968, fos. 7, 84, 132, 181.)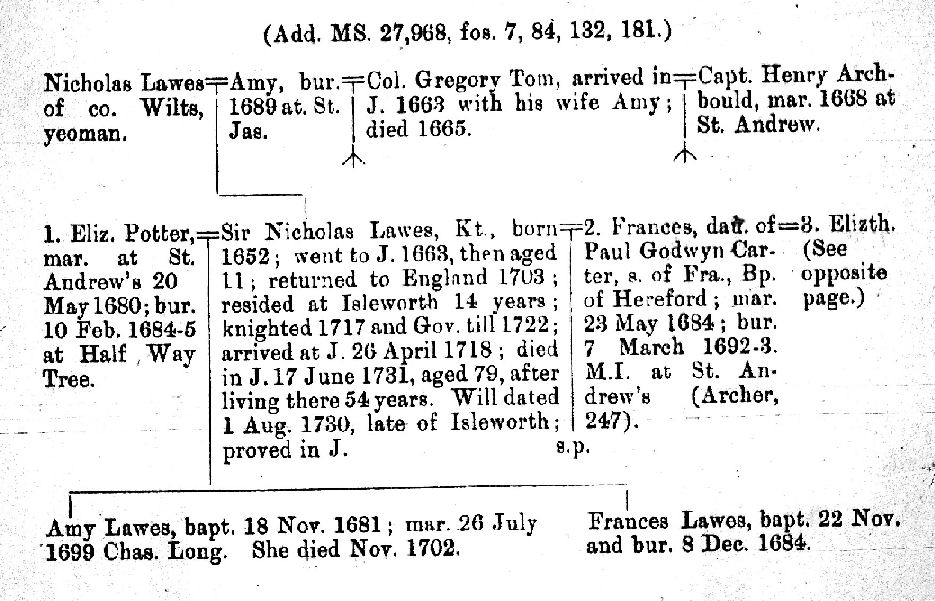 Thomas Bernard of St. Catherine, Jamaica, Esq. Will dated 11 June 1728. Brother James Lawes £50. Sr Nich. L. £20. Brother Temple L. £20.
______________________
Nicholas Lawes of Compton Chamberlen (co.. Wilts). Will dated 6 June 1646. Very impotent by reason of owld age. To be bur. at C. C. near my deceased wife. I dispose of my estate as by article of agreement between myself and my grandchild John Bushell, gent., made the 8 May 1644. Edward Pile my great-grandson 40s. Poor 20s. Church 20s. All residue to my said grandson J. B. and Executor. Proved 30 Dec. 1647 by J. B. (234, Fines.)
______________________
1655-6, March. John Lawes. On the 21st administration to Eliz. L., relict of J. L. of Broadchalke, co. Wilts; (fo. 59.)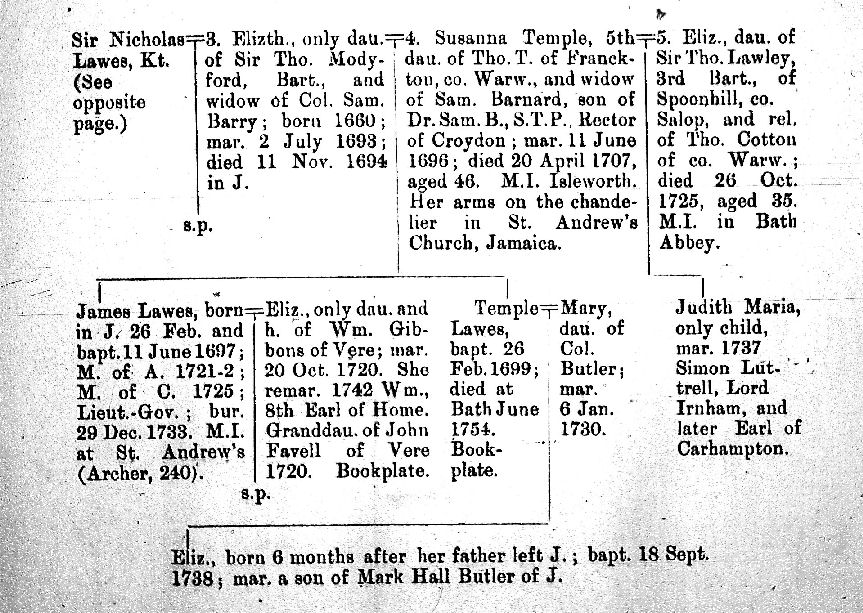 ______________________
ENTRIES FROM REGISTER OF HALF WAY TREE,
PARISH OF ST. ANDREW
Taken 23 July 1787 by John Roberts (Add. MS. 27,968, fo. 129).
BAPTISMS
1681, Nov. 10 Amey alias Ayme daughter of Nicholas & Elizabeth Law.
1684 Nov. 22 (blank) daughter of Nicholas & Elizabeth Law.
1697 June 11 James S. of Colonel Nic' Laws.
1699 Dec. 26 Temple S. of Nic' & (blank) Laws.
1738 Sept. 18 Elizabeth Butler, daughter of Temple & Mary Laws.
MARRIAGES
1680 May 20 Nic' Laws & Elizabeth Potter*
1684 May 23 Nic' Laws & Frances Carter.
1693 July 2 Nic' Laws & Elizabeth Barry
*As Elizabeth Coale, mar 19 Jan. 1675-6 John Potter, who was buried 7 Nov. 1676.
BURIALS
1684 Dec. 8 Francis Law, Junior.
1684-5 Feb. 10 Elizabeth Law.
1692-3 Mar. 7 Francis Law.
1733 Dec. 29 James Laws.
_______
ST. CATHERINE'S. (Ibid., fo. 29.)
1696 June 11 Coll. Nicholas Lawes & Susannah Barnard.
1699 July 26 Charles Long & Amy Laws.
1720 Oct. 20 James Laws, Esq., & Elizabeth Gibbons.
_______
CLARENDON. (Ibid., fo. 30.)
1780 Jan. 6 Temple Laws & Mary Butler.
______________________
1624. Obiit apud Milstone, co. Wilts, Nicholas Lawes, etc.
1630. Nich. Lawes, living at Compton Chamberlain.
1656. Tho. Lawes, then of Sarum.
The M.I. and trick of arms of Susa. L. at Isleworth are given on fo. 182.
1717, July 25. The King conferr'd the Honour of Knighthood on Nicholas L., Esq., and appointed him Governor of Jamaica in the Room of the Lord Archibald Hamilton. (Historical Register, p. 33.)
1720. His speech to the Assembly. (Ibid., 258-265.)
1734, April 16. James Laws, Esq; of Jamaica ("G.M.," 330.)
See the W.I. Committee Circular for 29 July 1913 for an. illustration of Cheere's monument to James Lawes in St. Andrew's Church at Halfway-Tree. Mr. Cundall gives a translation of the Latin inscription, and describes the arms painted thereon as: - Or, on a chief Azure three estoiles of eight points of the first. On an escutcheon of pretence:-Or, a lion rampant Sable debruised of a bend Gules charged with three escallops of the field.
ADDITIONS AND CORRECTIONS
Susanna Temple was dau. of Robert not Thomas Temple, according to her M.I. Eliz. widow of James Lawes died 15 & was buried 23 Jan. 1784, aged 80, in Westminster Abbey, & by her will dated 19 Nov. 1783, bequeathed to her relation William Gale son of the late Henry Gale of St. Elizabeth Jamaica, then at Westminster School, her house in Portman Sq. and her estate in the said island.
---
GRANT OF ARMS TO WILLIAM BECKFORD
(British Museum. Add. MS. 14,293, fo. 24.)
To all and singular to whom these presents shall come Sir William Dugdale Knight garter principall King of armes and Sir Henrey St Gorge (sic) Clarenceux King of armes send greeting whereas (blank) son & heir of Sir Thomas Beckford Knight late alderman of ye citty of London deceased haveing made application to his grace Henry Duck (sic) of Norfolk Earl marshall of England touching a coat of armes and crest to be granted to him and his desendents the said Earl marshall being well satisfied of ye loyalty and worthiness of ye said (blank) did thereupon by his warrant bearing date ye 28 day of January last past order and appoint us to devyse grant .and assign unto ye said [William Beckford*] and his descendents such armes & crest as he and thay may lawfully bear Know ye that we the said Garter and Clarenceux [King*] of armes by authority of the letters patents of our offices under ye great seal of England to us respectively granted and in pursuance of ye said Earl Marshalls warrant have devysed and do by these presents grant and assigne unto ye said [William Beckford*] ye armes and crest here after mentioned viz. party per pale gules and azure on a cheveron argent between three martlets or an eagle displayed sable and for the crest, on a wreath argent and gules a cranes head erased or holding in ye beak a fish argent, as in ye margin here of more plainly appeareth to be borne and used for ever hereafter by him ye said [William Beckford*] & ye heirs and others descendents of his body, lawfully begotten in shield coat armore penon seal or otherwise according to ye law of armes without ye lett or interruption of any person or persons whatsoever.
In witnes whereof we ye said Garter and Clarenceux (blank) of armes have to these presents subscribed our names and affix ye seale of our respective offices this second day of february in ye first year of ye reign of our sovereign lord James ye second by ye grace of god (blank) of England Scotland France and Ireland defender of the faith etc.: annoq dni millesimo sexcentesimo quinto.
William Dugdale, garter.
Hen. St George, Clarenceux.

[The arms and crest are sketched in pencil preparatory to being painted. This volume is a collection of copies of grants of arms. Only the first 28 folios have the arms painted in the shields, in the remainder of the volume the latter are blank and unfinished. I have omitted using the numerous capital letters.-ed.]
~~~~~~~~~~~~
* In pencil.
~~~~~~~~~~~~
---
BAYLY AND EDWARDS OF JAMAICA
22d March 1763 Pestell & another by Attorney to the Hon'ble Zachary Bayly Esqr
Conveyance of the Rev'on of several Penns Lands Mess'ges Tenements Slaves & real Estate in Jamaica under the Will of Alger Pestell deceased.
1st March 1768 Daniel Wright & another by Attorney to Zachary Bayly Esqr.
Deed of Confirmation.
lst Novr 1770 Mary Bayly to William Reynolds. Duplicate Assignment of the £4000 charged by the Will of Zachary Bayly Esqr deceased on Nonsuch & Unity.
16th May 1774 Bryan Edwards Esqr to Nathaniel Bayly Esqr.
Assignment of Annuity of £300 per Annum.
lst & 2d Novr 1776 Bryan Edwards Esqr to Mr Carleton. Ingrossment of Lease & Release not Executed.
3 & 4 Nov 1776 Mr Carleton to Bryan Edwards Esqr. Ditto.
24th & 25 Novr 1776 Bryan Edwards Esqr to William White Esqr. Ditto.
In Chancery. Bayley Esqr against Edwards Esqr. Close Copy of Bill filed 3d Decr 1770.
Same. Office Copy of Amended Bill fo.155 filed 31st Decr 1770.
22d Jan'ry 1776 Order for 6 Weeks time to Answer.
Instructions for Answer to Amended Bill.
Drafts & Copy of Defendants Answer. Exceptions to Defendants Answer.
A Schedule of all Sums of Money rec'd or possesed by Mr Edwards on Account of the Testators real & personal Estate & also of the proceed of the Several plantations.
11 June 1776 Order to rejoin & for Comm'on to Examine Witnesses for the Plaintiff.
12 July 1776 Copy Notice of Motion for Comm'on to Examine Witnesses in the Island of Jamaica.
15th July 1776 Order thereon.
Stia* to rejoin & join in Comm'on.
Copy of Interrogatories intended to be Exhibited to the Witnesses.
Draft of Bond of Arbitration.
22d Decr 1777 Bayly Esqr to Edwards Esqr. Bond of Arbitration.
Instructions for Council to move to make the Agreement a Rule of Court - on behalf of Mr Edwards.
Thomas v. Sorocold & others.
April 1775 Draft of Bill to revive & answer.
Fair Copy thereof.
Draft of Deft. Bryan Edwards's Answer.
In Chancery. Jamaica SS. Bayley v. Edwards & others.
2 Copy's of Brief of Bill filed 17th April 1773 & Demurrer filed 16th
Decr 1773.
The like. Brief of Affidavits to Support Petition for Appointment of Receiver of the produce of the Plantations.
Copy of the Several Affidavits of Thomas Holmes, Wm Williams Clerk, & Wm Jackson.
In the King's Bench. Bayley Esqr v. Edwards Esqr. Brief in this Cause
Zachary Bayly Esqr Account Current with Morse & Baily.
In Chancery. Edwards Esqr v. Bayley Esqr. Draft of Exceptions to Defendants Answer.
Office Copy of Affidavit of the Defendant.
Brief of Bill and Answer.
26th April 1777. A Receipt for £3. 9s from Mr Morgan to Mr Blake.
In Chancery. Bayly Esqr v. Mary Bayly & Elizabeth Edward. Stia* & Label. Sundry L'res.
Endorsed: Easter Term 1783. Bryan Edwards Esq. Draft. Schedule of Deeds and papers delivered by John Blake Esqr to Morgan Thomas Esqr.
~~~~~~~~~~~~~
* Stia=Sententia
---
© 2013. Jamaican Family Search hereby grants you a limited license to copy and use the materials provided on this site solely for your personal, non-commercial use. No other use of the site or materials is authorized. You agree that any copy of the materials (or any portion of the materials) that you make shall retain all copyright and other proprietary notices contained therein. Posting of materials on other Web Sites is strictly prohibited.
---
SEARCH THIS SITE
---
GO TO:
Help - Frequently Asked Questions
Jamaica Almanacs Slave-owners, Civil & Military officers, Magistrates etc.
Items in the Samples Directory
Items in the Members Directory
Transcriptions from Registers and Wills (Church of England, Dissenters, Civil Registration)
Jamaican Roman Catholic Church Registers - transcriptions
Jamaican Methodist Baptisms - transcriptions
Jewish births marriages deaths - transcriptions