Jamaican Family Search Genealogy Research Library
CARIBBEANA VOLUME V Extracts
DAVIES OF JAMAICA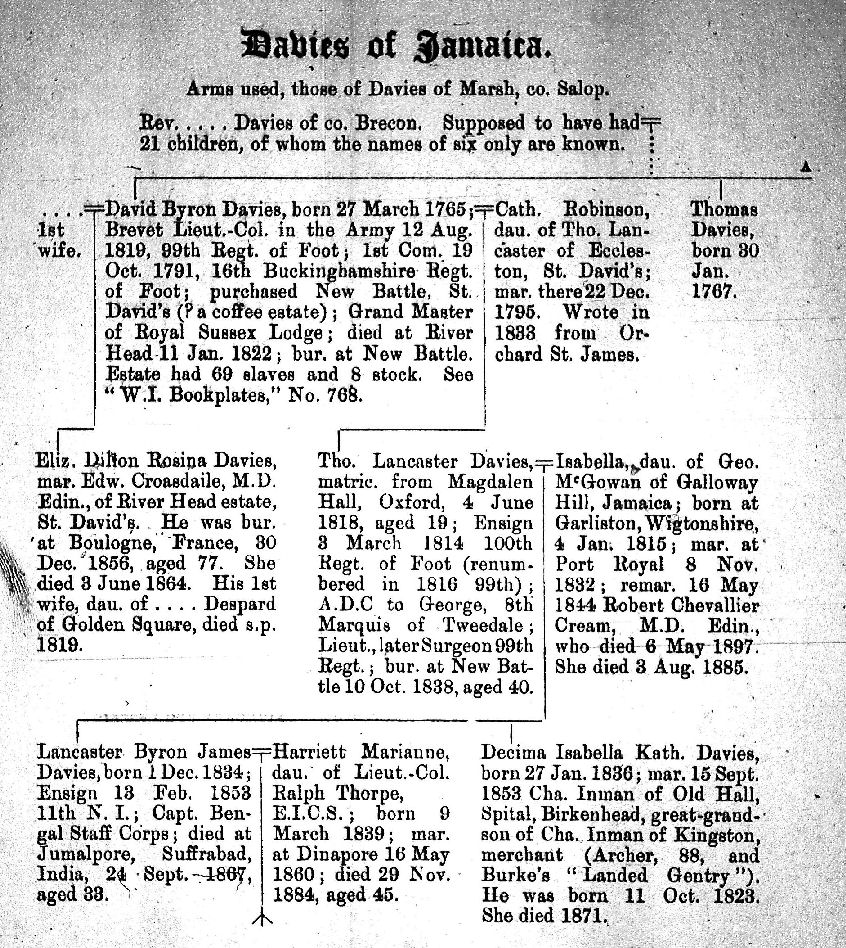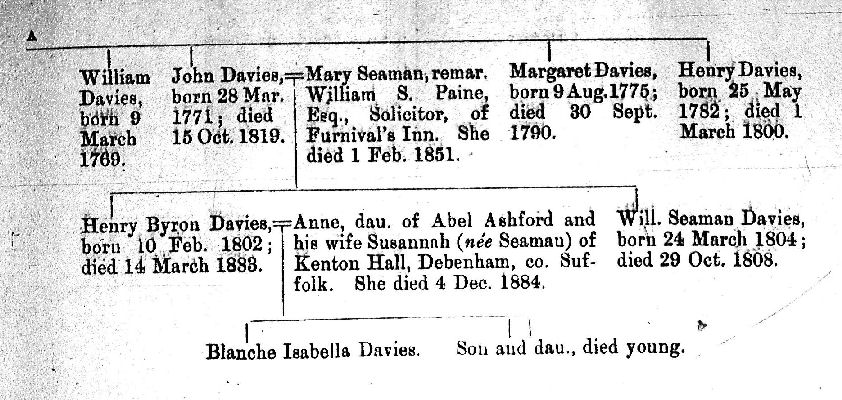 LANCASTER OF JAMAICA.
Thomas Lancaster of Eccleston in St. David's, died there April 1800. Besides a dau. Cath. Robinson, who mar. 22 Dec. 1795 Lieut.-Col. David Byron Davies, he left a son Thomas Farrar Lancaster of Content and Eccleston, who matriculated from Trinity College, Oxford, 10 Dec. 1806 aged 20. In the "Jamaica Magazine" is the following obituary notice:- .
1812, July. At Content, in St. Davids, on the 14th inst. Caroline, wife of Thomas F. Lancaster, Esq. of that property: This highly accomplished and much respected Lady survived, her sister Mrs. Tait, but five weeks, whose early fate but too severely operated on her affectionate mind ; she was buried the following day at Mount-Charles in the same parish by the side of her beloved sister attended to her grave by many who knew her worth and who testified by their sorrow the loss society bad sustained by her premature death: She died as she had lived exalted pattern for imitation. (" Jamaica Mag.," i., 358.)

In the "Almanac" of 1822 he is given as deceased, and Eccleston then contained 81 slaves and 7 stock.
---
NOTES AND QUERIES
McGOWAN OF JAMAICA.
George McGowan of Garliston, Wigtonshire, Scotland, born there 7 June 1774, after the death of his wife removed with his family to Jamaica. He had four daus:-
1. Margaret, born 3 May 1812; mar. before 1833 James McFadyen, M.D. Glasgow 1837, born 1799, Island botanist of Jamaica, where he died of cholera 24 Nov. I850 (ante, IV., 80). She died 21 June 1843, M.I. in Kingston Church yard. (Archer, 143.)
2. Isabella, born at Garliston 4 Jan. 1815; mar. 8 Nov. 1832 at Port Royal, Thomas L. Davies of New Battle estate.
3. Elizabeth, mar. 4-6 July 1833 John White Cater, sometime of Kingston, Jamaica, where two of their children were buried in 1834 and 1840 (Archer, 143).
He was later of Lyston Hall, co. Essex, then of West Lodge, East Barnet, co. Herts, J.P. Bucks and Herts, Director of the Bank of England and of Lombard Street, banker.
4. Caroline, mar. in Jamaica.
There were probably also some sons sent to school in England in 1833. The above George died in Jamaica June 1824. His brother James owned Galloway Hill estate, and was presumably father of Isabella, wife of Alex. Miller of Kingston (Archer, 143); W. W. McGowan, J.P., of St. Thomas is given in "Handbook" of 1890.
Further particulars of the above families are desired
___________________________
FENWICK OF THE WEST INDIES.
I am engaged in the work of tracing the family of Fenwick, both in Northumberland, England, the county, of their origin, and the original thirteen states of the United States. In some instances the Fenwicks came direct to the Coast line of North America, but apparently in other cases, as in the case of my greatgrandfather, John Fenwick of South Carolina, they came from the Islands, particularly Barbados, and unquestionably Jamaica, possibly Antigua. I am to-day tracing, through Mr. Lopez of Spanish Town, the record of the Fenwicks in Jamaica, commencing with Henry Fenwick, who was a member of the Assembly for St. Catherine in 1678.
I have a large amount of information regarding the Fenwicks of Rhode Island, Connecticut, New Jersey, Delaware, Maryland and South Carolina, they apparently being all members of the family, who came direct, with the exception of those in South Carolina, who were represented by two distinct family heads, John Fenwick of Charleston and London, formerly of Barbados, and Robert Fenwick, who came from the West Indies to Charleston in about. 1690, on the ship "Loyal Jamaica," a so-called privateer. With this Robert Fenwick, the first arrival (whose relationship to John Fenwick is not established), came some of the leading family progenitors of Charleston and vicinity.
Any information would be greatly appreciated.
William B. Goodwin,
(State Agent, Aetna Insurance Co.)
Columbus, Ohio.
___________________________
WEST INDIAN MEMBERS OF THE HIGHLAND SOCIETY.
I was looking over some papers of the Highland Society and found the following among the signatories to the "Act for the Incorporation of the Highland Society of London 21 May 1816."
William Murray, Esquire, Barbadoes.
Gilbert Saltoun, Esquire, Bermuda.
Alexander Macrae, Esquire, of Demerara.
Charles Grant of the Island of Janmaica, Esquire.
Peter Grant of the Island of Jamaica, Esquire.
William Hoseason of the Island of Jamaica, Esquire.
John Macintyre of Jamaica, Esquire.
Hector Mackay of Jamaica, Esquire.
Alexander Macrae, Esquire, of Clarendon, Jamaica.
Mabel Nembhard
___________________________
STERNE IN JAMAICA.
In "Familiae Minorum Gentium," vol. ii., 516 (Harl. Soc. Pub.), is a pedigree of Sterne, by which it appears that Roger Sterne, Lieut. in Handasydes Regt., died at Port Antonio in Jamaica, March 1731. He married Agnes, widow of Captain Herbert, dau. or dau.-in-law of .... Nuttle, a suttler following the Army in Flanders. They had issue a dau. and one son, Laurence Sterne, "The Author," born at Clonmel, 24 Nov. 1713; died 1768.
___________________________
NOTES
WEST INDIAN CHANCERY SUITS IN P.R.O.*
The enclosed slips represent the only W.I. items in vol. iv., P-Z, Bridges Chanc. Proc. before 1714 that I noticed in the printed calendar:-
1693. Parish of St. Philip in Barbadoes. Edw. Witheridge v. Mary Evans, widow. 196/21.
1915 [sic]. Parish of Vere in Jamaica. Personal estate of Eleanor Bradway, widow. Jn. Scrimshire and Ruth his wife et al. v. Sam. Philp et al. 629/83.
1702. Antigua. Personal estate of George Turney. Geo. Turney, Sancta his wife, Sarah Turney, widow, and Anthony Turney v. Tho. Saunders et al. 273/37.
---
© 2013. Jamaican Family Search hereby grants you a limited license to copy and use the materials provided on this site solely for your personal, non-commercial use. No other use of the site or materials is authorized. You agree that any copy of the materials (or any portion of the materials) that you make shall retain all copyright and other proprietary notices contained therein. Posting of materials on other Web Sites is strictly prohibited.
---
SEARCH THIS SITE
---
GO TO:
Help - Frequently Asked Questions
Jamaica Almanacs Slave-owners, Civil & Military officers, Magistrates etc.
Items in the Samples Directory
Items in the Members Directory
Transcriptions from Registers and Wills (Church of England, Dissenters, Civil Registration)
Jamaican Roman Catholic Church Registers - transcriptions
Jamaican Methodist Baptisms - transcriptions
Jewish births marriages deaths - transcriptions