Jamaican Family Search Genealogy Research Library
CARIBBEANA VOLUME V Extracts
Dwarris of Jamaica.
1709, Aug. 23. Died, Herman Dwaris, kinsman of Mr. Barnard of St. Mary Woolchurch Haw, bur. Aug. 28. (Par. Reg. of St. Mary Woolnoth, London.)

1748. Fortunatus Dwarris, son of Thomas Dwarris, " Militum Tribuni," America; born in the Island of Jamaica, schools first Uxbridge, then Eton (Mr. Cook); adm. fell. com. tutor and surety Dr. Rutherforth 23 June aged past 20. (St. John's College, Cambridge Admissions, p. 126.)
A note quotes Monumental Inscriptions from Archer. He was not a graduate of Cambridge (p. 579.)

1750, Sept. 28. Fortunatus Dwarris, Anglo-Americanus. (Leyden Students.) There is no entrance-book at Eton before 1754. Dwarris' name does not occur in any extant school list. It is not in the list of 1745 or 1748 and none survives between those two years. (R. A. Austen-Leigh.)
* 1808, November 11. In Burlington-str. Bath, Mrs. Pollard, relict of Dr. P. of the island of Barbados. (" Dorchester and Sherborue Journal," and " Gent. Mag,," 1128.)
_________________
This Indenture made the 27 April 24 George 2d 1751 Between Herman Atkins Dwarris late of Greenwich co. Kent but now of Worksop co. Nott. gentleman of the one part and W. Welby of the Middle Temple gentleman of the other Witness that for barring all estate tail and for 10s. H. A. D. sells all that his plantation adjoining Fort Stewart in the parish of St. George Island of Jamaica. called Cherry Garden heretofore belonging to Col. Thomas Dwarris father of the said H. A. D. of 300 acres with the houses negroe slaves and stock on trust to reconvey to T. H. D. Lease of 26 April. (Close Roll 5867.)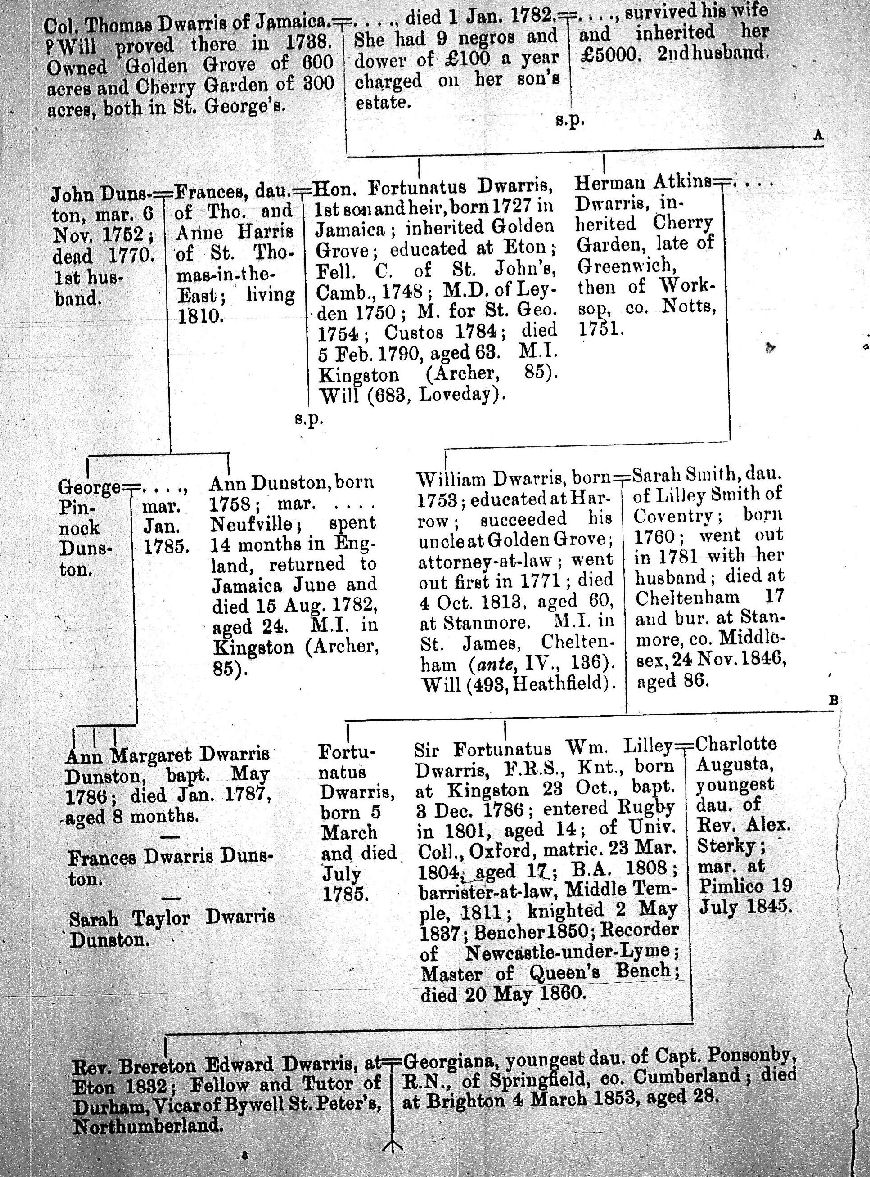 This Ind're made the 28 March 24 Geo. 2d 1751 Between Fortunatus Dwarris late of St John's College Cambridge but now of St George's in the Island of Jamaica Esq. of the one part and Jonathan Ewer of L. Mt of the other Witness that for barring all estate tail and for 10 shillings F. D. grants to J. E. all that plantation of his abutting on Fort Stewart in the parish of St George called Golden Grove formerly in the possession of Col. Thomas D. his father of 600 acres with the buildings mills negroe slaves stock on T. to reconvey. (Close Roll 5871.)
_________________
1790, Lately. At Jamaica, Fortunatus D'Warris, M.D., custos of the parish of
St. George. ("G.M.," 476.)
1796, Oct. Mrs. Janet Grant, mother of Doctor David Grant. (" Columbian Mag.," ante, IV., 206.)
18l8, Oct. 4. At Stanmore, in his 61st year, William Dwarris, esq. of Southampton-street, Bloomsbury, and Golden-grove, St. George's, Island of Jamaica.
1820, Dec. 28. William Gibney, M.D. of Cheltenham, to Frances, daughter of the late William Dwarris, esq. of Great Stanmore, Middlesex. (" G.M.," 684.)
1828. Letters patent to Henry Haddock and Fortunatus Dwarris to inquire into the administration of criminal justice in the Windward and Leeward Islands.
The West India Question, etc., by F. Dwarris. 8vo. 1828.
1880, June. At Everton vicarage, Hunts, the Rev. Charles Augustus Dwarris, M.A. of Eman. college Cambridge. (" G.M." 569.)
The Rev. C. A. Dwarris (who died March 20,1880) was the youngest son of the late William D., esq. of Golden-grove plantation, in the parish of St. George, Jamaica. (Ibid., 1831, 652.)
1843, Nov. 16. At Cheltenham, Henry Adolphus Shuckburgh, Capt. 40th
Bengal Nat. Infantry youngest son of the late Sir Stewkley Shuckburgh Baronet (and brother of the present Sir Fra.) of S. park, Warwickshire, to Sarah-Elizabeth daughter of the late William D. of Golden-grove, Jamaica (Ibid., 1844, 88.)
1845, July 19. At Pimlico, Fortunatus William D. to Charlotte-Augusta, youngest daughter of the late Rev. Alex. Sterky. (Ibid., 417.)
1845, Sep. 9. At Keswick, the Rev. Brereton E.D., M.A., Vicar of Bywell St. Peter's Northumberland to Georgiana, youngest daughter of the late Capt. John Ponsonby, R.N. formerly of Springfield, Cumb. (Ibid., 643.)
1846, Nov. 17. At Cheltenham, aged 86, Sarah, relic of William Dwarris of Jamaica (Ibid., 1847,105.)
1853, March 4. At Brighton, aged 28, Georgina, wife of the Rev. Brereton E. Dwarris, Vicar of Bywell St. Peter's, Northumberland (son of Sir Fortunatus Dwarris), and youngest dau. of the late Capt. Ponsonby, R.N., of Springfield, Cumberland. (Ibid., 455.)
_________________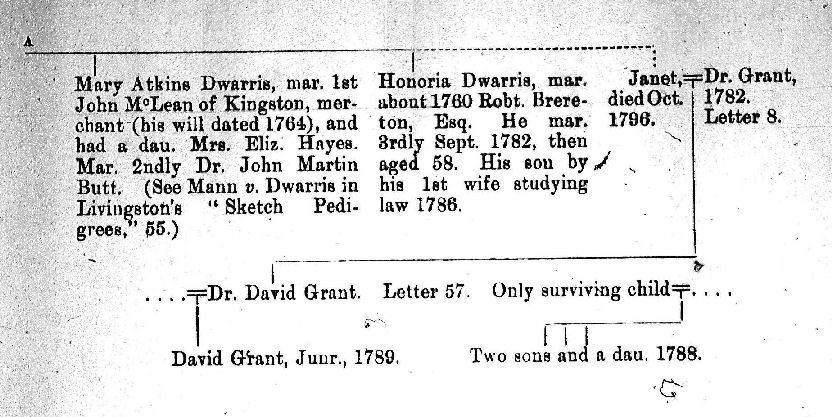 1801. Fortunatus Dwarris, son of William D. Esq. Warwick, aged 14, Oct. 23 (p. 86). Barrister-at-law. Author of various legal works. Knighted. A Master of the Court of Q. B. Recorder of Newcastle. D. 1860. (Rugby School List.)
1803. William Henry D. 2d son of W. D. Esq. Warwick, aged 12, Jan. 4. Commander R.N. Served as Midshipman of the Loire, 38 guns. Silver War medal, 2 clasps. Present at the capture of the Islands of Martinique and Guadeloupe. (Ibid., p. 89.)
1806. Edward J. D. 3d son of W. D. Esq. Warwick, aged 9, Jan. 16 (p., 93); re-admitted in 1810 (Ibid., p.105).
1815. Charles D. son of W. D. Esq. Warwick, aged 14, Aug. 9 (p. 123).
Sir Fortunatus William Lilley Dwarris, son of William Dwarris, of the Island of Jamaica, Esq., matriculated from University College, Oxford, 23 March, 1804, aged 17; B.A. 1808, barrister-at-law of the Middle Temple 1811, a bencher 1850, recorder of Newcastle-under-Lyme, one of the municipal corporation commissioners, a master of the Court of Queen's Bench, F.R.S.; Knighted 2 May 1837, died 20 May 1860. (Foster.)

The following grant of arms to Dwarris of London is given by Rowlandson :-
ARMS : Argent, on a fesse Gules between three eagles' heads erased Sable as many roses Or. CREST: A demi-lion rampant Argent, pellettee, in its paws a battle-axe Or.

_________________

John Dwarris of East Greenwich, co. Kent, gent. Will dated 20 Aug. 1642. My son John D. £20. My dau. Ann D. 12d. All residue to my wife Judith. Proved 1655. (25, Aylett.)

_________________

Fortunatus Dwarris of Kingston, Jamaica, doctor of phy. Will dated 17 June 1789. Nephew William D. £200 c. Friend Dr David Grant £50 c. My wife Frances, furniture, plate, carriages and horses, and house negroes. I am entitled in her right by the settlement made by George Pinnock Dunston, Esq., on 29 Nov. 1784 to £4371 for arrears of a rent charge of £300 c., payable to my wife by the will of her late husband John Dunston, Esq., I give her that sum. To Robert Brereton, Esq., who was the husband of my late sister Honoria, £20. My niece Elizabeth Hayes, dau. of late sister Mary Maclean by her husbd John M., Esq., decd, £100. To my nephew W. D. 3 negros. To my wife my house in Kingston for life, then to be sold and the proceeds for my 2 goddaughters and granddaughters-in-law Frances Dwarris Dunston and Sarah Taylor D. D. at 21, in default to my son-in-law George P. D. All real and personal estate and slaves to Thomas Stoakes Harris, Thomas Bell, Charles Mitchell, and George P. D., Esq., in Trust, to pay to my wife £800 c. a year out of the rents of my plantation called Golden Grove in the parish of St George. A mortgage I gave of it to Hilton and Biscoe, Merchants in London, in 1764, to be discharged now £720 only due. Trustees to purchase negroes, and after death of my wife to pay my niece Elizabeth Hayes £140 c. a year, to my neph. Robert Brereton, Jr., £300 c. a year, grand-nephew David Grant, Jr., £1000 c. at 21. All residue of estate to my nephew Wm Dwarris. Thomas Bell, Esq., to be acting Executor and manager of estate, and in case of his death or leaving Charles Mitchell, Esq., Thomas Stoakes Harris, my neph. William D., and my wife Fra., Executors. Witnessed by Will Mitchell, Tho. Williams, Tho. Lowry. Proved 28 Sept. 1809 by Wm D., Esq., the neph., p. r. to Frances D. the relic, the other surv. substituted Executor. (683, Loveday.)
_________________
Wm. Dwarris of No. 3 Southampton Str., Bloomsbury, Esq. Will dated 16 Feb. 1810. My wife Sarah. My son Fortunatus Wm. Lilley D. My wife's father Lilley Smith's will. My children Wm Henry, Sarah-Eliz., Caroline Matilda, Edward-John, Fanny McKeand D. and Charles Augustus, £2000 each. My aunt D. in Jamaica. My late uncle D.'s will. Proved 1818. (493, Heathfield.)
____________________________
DWARRIS LETTERS.
The following 57 letters were written by William Dwarris and his wife from Jamaica to her father Lilley Smith, Esq., of Coventry. Some of them are very long and uninteresting, but I have made abstracts of all items of local interest.
The letters were sold to me by a dealer.
1. 1781, May 14. On board the Vere and approaching the Downs. Yesterday we scaled our Guns as did two other armed ships.
2. 1781, July 20, St Lucia. We left Portsmouth on the 20th May in company with the Newfoundland Fleet &c. with which we parted on the 5th of June, & proceeded on our passage towards Barbadoes, with two Frigates & 19 Sail of Merchantmen .... We arrived last Monday at Barbadoes, which place we found under arms at our approach-& was informed of the taking of Tobago by the French-.here we found only three Men-of-Warr, Two Admirals having sailed from thence two days before our arrival, having left orders for our Fleet to proceed to this place on arrival, & take other ships from hence to join for Jamaica. We left that unfortunate Island Barbadoes on Tuesday night & arrived here yesterday. But not before I had taken Sally on shore, to see the Dismal ruins of a once flourishing Town. 'Tis impossible to describe the dreadful effects of the Hurricane,*[Of 10 Oct. 1780, when there was a loss of life exceeding 3000 and of property over one million sterling] not a single house but what was somewhat Damaged & whole Streets in ruins. The Church which was a very Elegant one Level'd & some hundreds yet lay buried in the ruins. Three bells out of six are safe & placed up near a Temporary Church .... every article of Produce is very scarce, particularly fruit, all the Trees in the Island having been blown up by the roots. St Lucia is about 25 Leagues from Barbadoes so we soon run it here but to our disappointment saw Admiral Drake coming out as we made the Island, going to St Kitts (Xophers) .... The French made an attack on this place last May & landed some Thousand Troops, seven Ships of the Line anchored, none of ours being here, but the Battery on the Hill soon drove them out & they were obliged to get their Men off in great confusion. A Lieut. Mills of the Navy resides on shore & had about 200 Men on the Hills, with which he accomplished his Defence .... [Sketch of Pigeon Island with its guns given.]
Love & Duty to Mother, Brother, Sisters, Aunt, etc., Villers's, Mr Little, Mr Sherwood. Addressed to " Mr Lilley Smith, Coventry, Warwickshire."
3. 1781, July 80, St Kitts .... two days from St Lucia, Sir George Rodney sent two line of Battle ships from hence to convoy us up from St Lucia. On our arrival here yesterday we found Sir Geo. R. squadron & Adm. Drake's with a convoy ready to sail for England . Sir Geo. Rodney is just sailed for St Eustatia to which place we are to sail tomorrow.
4. 1781, Nov. 19, Jamaica, Kingston. The late dreadful, season the worst & most fatal to all kinds, both Europeans & old standers that ever was known. Last Wednesday the 15th Nov. the Thermometer was up so high as 92. The Mornings are cool & pleasant as the North Wind now begins to come in. Your daur. & myself ride round the Race Course every morning at day break .... I am sorry to inform you of the Death of a very worthy & promising young Man- poor Dawson died the 31st October of a putrid Fever. A lock of his hair I now enclose for his poor Mother. Mr. Craven his uncle Mr Mayo's partner. My cousin Dr. Grant. Flour in Barrels which contained about 200 wt. has for some time sold at Publick Vendue for £16 per Barrel but is now down to £8 owing to two large Prizes having come in a few days ago loaded with that article ....
The ham which my aunt Gascoigne was so kind as to give Sarah .... money due to me from my name being on the Bristols Books about 8 Months . . . . you can learn at the Navy Office, when I came the Bristol was gone home & the Captain was dead .... When the AEolus left Jamaica I sold my pay to Captain Atkins.
December 23. The Cork Fleet are arrived at Barbadoes & compleatly blocked up by 36 Sail of the Line .... Our Governor leaves us in a few days which we are all heartily happy at, altho' we have reason to fear, we shall not have a better in General Campbell. Dalling has been treating the Council & Assembly this fortnight so they are studying elegant Addresses for him to carry home . . . .
5. 1782, Jan. 14. Cheese 3 shillings per pound & hams Ditto as to flour a loaf like a halfpenny roll with you for 7 1/2d .... The Death of my Grandmother on New Years Day after a few days illness, her estate being Personal her Husband comes in for it, indeed one half was spent before she died. My Uncle gets 9 Negroes which she had for life & saves a £100 per annum which was paid out of his Estate , ... tis unfortunate for me she had not died before she married, as she was worth £5000 & by will left it to myself & Robert Brereton but when she married she made all over to the longest liver .... We are under the greatest apprehensions of the Spaniards & French attacking us . . . . the few Regiments we have have not half their Complements of Men & but four Ships of the Line however it must be a great force that can carry Port Royal. General Campbell our present Lieut. Governor is acting with the utmost Diligence to get all the Ports in Order & the Militia daily exercising likewise the Engineers, we have booms ready to lay across the channell on their approach. We do not expect them to come with less than 25,000 soldiers .... They make little or no secret at the Havannah that Jamaica will soon be theirs .... As Mr. Harrison did not make myself or Sally a present of Mourning I had almost resolved not to go into it neither did my uncle but my aunt prevailed upon us .... Potatoes has sold lately at £4 per hundred I suppose they did not cost above 4 shillings at home.
6. 1782, Feb. 10. About two o'clock in the Morning of the 3d Inst. a fire broke out at a small dwelling house tenanted by a Free Mulatto Woman (but how we cannot learn for certain yet think t'was set on fire by some of the French Prisoners who to the Scandal of our Police go at large here) & was so very rapid in its communication to the adjoining houses that the neighbours had scarcely time to save their lives, it soon made its way into Port Royal Street which is the most capital tho' not largest street in Town, as all the Merchants Stores are there & the place of Business .... four or five streets & as many lanes were all at one time on fire .... our houses have all Balconies joining each other & tops of the houses shingled with wood (wood split & made like your Tiles) .... The Fire continued burning till Six in the Morning, by which time one hundred houses were consumed & nine wharfs with all their stores & goods. I have an acquaintance who poor fellow, the day before was a man of easy Fortune, he lost on one wharf 2500 Barrels of Beef & Pork, 1500 firkins of Butter & 70 Pipes of fine Madeira wine, & is not now worth £500. One Liverpool house has lost £25,000 which is the most that has befell one concern, scarcely a house that is burnt that rented for less than £80 per ann' & some so high as £200, the loss is computed at about a Million & a half .... My uncle has sent us a cook & waiting boy which came to him from his Mother's death. Tea before the fire was at 22/6 & is now at the enormous price of forty shillings per pound. I am informed there are not now four chests in Town. I wish I had all here from your shop in Coventry.
7. 1782, March 5. My uncle yesterday gave me a sight of all the Private Intelligence of our spies to the Governor. The French & Spaniards should land 10,000 at Port Antonio which has a noble harbour for their Fleet.... 10,000 at Morant Bay about 30 miles to windward of Kingston-10,000 at Carlisle Bay about 40 miles to leeward of Kingston & where I am sorry to say there is not a gun mounted & a fine open country to march thro' to Spanish Town, 10,000 to be kept on board the ships as a reserve, a feint to be made on Port Royal by the whole fleet .... Our Assembly found it absolutely necessary to consent to the laying on Martial Law . . . . We have only one Frigate out at this critical juncture & about 18 Pendants flying here in Harbour instead of at least one half being out on observation . . . .My cousin Mrs Grant has offered to take Sally in the mountains with her family, she will either go with her or my aunt Dwarris. I believe I must now go & take my old post as first Lieut. of the 12 Apostle Battery opposite Pt Royal (42 Pounders & a blockhouse with 8 six Pounders) ... there are certain Mountains laid out for the reception of women & children well fortified & where all the live stock is to be drove . ... Ham 5/ per pound cheese Ditto butter 3/9 & that very indifferent. [Mrs. Sarah Dwarris his wife adds:] We shall be obliged to my Uncle V. for the ale as also to my Mother for cheese & bacon.
8. 1782, April 16. We have the park of artillery next our house & stands on some of our vacant ground .... there has been about £250,000 expended already .... Two o£ the best companys of one of the Kingston battalions of Militia lately ground their arms & refuse duty to act under a certain Major only because he did not know his duty so well as these martinets .... The London fleet is at St Lucia. My uncle Dr. Grant.
9. 1782, May 6. Our minds are perfectly easy now as to the French & Spaniards from the glorious victory obtained over the French on the 12th April by Sir Geo. Rodney, we have six sail of French line of battle ships here amongst which is the Ville de Paris of 110 guns & had 1500 men on board, with their Admiral Compte De Grasse who is develish surly in Spanish Town, a house being provided for him there, as it is thought he is a man of too much penetration & observation to go at large. My old friend Viscount D'Escan commanded the Glorieux & behaved like an hero every mast & stick being carried away, he nailed his colours to the stump of the main mast, he had about 400 killed on board as was hisself fine fellow. Sir George is here ....Admiral Hood is cruizing off Hispaniola & Rowley is ordered out in a few days with 5 fresh sail of the line to recruit them, as to Greaves you may order him home & hang him if you please
.... I think my mother [in law] cannot do otherwise than like Killingworth, for tis the most pleasant village I ever saw.
10. 1782, May 18. [Mrs. S. D. to her father :] When you write to Birmingham remember me to my Grandfather & Aunt Wheeler.
11. 1782, June 26. The London fleet is safe arrived after only a passage of 8 weeks one of which they stayed at St Lucia. In the fleet came Mrs Neufville & Mr & Mrs Wallace from Notting' the first my uncle's dau'r in law who went off about 14 months since for her health & has spent my uncle 100 guineas a month in England, having kept a coach 2 footmen &c. this he told me hisself. Beef when we came was at its old price 7 1/2, soon after at 10, no one complained as everything was rising, lately on Sir Geo. fleet coming in it got up to a shilling & is now at the price of 2 bitts 1s 3d pork has this week past got up to [blot] mutton now at 1. 10 1/2 3 bitts, flour indeed is now low £5 per barrell, fish of which we have every day great plenty has made a quicker progress than anything else from a bitt to 2. Jack Keyworth is always with us when on shore .... he is gone out with Drake's squadron .... he belongs to the Conqueror 74.
12. 1782, July 8. Mr Mrs & Miss Wallace & two children, the family we went to visit in Nottinghamshire .... the death of a sister who died a few weeks before their arrival. . . the death of cousin Keyworth in his ship after only 14 hours sickness of a putrid fever.
13. 1782, Sept. 13. Poor Wallace* is dead, also his son a fine boy about 5 years old, & this day month died Mrs Neufville** ...her jealousy of us. Mr Brereton has lately taken unto himself a young wife of twenty .... he is 58 & he has a son older than his mother in law. We have not at present any naval force here having sent them all to New York. We have above 4000 regulars
*Peter Wallace, Esq., died 15 July, aged 28, and his son Tho. Stoakes Wallace died the following day, aged 4 years and 5 months; bur. in Kingston Churchyard. (Archer, 152.)
** Mrs. Ann Neufville, dau. of Mrs. Frances Dwarris by her first husband John Dunston, Esq., died 15 Aug., aged 25. (Ibid.,85.)
14. 1783, April 6. Peace being established it was proclaimed here a few days since & the people shewed every possible, mark of disapprobation .... the American loyalists, several of whom are here in the greatest distress. I believe there has been about £3000 distributed amongst the poorer sort, most of them are going back to America .... The late additional duty on sugars . ... I believe Mr Conway your present Member was at school with me at Harrow as there were three of them there & boarded at Mrs Underwoods when I was at Mrs Reeves's . . . . Mr Ellis* who was unfortunately lost in his passage home last year held 12,000 acres under different patents from the Crown, out of which he had about 1800 settled & would neither lease or sell the rest & why ? because we in this Island only pay a farthing an acre quit rent. But if an Act was to pass the Assembly to lay on 6d in the pound on all uncultivated land the owners would have it at their option either to pay it or give up the surplusage land, by which means several Americans who are come here with numbers of negroes would immediately begin to patent those lands ....
* John Ellis was lost at sea with his wife and niece. He was father of Lord Seaford.
15. 1783, April 17. The Prince is here as also Lord Hoods fleet of 18 sail of the line .... he is still only a midshipman & always appears in that uniform with his star & garter.
16. 1783, May 11. [Mrs. S. D. to her father.] We have not heard from my uncle Keyworth .... the captain had sent my cousin John's clothes to Plymouth. My sister Nancy.
17. 1783, June 27. [Mrs. S. Dwarris to her father.] Mr. Waugh a distant relation of Mr Dwarris's sails for England in a few days & who as (sic) ever treated us with the greatest kindness for after my many illnesses in Kingston I have allways gone to his house at Port Royal for change of air .... he is a plain & honest man & never was in England before. Mr Dwarris writes about Mr & Mrs Gascoignes affairs. In my last I mentioned having gone twice on board the Formidable to visit Admiral Pigot . . . . Sir Charles Douglass his first Captain.
Mr Benton the present ordnance store keeper is a Lincolnshire man & his sister was married to a gentleman that lives near Market Rason. My uncle will make about 170 large shipping h'ds & about 110 puncheons of rum .... his relation Mr Maclean.
18. 1783, July 1. Letter of introduction for Mr Waugh to Lilley Smith, Esq.
19. 1783, Aug. 31. The thermometer up as high as 92 .... we have lost several gentleman of this town from the heat & amongst the rest one of our members & Mr Brereton who married an aunt of mine now stands as candidate for the ensuing election. Lord Montague who raised a regiment in America & who has been here some time, sailed yesterday with most of his officers & men for Nova Scotia. Mr Waugh a very worthy young man who has by his industry acquired about £5000. We expect Admiral Gambier out to relieve Admiral Rowley** in whom we shall not have the least loss as he is a very proud & illiterate man. Mrs S. D. writes of Nancy & Billy [her sister and brother].
**Sir Joshua Rowley, Vioe-Admiral, succeeded Sir Peter Parker as Naval Commander in Chief in 1782. He was created a baronet in 1786 and died 26 Feb. 1790, aged 70. ("D.N.B.")
20. 1788, Oct. 10. On Thursday last the 6th Oct. the thermometer was up at 102. I have known it twice at 97 but never felt the heat equal to this last week.
21. 1784, Jan. 18. Admiral Rowley sails tomorrow for England. We have been feasting & carousing from one house to another these three weeks past . .. a dance at my uncles .... he was as young as any one in company & pushed about claret & champaigne very briskly, the latter article is very dear in this island £10 per dozen the other £5, but he can very well afford it, as he is out of debt & has no children to save for. Mr Harris & Mrs. Wallace . . . . his estate about 50 miles out of town .... he has been appointed one of the judges.
[Mrs. S. D. adds:] "As my father used to be very much troubled with the rumatics if he will follow this receipt he will find it do him a great deal of good but he must take it for a long time. Take two ounces of lignumvitae add a quart of haff rum half brandy shake it well together & take a teaspoonful of it night & morning in a wine glass of water."
22. 1784, March 20. Mrs S. D. Five weeks visit to Mr Harris's family & Mrs Wallace. Mr Harris & Mrs. Wallace leave Jamaica in May next for England where she is going to stay two or three years with her children which she left there, she means to reside at Notingham. Mr. H. will not stay with her in England as she cannot prevail upon her mother to leave this country.
23. 1784, May 3. Mrs Wallace & her father .... the little girl which she brought out is to stay here with the grandmother. Miss Wallace Mr Wallaces sister who came out at the same time is very happily married, she has got a fine little girl.. . Mrs. Brereton too has a little girl.
24. 1784, June 28. Altho' youth is frequently sent from here to England for improvement it must be recollected that they are in general youth of fortune or great expectations t'is therefore thought most advisable to send them to the first schools such as Eaton or Westminster where they may form connections with the first familys in the kingdom.
Mr Harris is a very genteel man, but rich & prodigious stingey.
25. 1784, July 20. Poor Mr Thomas Maclean is dead, & we are in mourning for him; my uncle, who has always refused honours, has been at length tempted to accept from Governor Campbell before he left us the appointment of Custos Rotulorum of St Georges, the parish where his estate lies, so that he is the Honourable F. D..Remember us to my uncle & aunt Keyworth grandfather Cowlys cousins &c.
26. 1784, Aug. 11. We have experienced a very dreadful hurricane on this side of the country it continued its course about 90 miles, all the estates 60 miles to windward of this town are destroyed-all the ships but two here were either sunk run on ground or dismasted, & several of their crews totally lost-all the brick walls & fences down & several houses unroofed. A vessell coming round the island is lost & 11 passengers in it amongst which is the collector of Port Antonio. If my father can now ask Lord B. or any other acquaintance to apply to the commissioners for it for me it will be a greater matter to me than any other person for although the salary is only £120 per ann yet the profits make it about 400 currency, & I could carry on my business at Port Antonio the only attorney that practised there lately having died.
27. 1784, Aug. 29. Mr Sam. Cator who from his great extravagance has for I may say a 3d time ruined himself is now in goal for life . ... . he will lose two places which he enjoys comptroller of Port Antonio & Deputy Register of the Court of Vice Admiralty .... a new appointment lays with a Mr Owsley Rowley* of London the patentee. I served my time 5 years with Mr Hinton East the former Deputy Regr. The judge is an old school fellow of mine Mr Ricketts** a counsellor at our bar .... [details about applying for the post].
~~~~~~
* 1781, Dec, Owsley Rowley, esq; to be register of the vice-admiralty court in Jamaica vice John Morse, esq. dec. ("G.M.," 595.)
**William Henry Ricketts, born 1740, barrister-at-law of Gray's Inn 17__, bencher 1769, M. of C., of Longwood, Hants, died, in Jamaica 5 Oct. 1798. Geo. Crawford Ricketts, his nephew, was Attorney-Gen, in 1796, and died 6 April 1811.
~~~~~~~~~~
28. 1784, Oct. 1. At Mr Breretons. His neighbour Mr Clarke & Dr. Pugh of Spanish Town were rivals the lady being on a visit at Mr Clarkes. The doctor calling at Mr Clarkes asked for a glass of water alighted from his horse & told Mr C. he had something to say to him in private & went in a field at the Back of the house, when he pulled out a surgical knife & stabbed him twice in the left breast. Mr Clarke run a few yards called out he was a dead man fell & expired.
The wretch then plunged the same bloody instrument into his own breast 4 times & expired .... I run to the place where they both lay 10 yards of each other . . . . both amiable young men .... his corpse was buried in the highway.
29. 1784, Nov. 14. We have in the course of this last week catched 3 desperate pirates & murderers who murdered a whole crew & brought the vessel in here & sold the same with her cargoe (consisting of lumber from America) they have spent all the money in rioting.
30. 1784, Dec. 12. I believe this packet carries home our Assemblies Petition to have the duties lately laid on sugar taken off & to allow the Americans to trade with us in their own bottoms .... Since our late hurricane 1st Aug. the Governor with the advice of his Counsel allowed the Americans to bring us supplies in their own vessells.
31. 1785, Jan. 23. The death of the land & tide surveyor of this port a Mr Fenton. My aunt Dwarris has been out of town these five weeks at her sons wedding. Mr Stoakes Harris is dayly expected. [Example of his stinginess.]
32. 1785, March 20. My dear Sally was safely delivered of a clever little boy on the 5th inst. We are hourly expecting to hear of some dust being kicked up between the Spaniards & our people on the Mosquito Shore our ships of warr are all under sailing orders at Port Royal .... we have had 300 men sent to the defence of that place by different detachments in small vessells & without any noise. Mr Lewis* the oracle of the barr is dead he made the year he died £8000.
[On the back is a letter from W. L). Smith, Coventry, 20 May 1785, to his
father.]
* Hugh Lewis, born 8 Aug. 1753, barrister-at-law and Advocate-Gen., died 23 Jan. 1785. (Archer, 56.)
33. 1785, April 24. Mr & Mrs Dunston at my uncle Dwarris's. I was there the night before last to pay a formal visit to her.
34. 1785, July 17. Mrs. S. D, to her Mother:-The death of our beloved child-so much the greater was our loss after having been married so many years without a child. Mrs. Brereton was brought to bed a few days since of another girl. Mrs Hayes a cousin of Mr D. was very kind when my little Fortunatus was sick. I wrote to my sister Mrs Ellis.
[Mr. W. D. writes:] I have been this morning sent for to the goal by a gentleman who calls himself The Honorable Cap. Manners .... what or who he is no person here knows. He knows everybody in Lincoln & my friends the Bolderos in Yorkshire .... he has been but illiterately brought up at Beverly in Yorkshire, he came here about 5 mouths since & brought a great quantity of cash with him which is all gone.
35. 1785, Sept. 11. On Sat. the 27th Aug. about 4 o'clock it began to blow very hard . .. . the hurricane increased dreadfully till about 8. o'clock .. .. many more houses blown down than in the last one in July 84 . . . . there were about 300 poor souls lost in this harbour. My uncle's estate has suffered much, part of his own dwelling house unshingled, his overseers house down all the negroe houses gone, his canes lodged &c. however his damage does not exceed £3000.
36. 1785, Sept. 25. My uncle has been all his life hitherto contented with a cattle mill on his estate. But now he is out of debt & declining in life, he wants to clear 200 more acres of land for canes, & make a large waterwork-the water he is to carry 3 miles in a stone guttering to his wheel, he has laid out a plan to run in debt to the amount of about £10,000 & he is then to make 800 hogsheads of sugar a year. I think him much to blame. He has no children is out of debt & makes about 150 hds now & about 90 puncheons of rum-he was 59 yesterday. He has ordered Sally to leave off eating suppers. When first I came over to this island every family had regularly cloth laid at night, & now I scarce know 4 familys that do, persons in general finding they enjoy better health by leaving off that meal.
37. 1785, Dec. 11. Mr Harris has been extremely ill up at Stoaksfield* his country house.
* See description of this old mansion in Cundall's " Historic Jamaica," p. 242.
38. 1786, March 27. "We have nothing stirring here but seizing the poor American vessells & condemning them for not being navigated agreeable to law.
39. 1786, June 26. Mrs. Dunstons little girl was christened about a month ago .... the child's name is Ann Margaret Dwarris. Having some time since been requested by my uncle Keyworth to send him home some rum (60 gallons).... it is distilled with cocoa nuts & civil (sic) oranges & I shall put in the juice of about 20 large pines. I am to have it at 2/8 per gallon which is the price my uncle's factor sold 15 puncheons at last week in town . . . . to prevent its being touched by sailors it is to be cased in another large cask & will cost £14 st.
40 and 41. 1786, July 3. The death of the Hon. Thomas Davison the collector of this port. Mr. Papley the collector at Port Antonio may succeed to it .... one of the commissioners of the customs being married to his sister.
42. 1786, July 16. Mr Brereton & his wife have given up their house in town & are gone to live at their penn .... she is his third wife his first was Miss Dwarris my uncle's sister & by whom he has a son now living who is learning the profession of the law. Mr B. has two children by his present wife.
43. 1786, July 25. The puncheon of rum properly cased is shipped on board the Justina for want of the opportunity of a droguer coming round was obliged to ship it at Annotto Bay.
44. 1786, Oct. 13. Mrs S. D. My brother William in London. My little niece.
45. 1786, Nov. 6. We have experienced another hurricane which happened in the morning of the 20th of last month but has had less dreadful effects on this side of the island than any storm has had these five years. By accounts from the windward parts, we learn that they have suffered very much & will lose about one third of their next sugar crop. But the Leeward accounts are dreadful they have suffered but little less than in the year 1780 when the whole town of Savannah La Mar was destroyed scarcely a house or set of works in two of their parishes but what are half down & their canes blown up by the roots. My uncle had just got 40 hhds. on board a ship at the Bay near his estate & the ship has rode out the storm. The 23d Sally brought a fine little boy.
46. 1786, Nov. 19. The windward part of the island have been provident enough to put in a great quantity of ground provisions such as sweet potatoes.
47. 1780, Dec. 9. Our dear little fellow was christend the third of this month at my uncles .... we had a very genteel supper & sat down about twenty we have called him Fortunatus William Lilley. Mr Dwarris stood for you & Mrs. Davidson for my aunt Mary. My uncle and aunt Dwarris both stood for themselves & a Mrs. Betts. Mrs. Brereton was brought to bed about a month before me of another girl she has now three & the eldest not four years old.
Mr & Mrs. Davidson talk of going home in the spring. You will I dare say see them as they will be a good deal with her sister in Nottingham.
48. 1787, Jan. 21. We are going this week to inoculate our dear boy as the small pox is in town & of a very favourable kind.
This island will be all in flames in a few weeks if the Lieut Governor does not dissolve our rascally Assembly. Just before they were prorogued they passed bills giving their Speaker £1500 their messenger £500 st. & to an old broken member a Sir Charles Price Baronet £5000 by way of mortgage.* Our Speaker never had any sallary before.
The death of Mrs. Dunstons child 8 months old.
* This was rescinded by the next Assembly as being unconstitutional. (Cundall's "Historic Jamaica." 265.)
49. 1787, Feb. 18. Mr. Cousins who is arrived informed me that he had seen my aunt Cowley & my grandfather .... Most Europeans die here from imprudence & excess on first coming over. Here is a club held in honour of Rodneys victory every 12th April by old veterans, who meet & spend the day jovially. To be a member a person must have been 30 years here, an honorary member 25 years, & there generally dines from forty to fifty, all from within the vicinity of this town. My uncle's paternal & family estate which has been in this country above 100 years in our possession. Mrs. Hayes a cousin of Mr. Dwarris has been staying with me.
50. 1787, July 15. I was very happy to hear that your son was married to so agreeable a young lady.
51. 1787, Aug. 11. My uncle has lately made a purchase of a house in town which he gave £2000 for. They do not dine till near five & never eat suppers. I cannot say I am fond of such very late hours. I think three o'clock a very good hour if you are alone, & if you have company half past.
52. 1787, Sept. 30. I am just come from a jaunt to the north side of the island, but the roads to that part are always bad, and particularly so this time of the year. I was under the necessity of swimming my horse over one river three times, the precipices & road are very dangerous, in many places not above a foot wide-A man who made an immense fortune here in former days ust to Say-make me your executor & I dont care who is made your heir.
53. 1788, Jan. 27. My dear little Fortune is very well. Mr. Brereton is at present very much involved.
54. 1788,.April 22. My uncle had in company with my aunt the misfortune to be over turned in his chariot this day 3 weeks by which she was much bruised & he had his left arm broke .... he lives so very low ... I think a man at his time of life (63) should drink as usual his half pint of Madeira (it being our common wine here) . ... To my certain knowledge he advanced £500 three months since to keep her son out of goal, who with his wife & child lives in his house & upon his generosity. My 17 years residence in this island.
55. 1788, June 1. Notwithstanding all our frugality we dont spend less than £500 a year.
56. 1788, Sept. 6. I send early intelligence of the vacancy of the comptrollers place of Port Antonio of this island by the death of a very particular old friend a Mr Cator, who has a brother of prodigious fortune 14 or 15 £1000 per annum in London .... the place or salary is either 80 or £100 pr ann. besides a few perquisites & entirely a sinecure .... about 20 barristers & above 100 attorneys here. My uncle Keyworth's loss of a son .... his other son & Sukey. It would amuse you & my mother to hear little Fortune talk half negroe like, which is the worst thing attending children here, but as they are always playing with the negroe children they learn their ways & language, notwithstanding my being very particular.
57. 1788, Nov. 9. Dr Grant* has been exceedingly ill-he has a very fine boy in England by his first wife, & by the present one three, two boys & a girl the youngest is not above two months old .... poor old Mrs Grant was really miserable at the thoughts of losing her son, as he is the only child she has left. The fire my uncle had at his estate .... the great house was on fire two or three times but it was put out .... My aunt has not been there these eighteen years.
Nov. 15. Prince William Henry has just entered Port Royal harbour .... he is come to winter here.
---
© 2013. Jamaican Family Search hereby grants you a limited license to copy and use the materials provided on this site solely for your personal, non-commercial use. No other use of the site or materials is authorized. You agree that any copy of the materials (or any portion of the materials) that you make shall retain all copyright and other proprietary notices contained therein. Posting of materials on other Web Sites is strictly prohibited.
---
SEARCH THIS SITE
---
GO TO:
Help - Frequently Asked Questions
Jamaica Almanacs Slave-owners, Civil & Military officers, Magistrates etc.
Items in the Samples Directory
Items in the Members Directory
Transcriptions from Registers and Wills (Church of England, Dissenters, Civil Registration)
Jamaican Roman Catholic Church Registers - transcriptions
Jamaican Methodist Baptisms - transcriptions
Jewish births marriages deaths - transcriptions