Jamaican Family Search Genealogy Research Library
CARIBBEANA VOLUME III Extracts
DEHANY OF JAMAICA
David Dehany, of the parish of Hanover, Island of Jamaica, planter. Will dated 17 Aug. 1753. My son George Dehany, planter, £1000 currency. My son David D. £400 c. yearly. My dau. Mary Hall* £1500 c. My dau. Ann D, £4000 c, My son Goodin D. £100 c. yearly. My wife Mary 3 slaves. My son Philip I give that estate joining on the E. side of Lucea Harbour with the estate called Barbican joining on the E. side of Masqueta Cove, with the works, negros, cattle and stock, also 2000 acres at Negercat in the parish of Westmoreland, now a pen, also the houses and stores at Savanna Lamar and Savanna Lamar Savanna, which I bought of Francis Blake as attorney to Richard Dunn Lawrence and of Margaret George, also two parcells of land in Hanover, the one joining on Sir Henry Morgan's run now in the possession of Julian Beckford, Esq., the other joining on the E. side of Fatthogg quarter Harbour and that part of Sir Henry Morgan's I possess called Shew. My sister Martha Corbett the 150 acres she lives on joining E. on William Bucknor and W. on Philip Anglin, deceased, for her life, then to go to George James, son to George & Mary James, deceased, and William Wren, son to James and Patian Wren. All residue to my son Philip, if he die without issue all the estate equally to my 3 sons and 2 daus. My son Philip sole Executor. My wife Mary, Philip Haughton, Sr., of Hanover, John Reed and Thomas Hall of the parish of St. James, Esquires, Trustees and Overseers. Witnessed by Gn. Castelfranc, Peter Archibald Jameson, James Findlater. On 22 June 1754 was sworn P. A. Jameson before Charles Knowles. A true Copy. T. Hay, Secretary. Proved 25 Oct. 1754 by Philip D. the son. (P.C.C., 271, Pinfold.)
--------
* See "Gent. Mag." for 1815, Jan. 20, p. 184, for death, aged 66, of Mary wife of Richard James Lawrence of Fairfield, Jamaica. She was the dau. of Thomas Hall of Kirkpatrick and Worcester (from co. Worc.) by Mary, dau. of David Dehaney of Barbican and The Point (of a noble Dutch family).
-------
William Hall, of Westmoreland, Jamaica , writes from Kingston 8 April 1746 to David Dehany, merchant at Bristol, as to a proposed marriage between the writer's son and Mr. Dehany's dau. The portion offered was £1000, and Mr. Hall objected to settle £800 a year. (Lawrence MSS.)
John Gregory, in his will dated 21 Ap. 1763, names his nieces Lucretia Dehany, now at Mrs. Elm's boarding school at Kensington, Ann Phillips Favel Dehany and Elizabeth D. also at said school.
Philip Dehany of London, Esq., dau. Mary Salter D. Will p. 1809. (874, Loveday.)
See Archer 335 for several Monumental Inscriptions at the Point estate.
Jonathan Haughton m. 2. Mary Dehaney, before 1693 (Livingston, p. 46).
1833, Nov. 27. At Trinity Church Marylebone, G. H. C. Scott, of Devonshire-pl., to Mary Favell. 2d dau. of the 1ate George Dehany of Jamaica. ("G.M." 1834, 102.)
1838, Oct. 30. In Belgrave Sq. Elizabeth Favell, wife of W. K. Dehaney, dau. of the 1ate Vice-Adm. M. H. Scott. (667.)
See Book-plates of George Dehany, Supp., p. 41, Nos. 346, 347.
William Anglin And Mary Dehany Married July 30, 1710. (Sampler.)
________________
ST. CATHERINE'S.
(Brit. Museum Add. MS. 27,968, fo. 44.)
MARRIAGES.
1744-5 Jan. 3 George Dehany of Hanover & Mary Gregory* of St. Catherines.
* Dau. of Matthew, M.D., benefactor.-John Roby.
1709 Jan, 23. The Honorable Richard Welsh, a Barrister (Chief Justice.-J.R.), & Lucretia Favell Dehany, Spinster.
1772, April 19. James Pinnock,* Clerk of the Court, & Elizabeth Dehany
Spinster.
-------
* Advocate General 1787.- J.R.
-------
1786, Aug. 18. George Dehany, Barrister, & Sarah Byndloss, widow, both of
this parish.
BAPTISMS
1751, Mar.21, Lucretia Mary dau.of George & Mary Dehany.
1760, Oct. 28, George* son of George & Mary Dehany; born the 17lh instant.
-------
Mar. widow Byndloss 1786.- J.R.
-------
1788, Mar. 4, George Gregory son of George & Sarah Dehany; b. Aug. 18, 1787.
BURIALS
1767, April 2, George Dehany* Esq.
-------
*His monument at Point Estate near Luoia says "son of David D." and his age 46. -J. R.
-------
KINGSTON.
1754, May 23, David Dehany,* Esquire, in his garden.
-------
+ Aged 52. Monument at Point Estate. J. R.

-------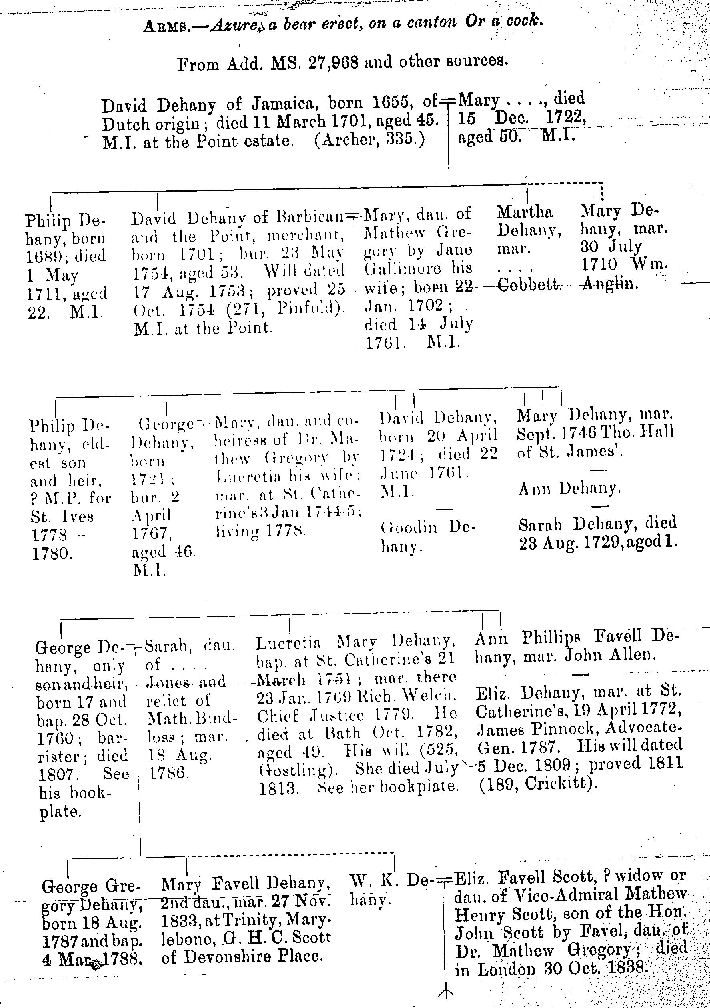 ---
ADMISSIONS TO GRAY'S INN, 1521-1889.
LIST OF JAMAICANS
1710, Oct. 20. Andrew Arcedeckne,* of Carrowmore, co. Galway, gent.
* Of Jamaica,
1750-1, Jan. 29. William Henry Ricketts,** of Gray's Inn, gent.
** Of Jamaica,
1753, Feb. 6. William Bosley, son of William. B., late of Bosley's plantation, in the Island of Jamaica, Esq., deceased.
1761, March 28. Peter Campbell, of the parish of Hanover, Isle of Jamaica, Esq.
1764, July 5. James Herbert, eldest son of James H. of the Isle of Jamaica,
gent., deceased.
1765, Oct. 30. Russell Harris, of the Island of Jamaica, gent.
1767, May 20. George Crawford Ricketts, of Gray's Inn, gent.
1768, July 13. William Antrobus, only son of William A. of Savannah le Mar, Jamaica, Esq.
1776, Sept. 13. Nicholas Allen Blake, third son of Benjamin B. of the Island of Jamaica, Esq., deceased.
1777, Nov. 24. Joseph Foster-Barham, eldest son of Joseph F.-B. of Bedford, Esq.
1783, Nov. 13. Charles Herbert, second son of Charles H., late of Martinique, West Indies, gent., deceased.
1799, May 5, William Anglin Scarlett, youngest son of Robert S., late of the Island of Jamaica, Esq., deceased.
1827, May 19. James Irving, eldest son of James I. of Jamaica, Esq.
1837, April 15. Robert Russell, aged 28, second son. of Alex. R., late of Jamaica, Esq.
1837, April 29. Edward O'Brien, aged 45, eldest son of Thomas O'B., late of Kingston, Isle of Jamaica, planter, deceased.
1839, Nov. 2 Christopher Good, of Manchester, Jamaica, aged 33, second son of Godfrey G., late of Dublin, Esq., deceased.
1882, Nov. 17. Sydney Olivier.* B.A. Oxon., clerk in Colonial Office, aged 23, second son of Rev. Henry Arnold O.. Rector of Poulshot, Wilts.
---------
*late Gov. of Jamaica
---
DEEDS RELATING TO JAMAICA
BLACKHEATH PLANTATION IN THE PARISH OF WESTMORELAND.
(At least one sheet of this deed is missing.) . . . the 8th of the said bonds in the penal sum of £5000 currency conditioned for the payment of £2500 c. will be payable on the 21 July 1784 (and so on) and the 13th and last will be payable in 1789 and Whereas it was agreed between the said Duncan Charles Mackglashan and William Gray that Macglashan should by way of collateral security execute an assignment to the said Thomas Hibbert the Younger of all the lands slaves and stock in pursuance thereof he doth now convey all that the said plantation called Blackheath in the parish of Westmoreland containing 1023 acres on Cape Bonetta River bounding N. on the lands of the late Mr. Atkins and Miss Webbers, E. on Ephraim and Robert Joseph Dunn and Joseph Foster Barham, S. on Dr. James Wedderburn, and W. on the estate of the late John Lewis and Mungo Grant and all houses mills negroes as in schedule "A" to Hibbert on Trust for Macglashan to keep possession until failure of payment of the bonds and the estate will be reconveyed on good security being given satisfactory to Thomas Hibbert, Simon Taylor, Exelbee Lawforda and Hinton East before 8 Oct. 1775 to William Gray for the said £19,604 currency.
Schedule "A" of slaves with names gives 102 men and boys, 110 women and girls, 120 steers, 26 mules, 154 breeding stock young and 300 old. Signed and sealed (names mostly torn away, three plain seals with "H E" on them).
(On four sheets of paper. This deed is recited in the deed of. covenants as having been dated 22 Dec. 1774.)
_________________________________
THE RHINE PLANTATION IN PARISH OF ST. THOMAS IN THE EAST.
(One or more sheets are missing.) . . . Duncan Charles MacGlashan* by one other bond (the 9th) dated 21 July 1774 became bound to William Gray in the penal sum of £5000 c. for payment of £2500 c. on 21 July which would be in 1785, and the 13th and last in 1789 and Whereas by an Indenture tripartite dated 22 Dec. 1774 between MacGlashan of the 1st part Thomas Hibbert the Younger of the 2d and William May of the 3d reciting that by an Indenture tripartite dated 15 June 1774 between William Gray of the 1st part, Edward Woolley Esq. of the 2d and M. C. MacGlashan of the 3d Gray sold to MacGlashan the plantation called Blackheath in the parish of Westmoreland containing 1023 acres on Cape Bonnetta River subject to the trusts of the deed of 1 May 1772 and D. C. MacGlashan had paid £46,647, viz. £27,043 only and secured payment of £19,604 c. the residue thereof by the 13 several bonds dated 21 July 1774 and for 10/- conveyed the plantation to Hibbert and all slaves and stock as in Schedule on Trust for MacGlashan and Whereas William Gray is indebted to Jacob Israel Bernal in £8916 c. and for security hath entered into 13 several bonds the first in £2100 c. for the payment of £700 with Interest at 6 per cent, on 21 July 1777 &c. and the 13th in 1789 and having occasion for the further sum of £19,599 c, and the said sum of £32,628 from MacGlashan to William Gray was not payable till a distant period so it is worth now but £19,599 and it was agreed that Gray should assign the bonds and deed to Bernal in return for the £28,515 c. or £20,360 sterling William Gray and Dorothy his wife convey and confirm to Bernal the plantation called The Rhine in the parish of St. Thomas in the East Co. Surry consisting of 756 acres part of a run on Plantain Garden River formerly patented for 1600 acres by John Henderson, Moses Ghieslen and Andrew Archdeckne Esq., S. on land patented by Jacob Stokes and the river, E. on land of Robert Jacob, W. on part of the same run belonging to the Bath of St. Thomas the Apostle which said land was by Ind're of 1 May 1773 conveyed by Hinton East Esq. to Alex. Littlejohn Esq. and by the latter to William Gray by Ind're of 1 Feb. 1774 and also that parcel of 29 acres butting N. on mountain land, S. on land now or lately belonging to Michael Hay and Sulphur River, E. on land now or lately belonging to Mr. Gardner, W. on land now or lately belonging to Mr. Augustus Vallette also that other parcel of 29 acres called Tower Hill butting N. on Bath land laid out for Michael Hay, S. and W. on Sulphur River, E. on land formerly belonging to James Watts which said two pieces were by Ind're dated 18 Sept. 1773 conveyed to Wm Gray by Thomas. Plimley and Eliz. his wife and Eliz. Plimley widow, and also that parcel of 26 acres butting N. on Andrew Arcedeckne Esq., E. and S.E. on land patented by Robert Jacobs called Batchelor's Hall, S. on Jacob Stokes
------
* See ante, II., 229.
------
and W. on the 756 acres being part of a larger parcel containing by a resurvey in 1748 700 acres bounding N. on James Murray, E. on Batchelors Hall and Jacob Stokes, S. on Plantation Garden River, W. on land patented by Col. Edward Stoakes and Nich. Wilkes and which said 26 acres was by a writ in a cause wherein John Millward and James Lewis Esquires as surviving Executors of the will of John Gardner Esq. were the Plaintiffs and James Watts.Defendant returnable May 1770 and the return thereof was vested in Philip Livingston Esq. as Ex'or to George Paplay Esq. the assignee of the writ and conveyed by Livingston to Wm Gray by Ind're of 30 Sept, 1773 also that parcel of land butting W. and N. on land patented by Edward Stanton and Nich. Wilks, E.N. on Wm Beckford Esq. and S. on Plantation Garden River formerly part of 508 acres one moiety of which was vested in Wm Beckford Esq. and the other moiety in Robert Gordon by a writ of partition, and Gordon by Ind're of 12 June 1773 conveyed one half of his moiety to Gilbert Grierson who by Ind're of 14 June 1773 conveyed to Wm Gray and by Ind're of 14 June 1773 Gordon conveyed the other moiety to Wm Gray and all houses mills &c. and slaves as in schedule to have and to hold to Jacob Israel Bernal subject to redemption, and until default be made Wm Gray to have possession.
Schedule 39 men, 5 boys, 24 women, 3 girls.
There are no signatures, and the first sheets with date are missing, but the date was 20 April 1775. Draft on 12 wide sheets of paper.
____________________________
J. I. BERNAL TO WM. GRAY, ESQ. DEED OF COVENANTS.
This Ind're made the 24 April 15 Geo. III. 1775 between Jacob Israel Bernal of Kingston Merchant of the one part and Wm. Gray of the same place Esq. of the other Whereas J. I. Bernal hath advanced for Wm Gray £8916 currency being of the value of £6368 sterling unto Aaron Nunes Henriques of the same parish Merchant and Wm Gray having occasion for the loan of the further sum of £19,599 c. or £13,999 st. or a total of £28,515 c. or £20,368 st. as security proposed to give 13 bills of exchange to be drawn on a London house payable in 13 years to Bernal with interest at 6 per cent, and now wishes to have the £13,999 st. raised immediately, hath proposed to assign 13 bonds from Duncan Charles MackGlashan of Kingston Esq. to him, 12 whereof are in a penal sum of £5000 c. and the 13th in £5250 which are of the present value of £19,599 c. also an Ind're of conveyance dated 22 Dec 1774 made between Duncan Chas. MackGlashan of the 1st part Thomas Hibbert the Younger of Kingston Esq. of the 2d and Wm. Gray of the 3d part, and to secure the payment of the £8916 c. proposed to enter into 12 bonds of £700 c. and further to convey all that plantation called the Rhine and several slaves described in the 2d Ind're hereinafter mentioned dated 20 April 1775 and whereas the difference in value between a security payable in Jamaica and London arising from commissions exchange the risk is worth to Bernal £3500 st. for which bills are to be given and Bernal hath lent Gray the said £19,599 c. and whereas by Ind're tripartite dated 20 April between Wm. Gray of the 1st Thomas Hibbert the Younger of the 2d and J. I. Bernal of the 3d part Gray assigned to Bernal all sums due from MackGlashan and hath entered into the 12 bonds and by one Ind're made between Wm. Gray and Dorothy his wife of the one part and J. I. Bernal of the other May hath conveyed the Rhine plantation with slaves as described in a schedule subject to redemption.
Signed and sealed (plain seal) by J. I. Bernal W. Grant in the presence of Thomas Myers, Jacob Bravo Junr.
Endorsement dated 6 May 1776 that it was agreed to substitute other security: Wm Gray paid £3500 st. and Bernal handed over the 12 bills of exchange to be destroyed. Signed by Gray and Bernal.

On six sheets of paper.
---
NOTES AND QUERIES
The Institute of Jamaica,
8th August 1913.
To the Editor.

In your last issue of "Caribbeana," p. 130, which is full of interesting material, I am convinced that you unintentionally, I am sure, libelled Sir Hender Molesworth. I went into the matter some years ago, and was satisfied that Sloane's "Sir H. M." was Sir Henry Morgan. In the Manuscript Department of the British Museum is a letter from John Roby, the well-known author of "The History of the Parish of St. James in Jamaica" and "Monuments of the Cathedral Church and Parish of St. Catherine," dated at Montego Bay 21st December 1831, addressed to Charles Edward Long (the grandson of the Jamaica historian), who was preparing for issue "Church Notes of Jamaica." In this matter Roby generously offered to place at his disposal his notes, which he no longer felt inclined to publish, as he had lost £120 to £130 over St. Catherine and St. James.
Roby told Long that he had found in the St. Catherine Register the following entry: "1688 August 26 Sir Henry Morgan was buried at Port Royal." This information is the more interesting, as the early records of St. Catherine are now no longer existing.
Roby refers to Sloane's account of Sir H.M. and says: "It must probably refer to Sir Henry, though Sir Hender Molesworth's initials being the same it may perhaps refer to him."
Now, pace Long, who in his account of Morgan in the "Gentleman's Magazine for 1832,* "Memoir of Sir Henry Morgan, Knt.," concludes as follows:-
"I have shewn Sir Henry Morgan to have been neither by connection, nor conduct, nor acquirement, the low-born, bandit-like, and illiterate desperado, that discontented followers, discomfitted enemies and childish storybook would have him, but a fit associate in the annals of a transatlantic adventure, with the Raleighs, the Drakes, the Cliffords, and the Shirleys of earlier renown."
Morgan was known to be a hard drinker, as Lord Vaughan testified of Hender Molesworth, Leslie, in his "New and Exact Account" of Jamaica .... Edinburgh, 1739," says: ''This gentleman behaved to the universal satisfaction of the island; his deportment was courteous, he was easy of access, given to no vice or extravagance .... a man of moderate principles."
But lastly, Sloane wrote in 1688, when Molesworth was not a baronet, that honour being conferred on him on the 19th of July, 1689. Sloane's "Sir H. M." presumably died in Jamaica; Morgan died in Jamaica, Molesworth in England.
Frank Cundall, Secretary.
[Long, in the above quoted Memoir, after discussing the pros and cons, was of the opinion that "H. M." referred not to Morgan, but to Molesworth. I venture to think that the weight of evidence is against that conclusion, and that Mr. Cundall's identification is correct. -Ed.]
-------
* Part I., pp. 128 and 231.
_____________
WILL OF JOHN FAVELL OF JAMAICA.
John Favell of Vere Jamaica, Esq. "Will dated 19 March 1720. To be buried in church of Vere where my 1st wife and children lie with a marble stone to be set over grave. Granddaughters Mary Bernard, wife of the Hon. Thomas Bernard of St. Dorothy, Esq., £200 sterling in plate. To Susanna Bernard, daughter of said granddaughter Mary Bernard, £150 in plate. Elizabeth Lawes my granddaughter, wife of James Lawes of St. Catherine, £200 sterling in plate. To said granddaughter Elizabeth Lawes £200 due by deed dated 2 Oct. 1706 by William Gibbons Father of said Elizabeth Lawes of the 1st part and me and Margery my late wife of the other. My granddaughter Lucretia Thargar £1600 currency at 21 or Marriage and £160 currency per annum till 21. Grandson Gibbons Hodgins £2000 currency at 21 and £200 currency per annum till 21. All my plantations in Vere and slaves to Thomas Bernard, James Lawes and George Ivy of Vere, gentlemen, Executors in trust till my grandson Knight Peeke be 21, and in default to grandson Favell Peeke, granddaughter Mary Bernard. To Mrs. Dolocosia Knight and all grandchildren mourning. Executors £20 each, all residue for Knight Peeke. Sworn 29 March 1721.
(From an old copy in the Editor's possession.)
_____________
COM'ISSARY BENNET TO MR. SHUTE.**
Spanish Town in Jamaica,


30 March 1703.

Reverend Sr

Formerly I did what lay in my power by petitioning for the good of others to gett money to buy Books to instruct them, but now I must become your Petitioner in my own behalf my Condition being now quite chang'd, for on the 9th of January last a Dreadfull fire happened on Port Royall, leaving nothing standing but our 2 fforts, by which means I lost my Parsonage, £400 in goods and Houshould stuff, besides much of my Cloathes and all my Books; 2 or 3 pieces of Setts being saved, and all my sticht Books, written ones, and bound being either burnt, or stoln away by the Seamen belonging to Ships, much alike merciless Enemies with the fire. My Books could not be less worth than £150. I have lost my Freehold of a Parsonage, by a late Act of the Country made since the fire, which has annex'd Port Royall and all that belongs to it, to Kingstown prohibiting any Markett at Port Royall, & the Importation & Exportation of any Goods under the penalty of £200 forfeiture for every fault So that now being without a Parsonage having very little money as well as few Books am forced to live upon that little the fire hath left me & therefore do now humbly begg your charity in the Gift of some Books particul'ly Dr. Scots works, Dr. Ashton's the 3rd vol. of Dr. Barrow, a latin Dictionary, & if you please a Hood suitable to my Degree of Batchelor of Divinity with which the University of Oxford honor'd me for above 17 years since. Revd. Sr. I have no more to add, but to begg pardon for my boldness your acceptance of my must hearty thanks for all your former favors & to assure you that I am & always will be
Yr most thankfull &
very humble servant to command
Phil. Bennett

The Directions are For the Reverend Mr Shute, etc.*

---------


** (S. P. G., 15 Tufton Street), Letter Book, vol. i, A, 1702-4, No. lxxix.
* The words in italic are in a different handwriting. Philip Bennett, son of Francis Bennett of Smalbrook near Warminster, co. Wilts, gentleman, matriculated from Exeter College, 5 March, 1668-9, aged 19, B.A. 1672, Fellow 1674-88, M.A 1675, B.D. by diploma 26 October 1685; in her M.'s service, Jamaica. (Foster.)

_________________
DE REYNAUD OF SAN DOMINGO.
I send you a few notes on West Indian families, these being ancestors or relations of my wife.
Cyprien de Reynaud, born about 1707, died 1804-1812 at New Orleans, La., married Martha Nicola and had thirteen children. He had a sugar plantation at Aux Caves, San Domingo. He and his family were obliged to leave there in 1791, going to Nantes, France. The family were Royalists, and probably driven out of France; in any event a party of them sailed from La Rochelle in 1799, landing in New Port, R.I., Jan. 1, 1800. They then went to New Orleans.
Children :-
Pierre Gregoire de Keynaud, married, no issue.
Juste Felix de Reynaud de St. Felix, married Marianne Le Juene at Martinique (they were cousins, and she had been married before). Prior to1791 he was colonel and captain of the regiment of Port-au-Prince. After 1791 he took service under the English, having rank of Lieut.-Colonel, on duty in Jamaica.
Reynaud de St. Hilaire, married, no issue, lawyer at Paris.
Reynaud de Chataudun, two children lived in U.S.A. after 1800.
A daughter, mar. . . de Brueys (brother of French Admiral)
Julia de Reynaud, mar. 2ndly Nicholas Paillette, who was a lawyer.
Agatha de Roynaud, not mar.
Florence de Reynaud, not mar.
A daughter, was mar.
Two other children.
Among descendants of the above children are found the names d'Auriol, Volozau, Marie, Laval, Petri.
John Beale of Santa Cruz, born about 1730, mar. Mary Murdoch of
Philadelphia, and Cornelius Sweers of Santa Cruz, and Colonel in the British
Army, who married her sister Hannah Murdoch, are also of my wife's family.
E. M. BLAKE (Professor),
University of Arizona.
July 1, 1907
---
MISCELLANEOUS
REVIEW
The Legacy of the American Revolution to the British West Indies and Bahamas. A Chapter out of the History of the American Loyalists. By Wilbur H. Siebert, A.M., Professor of European History. (Published by The Ohio State University, Columbus, 1913. 8vo., pp. 50.)
This interesting brochure is a welcome addition to a little known period of West Indian history, describing as it does the movements of those American Loyalists who were compelled to quit their homes and take refuge in the West Indies.
Quoting from the above it appears that early in the Rebellion, East Florida served as a retreat for loyalist refugees from the Carolinas and Georgia. Its population of 1000 whites and 3000 negros, after the evacuation of Savannah and Charleston, had increased in the year 1783 to 16,000, with about two whites to three blacks.
After the surrender of Charleston, 1278 whites and 2613 blacks embarked direct for Jamaica, and 20 whites and 350 blacks for St. Lucia. Many of the refugees in Florida, Honduras and the Mosquito Shore, as well as a considerable portion of the 10,000 persons sent from New York to Shelburne in Nova Scotia, also found their way to the W.I.
On Florida being ceded to Spain, there was a final exodus in 1783 - 5 of troops and other refugees, this time to the Bahamas. From New York City 1458 persons, besides 8 companies of Militia, settled in 1783 in the Island of Abaco, the largest island of the Bahamas, where they were joined by 1500 from East Florida. The Bahamas in this way gained an accession of six to seven thousand inhabitants, the newcomers outnumbering the old population. The arrival of so many merchants and experienced planters with considerable gangs of slaves brought about a great increase of trade and prosperity, cotton and Guinea corn being extensively grown.
In Jamaica the loyalists were especially welcomed, and exempted from taxation for seven years. Some lists of the new arrivals appear to exist, but they must of necessity be very incomplete.
---
THE GREAT SEAL OF JAMAICA.
Long gives a good description of the early seal (vol. i, p. 48).
Obverse.-The royal arms and titles.
Reverse. - King Charles II. enthroned in royal robes, holding the globe and sceptre. At his feet two negroes kneeling and supporting a basket of West Indian fruits.
On the Exergue.- CAROLUS SECUNDUS DEI GRATIA MAGNAE BRITANNIAE
FRANCIAE ET HIBERNIAE REX DOMINUS JAMAICAE. FIDEI DEFENSOR.
Below is this motto: DURO DE CORTICE FRUCTUS QUAM DULCIS.
My impression is in beeswax covered with paper, attached to a document of 1787. Like all the other ones its diameter is 4.4 inches.
Obverse.-The royal arms of King George III.
On the Circle.-Inscription illegible.
Reverse.-To the left stands the king in royal vestments, crowned, in his right hand the globe and sceptre, the left hand outstretched. To the right, kneeling on his left knee, is a negro holding on his right knee a basket of fruit. Above the latter's head are the arms and crest of Jamaica.
On the Exergue.-Inscription illegible. Long says the inscription of this seal was mutatis mutandis the same as that already described.
---
MS. LIST OF STUDENTS
In the College of Chemistry, Scotland, from 1755 to 1765, and of the Materia Medica, Jan. 7, 1761, etc., 985 names, including many from America and West Indies, 8vo, half-bound, xviii Cent.
Several of the names have M.D. placed after them. Others have the County added in a later hand.
1756 Samuel Gittens
1760 James Cockburn Sc., Jamaica
1762 David Grant. Jamaica
1762 John Woodruff. Jamaica
1763 John Harris. Jamaica
1763 Dr John McKittrick
1765 George Harris. Jamaica
1765 James Virgo. Jamaica
---
© 2013. Jamaican Family Search hereby grants you a limited license to copy and use the materials provided on this site solely for your personal, non-commercial use. No other use of the site or materials is authorized. You agree that any copy of the materials (or any portion of the materials) that you make shall retain all copyright and other proprietary notices contained therein. Posting of materials on other Web Sites is strictly prohibited.
---
SEARCH THIS SITE
---
GO TO:
Help - Frequently Asked Questions
Jamaica Almanacs Slave-owners, Civil & Military officers, Magistrates etc.
Items in the Samples Directory
Items in the Members Directory
Transcriptions from Registers and Wills (Church of England, Dissenters, Civil Registration)
Jamaican Roman Catholic Church Registers - transcriptions
Jamaican Methodist Baptisms - transcriptions
Jewish births marriages deaths - transcriptions