Jamaican Family Search Genealogy Research Library
CARIBBEANA VOLUME III Extracts
HEYWOOD
Peter Heywood of the cittie of Westminster, Esq. Will dated Sept. 1641. To be buried in the parish church of St. Margarett. To the poor £5. One third of all rents to my wife Elizabeth, 1/3 to my son Thomas Heywood, the other 1/3 equally to my sons William Heywood and Peter Heywood. To my son Thomas Heywood my seale ring and £200. My son William £300. My youngest son Peter Heywood £300. My daughter Martha Heywood £500. Daughter Kath. Heywood £300. My son-in-law John Brookes £20., and to all his children by my dau. Elizabeth, deceased, being 5, £20 apiece. My son-in-law John Avery and Mary his wife my dau. £100 between them, and to Mary Averie their dau. £20. My son-in-law Thomas Martiall and Margret his wife my dau. £100 between them. To my wife Elizabeth the est. I have in my dwelling house holden of the Dean and Chapter, also 2 parts of all such penalties as shall be granted by Parliament against "John James whoe stabbed mee into the body with a dagger in Westminster hall," the other 1/3 to my son Thomas H. My sons William and Peter to be paid at 21 and dau. Kath. at 18. All residue to my wife Eliz. and sole Executor, in the p. of Jo. Tyson, Emery Hill, Walter Gray, John Heaton. To my friend Mr. Humfrey Shalcrosse £5. Proved 24.Jan. 1641 by Eliz. the relict.
(4, Cambell.)
______________
Peter Heywood of the parish of St James, Clarkenwell, gent. 20 Aug. 1653. To be buried in the parish church. To my couzin Edmund H., son to my uncle William H., deceased, £50. My aunt Mary Mott, widow, £30. My couzin Eliz. Wright £20. Couzins John Gardner and Susan his wife £20. My couzine John Bentley and Alice his wife £20. My brother John White and his wife my sister £20 apeece. My couzin Mr. Robert Rookes £3. Poor 40s. To 20 honest poor housekeepers to be chosen by Mr. Thomas Baker and Master Henry Barker 10s. apiece. Couzin Ann Coxe dau. to Mr. Anselino Mapp and Amye his late wife, decd. My second couzin Edmund H. is bound for the East Indyes. Mr. Chr. Barnard my kind friend £5., and sole Executor. I have £200 in gold to pay legacies. All residue to my brother John White. Proved at Westminster 15 Sept, 1653 by Chr. B. (164, Brent.)
Buried 1653 Sep. 3. Peter Heywood.
______________
James Modyford Heywood of Maristow, co. Devon, Esq. Will dated 2 April 1796. My wife Catherine £5000. I have sold my plantation of Heywood Hall in Jamaica to Donald Campbell, Esq., for £18,000. My dau. Frances H. My dau. Maria Henrietta, now wife of Lewis Montolieu, Esq. My dau. Sophia, wife of John Masters, Esq. My dau. Emma, wife of Albemarle Bertie, Esq.
Codicil dated 5 Nov. 1796. My dau. Frances has since married Thomas Orby Hunter, Esq. Proved 1798. Testator died 22 April 1798. (262, Walpole.)

______________
JAMAICA. MODYFORD TO HEYWOOD. 1684.
Articles of Agreement made this 3 Oct. 1684, 36 Charles II. betweene Dame Elizabeth Modyford the widdow and relict and administratrix of the goods &c. of Sir James Modyford Knight late deceased, John Deane of Mattingley co. South'ton Esq. and Mary his wife and Eliz. Herne of the same place widdow of the one part; and Peter Heywood of Jamaica Esq. and Grace his wife of the other part, which said Mary Deane and Eliz. Herne and Grace Heywood are the onely children of the said Sir James Modyford and the said Dame Eliz. Modyford and are the coheires of Sir James. Whereas Sir J. M. was seized of a considerable estate both real and personal in Jamaica it is agreed that Peter Heywood shall have all such and in consideration of 5s. payable to Dame Eliz. Modyford, and of £650 with interest at 6 per cent, payable to John Deane and Mary his wife, and of £650 &c. to Eliz. Herne, they sell and release to him all the lands, houses and goods (not described), he to sign bonds for £1000 each, a debt payable to Sir Charles Modyford excepted, and Whereas there will be due to Grace wife of the said Peter Heywood after the decease of Dame Eliz. Modyford £1000 as her share of £3000 now out at interest and hereby excepted it shall be part of the security to be secured by the bonds. Signed by Eliz. Modyford, John Deane, Mary Deane, Eliz. Herne, Peter Heywood, Grace Heywood. Seals missing. On one large skin.
______________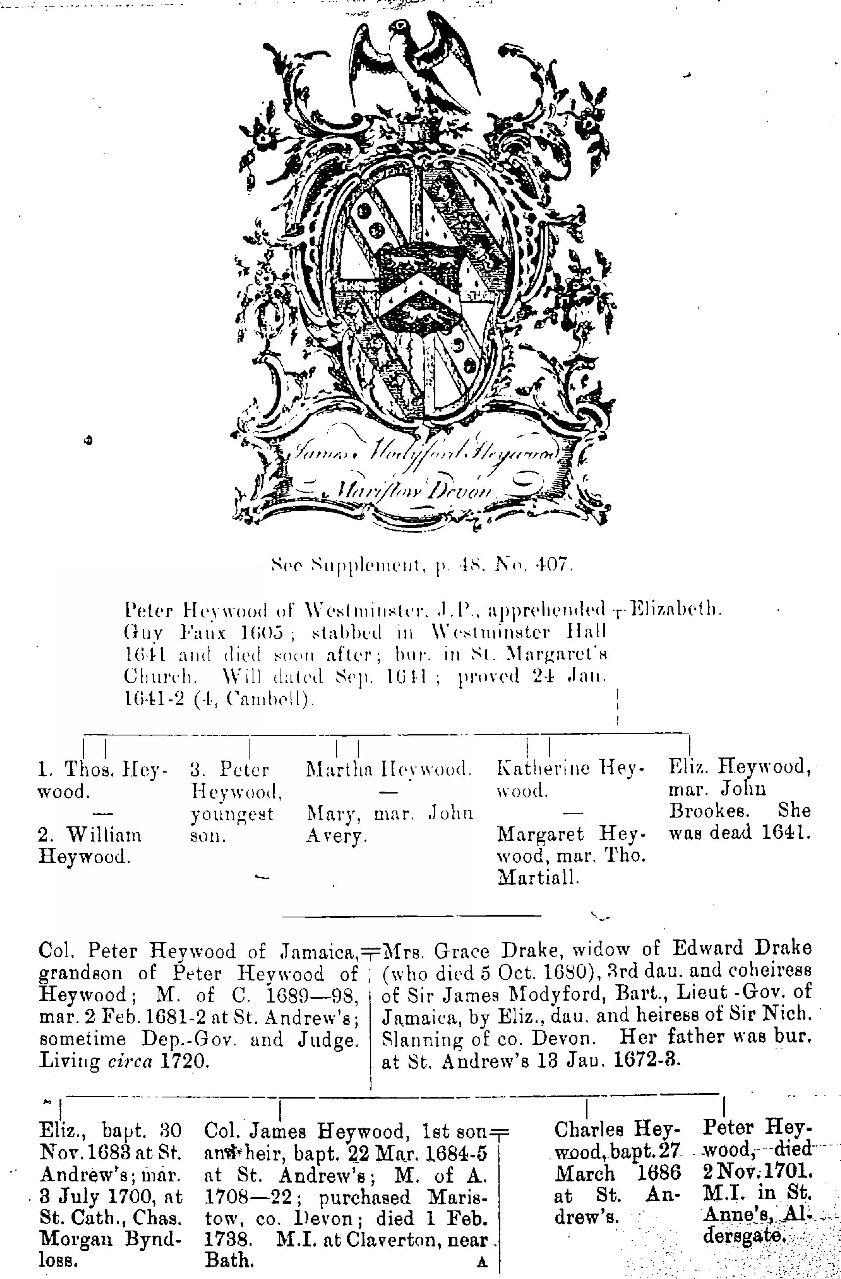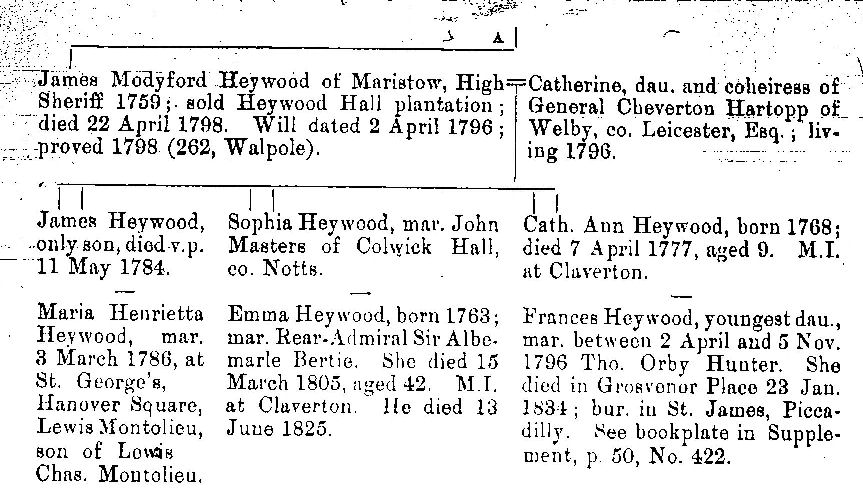 ______________
ST. CATHARINE.
[British Museum, Add. MS. 27,968, fol. 44.]
1679, Aug. 5. Edward Drake and Grace Modyford bapt.
1700, July 3. Charles Morgan Byndloss and Elizabeth Heywood marriage.
______________
ST. ANDREW'S.
1681-2 Feb. 2. Peter Heywood and Grace Drakes marriage
1683 Nov. ;30. Elizabeth daughter of Captain Peter and Catharine (sic) Heywood bapt.
1684-5 March 22. James* son of Peter and Grace Heywood bapt.
1686 March 27. Charles son of Peter and Grace Heywood bapt.
------------
* M. of A. for St. Thomas in Vale, 1708-9 and 1713(?); St. Catherine, 1714; St. Mary, 1718 and 1719; St. Dorothies, 1721,1722. (Note by J. Roby.)
______________
ST. GEORGE'S, HANOVER SQUARE.
1786, March 3. Lewis Montolieu of this parish Esq. and Maria Henrietta Heywood, of St.Marylebone. License. Witnesses: J. M. Heywood, S. C. Musters, F. Heywood.
______________
ST. ANNE'S ALDERSGATE, LONDON
Peter Heiwood, younger Son of Peter Heiwood, one of the Counsellors of Jamaica, by Grace, Daughter of Sir John Muddeford, Knight and Baronet, Great Grandson to Peter Heiwood of Haywood, in the County Palatine of Lancaster; who apprehended Guy Faux, with his dark Lanthorn: And for his zealous Prosecution of Papists, as Justice of Peace, was sftabb'd in Westminster-hall, by John James, a Dominican Frier, Anno Dom. 1640. Obiit Novem. 2, 1701.
Reader, if not a Papist bred,
Upon such Ashes gently tread.
(Hackett's "Epitaphs," i, 285, published 1757.)
On 15 October 1913 I visited this church, which has been restored and a wood block floor fixed. The verger knew nothing of the inscription, and no stone can be found. There is a blue ledger, however, with shield (without arms), but crest. a falcon with wings raised-the Heywood crest. No inscription has ever been cut on the stone.
John is an error for James Modyford.
______________
CLAVERTON, CO. SOM.
On the north wall of the tower, on a black and white marble tablet, surmounted by an urn in broken pediment:-
Near this Place
lie interred the Remains
of JAMES HEYWOOD of Maristow
in the County of Devon Esqr.
who died Feby. 1st 1738.
And of CATHERINE ANNE HEYWOOD
Daughter of JAMES MODYFORD HEYWOOD Esqr.
She died April 7th 1777
Aged nine Years.
Also the Remains of
EMMA BERTIE
Wife of REAR ADMIRAL BERTIE
and Daughter of
JAMES MODYFORD HEYWOOD Esqr.
She died March 15th 1805
Aged 42 Years.
There is a shield, but with no sign of any arms having ever been painted on it.
_________
On a floor-stone within the altar rails:-
Sacred to the Memory
of EMMA BERTIE
ALSO OF
JAMES HEYWOOD
who died Feby. 1, 1738
ALSO OF
CATHERINE ANN HEYWOOD
She died April 7: 1777
INTERRED IN VAULTS NEAR THIS PLACE
______________
The Maristow estate was sold in 1798 by testator's four daughters and coheiresses to Sir Manasseh Lopes, Baronet, of a wealthy Jewish family also from Jamaica.
By Close Roll of 18 Oct. 1750 Lewis Charles Montolieu of Albemarle Street paid £4500 to the Executors of William Dunbar and the mortgage of Parham plantation of 400 acres in the parish of St. Peter the estate of Arthur Freeman was transferred to him. ("Antigua," ii., 265.)
See the pedigree of Montolieu in Howard's "Mis. Gen. et Her.," 4 S., ii., 157.
Sir Albemarle Bertie, R.N., Admiral of the White, created a baronet in 1812, died s.p. 24 Feb. 1824, aged 70. (Burke's "Extinct Baronetcies.")
1834, Jan. 23. In Grosvenor-place, Fanny widow of Thomas Qrby Hunter, esq. She was the fourth and youngest dau. and coheir of the late John Modyford Heywood, esq. of Maristow House Devonshire, by a dau. of General Chiverton Hurtopp, Governor of Plymouth, and sister to Mary Countess Howe. Her sisters were: Sophia, the wife of John Masters, esq. of Colwick-hall, Notts; Emma, the wife of Adm. Sir Albemarle Bertie, C.B.; and Maria, wife of the late Lewis Montolieu, esq. Her remains were interred at St. James's, Piccadilly. ("G.M.," 450.)
1738, Feb. 13. James Heywood, Esq.; of Maristow, Devon. (Ibid., 109.)
1751, Feb. 19. James Heywood, Esq.; at Marristow near Modbury, Justice of Peace for Devonshire. (Ibid., 91.)
1784, May 11. At Kempsey, near Worcester, James Heywood, esq.; only son of James Modyford Heywood. of Maristow, co. Devon. (Ibid., 397.)
---
© 2013. Jamaican Family Search hereby grants you a limited license to copy and use the materials provided on this site solely for your personal, non-commercial use. No other use of the site or materials is authorized. You agree that any copy of the materials (or any portion of the materials) that you make shall retain all copyright and other proprietary notices contained therein. Posting of materials on other Web Sites is strictly prohibited.
---
SEARCH THIS SITE
---
GO TO:
Help - Frequently Asked Questions
Jamaica Almanacs Slave-owners, Civil & Military officers, Magistrates etc.
Items in the Samples Directory
Items in the Members Directory
Transcriptions from Registers and Wills (Church of England, Dissenters, Civil Registration)
Jamaican Roman Catholic Church Registers - transcriptions
Jamaican Methodist Baptisms - transcriptions
Jewish births marriages deaths - transcriptions