Jamaican Family Search Genealogy Research Library
CARIBBEANA, Volume II
SIR THOMAS LYNCH, GOVERNOR OF JAMAICA
The Lynch family was possessed of a small estate called Grove, in the parish of Staple in the county of Kent. They were of some antiquity, for arms were confirmed to them in 1572. Theophilus Lynch, bapt. 1603, appears to have married the dau. and heir of .... Rixton of Rixton Hall, in the village of Great Sankey in the parish of Prescot in Lancashire, whose pedigree was entered in the Herald's Visitation of that county. 'Hall Whittle,' an ancient building, supposed to have been the seat of the family of Sankey, was subsequently occupied by the Rixtons of Sankey, who were seated here in the sixteenth century, and is now the property of Lord Lilford." (Baines's "Lancashire," edited by Croston, v., 33.)
No entries relating to the family of Theophilus Lynch could be found in the Prescot parish register; but from Warrington (the nearest church to Sankey) the parish clerk sent me the three following, though he could not discover the marriage:
BAPTISMS
1633 May Thomas sonne to Theophilus. Lince, Gent., the twelvth day.
1635 August Judeth daughter unto Theophilus Linch, Cristened the seacond daie.
BURIAL
1629 Maie Thomas Rixton, Gent., the last day.
______
In the List of Disclaimers at the Herald's Visitations (Ryland, p. 47) appears: "1667. Theophilus Lincke, Rixton Hall, Lancaster."
1654, Dec. 12. Thomas Lynch, oldest son of Theophilus Lynch of Great Sankey, co. Lancaster, gent. (Foster's "Gray's Inn Admissions," 269.)
He is supposed to have been an officer in the Expedition to Jamaica in 1654-5, but his name does not appear in Firth's "Narrative of General Venables."
1660, Nov. 28. Capt. Thomas Lynch from Jamaica, then on furlough in London, petitioned the Privy Council for an order to return in one of the King's Ships. ("Colonial Calendar," p. 491.)
"COLONIAL CALENDAR," 1661-1669.
1661, Jan. Grant to Tho. Lynce (sic) of the office of Provost-Marshal of Jamaica for life. 4.
1662, Ap. 16. Capt. Tho. Lynch named in an action for slander. 86.
1662, ? Dec. Militia, 5th Reg. 24 officers and 356 men. Lt.-Col. Lynch. 118.
1663, Ap. 9. Resolved that Lt.-Col. John (sic) Lynch be sworn of the Council. 128.
1663, Ap. 28. Minutes of Council. Lt.-Col. Tho. Lynch and others to contract with a carpenter for building a bridge. 130.
1663, Oct. 23. Ditto. Ordered that Lt.-Col. Lynch cause an Assembly of 30 freeholders to be fairly chosen in the several quarters of the island before Dec. 20 next. 165.
1663, Dec. 15. Rules to be drawn up for the Assembly by Lt.-Col. Lynch and others. 173.
1664, Ap. 5-7. Minutes of Council. Lt.-Col. Lynch chosen President in the absence of Sir Charles Lyttelton until the arrival of another Governor. 196.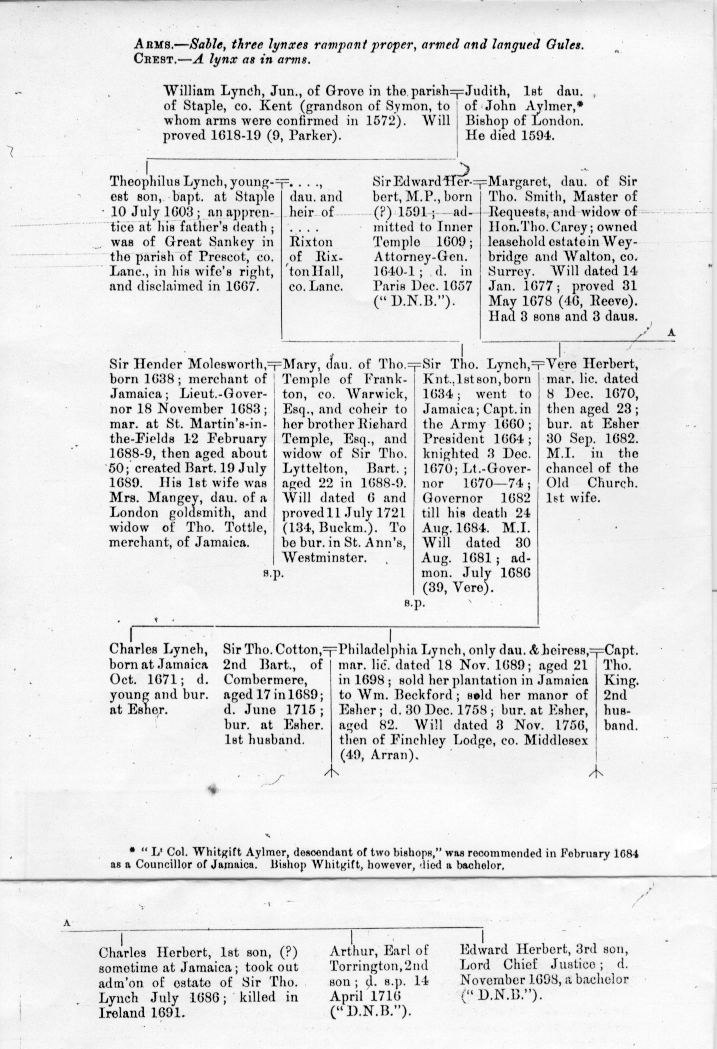 (1664, May 2. Sir Charles Lyttleton, the Dep.-Gov., sailed for England. "Calendar!'
for 1675-6, Addenda 143.)
1664, May 25. Letter from Lt.-Col, Tho. Lynch that he was chosen President by the Council. 210.
1664, June 6. Lt.-Col. Tho. Lynch sworn a Councillor. 212.
1664, July 21. Sir Tho. Modyford writes of "Col. Lynch the Provost- Marshal a pretty understanding gentleman and very useful here; he has an estate, and would be very well beloved were he sheriff instead of marshal." 224.
1664, Oct. Sir Chas. Lyttelton writes that he left the Government in the Council, who chose Col. Lynch President, whom be also appointed commander of the forces and judge of the courts. 238.
1665, Feb. 12. Lt.-Col. Tho. Lynch writes that the Governor has discharged him from his Council and office of Chief Justice. It only constrains Lynch's return and prevents the resolution he had to marry, send for his relations, and make this his England. Starts to-morrow towards New England. Intends in Spain to obtain permission to buy cattle in Cuba. Though 10 years of sufferings and hazards have endeared the Island (of Jamaica) to him, yet resolves never to return. 277.
1665, Feb. 20. Govr. Sir Tho. Modyford writes that he is attempting a trade for cattle at the South Keys of Cuba, and Col. Lynch, in a youthful bravery, intends to apply for a licence at Madrid to purchase 2,000 or 3,000, 281.
1665, Oct. 13. He writes to Lord Alington from Bristol. 324.
From 1665 to 1670 Col. Tho. Lynch apparently resided in England, and Le Neve thus records his knighthood:-
"Lanc. Sir Thomas Lynch of Rixton hall in Great Sonkey, Governor of Jamaica knighted at Whitehall 3 December 1670." (Le Neve's "Knights," 243.)
A week or so later followed his marriage with Vere, daughter of Lady Herbert of Weybridge in Surrey and of the late Sir Edward Herbert (miscalled "George" in the "D.N.B."), who had been. Attorney-General in the reign of Charles I., and died in 1657.
1670-1, Jan. 5. Having been this day commissioned by the King as Lieut.Governor he returned to Jamaica with his wife and family, arriving on June 25.
1671, Nov. 29. Sir Thomas wrote "that his wife was brought to bed of a son (Charles) five weeks ago." ("America and W.I.," 277.)
In Blome's "History of Jamaica" is a map of the Island engraved in 1671, with a shield of "Sr Thomas Lynch knight, present Governour of ye Isle," bearing these arms: Quarterly, 1 and 4, three lynxes rampant (for LYNCH); 2 and 3, on a bend three covered cups (for his mother, an heiress of Rixton of Rixton Hall). Sir Thomas was recalled by the King's letter of 20 November 1674, Lord Vaughan having been appointed Governor and Capt.-General by patent of the previous April 3rd.
1675. On March 7 he handed over the government to Sir Henry Morgan lately constituted Lieut.-Gov., Lord Vaughn taking over supreme command on his landing on the 13th. ("America and W.I.," 1824.)
After settling all his accounts he left in May for England, where he took up his residence at his house in Leicester Fields. He was for the next year often called before the Lords of Trade and Plantations to give information about the Colony.
In 1679-80 he purchased the manor of Esher, a few miles from Lady Herbert's home at Weybridge.
1681. His commission as Capt.-General, Vice-Admiral, & Governor-in-Chief was drawn up on Aug. 6, & he sailed about the end of the year. After being over 16 weeks windbound he quitted Madeira on 6 April 1682, leaving his wife behind at that place in a dying condition, and arrived at his seat. of government on June 14. ("America and W.I.," 99, 246.)
Lady Lynch probably returned from Madeira to Esher, as she was buried there on Sept. 30.
Sir Thomas shortly afterwards married (evidently in Jamaica) Mary, dau. and coheir of Tho. Temple of Frankton in Warwickshire (Le Neve's "Knights," 243), whose sister Anne had married in 1666 Sir Chas. Lyttelton of Jamaica.
On 25 Feb. 1684 Major Peter Beckford was described as Sir Tho. Lynch's nephew. ("America and W.I.," 590.)
1684. Col. Hender Molesworth wrote home on Aug. 30: "Sir Thomas Lynch died on the 24th instant." (Ibid., 681.)
He was buried under a black marble slab in St. Catharine's Church,* one of seven slabs lying on the floor of the chancel within the communion rails, on which were his arms, three lynxes rampant, and crest, a lynx statant, and this inscription:
"Here lyes Sir THOMAS LYNCH in Peace, at Ease, & Blest
Would you know more, the World will speak ye Rest."
(Roby, 17; Archer, 58.)
He was an able upright Governor and endeavoured to suppress piracy and privateering, which in their various forms were much encouraged by certain persons, who derived large profits from the sale of captures at Port Royal. That he was honest is proved by his dying so short of ready money, that his widow was compelled to borrow £500 for the expences of his funeral. ("America and W.I.," 722.)
The charges of embezzlement his enemies brought against him after his death were apparently groundless or trivial.
Lady Lynch, who was but eighteen at the death of Sir Thomas, retired to England, where she remarried, 12 Feb. 1688-9, Col. Render Molesworth, her late husband's great friend, for whom Sir Thomas had obtained the office of Lieut. Governor, and who as such carried on the government after his death. (See pedigree of Molesworth in Vivian's "Visitation of Cornwall," i., 327, and Collins's "Baronetage," iv., 29.)
~~~~~~~~~~~~~
*The following extract is from a letter of Mr. Frank Cundall to the Editor, dated 14 Sept. 1909 : "The tablets in the Cathedral did not, I think suffer from the recent Earthquake. With regard to Sir Thomas Lynch, Mr. Judah writes to me from Spanish Town: 'Sir Thomas Lynch was buried 25th August 1684 in the Parish Church of St. Catherine. It is safe to presume that he died the previous day.' His tombstone was evidently in the Church in Lawrence Archer's time, but when they enlarged the church some time later, the Goths put it outside the north
wall of the chancel, where it now is," On 22 Sept. 1909 he writes: "I now send you the exact wording of the entry of Sir Thomas Lynch's burial:
Parish Register of St. Catherine. Burials. 1684, August 26th. His Excellency Sir Thomas Lynch, Captain General and Commander in Chief of his Majesty's Island of Jamaica."
______________
MARRIAGE LICENCES
1606, May 23. Sir Charles Lyttelton, Kt, of St Martins in Fields, Widr, about 36, & Mrs Anne Temple, of same, Spr, about 17; consent of father [blank] Temple, Esq.; at St Margaret's, Westminster. ("Vic.-Gen. of Archb. of C.," Harl. Soc. Pub., 117.)
1670, Dec. 8. Sir Thomas Lynch, Knight, of Great Sankey, co. Lancaster, Bachr, about, 36, & Vere Herbert, Spr, about 23, dau. of Dame Herbert, of Weybridge, co. Surrey, widow, who consents; at St. Botolph, Aldersgate, or St. Fosters, London. ("Fac. Lic.," Harl. Soc. Pub., 116.)
16889, Feb. 11. Hender Molesworth, Esq., of Westminster, Widower, about 50, & Mary Linch, Widow, about 22; alleged by Sir Charles Lyttelton, Kt, of Richmond, Surrey; at St Martin in the Fields, or St James, Westminster (Ibid., 192.)
1689, Nov. 18. Thomas Cotton, of Combermare, co. Chester, Esq., Bachr, about 17, & Mrs Philadelphia Linch, of Westminster; alleged by John Tench of St Giles in the Fields, Midd., Gent. [This entry unfinished.] ("Vic.-Gen. of Archb. of C.," 126.)
ESHER, CO. SURREY. (Noted 14 July 1909.)
Lady Lynch's monument is on the north wall of the chancel of the old disused Church, and consists of a large painted and framed wooden panel, representing a handsome marble monument of various colours in the classical style, surmounted in the centre by a Shield of nine quarterings, flanked by two crests, one above either column.
CREST on the dexter side. A falcon close holding in its dexter claw a belt (COTTON). CREST on the sinister side. Seven arrows banded.
ARMS.-1, Azure, a chevron between three cotton hanks Argent (COTTON); 2, Gules, a lion rampant between three crescents Argent (SALUSBURY); 3, Sable, three lynxes Argent (LYNCH) ; 4, Per pale Azure and Gules, three lions rampant Argent (HERBERT) ; 5, . . . . a fess Gules between three [? tigers] passant .... ; 6, . . . . a fess engrailed Sable between three estoiles Gules; 7, Sable, two lions passant counter passant Argent, the one in chief towards the sinister (GLEGG);* 8, Argent, on a mount Vert a stag lodged Gules; 9, Sable, a chevron between three [?bulls' heads] Argent.
SACRED
TO THE IMMORTAL MEMORY OF VERE LATE LADY LYNCH,
WHO WITH CHARLES HER SON, AND THOMAS SALISBURY
COTTON, SON OF THOMAS COTTON ESQ, AND PHILADELPHIA
HIS WIFE, LYE BURIED UNDERNEATH
AND
OPPOSITE UNDER THE MANOR SEATS OF ESHER ARE
INTERRED THE BODIES OF WILLIAM & HENRY SALISBURY
COTTON SONS, AND OF EDWARD CLEGG ESQ NEPHEW TO
THE SAID THOMAS & PHILADELPHIA. ANNO DOM. 1703.
~~~~~~~~~~~~~
*This name is "Clegg," but close at hand on the same wall is a tablet, with impaled shield of arms, to Sir Will. Glegg, Kt, who died 9 Jan. 1706, and to Eliz. his wife (dau. of Sir Rob. Cotton, Bart., by Esther his wife). Vere, Lady Lynch, was buried here 30 Sept. 1682.
The Manor of Esher was sold by Philip Doughty in 1679-80 to Sir Tho. Lynch, who held his first court 26 April 1680. He died before 1685. Philadelphia and Tho. Cotton held a court 12 Dec. 1689 and sold the estate later to John Latton. Charles Herbert as Guardian to Philadelphia Lynch presented in 1689, and Tho. Cotton and Philadelphia his wife in 1699. (Manning and Bray, ii., 754)
_______________
The following is painted on a panel of the gallery:
Charitable gifts to the parish of Esher.
HIS EXCELLENCY SIR THOMAS LYNCH, KNIGHT,
LATE GOVERNOR OF JAMAICA.
The sum of One Hundred Pounds the third part of the Interest of which to the MINISTER for Preaching an Annual Sermon in commemoration of VERE, him first Lady, on the Thirtieth day of September for ever. Five Shillings to the CLERK and the rest to the Poor of the said Parish. Four Acres Two Roods and Twenty-one Perches of Land in a certain Common Field called the Great Clay towards the repairs of the Church.
---
HAUGHTON TO COTTON.
This Indenture made the 27 Sept. 1693 between Valentine Haughton of the parish of St Maryes in the Island of Jamaica Esqr of the one part & Edward Broughton of ditto Esq. Guardian to Thomas Cotton Esq. & Philadelphia his Wife sole dau. & heir of Sr Thomas Lynch late of Jamaica Knt deceased of the other part. WHEREAS by agreement of 2 Nov. 1682 it was agreed that Sr Tho. Lynch & Val. Haughton should be partners for 12 years & V. Haughton covenanted to invest in Sr Tho. the freehold of a moiety of 1000 acres ill the parish of St Maryes on which he (V. H.) lived & with the moiety of 31 negroes with their pickaninges 6 cows & 4 horses with the planted land & houses worke doggs tooles etc. except the then crop of cotton & ginger & 2 negro women & a mollata girl & 40 acres which V. H. had invested John Applegate & Wm Farrer with in consideration whereof Sr Tho. agreed to place on the plantation 31 good negroes & pay £500 st. for necessaries £100 whereof to be for buying in England 5 coppers & 1 still & convey to V. H. the moiety of 1000 acres in St Maryes called Jennyesland & to build another sugar work & V. H. by his deed poll of 26 June 35 Chas. 2d confirmed to Sr Tho. a moiety of 1000 acres bounding N. on. Doctor Fulke Rose & Lieut. Tho. Martin, E. on Anthony Collyer Esq., S. on Charles Atkinson & W. on Mr Edward Broughton & Mr Nich. Phillpott granted by patent of 24 June 26 Charles 2d also the 1/2 of 14 negroe, men & 13 women & V. H hath given no accompt until Ed. B. brought an action of ejectment when it was ordered by the Court in Nov. last that all accompts should be adjusted by Fulke Rose Esq. chosen by Ed. B., Chas. Boutcher Esq. by V. H. & John Walters by the Court & they found that V. H. was indebted. in £689 currency & 1/2 his Crawle land & £6. 6. 10 costs of the suit & £155 c. for the moiety of negroes sold to him by E. B. & 5 for costs of. a former suit now V. H. in consideration of the total of £855 due to the Cottons conveys to Ed. B. for them his 1/2 of said 1000 acres the other 1/2 whereof was conveyed to Sr Tho. L. in his lifetime also the 1/2 of 1020 acres in St Maryes bounded N. on land unsurveyed & Joachim Haines, E. on land unsurveyed & Joyce's Gully next Thomas Guess, S. on unsurveyed woodland & Little Slippery River & W. on Thomas Guesse, George Frye & unsurveyed land which said 1/2 was granted by Sr T L. also 1/2 of the 40 acres & his share of negroes &c. but if V. H. repay the £855 with interest on 1 Oct. 1695 this deed shall be void.
Signed by Vall. Haughton in the presence of John Moone, M. Figes. Schedule attached names of 19 negroe men 20 women 13 boys 16 girls 40 cattle 11 mules. Sworn by John Moone Esq. 10 Oct. 1693 before Fulke Rose. Enrolled 16 Oct. 1693 by Edward Broughton Secy. A true copy. (Abstract from copy of a deed of six large sheets of paper in the Editor's possession.)
___________________
WILLS
D'na Margareta Herbert. Will dated 14 January 1677. All my real and personal estate to be laid out in the purchase of annuities for my dau. Margaret Herbert and two of my dau. the Viscountess Mordant's children and of lands for the maintenance of two Ministers. My dau. Viscountess M. and my son Sir Thomas Linch Executors. All my personal estate and Bainton Grange to be sold. My estate in Weybridge to be exchanged for 3 lives--the first my dau. Margaret H., the others my dau. Viscountess Mordant's two children. The life I have in Cary House to be sold to purchase £40 a year in Cumberland, Westmorland, or Northumberland for the maintenance of two ministers. The concealed lands I have a right to in Yorkshire. The old lease contains Weybridge House and garden of £40, Milett's Mead £16. 10s, Jeson's meado £15, Three Knights £3. 10s, Hankers Butts £6. 10s, Eleaven Acres in Purcroft £4, 28 acres in the Comon Meade £40. Total £125. 10s per annum. The other lease to be renewed for 31 years and sold. In that is contained the Brewhouse, 3 Corner close, a close by the Bear, Hones 9 acres, Hones 3 acres, Hones 4 acres, Hones meadow, Hone's little meadow. In this and Chersey parish £34. 15s per annum. Other lands in Walton parish £30. 16s. My dau. Linch my lease of Oatelands. Those that have the leases to allow my son Edward £50 a year. If necessary Gason's meade to be sold to the Duke of Norfolk. My cozen Smith's annuity. To be buried by my Father. The poor of this parish and of Fulham. Legacy to Mr Kine.
Proved 31 May 1678 by Eliz., Viscountess Mordant, and Sir Tho. Lynch, Kt (46, Reeve). On 26 May 1685 commission to Margaret Agar, wife of John Agar, the dau. of testatrix, who was of Weybridge, deceased, Eliz.; Viscountess Mordant, and Sir John Lynch being dead.
______________________
Sr Tho. Lynch of Esher, co. Surrey, Kt. Will dated 30 August 1681. While my debts are paying my Wife to have £200 per annum and my dau. £120 per annum. My office at Jamaica to be continued, likewise my £300 per annum being for a great debt the King owes me. When my debts are paid I give to my Wife the yearly profit of all my estate in England and Jamaica until my dau. or wife marry, then I only give my Wife £200 per annum and my house in Lester ffields [Fields]. To my said dau. Philadelphia all my estate, but if I leave a son she shall have £2000. If she die then my lands in Lancashire after my Wife's death to my sister Eliz., then to my sister Judith Freeman, then to my cousin Eliz. Tomlinson. To my sister Eliz. £40 per annum. £100 to my Father's Wife. £150 to my cozen Judith Agar, and as much to my cozen Eliz. Payne my Uncle's daus., and £600 to the necessitous of our relations as my uncle Aylmer* Lynch direct, and my manner of Esher, etc., to Christchurch Hospital in London. My Wife Vere Lynch to be Executrix, and my friends Sr Chas. Lyttleton of London, Knt, Mr. Tho. Duck and Mr. Tho. Goddard of London, merchants, and Hender Molesworth, John Bourdon, and Tho. Freeman of Jamaica, Esqres, Trustees and Overseers, and £50 apiece for a ring. Witnessed by Henry Harrington, Jos. Whiston. (39, Vere.)
18 August 1691. Commission to Sr Rob. Cotton, Knt and Baronet, the Guardian of Philadelphia Cotton alias Lynch, now Wife of Tho. Cotton, Esq., the dau. and only issue of testator, late at Jamaica, deceased (Dame Vere Lynch having died in his
~~~~~~~~~~~~~~~~~~
* He was baptized 23 November 1600; son of William Lynch of Staple, co. Kent; B.A. Cam. 1622, B.D. 1642; died 24 January 1691; M.I. at his Rectory of Langley Burrell, Co. Wilts, Will (60, Fane). (See Howard's "Misc. Gen. et Her.," New Series, iv., for notes of his family.)
_________
lifetime), the adm'on of July 1686 granted to Charles Herbert, Esq., for her use having expired by his death.
4 April 1694. Commission to Tho. Cotton, Esq., the husband and guardian of Philadelphia Cotton.
18 May 1698. Commission to Philadelphia Cotton, wife, of Tho. C., Esq., she being now of full age.
_____________________________
Dame Mary Molesworth of St. James's, Westminster, co. Middlesex, widow. Will dated 6 July 1721. To be buried in the church of St. Ann's, Westminster, near my late husband. To Sir Tho. Lyttleton, Bart., £400 in trust to pay the debts of my niece Lady Carew Biddulph, wife of Sir Theophilus Biddulph, Baronet, and £60 a year to her. My sister Rebecca Brownell, widow, £25 a year. Mrs. Anna Maria Amphlet £20 a year till 21 or marriage. Mrs. Penelope Enstone £4 a year. Mrs. Susanna Thorogood 40s. a year. My niece Mrs. Katherine Lyttleton £100. Mrs. Carew Hilton £10. My friend Mrs. Bromley £50. Friend Mrs. Pitts £50. Mrs. Eliz. Pitts, and Mrs. Mary Pitts £10 each, Mrs. Eliz. Bromley, £10. Mrs. Jane S____ [faded] £5. Mrs. Eliz. Brett £10. Mary Wheatman £5. Eliz. Leggate [faded], Tho. Smith, who now lives with me, £500 at 21. To the Charity S___ of St. Martin's in the Fields, £50, and the like to that of St. Ann's, Westminster. Sir Robert Cotton of Cumbermere my silver bason and eure. All arrears of rent due to me in the Island of Jamaica to my nephews Mr. Tho. Barnard, Mr. James and Mr. Temple Laws. All residue to my nephew Sir Tho. Lyttleton, Baronet.,* and my niece Mary Plowden, and to be Executors. Proved 11 July 1721 by Sir Tho. Lyttleton and Mary Plowden (wife of William Plowden, Esq.). (134, Buckingham.)
______________________
Dame Philadelphia Cotton of Finchley Lodge, co. Middlesex, widow. Will dated 3 November 1756. To be buried at Esher, co. Surrey. To the poor there £5. Mrs. Ann Lukin £50. Eliz. Mullinier £5 a year. To My dau. Hester Maria Salusbury, wife of John Salusbury, Esq. all the plate of my first husband Sir Tho. Cotton, Bart (list). My dau. Philadelphia Boycott my diamond buckle. My dau. Sidney Arabella Cotton my bed. My daus. Sophia Cotton and Sidney A. Cotton my goods at Bath. My son Sir Lynch Salusbury Cotton all my real estate and negros in Jamaica, on trust to carry out the sale thereof to William Beckford, Esq., and the proceeds and all residue for my two grandsons Lynch Salusbury Cotton and Tho. Cotton, two of my said son's younger sons, at 21. Dr. William Mecham £50. Mr. Tho. Whitfeld £100. To them and my son all residue of my personal estate to sell for my granddau. Philadelphia Cotton at 21 or marriage and to be Executors.
Codicil. 6 May 1758. My granddau. Mary Cotton, third dau. of my son. On 8 February 1759 administration to Philadelphia Cotton, spinster, the granddau. and residuary legatee, the three Executors having renounced. (49, Arran.)
1758, Dec. 30. Relict of Sir Robert Cotton, Baronet. "G.M.," 1759, 46.)
~~~~~~~~~~
* One of this name, the third Baronet., was Speaker temp. William III, and died s.p. January 710. (Burke's "Extinct Baronetage.")
_________
FROM ADDITIONS AND CORRECTIONS
From St. Andrew's Parish Register. Bur., 1673, April 17, Thomas Totthill.
Abstract of Title of Dame Philadelphia Cotton's 817 acres: 30 Aug. 1681, Sir Thomas Lynch's will recited. 9 April 1717, Thomas King and Dame Philadelphia Cotton his wife convey to Joseph Banks and Henry Cliffe on Trust lands in Jamaica for their lives, then to any children. Her late husband Sir Thomas Cotton, Baronet 10 July 1720, Deed poll revoking the above. 20 July 1721, Resettlement to her husband after her death. 11 Aug. 1733, Will of Thomas King bequeathing all his plantations to her, she to care for his son Cotton King.
1754, Nov. 29. Dame Philadelphia Cotton of Finchley, widow, dau. and sole heir of Sir Thomas Lynch of Jamaica, Knight, in consideration of £464 sells to William Beckford of London, alderman, her 1/4 of lands in St. Catherine's of 2600 acres, which 1/4 was in 1672 conveyed by Anthony Collier and others to Sir Thomas Lynch.
---
© 2013. Jamaican Family Search hereby grants you a limited license to copy and use the materials provided on this site solely for your personal, non-commercial use. No other use of the site or materials is authorized. You agree that any copy of the materials (or any portion of the materials) that you make shall retain all copyright and other proprietary notices contained therein. Posting of materials on other Web Sites is strictly prohibited.
---
SEARCH THIS SITE
---
GO TO:
Help - Frequently Asked Questions
Jamaica Almanacs Slave-owners, Civil & Military officers, Magistrates etc.
Items in the Samples Directory
Items in the Members Directory
Transcriptions from Registers and Wills (Church of England, Dissenters, Civil Registration)
Jamaican Roman Catholic Church Registers - transcriptions
Jamaican Methodist Baptisms - transcriptions
Jewish births marriages deaths - transcriptions