Jamaican Family Search Genealogy Research Library
CARIBBEANA, Volume II
ARCHBOULD OF JAMAICA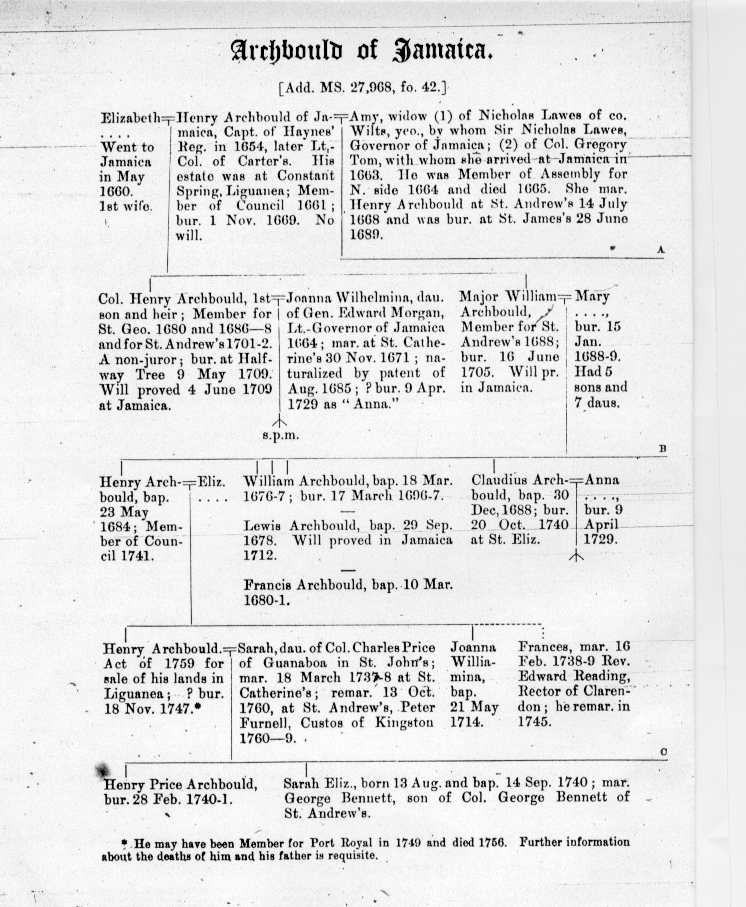 A________
Col. James Archbould, bap. 20 Dec. 1669; mar. 11 June 1706 Elizabeth Lascelles, (bur. 28 Jan 1711-1712 at St. Andrew's)
Member for St. Andrew's 17024 and for St. David 1713; Member of Council;
bur. at St. Andrew's 24 Sep. 1721. s.p. Will dated and proved in Jamaica 1721.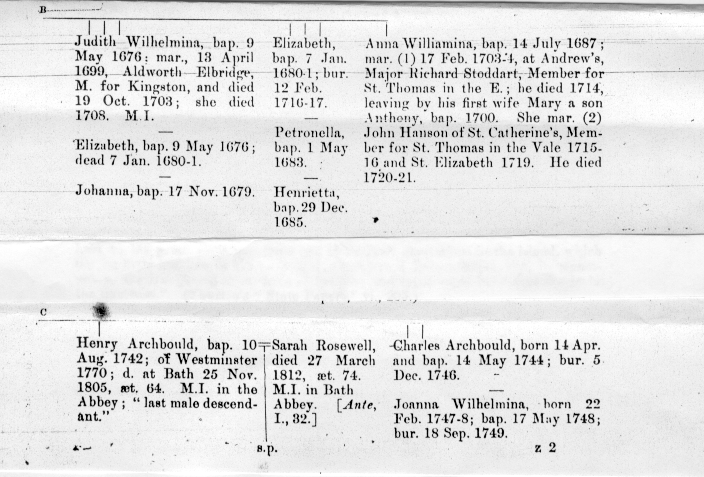 Add. MS. 27,968, fos. 42 and 43, consist of a double sheet, of foolscap written by John Roby 3 November 1832, from the Custom House at Montego Bay, addressed to Charles Edward Long, care of Messrs. Oswald Smith and Co. of London, and containing the following entries from Parish registers, together with a tabular pedigree to which Long made a few additions and corrections. Use has also been made of Article XVI. on "Constant Spring," by Mr. F. Cundall, in the "W.I. Committee Circular" for 6 December 1910. Mrs. Leopold Scarlett has also contributed notes from her very rare copy of Roby's "History of the Parish of St. James."
1654, Dec. Venables' Army.
Lieut. Thomas Archbould of the General's Regiment.
Capt. Henry Archbould of Haines' Regiment.
1657, Ap. Cagway in Jamaica.
_____________
Lt. Gen. Will. Brayne, Governor of Jamaica, to Secretary Thurloe:
"This time of straites hath put me into a necessity of removing some active officers out of one regiment into another, especially one lieutenant-colonel Archbold, to his great prejudice, from one of the best plantations in the island, which will be little less loss to him than £100, therefore I have allowed him, in recompense the fraughting of 30 tons of fustick; and accordingly have sent it now in the Successe." (Thurloe's " State Papers," vi., 235.)
---
1658, June 10. To Elizabeth Archbold, the wife of Henry Archbold, for the better transporting of her and her family to her husband at Jamaica, £20. (Ibid., vii., 488.)
1770, Oct. 12. Indenture between Henry Archbould, late of Kingston, Jamaica, now of Panton Sq. in St James', Westminster, Esq., of the one part, and Benjamin Gee, gent., witnesseth that in consideration of £420 Henry Archbould sells to Benjamin Gee an annuity of £70. Reciting that by Indenture of 24 July 1765 Daniel Moore of Kingston Jamaica, Merchant, in consideration of £13,340 conveyed to H. A. that plantation in St. Andrews called Constant Spring of 1400 acres, 400 acres of mountain, also Archboulds Penn om St. Catherine of 211 acres. An annuity of £200 was sold to John Hyde. Signed by H. Archbould.
1783, March 26. Indenture between John Hyde of St. Geo., Han. Sq., Esq., only son and heir and residuary legatee of John H., late of Cornhill, Merchant, and George Healy of the one part, and Ebenezer Maitland of London, Merchant, of the other, Lease for a year of the Constant Spring plantation by Hyde to Maitland. (Coleman's Deeds.)
---
ST. CATHERINE'S, JAMAICA.
MARRIAGES
1671 Nov. 30. Henry Archbold & Joanna Morgan
1737-8 Mar. 18 Henry Archbold, Junr. of St. Andrews & Sarah Price of St. Catharines.
BURIALS.
1735 May 14 William Archbould.
1739 April 2 Ann Archbold.
_____________
ST. ELIZABETH, JAMAICA,
BURIALS.
1729 April 9 Mrs. Anna Archbould.
1740 Oct. 20 Claudius Archbold, Esq.
_________________
ST. ANDREW, JAMAICA.
MARRIAGES.
1668 July 14 Collo. [Colonel] Henry Archbould & Amy Tom.
1699 April 13 Aldworth Ellbridge & Judith Archbould.
1703-4 Feb. 17 Richard Stoddard & Anne Williamina Archbold.
1706 June 11 Capt. James Archbould & Elizabeth Lassels.
1760 Oct. 13 The Honourable Peter Furnell, Esq., of the parish of Kingston, Custos Rotulorum, & Sarah Archbould of this parish, Widow. [There is a duplicate entry in Kingston parish register.]
BAPTISMS.
1669 Dec. 20 James son of Col. Henry Archbould.
1672 Dec. 10 Morgan son of Capt. Henry Archbould.
1676 April 28 Henry son of Capt. Henry & Johannah Archbould.
1676 May 9 Judith & Elizabeth daughters of William & Mary Archbould.
1676-7 Mar. 18 William son of William & Mary Archbould.
1677-8 Feb. 2 Elizabeth dau. of Capt. Henry and Johanah Archbould
1678 Sep. 29 Lewis son of William & Mary Archbould.
1679 April 5 Anna Maria dau. of Capt Henry & Johanah Archbould.
1679 Nov. 17 Johanah dau. of William & Mary Archbould.
1680-1 Jan. 7 Elizabeth dau. of William & Mary Archbould.
1680-1 Mar. 10 Francis son of William & Mary Archbould.
1683, May 1 Petronella dau. of William & Mary Archbould.
1684 May 23 Henry son of William & Mary Archbould.
1685 Dec. 29 Henrieta dau. of William & Mary Archbould.
1687 July 14 Anna Williamina dau. of William & Mary Archbould.
1688 Dec. 30 Claudius son of William & Mary Archbould.
1714 May 21 Johanah Williamina dau. of Henry & Elizabeth Archbould.
1740 Sep. 14 Sarah Elizabeth dau. of Henry & Sarah Archbould, born the 13th August.
1742 Aug. 10 Henry son of Henry & Sarah Archbould.
1744 May 14 Charles Archbould the son of Henry & Sarah Archbould, born April 14.
1748 May 17 Johanna Williamina dau. of Henry & Sarah Archbould was born Feb. 22 in the year 17478 and bapt. on the following May 17.
BURIALS.
1669 Nov. I Coll. Henry Archbould.
1675 Oct. 26 Elizabeth Archbould.
1680 Aug. 1 Morgan Archbould.
1687 Oct. 30 Frances Dorothea Archbould.
1688-9 Jan. 15 Mary Archbould, Senior
1696-7 Mar. 17 William Archbould, Junior.
1705 June 16 Major William Archbould.
1708 April 21 Henry Archbould, Junior.
1709 April 16 Elizabeth Archbould.
1709 May 9 Collo. [Colonel] Henry Archbould.
1711 May 5 Mary Eliza Archbould.
1711-12 Jan. 28 Madame Elizabeth Archbould.
1714 Sep. 8 Johanah Archbould.
1716-17 Feb. 12 Elizabeth Archbould.
1721 Sep. 24 Collo. James Archbould.
1733 July 28 William Archbould.
1740-1 Feb. 28 Henry Price Archbold.
1746 Dec. 5 Charles Archbould.
1747 Nov. 18 Henry Archbould.
1749 Sep. 18 Johanna Wilhelmina Archbould.
1757 April 24 Elizabeth Archbould.
______________
KINGSTON, JAMAICA.
BURIALS
1729 Dec. 1 Christopher Archibauld (?). Church yard.
1730 July 11 Christopher Archibauld.
________________
CLARENDON, JAMAICA.
MARRIAGES.
1738 Feb. 16 Revd. Edward Reading & Frances Archbould.
1745 Aug. 31. The Revd. Edward Reading, and Elizabeth Shuttleworth.
Roby gives from " The Royal Gazette" of Jamaica for 25 January 1806 the obituary notice of Henry A. of Bath. (See ante I, 32, and II., 230.)
On a dilapidated tombstone in the old Burial-ground of St. Andrew
[HERE LYETH] THE BODY OF THOMAS [ELB]RIDGE,* FORMERLY OF THE CITTY[OF BRI]STOL WHO DEPARTED THIS LIFE. . . . [16]82, AGED 63 YEARS. ALSO REBECCA HIS WIFE DIED OCTOBER 1684. ALSO JOSEPH YE SON DIED MAY 4, 1682. ALDWORTH ELDRIDGE, GENT., DIED THE 19 OCTOBER 1703. AND ELIZABETH JUDITH ELBRIDGE HIS WIFE THE DAUGHTER OF MAJOR WILLIAM ARCHBOULD OF YE ISLAND DIED . . . . 1708. ALL DIED AT SPRING [PLANTA]TION AT LIGUANEE.
A Rev. William Asheboold, D.D., was Rector of St. Peter's, Cornhill, in the City of London, from 1574 till his death Aug. 1622. He left a son Henry, baptized 29 Aug. 1604, who signed his pedigree at the Visitation of London in, 1634 as "H. Archbold." A Rev. Dr. Archbold of Worcester Cathedral left by his wife Elianor, dau. of Dame Kath. Hunckes, an oldest Son Henry, who was living in 1624 at the date of his mother's will. Eleanor's brother Col. Henry Hunckes was Governor of Barbados in 1639.
A William Archbold, Esq., was buried at St. Paul's, Covent Garden, 29 July 1753.
__________
[Inserted from 'Additions and Corrections':
Will of Henry Archbould of Navy Row in the hamlet of Stoke, co. Devon. All to wife Sarah Rosewell Archbould . 22 July 1804. Proved 1806 (444, Pitt).]
---
© 2013. Jamaican Family Search hereby grants you a limited license to copy and use the materials provided on this site solely for your personal, non-commercial use. No other use of the site or materials is authorized. You agree that any copy of the materials (or any portion of the materials) that you make shall retain all copyright and other proprietary notices contained therein. Posting of materials on other Web Sites is strictly prohibited.
---
SEARCH THIS SITE
---
GO TO:
Help - Frequently Asked Questions
Jamaica Almanacs Slave-owners, Civil & Military officers, Magistrates etc.
Items in the Samples Directory
Items in the Members Directory
Transcriptions from Registers and Wills (Church of England, Dissenters, Civil Registration)
Jamaican Roman Catholic Church Registers - transcriptions
Jamaican Methodist Baptisms - transcriptions
Jewish births marriages deaths - transcriptions