Jamaican Family Search Genealogy Research Library
CARIBBEANA, Volume II
HAUGHTON JAMES and HERRING

---
BOOKPLATE OF HAUGHTON JAMES ESQ. OF JAMAICA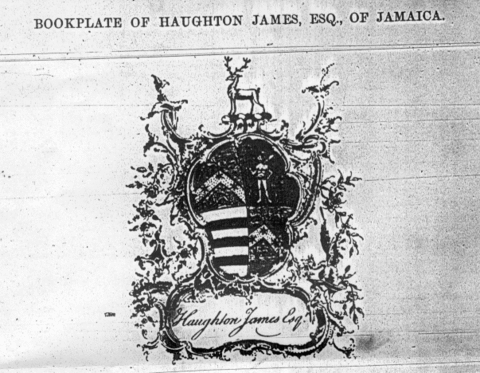 ARMS: Quarterly: 1 and 4, Azure, on a chevron between three lions passant guardant Or, as many mullets of six points Sable [JAMES]; 2, Sable, a man Argent holding in the dexter hand a club; 3, Argent, three bars Sable [HAUGHTON]
CREST. A stag statant. (Burke's "Armory " gives: A demi-lion rampant, etc.)
"Papworth," p. 498, gives: Azure, on a chevron between three lions passant-guardant Ermine, as many escallops Gules, [JAMES, Haughton Hall, Hanover, Jamaica]; quartering HAUGHTON, HALTON, FISHER, FOWLER, DRAYNER, and PARSON." These quarterings are all on the tomb at E. Barnet, co. Herts, of Sir Simon Haughton Clarke, Bart. (Cussans "Herts," iii, 68.)
The will of Haughton James, Esq. of Jamaica was proved in 1744 (216, Anstis). He had been. Member of Assembly for Hanover 1726-36, and is stated to have died in 1740 (Feurtado). Haughton James, son of Haughton James of Jamaica, Esq., matriculated from St. Mary Hall 9 May 1755, aged 17 (Foster). 1813 Oct. 23. In Piccadilly, Houghton James, esq. ("G.M.," 508). As the bookplate is in the Chippendale style it probably belonged to the last-named. Some twenty years ago I met a Mr. Haughton James in the, R.M.S. "Moselle" going to Jamaica, so I hope the family may still be flourishing in its native island. [EDITOR]
---
HERRING OF JAMAICA*
The following letter is from Sir Isaac Heard, Garter, to a solicitor who was acting for William Beckford and Captain Julines Herring in obtaining confirmation of their arms. In the same parcel as this letter were the two Memorials, together with a copy of the Beckford pedigree, "Extracted from the Heralds' Office 19th Oct. 1802."
College of Arms 5 Decr. 1791.
Agreeably to what was settled at our last convention I inclose several Memoranda for enquiries to be made in Jamaica. Your brother will be able to point out a proper person for the collections, viz. one that is active intelligent & industrious, that "no stone may be left unturned" that may afford us an inscription or any part of the information we are in pursuit of. Certainly there must be in Jamaica+ who can give an Account of the connections, either from memory, or tradition, of most of the families of Rank in Jamaica, & those of a Lieutenant Governor# most assuredly will not remain a blank in such chronological memories.
If you had obtained anything relative to the Will, of the Lieut. Governor you would have communicated the same to
Dear Sir, Yours faithfully devoted
I. HEARD G.
P.S. I am still pursuing the fishery, for Herrings§--to tell the truth I have been hitherto very unlucky.
Thomas Wildman, Esq.
* Contributed by the Editor
+ The writer has omitted a word or two here.
# This must refer to Peter Beckford.
§ Note the pun here.
==============================
TO THE MOST NOBLE CHARLES DUKE OF NORFOLK EARL MARSHAL AND HEREDITARY MARSHAL OF ENGLAND.
The Memorial of Thomas Wildman of Lincoln's Inn in the County of Middlesex Esquire in behalf of Julines Hering of Heybridge in the County of Essex and of Pauls Island the parish of Westmorland Jamaica Esquire late a Captain in the Army
SHEWETH
That the Arms long used by the Family of Hering, antiently established in the Counties of Warwick and Salop as appears by ancient Funeral Atchievements etc. are Vert on a Band a cinquefoil between Two Lions passant guardant; but the same not having been duly registered in the College of Arms, your Memorialist requests the favor of your Grace's Warrant to the Kings of Arms concerned for their exemplifying and confirming the same, to be borne by the said Julines Hering and his Descendants and by those of his Great Grandfather Nathaniel Hering Esqr. Grandson of John Hering Esq., Mayor of Coventry in 1612 where his Ancestors had been chief Officers of the City in their Course almost for the Space of 200 Years, according to the Laws of Arms. And your Grace's Memorialist shall &c.
Endorsed: Memorial of Thomas Wildman Esqr. in behalf of Julines Hering, Esq.
Thomas Wildman was a well-known solicitor and M.P. There is a tablet to him in Twickenham Church. He died 21 December 1795, aged 55.
=====================
TENTATIVE PEDIGREE OF HERRING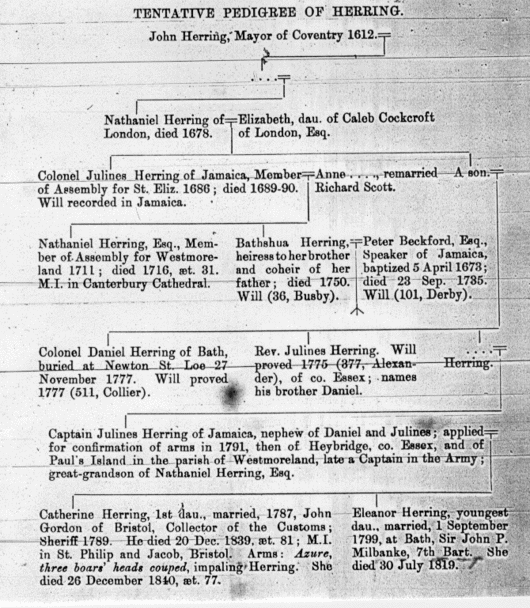 =====
TO THE MOST NOBLE CHARLES DUKE OF NORFOLK EARL MARSHAL AND HEREDITARY MARSHAL OF ENGLAND.
The Memorial of Thomas Wildman of Lincolns Inn Co. Middlesex Esqr. Agent on behalf of William Beckford of Fonthill Giffard Co. Wilts Esq.
SHEWETH
That Peter Beckford Esq. Speaker of the Assembly in the Island of Jamaica, father of the late Right Honourable William Beckford Lord Mayor of the City of London, married Bathshua one of the Daughters & at length Coheirs of Julines Hering of the said Island of Jamaica Esqr., sometime a Colonel in the Army that the Arms born by her Family were Vert, on a Bend Argent a Cinquefoile between two Lions passant Guardant Gules. That the same having been omitted to be inserted in the Patent of Augmentation to the Armorial Ensigns of William Beckford Esqr. Grandson of the said Bathshua, in August 1791, your Memorialist Requests the favor of your Grace's Warrant to the Kings of Arms concerned for their exemplifying the said Arms of Hering with such distinction as may be necessary with those of Beckford Quarterly at the Foot or on the Back of the said Patent.
And your Memorialist shall &c.
Endorsed: Memorial of Thomas Wildman Esq. for Arms of Hering.
_____________________________
1775. (377, Alexander.) Rev. Julines Herring of co. Essex. Nephew Captain Julines Herring at Jamaica. My brother Col. Daniel Herring.
1777. (511, Collier.) Daniel Herring of Bath, Esq. Nephew Julines Herring of Jamaica.
________________________
BATH ABBEY.
1777 Nov. 27. Colonel Herring; was carried away to Newton S. Loe.
____________________________
CANTERBURY CATHEDRAL.
"Memorial Inscriptions in Canterbury Cathedral," by J. M. Cowper, 65.)
Pavement of south-west transept:
Sub hoc Marmore jacet
NATHANIEL HERRING Armigr:
Jamaicae Natus [born in Jamaica]
Patriae Decor,
Omnibusque Delicium
Anno: Aetatis Suae Obit: 31
1716 [Died in 1716 aged 31 years]
ARMS.... on a bend.... a cinquefoil between two lions passant, a crescent for difference. CREST. On a helmet a dexter arm embowed, holding in the hand a sword.
Nathaniel Hering of London Esq., died 1678 and by his wife Elizabeth, dau. of Caleb Cockcroft of London, Esq. (through whom a descent is derived from Edward III.), had a son Julines Hering of Jamaica, a Colonel in the Army, who died 168990, and by Anne his wife (who remarried Rd. Scott) had a son, the above. Nathaniel Hering, who died 1716, and an only dau. Bathshua, died 1750 (heiress to her brother), who married Peter Beckford, Esq., Speaker etc., who died 1735. (See tabular pedigree in Rutters " Fonthill.")
On p. xxi Rutter gives the arms of Hering as quartered by Beckford, Vert, on a bend Argent a cinquefoil between two lions passant guardant Gules.
_________________________
1799, Sep. 29. At Bath, Capt. Milbanke, to Miss Herring, of Jamaica. ("G.M.," 1191.)
===================
Herring Additions and corrections.
Will, dated 7 Oct. 1624, of John Herringe of the city of Coventry, alderman and mercer. To be buried in Holy Trinity Church near the font where my Father lies. Joane my wife £100 and a messuage. Son Julian Herringe of Shrewsbury a messuage, his 2 daughters. My daughters. Elizabeth Herringe, Joane Cranwell, Ann Ferren, and Elline Herringe. My sister Coxe. Brother-in-law Mr. John Piplee. Proved 12 May 1625 (55, Clarke).
1854, Nov. 5. At Southampton, aged 86, Oliver Herring, of Heybridge Hall, Essex, and Paul Island Estate, Jamaica, barrister-at-law. ("G.M.," 646.)
Julines Herring of Jesus College, Cambridge, (B.A. 1716, M.A. 1720), incorporated 2 Nov. 1731. (Foster.)
Joane Herring, widow of John Herring of Coventry, made her will 13 March 1626, and named her eldest son Julines and his son Nathaniel, Richard her second son, and her 3 daus. Joan, Ann, and Elizabeth. Proved 21 Nov. 1628 (97, Barrington.)
Capt. Julines Herring married 4 Oct. 1681, Anne Harris.
Mrs. Anne Fitz-James, a widow, a dau. of ...... Herring, remarried Edmund Percival, and left her lease of Heybridge to her nephew the Rev. Julius Herring of Clatford, near Marlborough. (Wright's "Essex," ii., 698.).
---
© 2013. Jamaican Family Search hereby grants you a limited license to copy and use the materials provided on this site solely for your personal, non-commercial use. No other use of the site or materials is authorized. You agree that any copy of the materials (or any portion of the materials) that you make shall retain all copyright and other proprietary notices contained therein. Posting of materials on other Web Sites is strictly prohibited.
---
SEARCH THIS SITE
---
GO TO:
Help - Frequently Asked Questions
Items in the Samples Directory
Items in the Members Directory
Photographs, maps, prints, etc.
Jamaica Almanacs (property owners; civil & military)
Registers (Church of England, Dissenters, Civil Registration); Wills
Jamaican Roman Catholic Church Registers
Immigration Immigrants to Jamaica