Jamaican Family Search Genealogy Research Library
CARIBBEANA, Volume IV
MURRAY and MODYFORD

---
MURRAY OF GARLAND GROVE, JAMAICA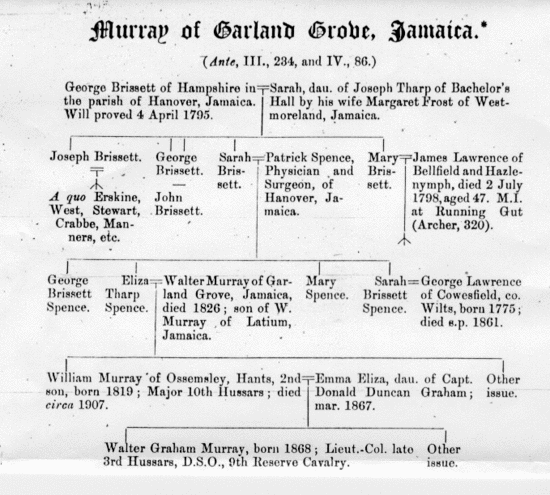 [Surnames included in Pedigree: Brissett, Tharp, Frost, Spence, Lawrence, Graham]
The above Major William Murray, 10th Hussars, was the hero of the "Northumberland Street Tragedy" in the sixties or seventies of the nineteenth century.
___________________________
Indenture of 13 Jan. 1810 between Henry Murray Esq. Major in the E. battery of Suffolk militia of the 1st part; Anna Murray of Ipswich spinster eldest daughter of the said Henry Murray of the 2d; Charles Murray of St. Thomas in the East Jamaica Esq. of the 3rd. Whereas Henry Murray under the wills of his two brothers John Murray late of St. Thomas planter and Gideon Murray late of the same St. Thomas planter is seized of 3/4 of River View plantation in the said parish and Ann Murray of 1/4 they sell to Charles Murray for £6250. John Murray's will dated 13 Aug. 1789. Gideon Murray's 11 March 1790, naming the natural children of his brother James. [EDITOR.]
John Murray of Philiphaugh, M.P. co. Selkirk, married daughter of .... . Thompson. He succeeded his Father in 1753. His daughter Janet married Dennis of Jamaica and his dau. Mary married John Macqueen of Jamaica. (Burke's " Landed Gentry.") [EDITOR]
________
*Contributed by Mr. Erskine E. West.
---
MODYFORD OF JAMAICA
John Modiford of the cittie of Exon, merchant. Will dated 8 Aug., 1 Chas., 1625. Marie and Grace Modiford, my 2 eldest daughters, £500 each in 1 year. To Sara, Anne, Joane and Margerie Modiford, my 4 younger daus., £500 at 21 or marriage. To Thomas, John, James, Henrie and Robert Modiford, my 5 sons, £500 at 22 or £5,500 to be paid out of the 1/3 part of my goods which by the custom of said city shall belong to them. Marie my wife shall have all my messuage, lands, etc., in Shuthanger in the parish of Halberton, co. Devon, and my house in N'gate Street in which I now live and all leases, and after her death all said lands to son Thomas. My sister now wife of Robert Skibbowe £60, then to her children. To the s. and dau. of brother-in-law Chr. Potter, £5. My sister Margaret £3. 6s. 8d. yearly. £20 to poor of Exeter. To each of my 11 children £100 1year after marriage. All residue to wife and executrix. My sister Richard (sic) Skibbowe.
Codicil. My son Robert, deceased. I have another daughter Hester to have his legacy, 29 Jan. 1627. Proved 25 July 1628 by Marie Modiford. (65, Barrington.)
____________________
Thomas Walker, Alderman of Exeter. Will dated 20 Nov. 1628. 1st. son James Walker, 2d son John Walker, dau. Sara Walker £800, £400 more if she marry with consent of Executor. Dau. Marie Modiford £900, her 5 eldest children Marie Modiford, Grace Modiford, Sara Modiford, Anne Modiford, and Thomas Modiford., and her 6 youngest children John Modiford, Joane Modiford, James Modiford, Margery Modiford, Henry Modiford, and Hester Modiford. My youngest son Henry Walker has had £500, and I give him £500 more. 3d son Robert Walker. (78, Ridley.)
______________
Margery Modyford, now of Kensington, co. Middlesex, dau. of John Modyford, late Alderman of Exeter, deceased. Will dated 6 March 1651. My brother-in-law Thomas Kendall to be Executor. I have £600 due from my mother, Marie Modyford, given by my father. My sister Easter Burbidg £200 of that after my mother's death. My sister Sara Tothill £100. £300 to the three sons of Thomas Kendall, Thomas, John and James. My sister Grace Kendall and her dau. Marie Perkins. My sister Mary Modyford. My sister Mistris Anne Modyford. Proved 16 June 1652 by Thomas Kendall. (138, Bowyer.)
___________________
Sir Charles Modyford of London, Baronet. Will dated 18 Jan., 31 Chas. II, 1679. Lands in England of the yearely vallue of £350 and the ground rent and inheritance of my houses in Minsing Lane to be purchased and settled upon Dame Mary my wife for her life in augmentation of her joynture, and after her decease, upon my son Norton Modyford and his heirs male, the remainder to my son Thomas Modyford and my daus. The portion of every of my daus. and younger sons at 21 to be made up to £2000 My honoured father Sir Thomas Norton, Baronett, £100. My mother, the Lady Norton, £100. My sisters Anne, Frances, and Elizabeth, daus. of the said Thomas Norton, £100 apiece and £25 apiece for mourning. My cosen Thomas Duck, Esq., £100, and his now wife £50 and £25 apiece for mourning. My brother Francis Hanson, Esq., £100, and to my sister his wife £100 and £25 apiece for mourning. Friend Thomas Yate of Graies Inn, Esq., £100, and his wife £50 and £25 apiece for mourning. To my wife her jewells and £1000. To my Executors all my lands in the Island of Jamaica (except Palmer's Hutt and Angells and their negroes) to be sold to pay legacies, etc. Palmer's Hutt and Angells to my son Norton Modyford and all residue to Sir Thomas Norton and Thomas Duck, Executors. In the presence of Vaughan, Thomas Lynch, Edward Boteler, Thomas Blundell.
Codicil. Angells in Jamaica 3 March 1683. Gifts to my dear children according to the will of my wife Mary.* Proved 20 Dec. 1689 by Sir Thomas Norton, Knight, the surviving Executor. (180, Ent.)
*A curiously worded codicil. His wife was then alive.
---
© 2013. Jamaican Family Search hereby grants you a limited license to copy and use the materials provided on this site solely for your personal, non-commercial use. No other use of the site or materials is authorized. You agree that any copy of the materials (or any portion of the materials) that you make shall retain all copyright and other proprietary notices contained therein. Posting of materials on other Web Sites is strictly prohibited.
---
SEARCH THIS SITE
---
GO TO:
Help - Frequently Asked Questions
Items in the Samples Directory
Items in the Members Directory
Photographs, maps, prints, etc.
Jamaica Almanacs (property owners; civil & military)
Registers (Church of England, Dissenters, Civil Registration); Wills
Jamaican Roman Catholic Church Registers
Immigration Immigrants to Jamaica