Jamaican Family Search Genealogy Research Library
McCORQUODALE WILLS
Will of Alexander McCorquodale, 1742
[N A, London, PROB 11/724]
I Alexander McCorquodale chyrurgeon [surgeon] sometime of the parish of Hanover in the Island of Jamaica at present in Larichbaan1 in the parish of Inishael Argyle --
Hereby give to Rebecca Launce2 my spouse the full value of £400 Sterling money together with that tenement of land called Montpelier at Orange Bay in the parish of Hanover [map] all silver vessels and furniture table and bed linnens feather beds and pillows and blankets declaring hereby that Rebecca Launce shall be preferred to all other my legatees--
To Ann McLachlan my mother £20 Sterling money and two cows and a calf out of my stock in Larichbane--
To Mary McCorquodale my sister german relict of Alexander McCorquodale late in Kilchrennan £10 money aforesaid--
To Margaret McCorquodale my sister german spouse to Archibald Campbell in Jehterachinn the like sum of £10--
To Margaret, Isobell and Anna McCorquodale my nieces daughters to the said Alexander McCorquodale to each of them the sum of £5. 11s. --
To Annabell McCorquodale my niece the daughter of Alexander McCorquodale the sum of £5. 2s--
To Margaret McLachlan daughter to Archibald McLachlan at Clachanseill my uncle the sum of £5. 11s. aforesaid--
To John McCorquodale at Cladich and Archibald McCorquodale at Killinnin Lochawside my cousins german each £5 Sterling--
In case of the decease of any of the legatees above named except my spouse before their several legacies shall become payable then the legacy of such person deceasing shall belong to John McCorquodale my nephew son to the said [deceased] Alexander McCorquodale--
I nominate and appoint James Fisher Provost at Inverary to be sole executor and administrator of this my testament--and failing of the said James Fisher by decease I nominate his son Duncan Fisher in his room and place as executor--
In respect of the non-age of my nieces and of John McCorquodale my nephew his want of experience in business and unfitness to manage his own affairs for some years to come and in respect of the confidence and trust I have in James Fisher and Duncan Fisher I nominate and appoint them to be tutors curators and administrators to Margaret, Isobell, Ann and Annabell McCorquodales my nieces and John McCorquodale my nephew--
Finally I appoint and request Dugald Clerk of Braleckan3 to give up to my administrators one latter will formerly made by me and a receipt granted by Dugald Campbell4 in Jamaica or Duncan McCorquodale my brother german containing a list of debts due to me both put by me in Braleckan's custody consenting to the registration hereof in the Books of Councill and Session--and thereto constitute Angus Campbell writer in Inverary my procurator--
Signed at Larichbaan 2nd November 1742
Witnesses, Alexander Shearer writer in Inverary and Lachlan Mclean Sheriff Officer in Inverary
Proved in London 4th March 1742/3 by Claud Johnson lawful attorney to James Fisher.
Registered 15th April 1743 at Inverary by Angus Campbell before Archibald Campbell of Stonefield Commissar Depute of the Commissary of Argyll
______________________
[Montpelier at Orange Bay, Hanover c. 1760]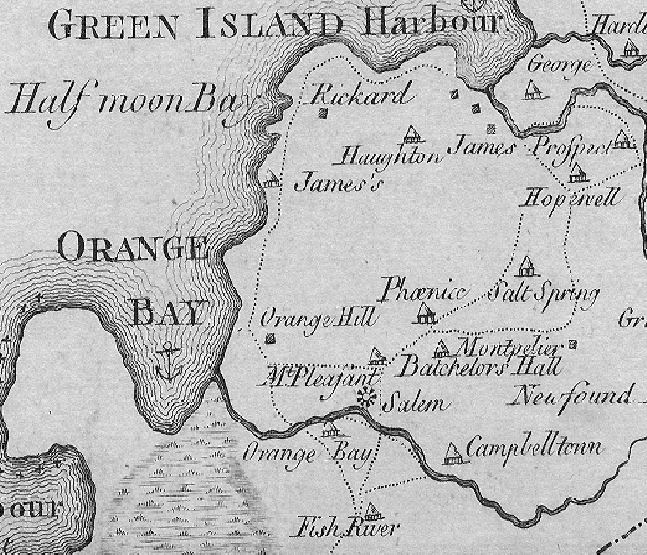 ~~~~~~~~~~~~~~~~~~~~~~~~~
1.The spellings of all place names are as written

2. Married in Jamaica, 23 October 1735 [St. Elizabeth parish register]. Rebecca Launce, daughter of William and Mary Launce of Launce's Bay Hanover [RGD, Jamaica, will of William Launce, 1723, LOS 16/70]. Rebecca later married a Campbell unidentified; her brother's will of 1767 refers to his "sister Rebecca Campbell", [NA, London, PROB 11/1013, will of James Launce, 1774]
3. Braleckan's brother, Robert Clerk, owned Pell River plantation in the parish of Hanover in Jamaica which he later bequeathed to Braleckan's eldest son John who left for Jamaica in 1749. John Clerk's "cussin", Dugald Malcolm, arrived in 1751 to manage the plantation together with another "cussin", Daniel Clerk from Virginia [NAS, Edinburgh, Clerk of Penicuik papers, GD18/5239/61 & GD18/5239/71]. Dugald Malcolm later inherited Pell River
4. Dugald Campbell at Salt Spring, Hanover [d.1744] son of Colin Campbell of Attichuan and Bessie Campbell. Dugald Campbell was Alexander McCorquodale's brother-in-law being the husband of Ann Launce, Rebecca Launce's sister.
McCorquodale's house, Montpelier, was a mile south of Dugald Campbell's [Map]. Another brother-in-law in Hanover had been James Crooks of Crook's Cove, husband to Anna Petronella Launce; Crooks had died in 1740.
Dugald Campbell's cousins, James Campbell [d.1744] and his brother Colin [d.1760] had settled at Orange Bay plantation, their brother, Peter Campbell [d.1739] at Fish River Plantation.
---
Will of Duncan McCorquodale, 1758
[N A, London, PROB 11/839]
I Duncan McCorquodale1 late of the Island of Jamaica now of London--
My whole estate real and personal I bequeath to my worthy friends Alexander Campbell of Tower Hill London merchant and Matthew Bresbaine of St. Martin in the Fields perukemaker --upon trust that they do sell and collect with the utmost speed--all such moneys as shall arise from my estate and effects in Jamaica to be placed out with all the residue of my estate at interest in Great Britain upon such securities as they shall approve--for the several uses following--
To pay to my dear wife Ann McCorquodale all the interest thereof which shall arrive during her natural life--
After her decease to pay all the residue of such principal money to my nephew John McCorquodale2 in the parish of St. Elizabeth Jamaica planter for his absolute use and benefit--3
I appoint Alexander Campbell and Matthew Bresbaine to be executors--and I also bequeath unto Margaret Bresbaine the wife of Matthew Bresbaine the sum of £5--
Inasmuch as my nephew John McCorquodale now stands considerably indebted to me I declare that the devise of the residue of my estate to him after the death of my wife shall not barr or preclude my executors in the mean time from recovering the debts from him--4
Signed, 13th September 1756
Witnesses, John Young, Edward Mudd, John Leach
Proved in London 4th July 1758 by Matthew Bresbayne the surviving executor
______________________
[Lorn, St. Elizabeth c.1760]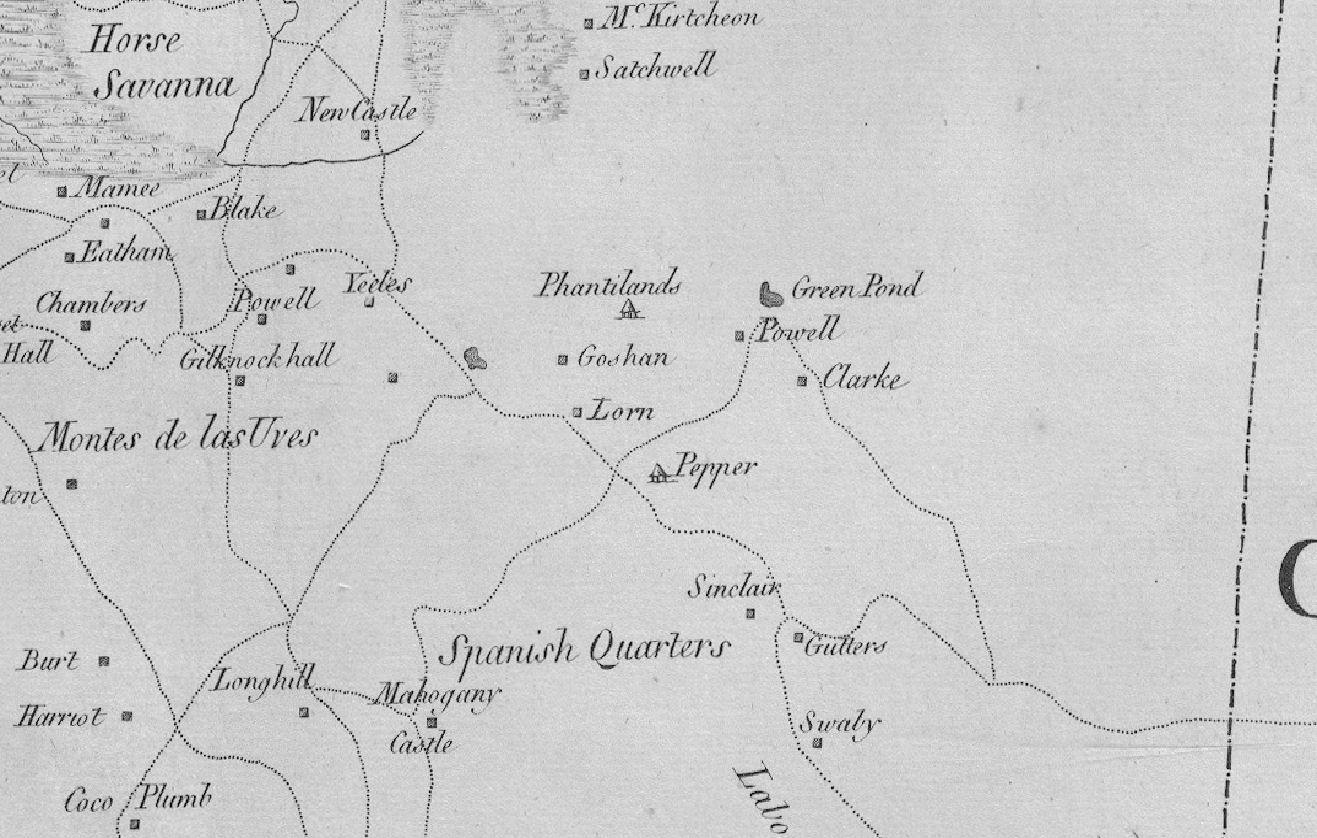 ~~~~~~~~~~~~~~~~~~~~~~~~~
1. Brother of Dr. Alexander McCorquodale "sometime of Hanover parish" [d.1742]
2. John McCorquodale became a planter at Lorn in St. Elizabeth parish, Jamaica.
By 1754 he owned 1,350 acres [NA, London, CO 142/31, "A list of Landholders in the Island of Jamaica"].
He died in Scotland where he had been "residing many months before the time of his death" when a testament and an inventory of his estate was registered at Glasgow in August 1772 [Glasgow Commissary Court, CC9/7/68]. The account amounted to £7. 5s. 6d after his goods had been sold at auction in May 1772, rent and a servant's wages being deducted
3. Duncan McCorquodale's widow, Ann, appears to have been quite unaware of John's death. Describing herself as "of Haydon St. London", she wrote a will in February 1773 in which she bequeathed to "John McCorquodale planter in Jamaica" the sum of one shilling--as soon as he shall demand the same"; £10 was left to her landlady. Her will, unaltered, was proved in London in 1784 [NA, London, PROB 11/1114] and she mentions no other monies.
4. It seems more than likely, from the tenor and circumstance of Ann's will, and the value of John's estate, that John did not repay the debts to his uncle.
John McCorquodale's nearest next of kin [1772] was a nephew in Scotland, one Duncan McCorquodale, "son of Duncan McCorquodale farmer in Kilchrennan--Argyle".
It is possible this Duncan may have died in Jamaica: in 1793, a caveat on the estate of one D. McCorquodale was entered by John M. Naughton & Patrick McIntyre. [Royal Gazette of Jamaica, 25 May 1793] The location of Lorn in St. Elizabeth is not recorded on a detailed map of 1804.
---
© 2013. Jamaican Family Search hereby grants you a limited license to copy and use the materials provided on this site solely for your personal, non-commercial use. No other use of the site or materials is authorized. You agree that any copy of the materials (or any portion of the materials) that you make shall retain all copyright and other proprietary notices contained therein. Posting of materials on other Web Sites is strictly prohibited.
---
SEARCH THIS SITE
---
GO TO:
Help - Frequently Asked Questions
Jamaica Almanacs Slave-owners, Civil & Military officers, Magistrates etc.
Items in the Samples Directory
Items in the Members Directory
Transcriptions from Registers and Wills (Church of England, Dissenters, Civil Registration)
Jamaican Roman Catholic Church Registers - transcriptions
Jamaican Methodist Baptisms - transcriptions
Jewish births marriages deaths - transcriptions