Jamaican Family Search Genealogy Research Library
Lucea East River, 18th Century
[After an undated map in the NLJ]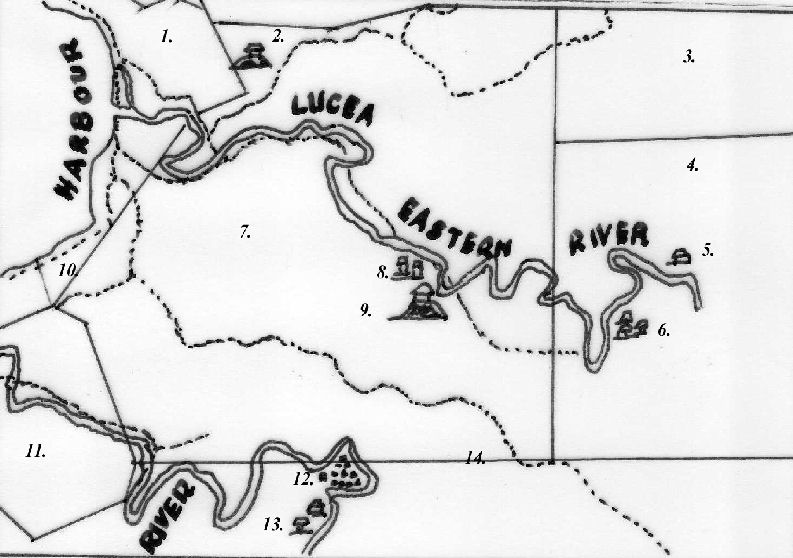 KEY
1. W. Tharp, 60 acres surveyed Dec. 10th 1674. Patented January 8th 1674
2. Mr. Bean's
3. Barbican, 250 acres, part of Sir Henry Morgan's
4. George Dehany's Esq. 600 acres part of Sir Henry Morgan's
5. Georgia House
6. Georgia Works
7. Phil. Dehaney Esq.
8. Dundee Works
9. Dwelling House
10. Rd. Murr***'s, Part of Morgan's
11. Joseph Peters, surveyed 10th June 1674
12. Negro Houses
13. Works
14. The dividing line between Beckford & Dehany.
[The Negro houses and the Works at the bottom of the map were on Windsor plantation, William Beckford's]
Notes
Sir Henry Morgan had owned some 4,000 acres of land here from the shoreline to the interior.
George Dehany Snr. died in the parish of St. John, in 1767, and left Georgia plantation in Hanover to his son, also George.
James Kerr was the owner of Dundee when he died in 1785. His wife was Ann Dehany, Philip's sister.
---
© 2013. Jamaican Family Search hereby grants you a limited license to copy and use the materials provided on this site solely for your personal, non-commercial use. No other use of the site or materials is authorized. You agree that any copy of the materials (or any portion of the materials) that you make shall retain all copyright and other proprietary notices contained therein. Posting of materials on other Web Sites is strictly prohibited.
---
SEARCH THIS SITE
---
GO TO:
Help - Frequently Asked Questions
Jamaica Almanacs Slave-owners, Civil & Military officers, Magistrates etc.
Items in the Samples Directory
Items in the Members Directory
Transcriptions from Registers and Wills (Church of England, Dissenters, Civil Registration)
Jamaican Roman Catholic Church Registers - transcriptions
Jamaican Methodist Baptisms - transcriptions
Jewish births marriages deaths - transcriptions