Jamaican Family Search Genealogy Research Library
Will of James Kerr, 1785,
[PRO London, PROB 11/1127]
(an abstract of 13 original pages)
I James Kerr of Harley Street, Cavendish Square in the county of Middlesex--
Whereas by certain deeds of settlement previous to the marriage of Alexander Fotheringham 1 to my eldest daughter Mary and by certain other deeds made subsequent--all that sugar work called Three Mile River containing by estimation 1,786 acres in the parish of Westmoreland, Jamaica--[was] assured for servicing certain annuities unto Alexander Fotheringham and Mary his wife--and a certain annuity to my wife Ann Kerr for her natural life--
And whereas from the great damage done to Three Mile River by the dreadful hurricane of 1780 and by the black blast affecting the sugar canes it is judged inexpedient to continue the said plantation as a sugar work and I am therefore desirous of drawing off the slaves and stock--and disposing of the lands together or in parcels--
And in order that in lieu thereof my plantation called Moor Park 2 in the parish of St. James may be assured for the same intents and purposes by the same deeds of settlement--it is my intention to apply for an Act of the Assembly-- 3
I hereby direct and empower my trustees--William Brown of the parish of Hanover, 4 James Sharpe of the parish of Westmoreland, and Thomas Mure and Samuel Mure and William Dunlop of the parish of Kingston 5 to procure an Act of the Assembly for vesting in them the plantation called Moor Park--
I direct my trustees to sell for the most money that may be had the plantation called Three Mile River, the lands Negroes and other slaves (excepting fifty of the said slaves at the choice of my trustees which I direct shall be equally divided between my plantations called Dundee and Moor Park) and all my houses, lands, tenements and hereditaments situate at Savanna-La-Mar, and also a run of land belonging to me patented in the name of William Hepburn 6 for 300 acres situate in the parish of Westmoreland--together or in parcels--
I direct that the purchase money be remitted to my executors in Great Britain and be applied to the discharge of my debts and the overplus be considered as part of the residue of my estate--
I give and devise unto my wife Ann Kerr £500 (Sterling)--my household furniture, plate and carriage--and during her natural life one annuity of £400--chargeable upon the sugar work called Dundee in the parish of Hanover 7 together with the annuity already secured to my wife upon Three Mile River and intended to be transferred from thence to Moor Park in full lieu of the dower and thirds and all claims upon my estate--
I devise unto Alexander Fotheringham and Philip Dehany 8 all my plantation called Dundee-- [half] to the use of my daughter Ann Kerr during the term of her natural life upon trust--and after her decease to the child or children of [her] body lawfully begotten--share and share alike--as tenants in common--
I devise the moiety or equal half part of Dundee to the use of my daughter Elizabeth Kerr during the term of her natural life to take the rents and profits--and after her decease to the child or children of [her] body lawfully begotten--share and share alike--as tenants in common--
And for default of such issue then to the use of my daughter Mary Fotheringham and [her] heirs and for default of such issue to the use of Mary Dehany, 9 the daughter of Philip Dehany during the term of her natural life--
And in case all my three daughters shall happen to die without issue then I subject and charge Dundee with the payment of the sum of £5,000 (Sterling) to be paid unto my brothers and sisters equally between them and the children of my deceased brothers and sisters--
I hereby set free my Negro slaves named John Forrester and Myrtilla--and I bequeath to each of them and also to my Negro servant named Isaac Hendrie an annuity of £8 (Sterling) chargeable upon Dundee and I direct that each of them shall have the liberty and right of residing as free people upon Dundee during their natural lives--
I bequeath all the residue and remainder of my estate unto the use of my daughters Ann Kerr and Elizabeth Kerr share and share alike as tenants in common--
I direct that the annuity payable by me to Thomas Trelawny Esquire for his life shall be considered as and of my debts--and payable out of my plantations Dundee and Moor Park
I appoint my wife Ann Kerr, Alexander Fotheringham, Philip Dehany, Robert Mure 10 and Richard Atkinson 11 executrix and executors of my will and guardians of the persons and estates of my daughters Ann and Elizabeth during their respective minorities and I appoint William Brown and Samuel Mure executors of my will for Jamaica during the pleasure only of [the other executors named]
Signed, James Kerr, 11th May 1783
Witnesses, Neill Malcolm, James Stothert, Daniel Berry
Proved in London 16th March 1785 by Ann Kerr, Alexander Fotheringham, Philip Dehany, Robert Mure and Richard Atkinson
~~~~~~~~~~~~~~~~
1. Colonel Alexander Fotheringham of Powrie (about 5 miles from Dundee, Forfar in Scotland)
2. See Map 2
3. "In 1783 a private act was passed for vesting Three Mile River in Westmoreland in James Kerr freed from the uses of the settlements of Alexander Fotheringham Esq. and Mary his wife, formerly Mary Kerr." [Feutardo, 'Personages']
4. William Brown of Kew estate, Lucea bordering Dundee [Map 1]. Brown's wife was Mary Kerr James.
5. 'Mures & Dunlop' was a merchant partnership in Kingston associated with 'Atkinson & Mure' of London
6. A witness to the will of James Campbell of Orange Bay, d.1744
7. See Map 1
8. Son of David Dehany of Hanover. Philip Dehany died in London [1809] leaving all "estate and effects in whatever part of the world" to his daughter Mary Salter Dehany [Will of Philip Dehany, NA, London, PROB 11/1506]
9. Mary Salter Dehany, spinster, died in the parish of Hayes, Kent, [1832] leaving all her "property real or personal in Gt. Britain, Jamaica or Barbados to my dear Wilhelmina Barbara Trail" [Will of Mary Dehany, NA, PROB 11/1801]
10. Robert Mure was a partner of Richard Atkinson in 'Atkinson & Mure' of London
11. Richard Atkinson was an Alderman of the City of London, West India merchant, and Jamaica proprietor. He died in 1787
---
Notes on family
Both James Kerr and Philip Dehany were planting attorneys to Thomas Hall [d.1772] who had married Mary Dehany, Philip's sister. Both were also executors for Hall's will.
James Kerr's will does not explain his relationship to Philip Dehany (and Philip's daughter Mary, a legatee 'in remainder') but Thomas Hall, in his will probated 1772 [NA, PROB 11/982] names both James Kerr and Philip Dehany as his brothers-in-law. Thomas Hall did not have a sister Ann. James Kerr's wife would therefore have been Ann Dehany, the sister of Philip, both children of David Dehany of Hanover [his will, NA, PROB 11/811] who died at Point in 1754.
Ann Kerr, 'widow of Bath, Somerset', died at Dundee, Scotland in 1792, probably visiting her daughter Mary Fotheringham. Her daughters Ann and Elizabeth, unmarried at the time, inherited her property interests [Will of Ann Kerr, NA, London, PROB 11/1223].
In 1797 Elizabeth Kerr married William Dallas, an Edinburgh lawyer [Edinburgh Advertiser, 28 February]. The Kerr's married daughters lived in Scotland but it is not known what became of their daughter Ann. By 1810 Dundee belonged to Walton Murray and Moor Park to John Gordon senior.
Notes on business
James Kerr was: an executor for John Blagrove [d.1754]; associated in 1769-70 with William Virgo, James Spence, David Hine and Donald Malcolm all of Hanover, and Ephraim Dunn of Westmoreland in the purchase and assignment of Retrieve plantation in Hanover; attorney at Salt Spring, Hanover during John Campbell's absence in 1772, and at the same time partner with Dugald Malcolm of Pell River in the ownership of Prospect, Hanover.
Neill Malcolm, one of the witnesses to Kerr's will, was a nephew of Dugald, a brother to Donald and owned the Retrieves by 1800.
---
Map 1 part of Hanover, c. 1800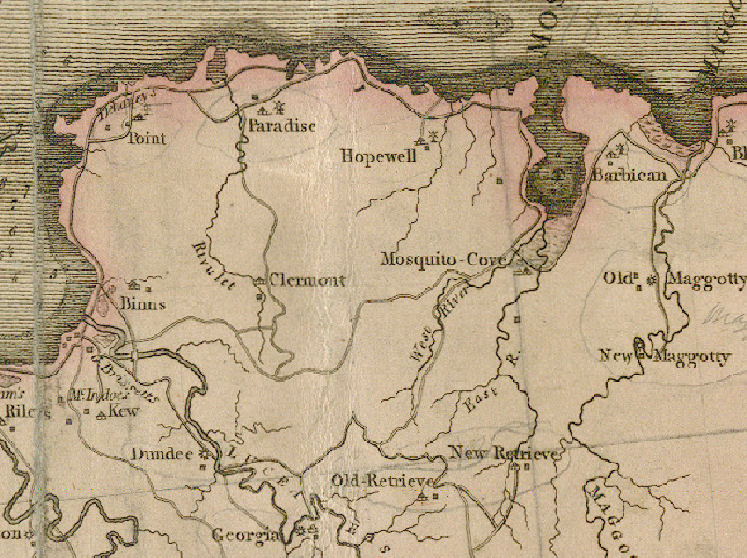 Estates: Dehany, Point, Barbican, Georgia. Kerr, Dundee. Brown, Kew. Malcolm, Retrieve(s). Blagrove, Maggotty(s)
---
Map 2 part of St. James c. 1800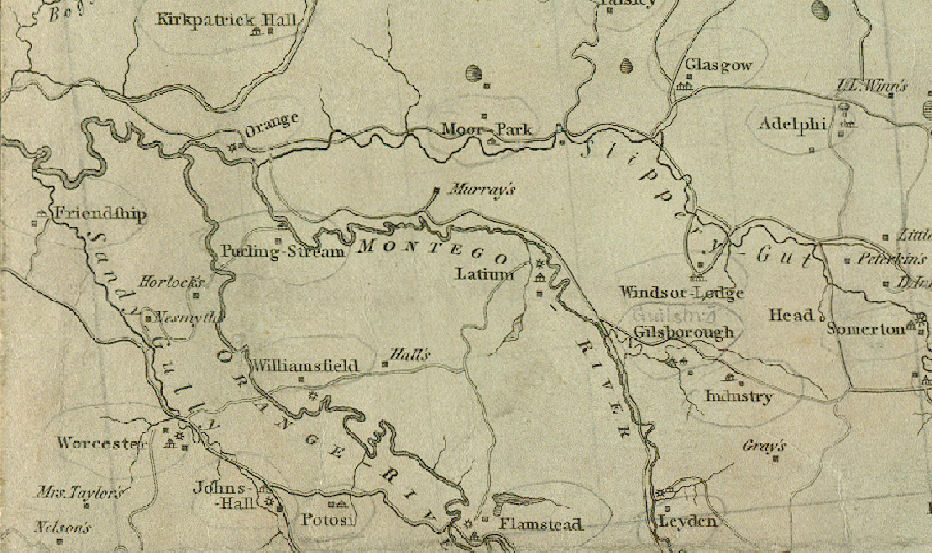 Moor Park was noted in 1774 as a new estate settled with 138 slaves, the property of James Kerr. Kirkpatrick Hall, Johns Hall, Worcester and Williamsfield were estates belonging to the Hall family when Kerr had been planting attorney to Thomas Hall [1769-1772]
---
© 2013. Jamaican Family Search hereby grants you a limited license to copy and use the materials provided on this site solely for your personal, non-commercial use. No other use of the site or materials is authorized. You agree that any copy of the materials (or any portion of the materials) that you make shall retain all copyright and other proprietary notices contained therein. Posting of materials on other Web Sites is strictly prohibited.
---
SEARCH THIS SITE
---
GO TO:
Help - Frequently Asked Questions
Jamaica Almanacs Slave-owners, Civil & Military officers, Magistrates etc.
Items in the Samples Directory
Items in the Members Directory
Transcriptions from Registers and Wills (Church of England, Dissenters, Civil Registration)
Jamaican Roman Catholic Church Registers - transcriptions
Jamaican Methodist Baptisms - transcriptions
Jewish births marriages deaths - transcriptions