Jamaican Family Search Genealogy Research Library
1763 MAP OF JAMAICA
and List of Property Owners shown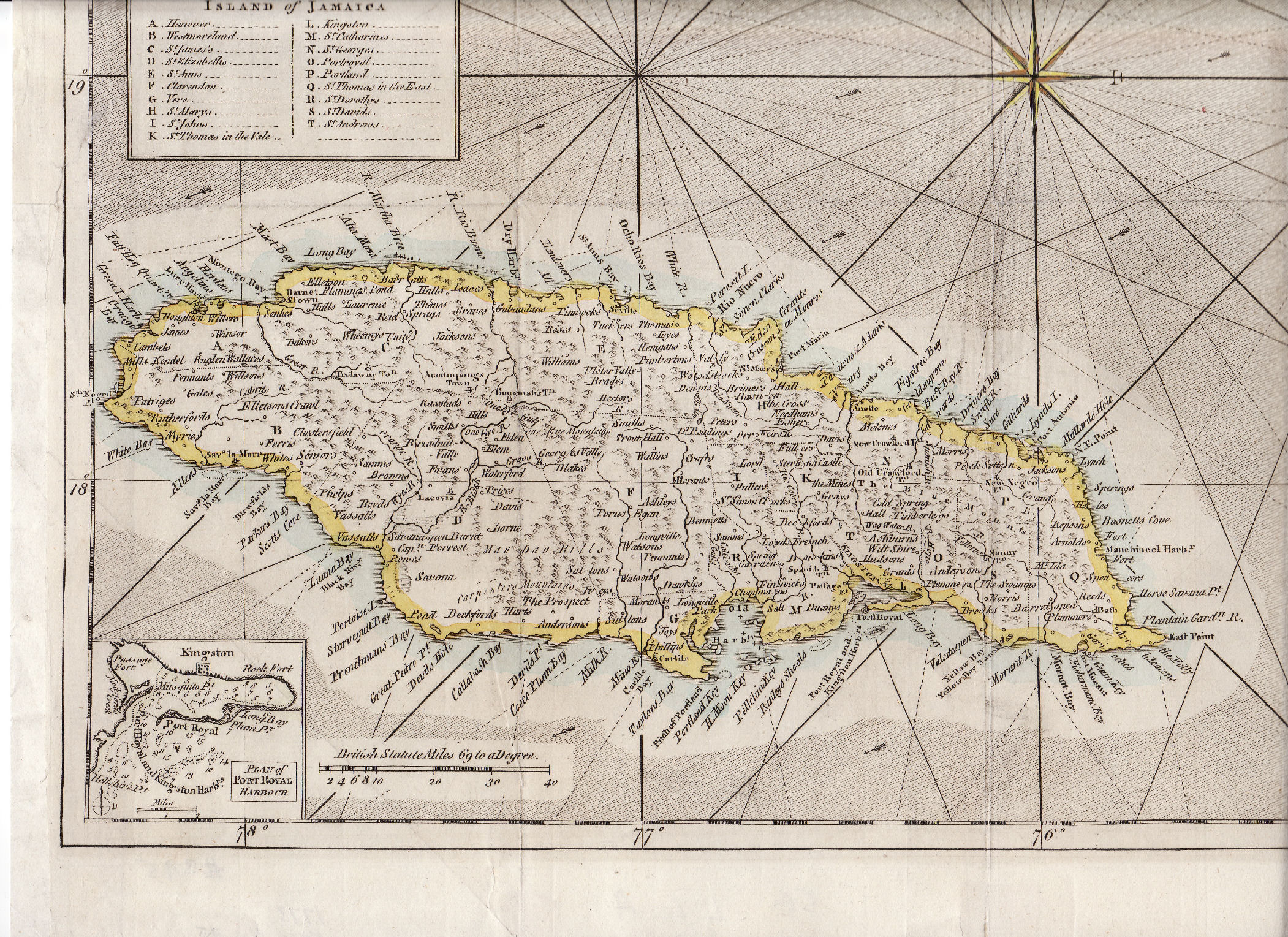 ---
This map is unique in that it does not show much in the way of towns, but it shows the names of the owners of quite a few estates/ plantations. Below is a list of these names tabulated by parish. A few caveats on this list :

1) It obviously is not complete - the map would probably only show the names of the owners of the larger estates, or the estates belonging to prominent individuals

2) The entries on the map may be out of date - if a name is on the map it just means that someone of that name owned the property sometime in the period up to 1763 - by 1763 they could have been deceased or the property might have been sold to another party.

3) Owners may have been absentees

4) The parish in which each name belongs on the map is not always clear.
A. Hanover
Angelin
Cambel
Harden
Houghton
James
Kendel
Ruglen Wallaces
Willer
Winsor
B. Westmoreland
Allen
Elletson ("Elletsons Crawl")
Ferris
Gale
Mills
Myrie
Patrige
Pennant
Senior
White
Wilson
Rutherford
C. St. James
(includes what later became the parish of Trelawny when that area was separated from St. James)
Baker
Barratt
Denhe
Elletson
Grave
Hall (2)
Issacs
Jackson
Laurence
Reid*
Sprag
Thane
Wheemys**
* This would probably have been one of the two estates in Trelawny named Friendship - "Reid's Friendship" and "Fowler's Friendship"
** Spelt Wemyss on modern maps, this was probably the estate later called Wemyss Castle
D. St. Elizabeth
Anderson
Beckford
Boyd
Brown
Chesterfield
Davis
Eden*
Evans
Captain Forrest
Hart
Hill
Lorne
Phelps
Price
Raxstad
Rowe
Samms
Smith
Vassall (2)
Waterford
No Owner Shown :
"Breadnut Vally"
Burnt Savana pen ("Burnt pen Savana")
"Elem"
"The Prospect"
* not clear if this is the name of the estate or the owner, see Grant in St. Mary
E. St. Ann
Allen
Brady ("Ulster Vally")
Gabaudan
Henigan
Ivye (could be a variant spelling of "Ivey", see Clarendon)
Pinnock
Rose
Thomas
Tucker
Williams
F. Clarendon
Ashley
Blake*
Craft
Dawkins
Egan
Ivey (could be the same as "Ivye", see St. Ann)
Longville
Morant
Pennant
Dr. Reading
Smith
Sutton
Trout (presuming that "Trout Hall" is the estate of someone named Trout)
Wallin
Watson (2)
*Ambiguous - "Georges Vally" shown on map with a small circle underneath, then underneath that "Blakes".
G. Vere
Joy
"Longville Park"
Morant
Phillips
Sutton
H. St. Mary
Adams ("Paitons & Adams")
Basnett*
Sir Simon Clark
Davis
Dennis
Grant (shown as "Eden Grants"- possibly to distinguish it from the "Eden" in St. Elizabeth)
Monro ("Crescence")
Orr (no "s" ending, but presumed to be a person's name)
Paiton ("Paitons & Adams")
Peter
Pimberton ("Pimbertons Vally")
Woodstock
Properties:
"the Cross"
Esher
Nury
*shown as "Brimers-Hall-Basnett", presumed to be the estate named "Brimers Hall", belonging to "Basnett"
I. St. John
Sir Simon Clark
Fuller
Lord
Loyd ("Loyds French")
K. St. Thomas in the Vale
Fuller
Gray
No Owner Shown : "Sterling Castle"
M. St. Catharine
Beckford
Dawkins
Duany
Finwick
No Owner Shown : "Spring Garden"
R. St. Dorothy
Bennett
Chapman
Colebeck*
Samms
* Ambiguous - the map shows "Colebecks" and "Gully", but Colebeck is near a small circle. Colbeck Castle (ruin of an old great house) is in this area, so "Colebecks" could refer to both the gully and the estate.
L. Kingston
No proprietors or named estates shown
N. St. George
Edwards
Molone
No Owner Shown : "Goldengrove"
O. Port Royal
No proprietors or estates shown
P. Portland
Gilliard
Jackson
Lynch
Sur
Sutton ("Peek Sutton")
Q. St Thomas in the East
Archdeacon
Arnold
Barret ("Barrets pen")
Garioche
Hale
Plummer
Reed
Repoon
Spencer
Spering
No Owner Shown :
Mt. Ida
"the Folly"
S. St. David
Anderson
Brooks
Norris
Plummer
Vallette ("Vallettes pen")
No Owner Shown : "The Swamp"
T. St. Andrew
Ashburn
Grant
Hall
Hudson
Timberleg
Properties:
"the Mines"
Cold Spring
Wilt Shire
---
© 2013. Jamaican Family Search hereby grants you a limited license to copy and use the materials provided on this site solely for your personal, non-commercial use. No other use of the site or materials is authorized. You agree that any copy of the materials (or any portion of the materials) that you make shall retain all copyright and other proprietary notices contained therein. Posting of materials on other Web Sites is strictly prohibited.
---
SEARCH THIS SITE
---
GO TO:
Help - Frequently Asked Questions
Jamaica Almanacs Slave-owners, Civil & Military officers, Magistrates etc.
Items in the Samples Directory
Items in the Members Directory
Transcriptions from Registers and Wills (Church of England, Dissenters, Civil Registration)
Jamaican Roman Catholic Church Registers - transcriptions
Jamaican Methodist Baptisms - transcriptions
Jewish births marriages deaths - transcriptions