Jamaican Family Search Genealogy Research Library
Blagrove of Jamaica, a Curious Inheritance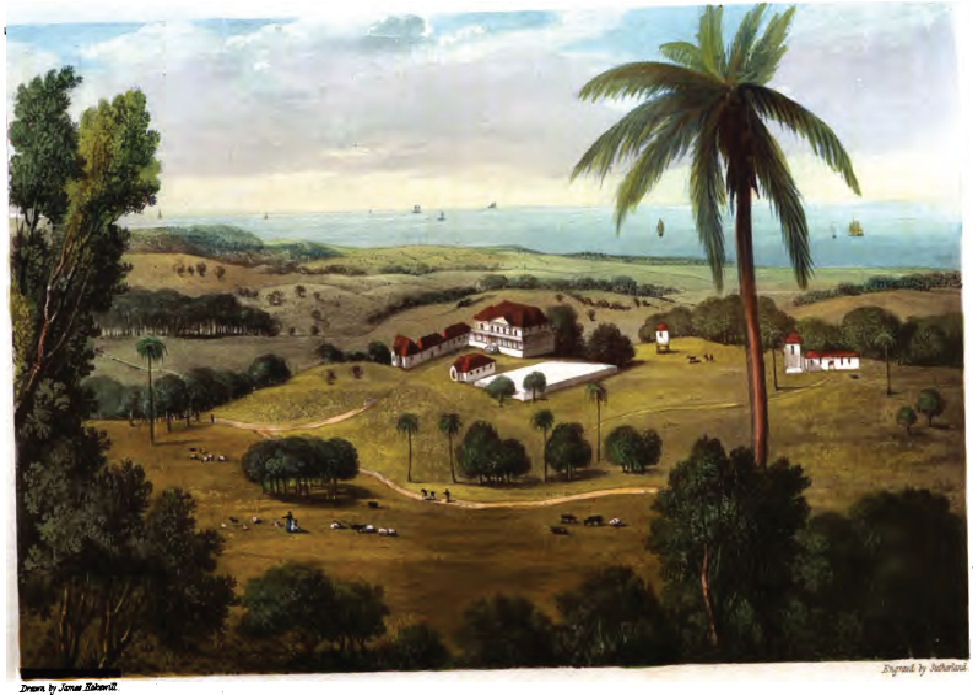 Cardiff Hall, St. Ann, Jamaica by James Hakewill, 1821
According to his will,1 John Blagrove held Orange Bay plantation in Hanover only 'as tenant for life…with right to [his] issue in tail male with remainders', following the death of his uncle, John Campbell, in May 1808. Campbell had previously inherited the estate from his father2 on similar terms in 1744 but with no son to follow him he subsequently named his 'dutiful and affectionate nephew'3 as his male heir - Campbell's sister Elizabeth had married Thomas Blagrove,4 John's father. After John Blagrove's death in 1824, and until his heirs eventually took title to the particular properties they were set to inherit, the Almanac of Jamaica listed his island estates, Belle Aire, Cardiff Hall, Maggoty, Orange Valley, Pear Tree Bottom and Unity, as belonging to 'John Blagrove deceased' or the 'estate of John Blagrove'. The one exception was Orange Bay which was recorded as the property of one 'J. W. Blagrove' each year until 1846. John Blagrove's will, therefore, might be expected to provide first hand details about the relationship between himself and J.W. Blagrove, his successor at Orange Bay. Significantly, it does not. The principal beneficiaries whom Blagrove names were his daughters, their children, and nine 'natural children'5 by three different mothers. In distributing his accumulated wealth so widely, 'it is clear that Mr. Blagrove meant to provide for those who were likely to be least provided for'6 amongst his younger relations. However, as a point of omission in several available documents, it is also clear that by 1824 a particular family matter was being kept from public scrutiny, more than can be explained by any possible positioning for the inheritance at stake.
If John Blagrove's affairs in Jamaica and England are comparatively well documented, those of John Williams Blagrove7 are at best enigmatic. In his youth he had been listed at Eton School as the 'eldest son of Blagrove of Ankerwyke Bucks. and Jamaica', with a similar note upon admission to Lincoln's Inn in 1801.8 However, in three close family wills, the only confirmation of a blood connection is noted in that of John Williams Blagrove himself,9 written in 1807 and finally probated in 1846, the same year that his name disappears from the Almanac of Jamaica as the proprietor of Orange Bay. That the two men were father and son is clear in the detail of this document in which J.W. Blagrove 'of Lincoln's Inn' declares, 'I am beneficially interested in a third part of certain pimento and coffee consigned in the joint names of my father and myself…and a third part of the cattle sales arising from Cardiff Hall estate…likewise the pimento crop of 1807 made upon Cardiff Hall'. His father's will, written fifteen years later, confirms that he himself owns the remaining two thirds interest in Cardiff Hall and also sets out elaborate trusts for his four daughters, Ann Caroline, Elizabeth, Isabella and Mary Charlotte.10 J.W. mentions his four sisters, naming only Mary Charlotte, but he also names three brothers living at the time, Charles Campbell and Peter who are both 'detained in France', and Frederick. The only reference to any sons in their father's will is general and appears in passing in a small bequest to one 'Mrs Brown of St. Ann's in Jamaica', a widow then living in London, 'in recognition of her assiduous attention and kind services to [his] sons in their several illnesses abroad'. Charles Campbell had died at Valenciennes11 in 1811; Peter, 'quite a lad',12 had escaped detention at Verdun in 1808 but died in Jamaica13 in 1812. When and where Frederick died is yet unknown but it is assumed that he also predeceased his father as no future provision was made for him.
According to John Campbell's final will of 30 April 1808, Orange Bay was to pass from John Blagrove to his son Charles,14 presumably on the assumption that Blagrove's eldest son would duly inherit the bulk of his father's property as a matter of course. Although John Williams is the only legitimate but curiously unnamed remainder 'in tail male' to Orange Bay by 1824, fewer than a dozen lines in the thirty one pages of his father's detailed will refer to the one estate to be inherited by his only surviving son. John Blagrove writes, 'I bequeath to [the executors named] all my plate marked with the Campbell arms upon trust that they shall permit the same to be used and enjoyed by the person…who under the limitations under which I am now seized as tenant for life…shall for the time being be entitled to his same estate'. Further words may be unnecessary if the succession is effectively out of his hands but that Blagrove should otherwise quite overlook his eldest son in favour of three grandsons, Robert Blagrove Bradshaw,15 Henry Coore and Richard Coore, the children of two of his daughters, is quite unusual. Even a trifling, personal memento for J.W. is absent from any of Blagrove's final bequests. His actions cannot be answered simply by the family precedent of Unity and Orange Valley plantations passing directly to himself by his grandfather's16 will in 1754 - his father, Thomas, was not excluded but appointed trustee and inherited the remainder and residue of this estate.
There was, moreover, a particular condition under which the grandsons named in 1824 were to succeed to the estates intended for them - they would have to adopt and maintain the surname Blagrove, by an act of Parliament if necessary, in order to secure their inheritance; failure to do so when the time came would result in forfeiture.17 It can only be inferred that J.W. Blagrove, the natural heir, was deemed either unworthy or incapable of properly perpetuating the family name and maintaining its Jamaican estates. Nor does his name appear in connection with any of his father's English properties, these too were assigned to the benefit of Blagrove's grandsons and his illegitimate children.18 The cut between parents and son seems to have been quite final for even J.W.'s mother, Ann, says not a word about him in her own will;19 she died in 1834, disposing personal possessions, trinkets and mementoes to her daughters and grandchildren only. There is no hint from either parent of any reason for this apparent turning of backs, even as they expected death, and the circumstances about J.W.'s intended departure from England, and his own death, only invite more questions.
The will of John Williams Blagrove was witnessed20 in London on the 4th December, 1807, 'on the eve of a journey for Jamaica', a departure which seems to have been unnecessarily hurried if he expected to sail within days; there was a family occasion to look forward to in the week before Christmas, the wedding of his sister Isabella to Frederick Coore,21 one of his named executors. Unless news of the 'very indifferent health'22 of great uncle John Campbell prompted thought of the journey, there seems to have been little urgent business in Jamaica which might have demanded such immediate attention. J.W. writes that the latest produce from Cardiff Hall is expected from the island in the names of himself and his father, and their London merchant, John Higgins, another named executor, would have had all the practical and financial arrangements in hand. Whether Blagrove actually made a voyage at this time, though, is questionable for he appears in the Law Lists for England from 1808-1811 and a London address is recorded as New Court, Middle Temple - but only for 1808.23
If J.W. Blagrove ever lived in Jamaica for any length of time (some £450 worth of 'divers personal property' had been insured to accompany him in 1807)24 his presence there was certainly discreet, if not anonymous. He could have lodged at Cardiff Hall itself or relied on other family in Jamaica; his mother's younger brother, David Shakespear, an island resident for more than thirty years,25 now had Kendall in Hanover and Hodges Pen in St. Elizabeth, both former Campbell properties.26 However, Blagrove was not subsequently listed as a practising lawyer, nor in any official capacity with parochial duties, nor ranked in the militia in any of the parishes, a situation quite unusual for the eldest son of a family with history at the island, one whose father and grandfather had represented their respective parishes27 in the Assembly of Jamaica in their time. His father had enjoyed public reputation, too, as a successful breeder of livestock.
Perhaps J.W. never did stay and moved on elsewhere but, for no apparent reason, his whereabouts and affairs between 1808 and 1846 remain quite unremarked. Over the years, events in the lives of his brothers, sisters, nephews and nieces were duly noted in social columns but not his. At the proving of his will it was recorded only that he had died in the East of London, in 'West Hackney', more a social than a geographical remove from his former chambers at New Court, Middle Temple or his late mother's town house in Harley Street. Apart from bare notes about his youth, his listing in the Almanac of Jamaica, his own will, and any inference to be drawn from the silence of his close relations, there is little more than circumstantial detail upon which to hazard a guess about J.W. Blagrove's life after 1808.
Had an 'illness abroad' left him fitfully enfeebled and unable to manage his own affairs, despite the 'assiduous attention' of Mrs. Brown of St. Ann's? It would not have been the first time that one side of the family was so affected. His great grandmother's28 brother William, the younger surviving son of Hon. John Campbell of Black River, Jamaica, was still 'in the afflicted state he [had] been in for some years'29 when his father died in 1740 and his intended inheritance, lands 'in the precinct of Orange Bay', was not put directly into his hands. His elder brother Colin took charge of the properties30 whilst an uncle, Archibald Campbell of Knockbuy, received an annual allowance of £100 for William's personal care in Scotland.31 John Campbell, however, had left matters open, allowing and praying for a change of circumstances, John Blagrove had not.
Was J.W. Blagrove's seemingly impulsive behaviour in 1807 symptomatic of a developing and more serious 'affliction'? Like the grandson and heir of John Tharp of Jamaica, was he thought to have become deranged, or ever adjudged a lunatic,32 an embarrassment to be put out of place and out of mind by his family but with income from Orange Bay and a share in the profits from Cardiff Hall deemed sufficient for his maintenance, perhaps in a private asylum? Brooke House was one such place, and in Hackney33 where he died. Considered an 'elite house', it was favoured by wealthy families who valued discretion, even secrecy but a definite connection with Blagrove is not made.
Under normal circumstances J.W. Blagrove would at least have taken account of events over the years and amended his will accordingly; all but two of those named in it had died within his lifetime - his younger brothers, his uncle John Shakespear34 and the two other executors, so too Elizabeth Shakespear,35 the spinster aunt singled out for a £200 bequest, and his sisters Elizabeth Bradshaw and Isabella Coore. However, it is singularly notable that the designs of 1807 had remained wholly unchanged for almost forty years. It was left to Mary Charlotte Parkin, the youngest 'natural and lawful sister and one of the next of kin of the deceased'36 to settle his final affairs. She did so with some determination in a late legal challenge on his behalf which again suggests that J.W. Blagrove had been for some time distant from worldly matters.
The British Government had paid compensation to slave owners for the value of their slaves following abolition in 1834 - ready money for Jamaican plantations, and used as welcome working capital or to relieve debt in many cases. On 16 July 1847, in answer to the suit of Parkin v Blagrove, the Vice-Chancellor of England, Sir Lancelot Shadwell, held that such compensation money was 'personal property in the nature of damages for real estate'.37 The sum paid for former slaves at Cardiff Hall, therefore, could not be accounted simply within the plantation's general assets, neither did it belong wholly to the defendant, Henry John Blagrove (ne Coore) who had inherited his grandfather's two thirds share in the plantation. A proportion of the compensation received rightfully belonged to his uncle, J.W. Blagrove, to be properly reckoned a part of his personal estate in addition to whatever came out of Orange Bay.
The other sister who outlived him, Ann Caroline Blagrove, a wealthy spinster and the last of her generation, left a will in 1854 which finally offers a clue about the circumstances which had consigned him to effective obscurity for much of his life. She declared a fourth share in the one third portion of Cardiff Hall which she 'became entitled to on the demise of [her] late brother John Williams Blagrove'.38 More telling though, she had also inherited 'a fourth share of monies in the Bank of England in the name of the Accountant General of the Court of Chancery in the matter of John Williams Blagrove Esq. entitled Compensation Money for slaves upon the Orange Bay Estate and Cardiff Hall Estate'.39 At the time, the Accountant General in Chancery was the legally established guardian of such payments due those who were incapable of managing their own affairs, those of feeble mind and lunatics.
The passing of this otherwise unaccountably forsaken great grandson of James Campbell the first of Orange Bay, ended a direct family link to the sugar plantation that Campbell had laid out in the second decade of the 18th century together with his brother Colin.
End note
Henry John Blagrove (ne Coore) 'of Pembroke' in Trelawny40 was living at Cardiff Hall in 1851 where he wrote his will [National Archives, London, London, PROB 11/2195]. He died in London in 1854, after a fall from his horse in Hyde Park. There is a memorial to him in the church at Hendon, North London.
His son, also Henry John Blagrove of Cardiff Hall, was born posthumously in the same year and became Lt. Col. of 13th Hussars. He died in 1925.
His son, Henry Evelyn Charles Blagrove, RN, born 1887, was killed in WW 2, at Scapa Flow in 1939
____________________
1 National Archives, London, London, PROB 11/1685
2 RGD, Jamaica, LOS 24/330, will of James Campbell, a nephew of Hon. John Campbell [d.1740] of Black River, Jamaica who then owned a half share of Orange Bay
3 J. Lawrence-Archer, 'Monumental Inscriptions of the West Indies', London, 1875, inscription on a monument to John Campbell commissioned by John Blagrove
4Thomas Blagrove died in July 1755 less than a year after the death of his father, also John, in 1754.
5Charles Campbell Stevens, Georgiana Stevens, Marianna Stevens, Ann Caroline Stevens and Susannah Stevens 'children of Susannah Stevens, late of Brompton, Middlesex deceased'; George Hawkins, Alexander Hawkins and Elizabeth Hawkins (mother unnamed); Emma Cockcroft (mother unnamed)
6 Lord Abinger [s. of Robert Scarlett of Jamaica] in Bradshaw v Bradshaw, Court of Exchequer & Equity, 22 April 1836
7 The name Williams is perhaps taken from Thomas Williams, the uncle and planting partner of J.W.'s grandfather, John Blagrove [his will, National Archives, London, PROB 11/919 & 'List of landholders in Jamaica', 1754, CO 142/31: Williams & Blagrove, St. Ann, 2,955 acres; J Blagrove, Hanover 1,579 acres, St. Ann 301 acres]
8 H.E.C. Stapylton, 'The Eton School Lists, 1790-1850' London, 1863; Lincoln's Inn Archives: admitted on 12 November 1801, called to the Bar on 14 November 1806.
9 National Archives, London, London, PROB 11/2044, Will of John Williams Blagrove
10 By 1824 Elizabeth had married Captain James Bradshaw RN; Isabella had married Frederick Henry Coore; Mary Charlotte had married Hugh Parkin, solicitor at the GPO, London
11 H.E.C. Stapylton, op. cit., his death in 1811, at Valenciennes in France, is noted in the Eton School lists
12 Michael Lewis, 'Napoleon and his captives', Allen & Unwin, 1962: he reached Austria via Switzerland
13 Philip Wright, Op. Cit., Peter Blagrove d. 10 August 1812; his death was reported in the Morning Chronicle
14 Note from Evangeline Clare, historian in Jamaica
15 Robert Bradshaw died in 1827, aged 10; his brother Henry actually inherited. According to the decision of the Court of Exchequer & Equity in 1836, this had actually been John Blagrove's intention
16 National Archives, London London, PROB 11/919, will of John Blagrove senior
17 Henry John Coore took the surname Blagrove and lived at Cardiff Hall but brother Frederick Richard remained a Coore. Henry Bradshaw also assumed the name but reverted to Bradshaw by Royal Licence in 1856. In 1858 he was adjudged to have forfeited his entitlement
18 Ankerwyke house and its estate in Buckinghamshire were advertised for sale soon after John Blagrove's death [Morning Chronicle, 10 May 1824]; so too Gt. Abshott Farm [Hampshire Telegraph & Sussex Chronicle, 1 November 1824]
19 National Archives, London, London, PROB 11/1827, will of Ann Blagrove (nee Shakespear)
20 Witnessed by fellow barrister M.H. Quantock of Lincoln's Inn and Barnard Winter a family friend
21 At Abshott, Hampshire, on 19 December 1807 [Gentleman's Magazine]
22 Letter, John Campbell Orange Bay to his nephew, John Campbell of Kilberry in Argyll, April 1807
23Lincoln's Inn Archives
24 On board the 'Lady Johnston', Capt. Forrester, and the 'Albion' [the will of J.W. Blagrove]
25 David Shakespear had married and raised a family in Hanover [Hanover Parish Registers 1725-1825] and was buried at Hodges Pen in 1823
26 Kendall had belonged to John Campbell of New Hope, [d.1801] son of Colin Campbell, brother to James of Orange Bay. Hodges Pen had belonged to Hon. John Campbell Black River [d.1740]; his grandson John Black River sold his Jamaican estates about 1768; he was already living in North America
27 W.A. Feurtado, 'Official and other personages of Jamaica from 1655-1796',Kingston, 1896: Thomas Blagrove, Hanover 1755; John Blagrove, St. Ann, 1787
28 Great grandmother Ann Campbell married Colin Currie, merchant of Glasgow & London; their daughter Elizabeth married John Shakespear, rope-maker & an Alderman of London; their daughter Ann married John Blagrove
29 Will of John Campbell, RGD, Jamaica, LOS 22/100
30 Colin Campbell inherited the properties by default [his will National Archives, London, London, PROB 11/793, proved 1752]
31 Will of John Campbell, RGD, Jamaica, LOS 22/100
32 Following a dispute with his eldest son, John Tharp junior, John Tharp had named his grandson, a minor, as principal heir in 1801; Tharp senior died in 1805 [Tharp papers, Cambridgeshire Records Office]
33 Asylums Index 2001 - Index of lunatic asylums and mental hospitals, www.mdx.ac.uk
34 'John Shakespear of Singleton in Sussex', was named as the 'uncle of the deceased'; David Shakespear was his brother in Jamaica
35 'Elizabeth Shakespear spinster of Horndean, Hampshire' lived there with her widowed mother, also Elizabeth
36 National Archives, London, London, PROB 11/2044
37 Copy of the petition and answer, National Archives, London, C14/586. The case was not reported publicly but the judgement was cited in another case about compensation money between several parties in a contested Jamaica will [The Jurist, 1850].
38 National Archives, London, PROB 11/2189, will of Ann Caroline Blagrove, written 1847, codicil 1849, proved April 1854. Her portion she left to her nephew, Henry John Blagrove, who was the majority shareholder
39 Ibid., (Mary Charlotte Parkin does not appear to have left a will, she had died in 1850. Presumably, she also inherited a fourth share of the compensation monies, and the one third of Cardiff Hall but to whom the other fourths had passed after J.W.'s death is unknown
40 Pembroke had previously belonged to Frederick R. Coore senior who died in 1823; it then passed to his eldest son Frederick R. Coore junior who had died in 1846
---
© 2013. Jamaican Family Search hereby grants you a limited license to copy and use the materials provided on this site solely for your personal, non-commercial use. No other use of the site or materials is authorized. You agree that any copy of the materials (or any portion of the materials) that you make shall retain all copyright and other proprietary notices contained therein. Posting of materials on other Web Sites is strictly prohibited.
---
SEARCH THIS SITE
---
GO TO:
Help - Frequently Asked Questions
Jamaica Almanacs Slave-owners, Civil & Military officers, Magistrates etc.
Items in the Samples Directory
Items in the Members Directory
Transcriptions from Registers and Wills (Church of England, Dissenters, Civil Registration)
Jamaican Roman Catholic Church Registers - transcriptions
Jamaican Methodist Baptisms - transcriptions
Jewish births marriages deaths - transcriptions