Jamaican Family Search Genealogy Research Library
Will of Capt. John Campbell, 1766
[Jamaica, RGD LOS 36/130]
Jamaica SS
I John Campbell of the parish of Hanover…island of Jamaica do make this my last will and testament…
I give an bequeath unto my loving wife Martha Campbell<![if !supportFootnotes]>[1]<![endif]> in lieu of dower the sum of £150 current money of the island to be paid to her yearly during her natural life and if it should happen that she should survive my son Colin<![if !supportFootnotes]>[2]<![endif]> then I bequeath the further sum of £50…
The rest and residue of my estate real and personal in the island or elsewhere I give and bequeath to my son Colin and the heirs male of his body and failing such heirs…I give and bequeath my estate both real and personal to be equally divided between my sister Janet widow of the Reverend Mr. Daniel Campbell deceased, my sister Mary wife to Mr. George Scott merchant in Greenock and each of the children of my sister Elizabeth deceased…
I appoint my wife executrix and my son Colin executor of this my last will and testament
John Campbell, 15 May 1766
Witnesses, Grace Campbell, John Campbell, Archibald Campbell <![if !supportFootnotes]>[3]<![endif]>
[Capt. John Campbell was buried at Orange Bay on 31 July 1766]
Additional notes
Colin Campbell was sent to England for an education. He appears in the records of Trinity College Cambridge:
Campbell, Colin. Son of John Campbell of Jamaica. School, Enfield, Middlesex (Mr Kinross). Age 18. Pensioner, September 3, 1761. Tutor, Mr Backhouse. [Matriculated, 1761; Scholar, 1762; B.A. 1766]
His cousins John Campbell of Orange Bay and John Campbell of New Hope attended the same school and university college. Cousin Peter Campbell of Fish River was sent to Eton before Trinity College.
Colin and Martha Campbell appear in the letter books of Duncan Campbell, London merchant, who corresponded regularly with his relations in Jamaica. Colin returned to Jamaica after his father's death, having just graduated:
Duncan Campbell to John Campbell Salt Spring 15 September 1767
Mr & Mrs Kerr & Capt. John's son embark in the 'Thames', Laird beginning of next month…I have not seen Capt. John's son a long while, he seldom comes near me, his turn and mien seem very different. I wish he may turn out equal to the expectations his hon[oured] father formed of him.
Martha Campbell came to live in London after Capt. John Campbell died.
Duncan Campbell to John Campbell Salt Spring, 16 September 1770
I communicated your message to Mrs Martha who desires to be kindly remembered to you.
Martha died at Enfield, Middlesex, in 1802. Her will in the National Archives, London [PROB 11/1369] left her possessions to,
                Grand daughter Harriet Campbell, daughter of my son Colin Campbell
The Anglican parish registers for Westmoreland, Jamaica, record Colin's marriage:
Colin Campbell Esq. of Hanover and Elizabeth Campbell of Westmoreland, married 27 Apr 1769.
Elizabeth Campbell was Colin's Cousin, a daughter of Colin Campbell of New Hope and Mary Graham.  A son, John, was born in February 1770 (but died two years later). The following letter from Duncan Campbell in London refers to Colin and Elizabeth's expectation of another child and his own wife's pregnancy.
Duncan Campbell to

 

Colin Campbell, Jamaica, 26 August 1771
The friendship you have always shown me by your Notice and Assistance to my nephew Capt. Somervell in his Dispatch and the disposall of his lumber in which I am so greatly intrusted requires my grateful thanks for the same. It gave Mrs Campbell & me great pleasure to find by a letter your Mother [i.e. in London] received from you in short time since while she was spending a few days with us in the country that you and Mrs Campbell  were in perfect health and thriving in every way. If you go on so fast Colin you will soon come up with me though I find I am led to understand lately that I am not done yet. It gave me much satisfaction to hear property in the Orange Bay4  was so well covered that your loss was but small by the accident which happened to that ship. I wish all your neighbours had been as cautious & that I myself been so prudent. Capt. Neil sail'd from hence about 10 days since in a very fine new ship under the old name which I bought him…& I hope will be with you in all November…Your favours on this occasion will always be gratefully remembered by me. My Brother gave me some hopes that you would take a small share in a New Ship with me. If that should prove convenient it will give me great pleasure to have you an owner in the New Orange Bay 1/6 of which will amount to about £108. All my family join in Compliments to you & Yours.
_____
4 One of Duncan Campbell's ships.  Capt John Campbell had taken a share in the first Orange Bay which his son would have inherited.  It had been wrecked by a "rascally pilot" making its way up the Thames and was replaced.
Colin owned Campbelton by 1772 (a former estate of his cousin John Campbell III of Black River who had left Jamaica for North America) and listed as a magistrate for Hanover parish from 1776-1779 but does not appear in any official parish lists thereafter. There was, however, an advertisement in the Cornwall Chronicle and Jamaica General Advertiser which may refer in 1794: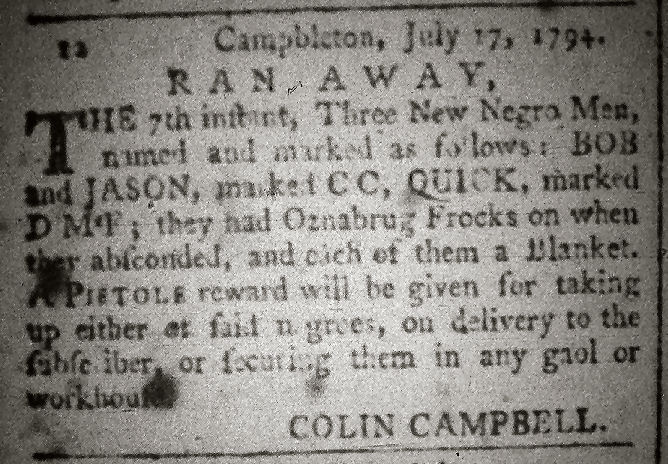 <![if !supportEndnotes]>
---
<![endif]>
<![if !supportFootnotes]>[1]<![endif]> Martha Campbell: possibly Martha Launce, a sister of Ann Launce the wife of Dugald Campbell of Salt Spring. The Launce family were established planters in Hanover
<![if !supportFootnotes]>[3]<![endif]> The witnesses: Grace Campbell was wife to John Campbell of Orange Bay. The other witness was probably Grace's brother, Archibald Campbell the younger of Knockbuy, who owned Minard in St. Ann's parish
---
© 2013. Jamaican Family Search hereby grants you a limited license to copy and use the materials provided on this site solely for your personal, non-commercial use. No other use of the site or materials is authorized. You agree that any copy of the materials (or any portion of the materials) that you make shall retain all copyright and other proprietary notices contained therein. Posting of materials on other Web Sites is strictly prohibited.
---
SEARCH THIS SITE
---
GO TO:
Help - Frequently Asked Questions
Jamaica Almanacs Slave-owners, Civil & Military officers, Magistrates etc.
Items in the Samples Directory
Items in the Members Directory
Transcriptions from Registers and Wills (Church of England, Dissenters, Civil Registration)
Jamaican Roman Catholic Church Registers - transcriptions
Jamaican Methodist Baptisms - transcriptions
Jewish births marriages deaths - transcriptions